How to decorate your home on a £80 budget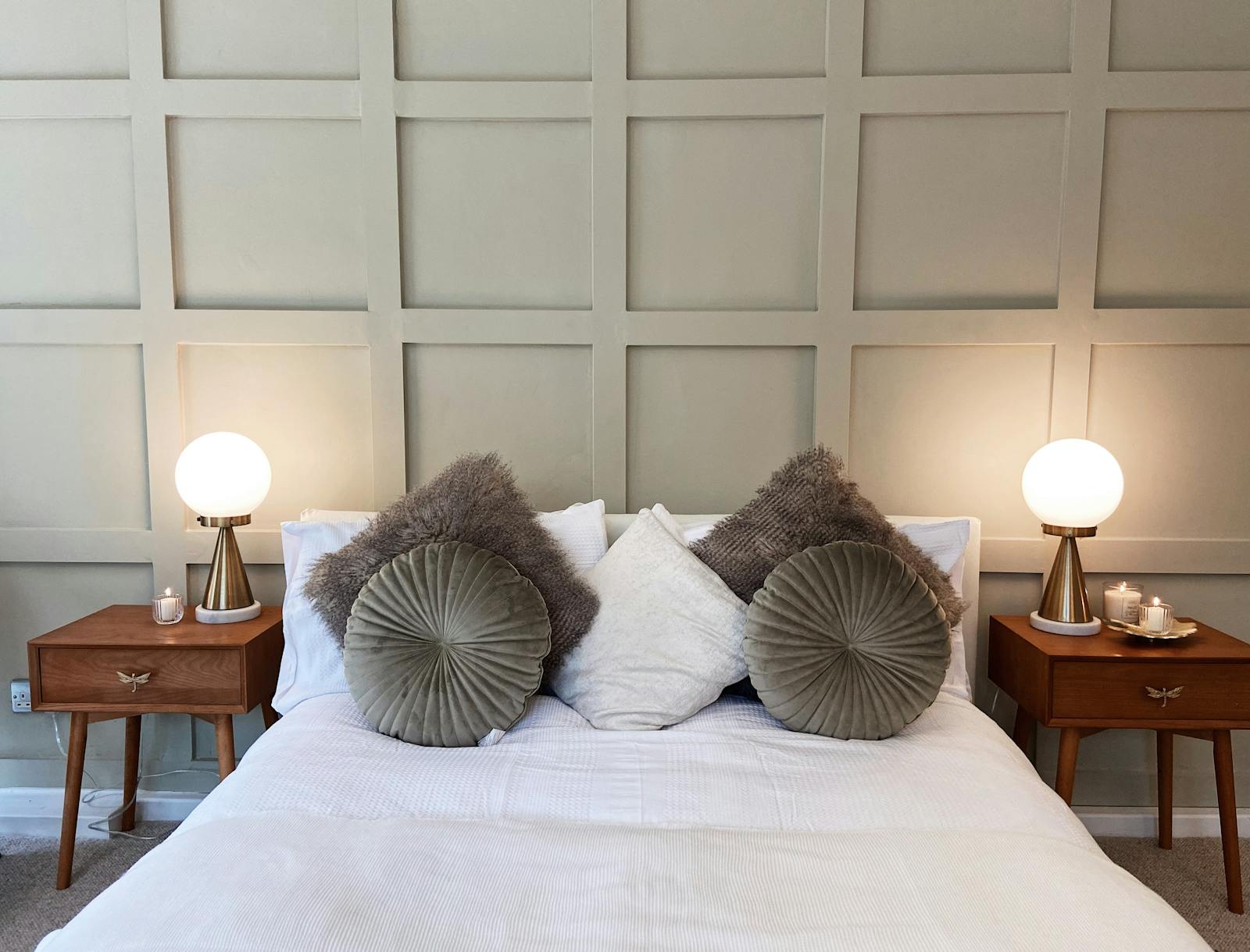 Krystal (@krystaltrips) is 26 years old and works as an editor for a local magazine in York. She lives in a 1970s-semi-detached bungalow with her partner Pete and their kitten, Pepe. As first-time buyers, they bought the property back in November 2019, and will shortly be celebrating their first home anniversary!
Their main bedroom was in-need of some serious TLC, along with a refresh of styling to create the perfect haven to rest and recharge. Krystal was eager to incorporate the latest trend of DIY panelling in her home, and had an idea to create a fabulous feature wall behind the bed.
Before the makeover
When they bought the house, this particular magnolia-painted room with flaking wallpaper, had been previously used as the lounge; and the original living quarters had been turned into bedrooms.
They decided this existing room layout could do with a new arrangement, so one of the first things they did is reallocate which room serves which purpose. Their main bedroom is now their favourite space, with plenty of natural light; therefore, Krystal and Pete wanted the makeover to really reflect their love for this room in the house.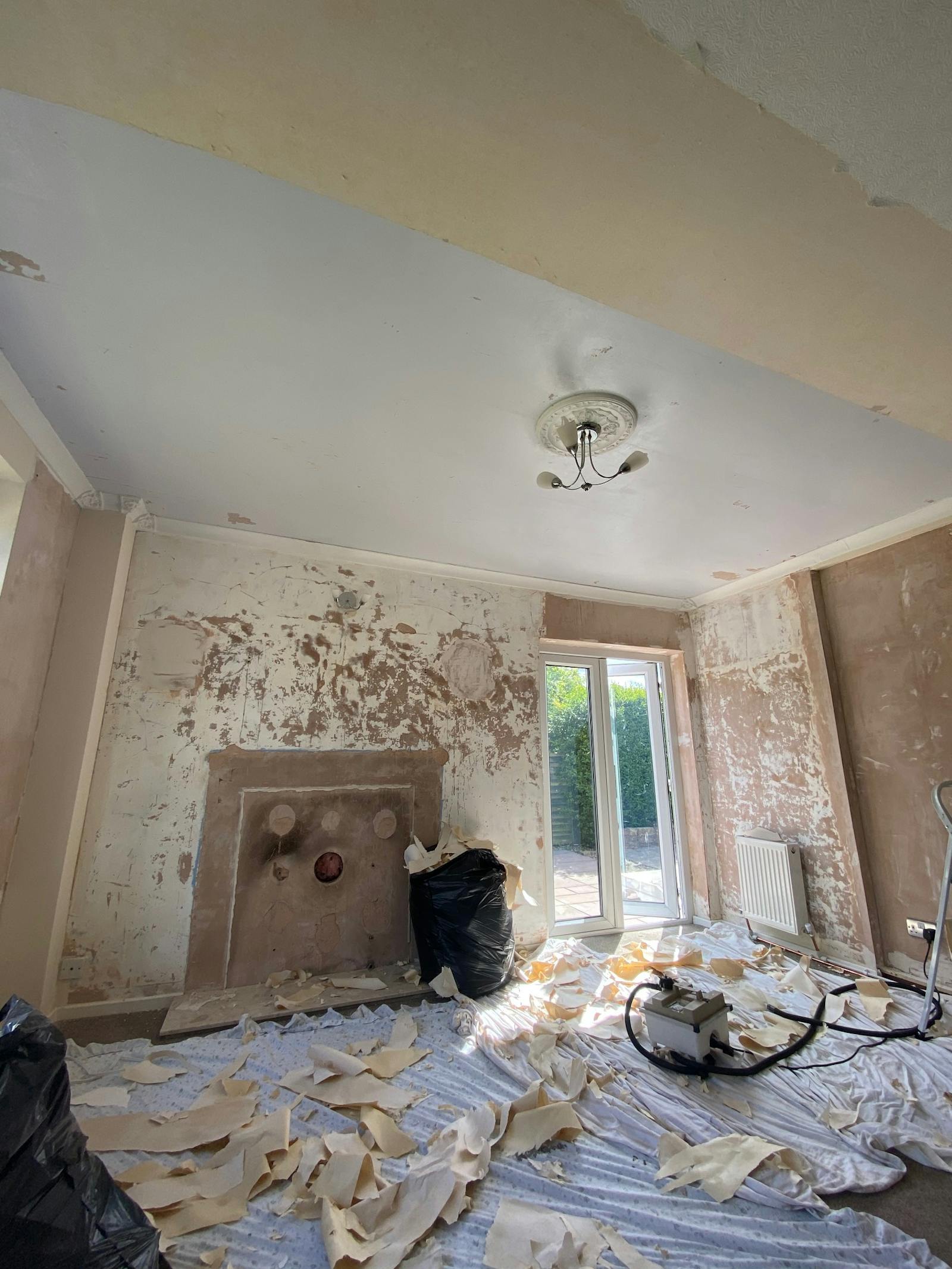 Stripped back and ready for some TLC!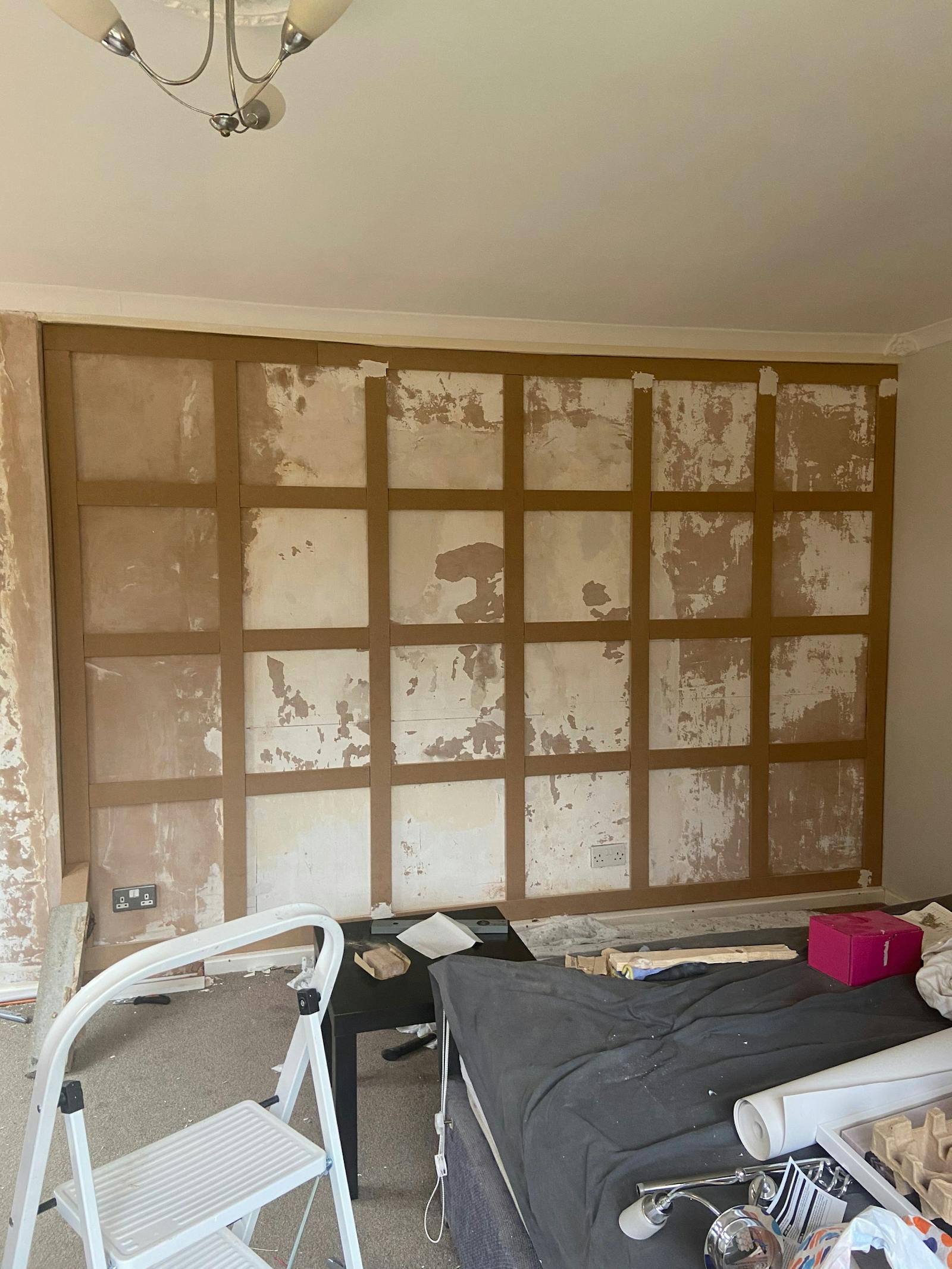 The panelling before Krystal worked her magic
Planning & inspiration
After scrolling through Pinterest and seeing so many inspirational images for homes with panelling, they decided to take the leap. Krystal spent some time researching blogs and watching YouTube videos about DIY panelling; so that they knew how to tackle the project, themselves.
"The house is mid-century modern, meets country. I wanted the room to really reflect our own personal modern tastes, but also be respectful of its seventies history".
After finding Lick through Instagram, Krystal chose Greige 01 for the walls, and opted for a brilliant white for the ceilings, skirting and the existing coving.
"I wanted to create a space that was easy to fall asleep in; and the gentle greige colour is soothing, yet indulgent."
Establishing the budget
Krystal knew the budget needed to remain as low as possible. After investing all their well-earned savings into their new home, they simply had to wait for their monthly wages to come in so they could slowly tick off the projects, one by one.
After extensive research, Krystal knew that building a DIY panel feature wall would not only look the part; but also come in at a low price – so the challenge was on!
The makeover
The first job was the hardest; and the least the enjoyable to tackle. They had to ensure that wall was even, so that the wood would sit level to the plaster. Unfortunately, they found this wasn't the case – and spent some time adding filler and sanding down, before the project could fully take off.
After climbing over a tough first hurdle, the next job involved measuring the wood against the wall, in order to cut to size.
"Once I got my head around the maths of it, the board and batten was actually really fun to do. We initially struggled to work out the correct size for each of the squares; but using a pencil, we stencilled it out on the wall first, to make sure everything was even and correct."
Once all the panelling was complete, they filled the wood joins with filler and allowed to dry before sanding the whole thing down. Next up, the painting…
"I kept on pausing for a break and wondering if it would ever look neat, but as soon as the paint went on, it completely transformed it. We only needed two coats, as it was incredibly thick and forgiving!"
The final stage was to style the room, and find the perfect accessories to pull the whole look together. Krystal admits this was her favourite part, and she spent some time searching for pieces that were trendy, but timeless.
Revealing the budget
In total, Krystal spent an astounding £82 on this incredible feature wall project. This included; a sheet of MDF (12mm), a tin of Lick paint in Greige 01, two tubes of Liquid Nails Solvent, sandpaper and all-purpose filler.
With half a tin of paint still leftover, we're looking forward to seeing what Krystal does next…
Krystal's top tips for decorating on a budget:
Take your time! You don't have to do it all at once. I spent days thinking about the colour, textures and furniture. I kept looking for inspiration online and in shops; and I would ask myself, "does it match the luxurious, sleepy vibe that we were going for?". If it was a 'maybe', I didn't buy it.
Facebook marketplace is always a good place to get a bargain. I also search for discount codes online – you never know what you might find!
Doing it yourself will always be cheaper, but not always the best option. I'm so glad we attempted the panelling and painting ourselves, because it looks great and we are so pleased with the outcome; however, I'm not sure my plastering or electrical skills would ever be good enough!