How to decorate your home on a £60 budget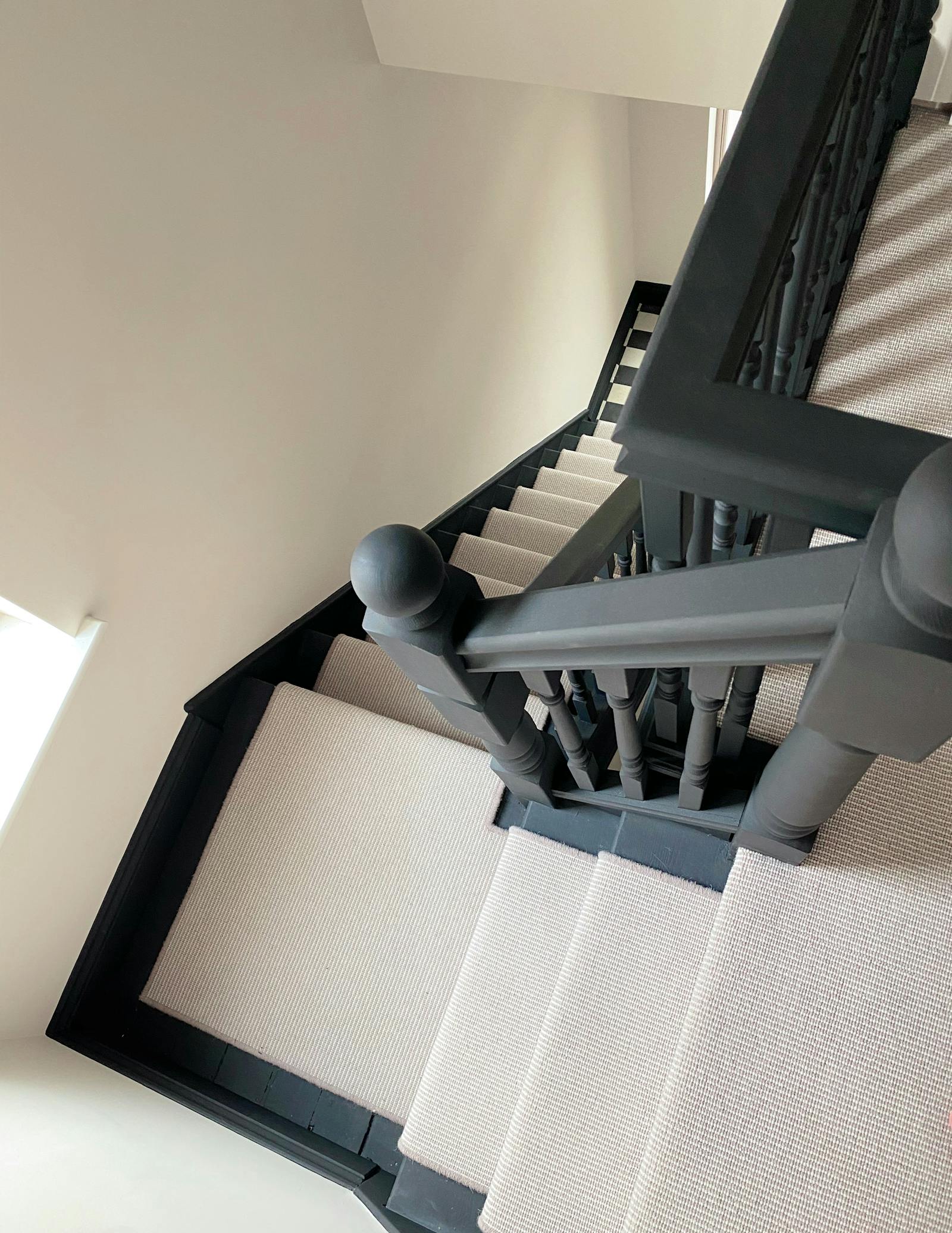 Helen (@letsmakethishouseahome) is 29 years old and lives in Nottingham with her partner Ben. She works as a Pro Artist for Charlotte Tilbury, as well freelancing bridal and red-carpet make-up.
Their home is a 1930s semi, that really hadn't been touched since the 1970s & 80s. It was in need of a modern makeover, and some TLC to bring it back to life. This is their first owned home together, after living in a rental for the previous five years.
To make sure they had a head start before moving in, they completed five months of renovation work whilst still living at their rental. Work started in March this year, and they finally moved themselves in officially, in August.
Helen chose to share her staircase makeover with us. You will see from the photos that the original décor was pretty retro, and they were eager to bring it in line with the 21st century.
Before the makeover
Helen admits that everything about this space needed to go, as the entire look was extremely dated. They really wanted to make a feature of the staircase, and turn it into a 'wow factor', as this is the first thing you see when you enter through the front door.
"The house had really strange features; like a doorway filled with privacy glass, shelves and a bizarre pelmet! The beautiful original doors were covered in an awful MDF, and the carpet was a really old-fashioned, green pattern. We couldn't wait to rip everything out!"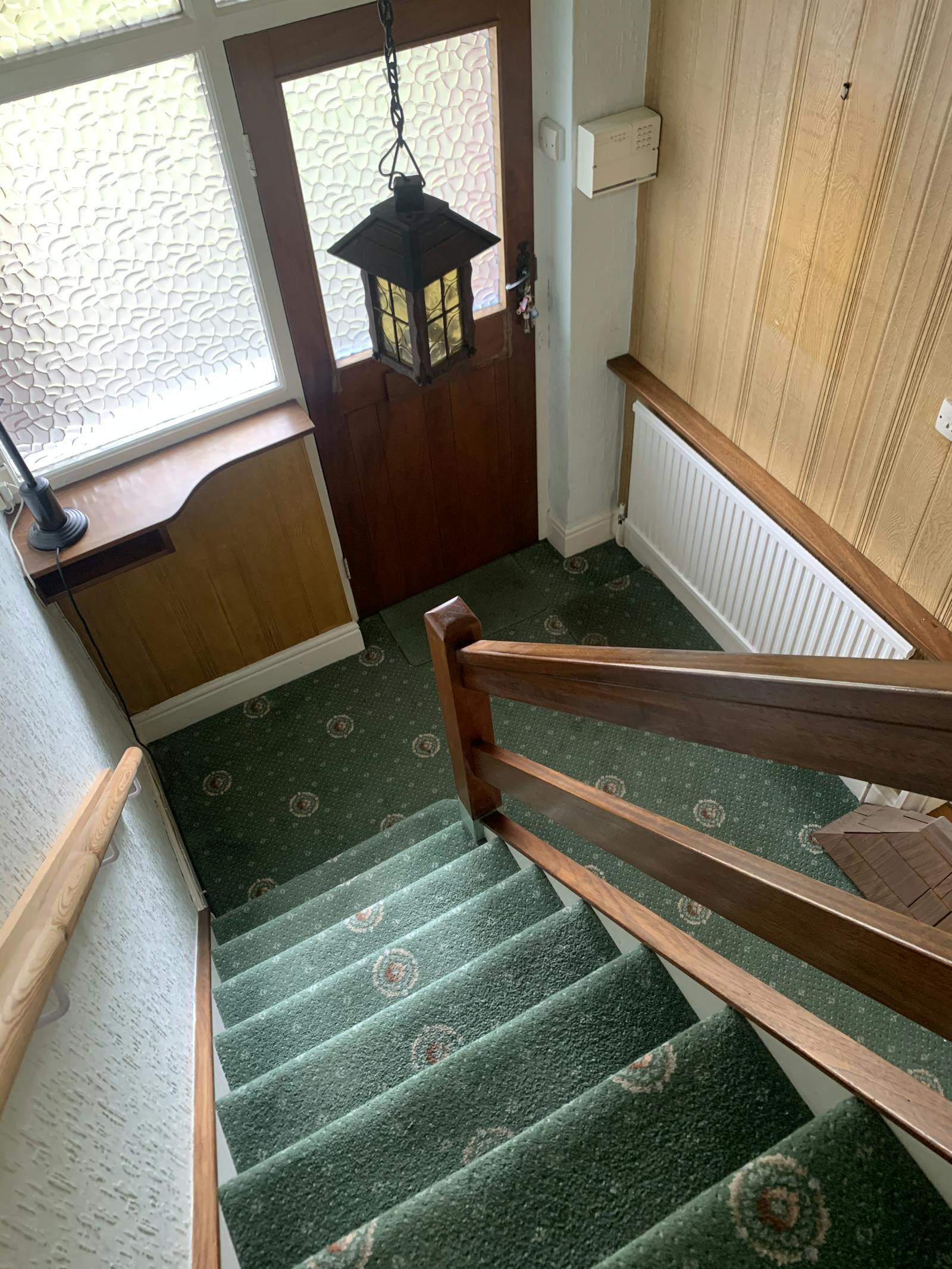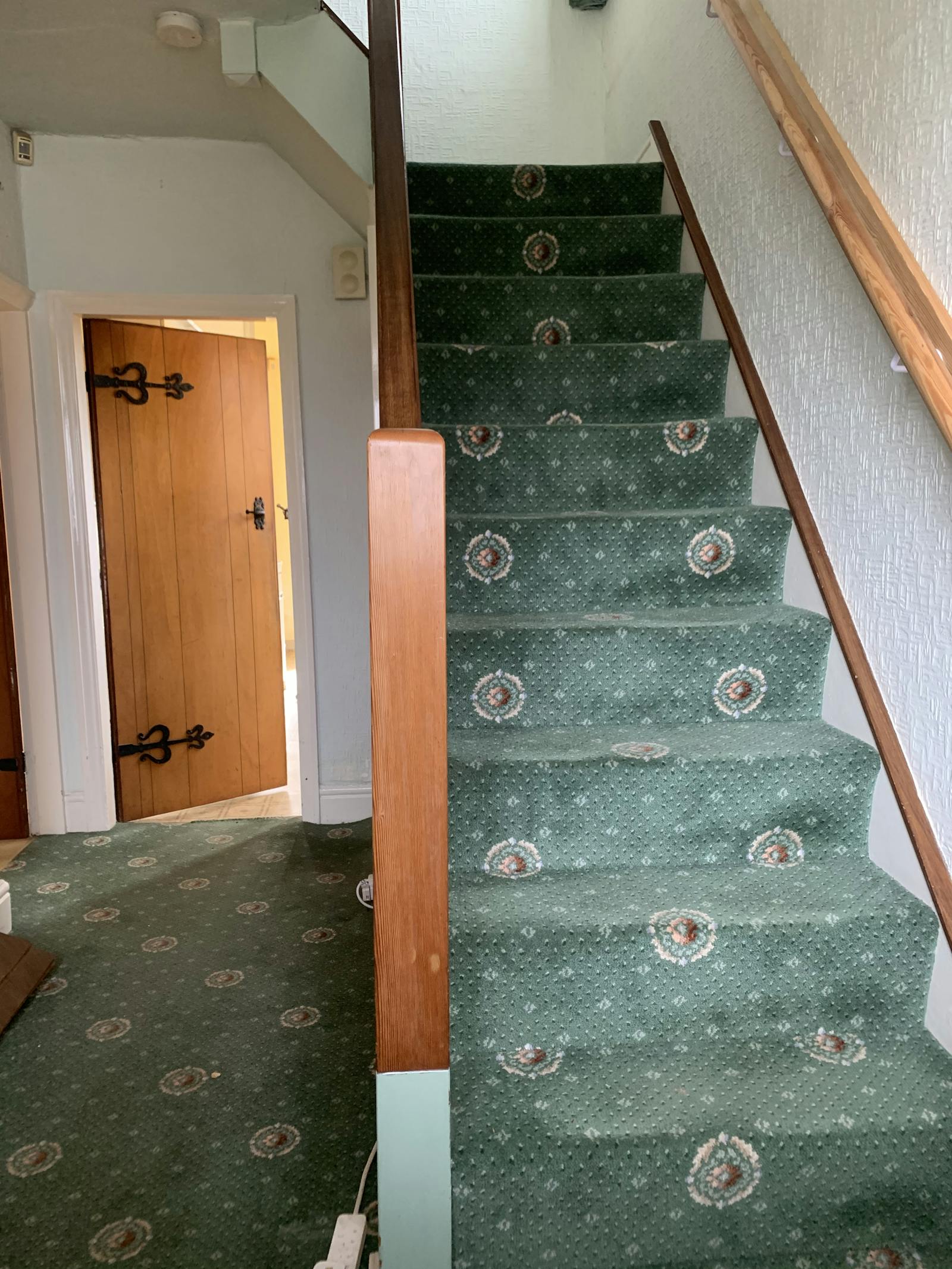 The dated green carpet ran throughout the hallway
Planning & inspiration
They wanted to go for a neutral, monochrome design; that would create a timeless feel and inject some drama into the house. They always had the idea of a dark and moody entrance hall; and Pinterest and Instagram simply reaffirmed their love for this style.
"We wanted to go for dark wood along the banister, skirting boards and architraves - to really make the monochromatic colour palette pop!"
"Black 02 was perfect, as it was almost an 'off-black' shade. Being a matt finish too, we just knew it would look amazing and dramatic against the lighter, neutral colours."
Helen discovered Lick through Instagram, after initially setting up her home account through the social media platform. After browsing the website, they came across Black 02 and instantly fell in love…
Establishing the budget
Helen and Ben had an overall renovation budget saved for the house, which included the hallway and landing. However, they knew they could give the staircase itself a brand-new look for a minimal cost – meaning there could be money saved for another, small project in the future.
The makeover
The whole project started with stripping back the entire space; getting rid of unwanted features and preparing the surfaces for a new look. They were pleasantly surprised to discover some beautiful black and white chequered tiles underneath the carpets, so it was a bonus for them to restore this part of the house and continue to enjoy some of its original features.
Once everything had been prepared for the next stage, Ben sanded down the staircase bannister and spindles with sanding paper. They then applied a dark grey primer using an old sock over the top of a rubber glove, to help work the product into the wood. Who'd of thought it, hey?
"We managed two coats of Black 02, including the skirting's and architraves. The paint was so easy to work with, and the colour built up perfectly!"
To complete the overall look, the staircase runner was fitted just a short while after finishing the painting makeover. They were, and still are, in awe of their DIY project success!
Revealing the budget
Helen estimated that the staircase project cost them around £65, excluding the new runner. This included sandpaper and caulk for the preparation, the dark grey wood primer and a 2.5L tin of Lick paint in Black 02.
The biggest bargain was finding the striking, original tiles under the carpet. As they say, the best things in life are free!
Helen's top tips for decorating on a budget
There is so much that you can do yourself; however, pick your battles carefully. Choosing the right areas to invest your money into professionally, will ensure you get a high-quality, timeless finish in all the right places.
If you have original features then hold onto them and restore them. This not only saves money, but adds such beautiful and unique character to your home.