How to decorate your home on a £40 budget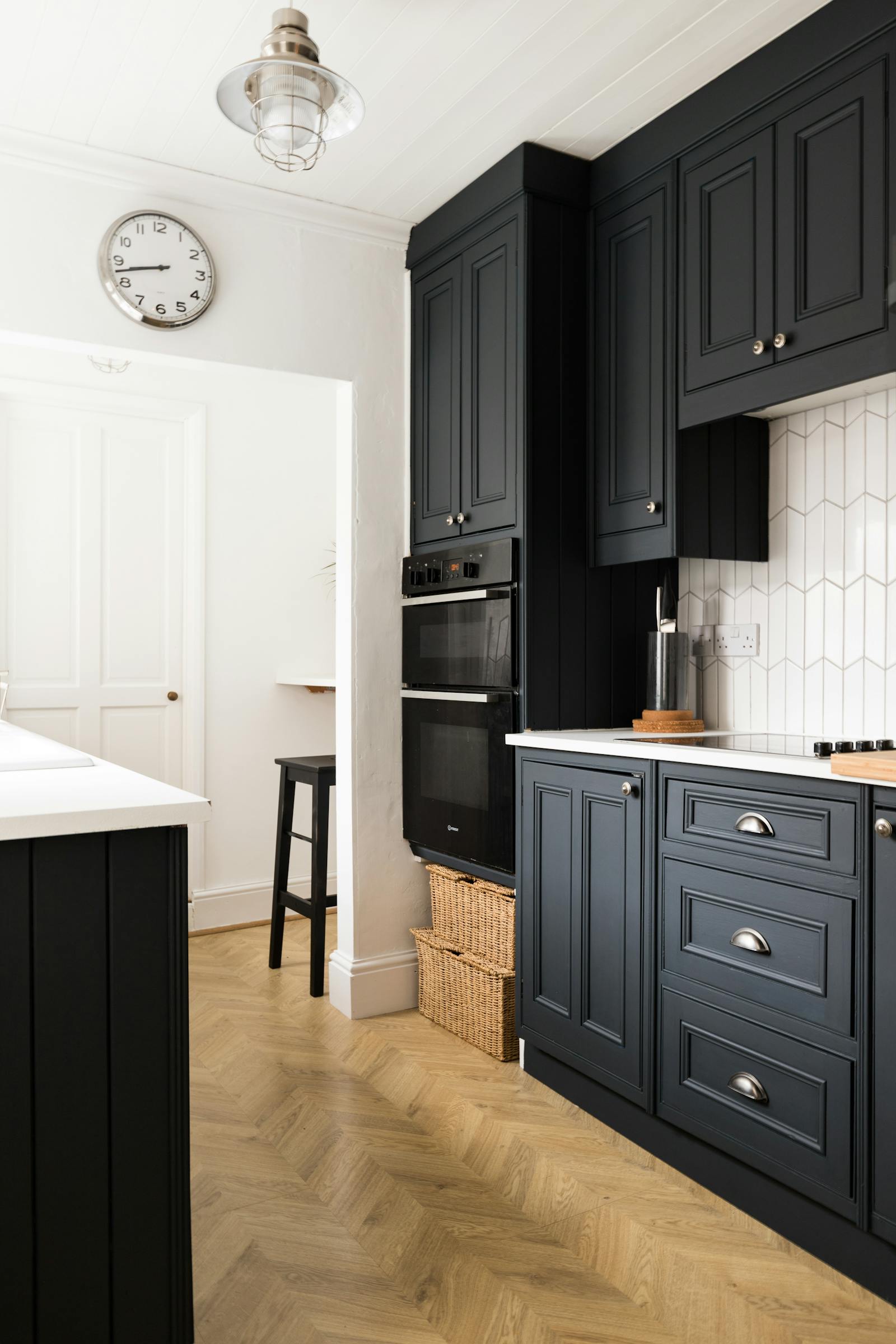 Kelly is 26 years old and lives with her partner, Ben, and his daughter; who lives with them half of the time. She worked as an Estate Agent for eight years, but is now employed as a Lettings Manager for Ben's business. Kelly loves home décor and interiors, so being able to browse lots of beautiful homes is a great perk to the job!
Their home is a two-bedroom Victorian end terrace, located in Winterton. They have lived here for over two years now, but the renovations are on-going; as their initial budget was swallowed by necessary electrics, radiators and boiler installation.
One of their recent renovation projects included an up-cycle of their kitchen cupboards, as they were in desperate need of a contemporary update…
Before the makeover
When Kelly bought this house, she could see serious potential with the kitchen. Although the budget didn't allow for a brand-new fitting, the space and existing furniture offered the perfect canvas for a little paint job!
Within the first few months of moving in, she decided to paint the cupboard doors in a deep blue colour. It did the job at the time, and certainly modernised the kitchen; however, after two years passed, they decided it was in need of another spruce-up.
Kelly's original kitchen cupboards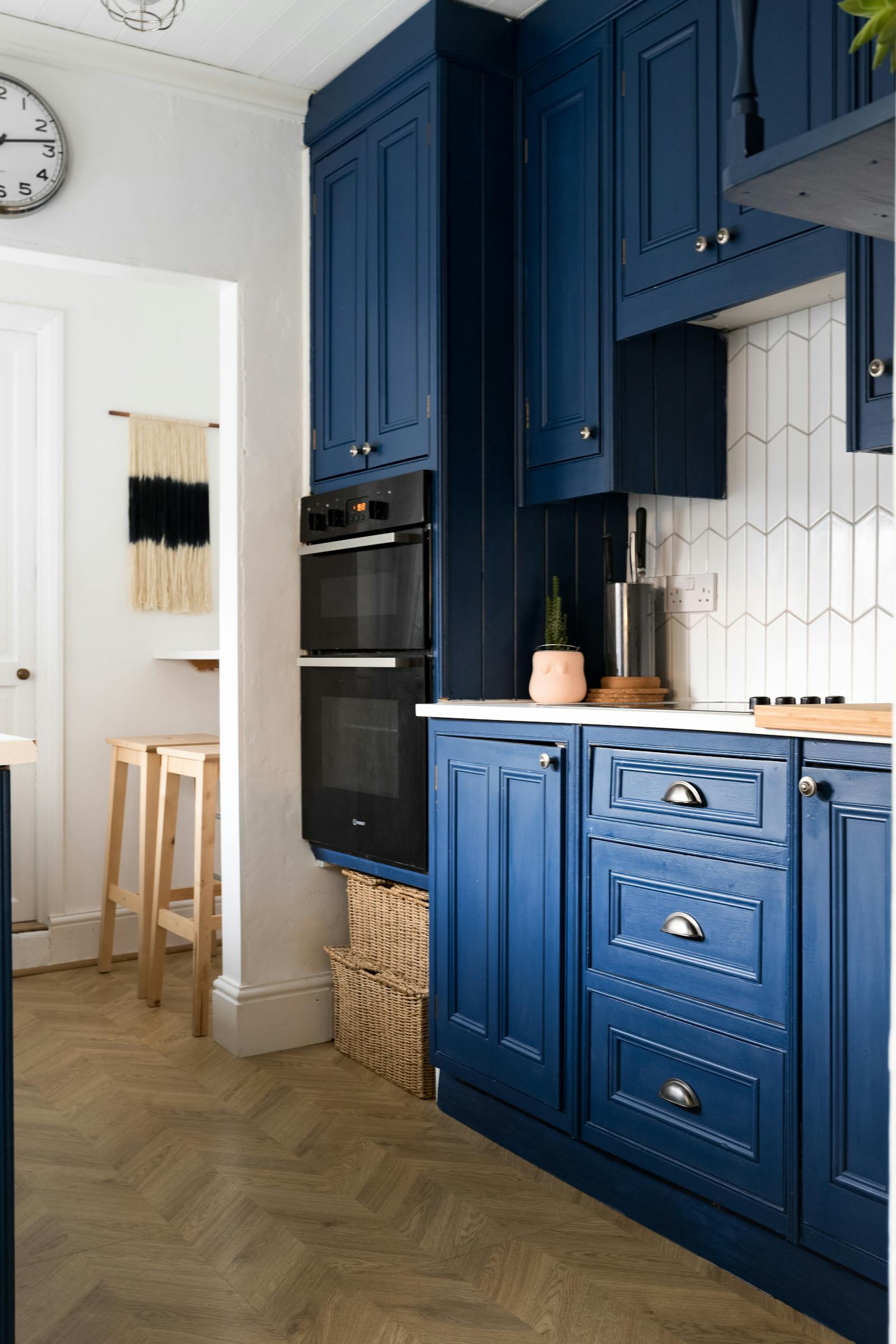 The same cupboards with a lick of blue paint
Planning & inspiration
Taking full advantage of the plan to re-paint the cupboards; Kelly decided to change the colour, too.
She loves to scroll through Instagram, looking to source inspiration from other home and interior accounts. She often saves photos to create mood boards for her own projects, and purchases the odd interior magazine from time to time.
Kelly soon realised she was subconsciously pinning and saving monochrome kitchen's, and the decision was made to go on the hunt for the perfect shade of black…
"I ended up choosing Black 01 from Lick's paint range. My kitchen is very bright, and although it is small - I decided to take the plunge and go dark; in contrast with my white tiles, walls and worktops."
Establishing the budget
Kelly always likes to remain savvy when it comes to preparing a budget for her home renovation projects. After seeing how much of an improvement the first paint job did for the kitchen cupboards, she knew it would be a fairly straight forward, affordable up-cycle.
The makeover
To start with, Kelly removed all the doors and placed them in her courtyard ready for sanding down. She removed the handles and put them to one side for safe keeping whilst the project took place.
One by one, she lightly sanded the door fronts; exposing the grain and removing any varnished surface from the previous upcycle. She then brought the doors inside and using a small roller – began painting the doors with Black 01. Kelly also used a small brush to get into the smaller grooves and edges.
"I wish I had used a dust sheet to lay the door fronts on during the up-cycle, because my dining table is now full of small paint splatters that I could've avoided – oops!"
Whilst the first coat was drying, Kelly began painting the cupboard frames and spray painted the door hinges - so that everything matched.
After a second coat, she allowed the paint to fully dry then fixed the hinges and handles back into place. Finally, the black doors were returned to the frames and she was over the moon with her mini kitchen makeover.
We think it looks fantastic! What a great way to give your kitchen a show-stopping change, with minimal effort and cost involved.
Revealing the budget
Kelly purchased just one of our 2.5 litre paint tins, for £38. This gave her more than enough for the job in hand, with plenty left over to decorate one of her dining room walls, too! With still a quarter of a tin left, Kelly can even contemplate a third project if she desired…
"I love painting, it's my favourite thing to do. It's also the one thing I can get stuck in to, without the help or advice of a contractor. It's always nice to have that feeling of accomplishment when you look back at the before photos, whilst cooking tea in your new (yet old) kitchen."
Kelly's tips to decorate on a budget
One of the most important things I've learnt when working with a budget is: don't be a snob... I used to turn my nose up at the idea of anything second hand – but I have found some fantastic things for my house, and saved myself a fortune. Our porcelain kitchen sink was just £40 from Facebook Market Place – what a bargain!
I would also encourage you to get stuck in and give things a go; if you don't try, then you won't learn. If you told me five years ago that I'd be a tiler (albeit, messy!), I would have laughed. I'm proud of the skills I have learnt, just by pushing myself outside my comfort zone.