How to decorate your home on a £300 budget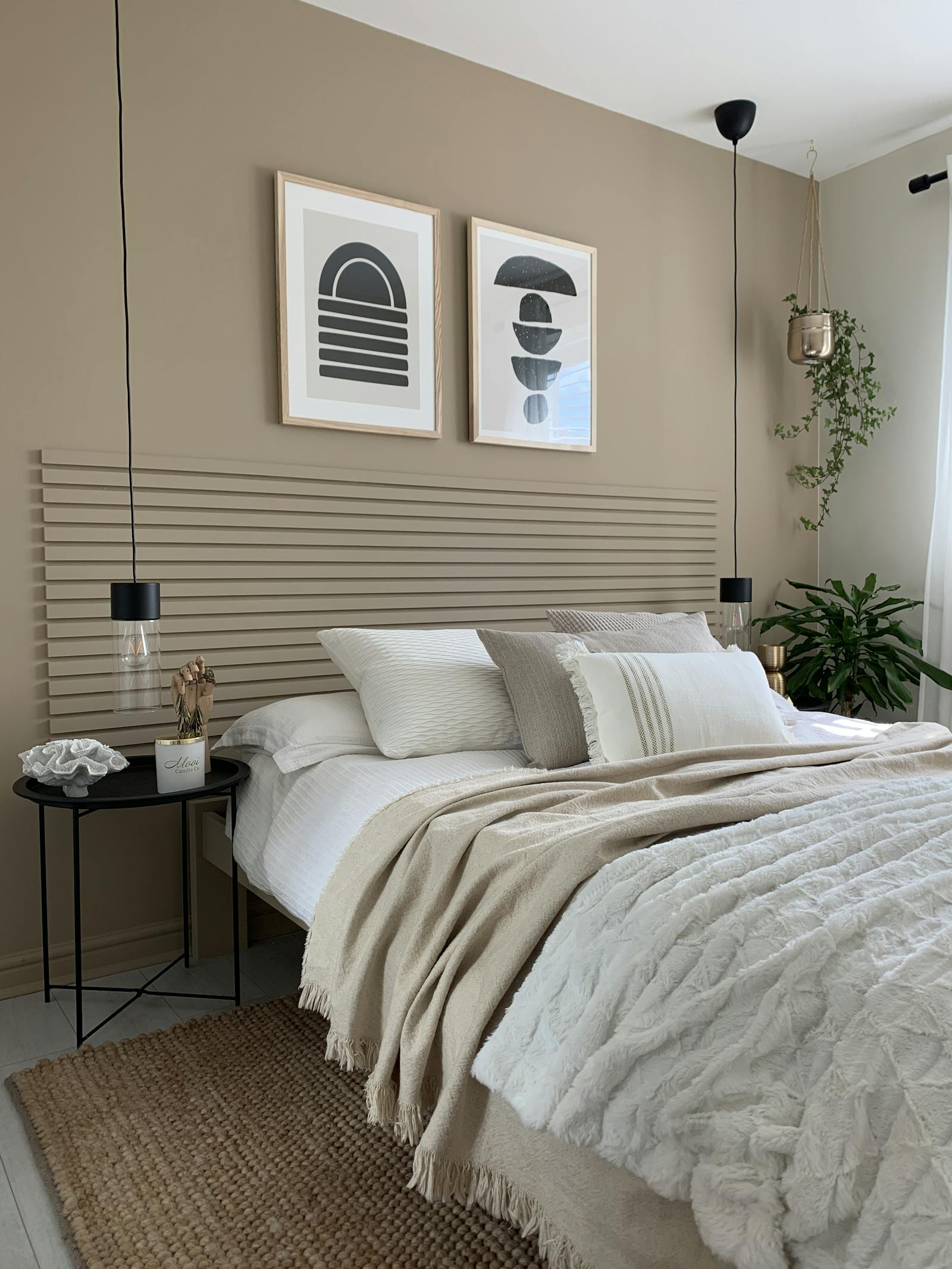 Fallon (@fallonpowellhome) is 33 years old, and lives with her husband Tim and their Chow Chow, Ziggy. She works as an interior designer & stylist by day; and loves to apply her skills in their own home during her spare time. They live in a four-bed detached new build, based in Cheshire. Fallon & Tim bought the property in May 2019 and have been renovating it since.
Fallon recently chose to give her guest bedroom a well-deserved makeover, as she admits this particular room received minimal attention when they first moved in…
Before the makeover
Originally, the room had one wall painted black; with hints of burnt orange and off-white within the styling and furnishings. Fallon describes this initial style as a dark and moody, with some DIY decisions being rushed; just so they could get the room set up when they first moved in.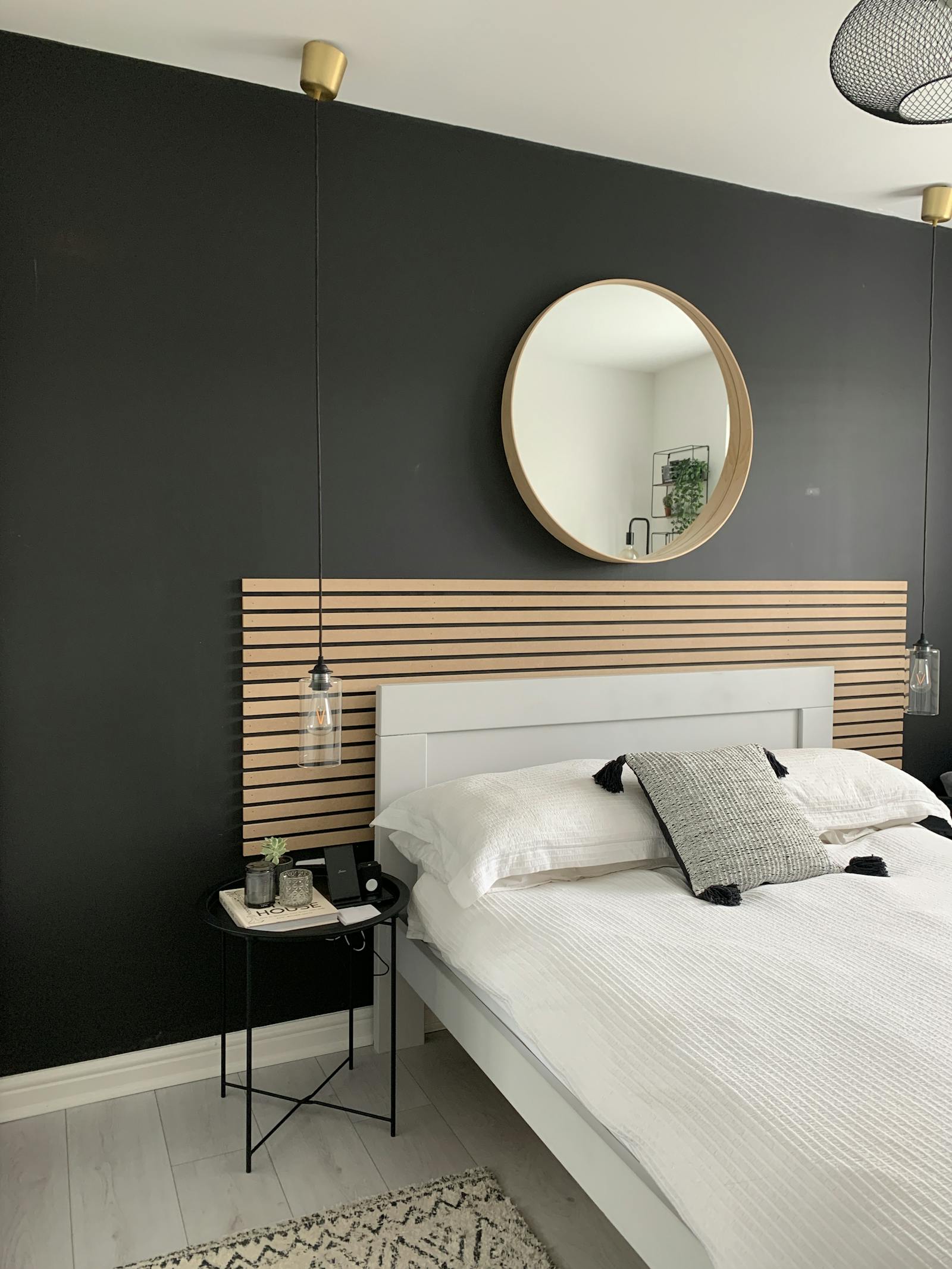 The spare bedroom had a 'dark and moody' vibe to it at first
Planning & inspiration
Fallon decided she wanted to move away from the monochrome colour palette, and instead, edge towards a more neutral finish; creating a calming and relaxing environment.
When building a mood board for the project, it was clear that Fallon wanted to go for a boutique hotel vibe; somewhere where guests could feel at home, but with a lavish edge. She turned to Pinterest, interior magazines and Instagram accounts for inspiration and ideas.
Fallon opted for paint colours from our very own range. She chose Beige 02 for the main feature wall, and White 05 for the rest of the walls.
"The room was desperately in need of some TLC and a complete transformation. I wanted to stick with the Scandi-style for this bedroom, as this is my favourite style and continues throughout the house."
Establishing the budget
For Fallon, she knew she was a step ahead of the budget because she already owned the existing bed, light fixtures and bedside tables. The project was destined to look like a complete refurbishment, but in reality, it just needed a fresh coat of paint and some new styling ideas.
The main costs anticipated were for the MDF to build the headboard and the paint for the walls; so she knew she could keep costs low and affordable.
The makeover
The project took four weeks in total, but this was time spent between work and some other background projects. All in all, Fallon estimated around five days labour.
The DIY headboard was the first job to complete. Next up came the paint work. To get rid of the black wall, Fallon used three coats of white emulsion to bring it back to a neutral canvas. She also applied two coats of quick drying primer to the wooden batons, so that they were also ready for the chosen paint colour.
Once dry, Fallon applied two coats of Beige 02 to the walls and headboard. She admits this took the longest time, and in hindsight – wished she'd painted the wall first, before applying the wooden batons. Similarly, priming the wooden batons before attaching to the wall would also have saved her time, but she was in no rush to complete the job and found the exercise therapeutic, regardless.
The next job was to paint the other three walls in White 05, which was pretty straight forward in comparison to the feature wall.
Once this was complete, Fallon then jumped onto the bed upcycle. This bed frame had been hers since she was 15 years old and only moved from her parent's house to her house the year before. Made of solid wood and in great condition, she decided to have the headboard cut off to the same height as the end of the bed – so that the new, wall mounted headboard would become the new feature. This cut-off cost her the bargain price of £1 at a local wood workshop.
"With the left-over Beige 02 and White 05, I mixed them together to create a slightly lighter beige colour; and gave the bed frame two coats of paint".
Once the painting was complete, all that was left was for Fallon to add the soft furnishings and styled accessories. We love the two Scandi-style prints that she added above the bed as a finishing touch!
Budget reveal
This budget transformation cost Fallon and Tim just over £300, and we can't believe the difference it has made!
"My favourite part of the project, and the biggest bargain, was the DIY headboard. The total cost for the pieces of MDF from my local wood workshop was just £15!"
Fallon's tips to decorate on a budget
Transforming a space really doesn't have to break the bank. Try looking at furniture you already have that can be upcycled rather than replaced, and if you get stuck for ideas on what to do and how to upcycle various things – Google and Pinterest are your best friend!
Paint can really transform a room and playing around with different textures and layers is always a great, and a cost-effective way to change a space. Adding a selection of cushions and throws really does work wonders, and a couple of statement accessories to catch the eye.
I think lighting is very important and can really make or break a room transformation. Lights also don't have to be expensive, but definitely put lots of thought in to it and invest more to get the best lighting for your space.
My go to shops for bargain accessories are; Home Sense, JYSK, IKEA and H&M Home.