How to decorate an open-plan kitchen and living room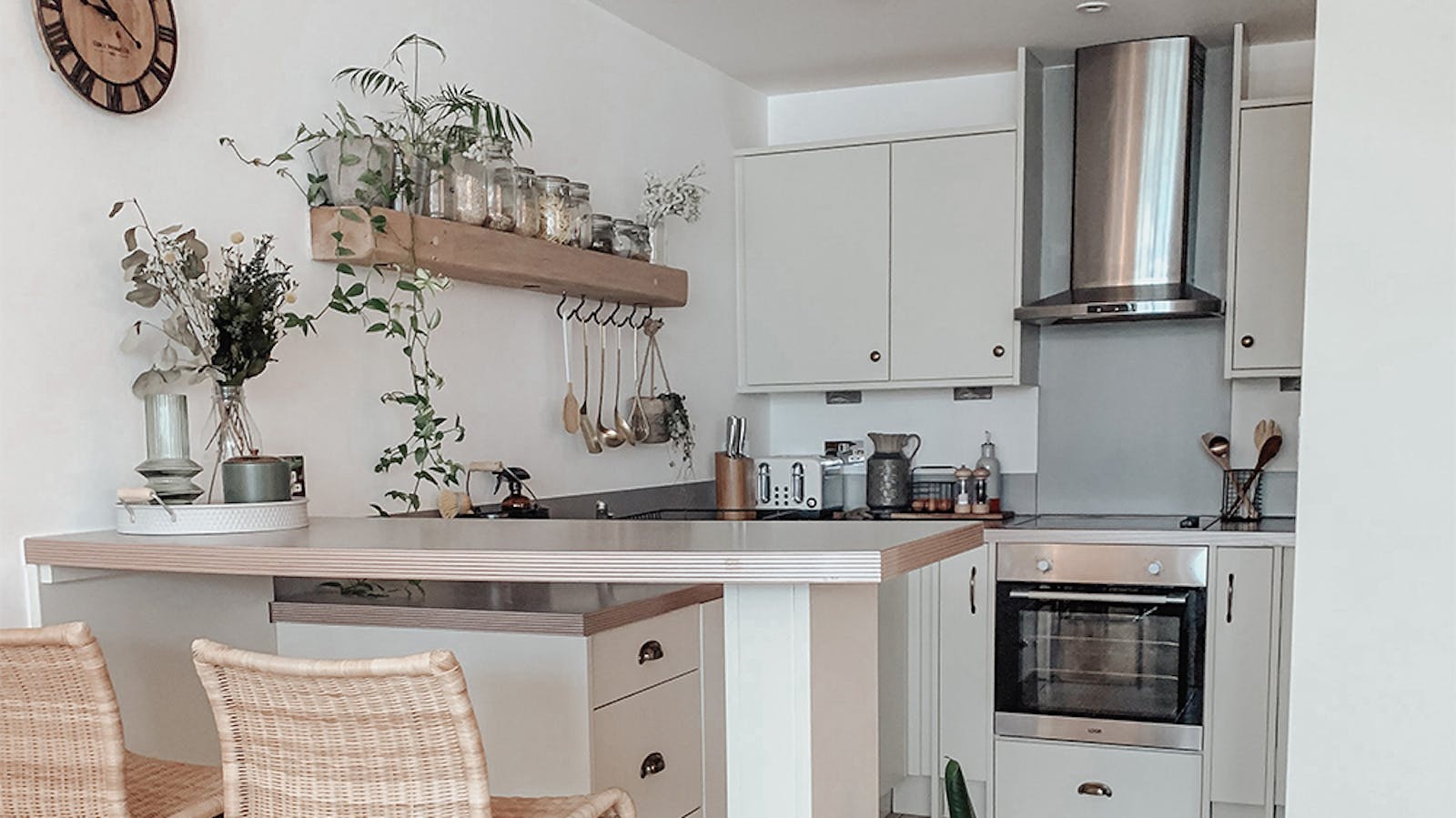 Sure, there's still call for broken-plan living – cue a rabbit-warren style cottage packed to the rafters with provincial charm from its flagstone floors to its thatched hat. But there's no question that modern living has favoured the knocking-down-of-walls approach.
Open-plan kitchen-living rooms are the beating pulse of many homes. They're made for bringing people together because they often combine two of the main activity hubs of your home – where you cook and where you kick back. Here's how to decorate your open-plan living room and kitchen; from creating 'zoning in' areas and cosying it up to avoid cold chasm feels, to unifying it through soothing paint colours...
Open-plan kitchen and living room decor ideas
There's plenty to consider when decorating an open-plan living space, but these are our top five points to keep front of mind.
Use rugs to create zones
A rug isn't just a statement of style, it's a statement of intent and therefore, helps you zone your room like an expert.
Put a rug under a dining table and chairs and you're proclaiming this is a separate zone to the rest of the space; this is my 'dining room'. As our lead colour specialist, Tash, says: "We all feel very comfortable in squares. You'll naturally see that you'll put your furniture into a square formation; it helps us mark out 'zones' and rugs are ideal to help you do this."
"We all feel very comfortable in squares. You'll naturally see that you'll put your furniture into a square formation; it helps us mark out 'zones'."

Tash Bradley
Whichever zone you decide to demarcate with a rug, it's also going to help knit your room together, so that away from the softness of the living room, there's still texture going on. That's why a rug or maybe a runner, is a great open-plan kitchen idea too. Especially if you pick up on a colour used on your sofa or a pattern from a cushion cover. It's going to feel more connected this way.
Opt for open shelving
Even in smaller open-plan spaces, say in a studio apartment, there's still going to be a decent amount of wall space to fill. You've got options – gallery walls, linear art displays, wall lighting, but open shelving is a guaranteed way to fill a void and to also section up the space.
By its very nature, open shelving is not going to take away from the airiness of the room either. Instead, it'll just soften it, add another focal point, and create an opportunity for self-expression through books, photos, ornaments and plants.
Open shelving doesn't have to be limited to your walls. Peel a bookcase away and use it as a room-separating device. Go for a mid-height one and you can pop a lamp or vase on top and treat it like a console table.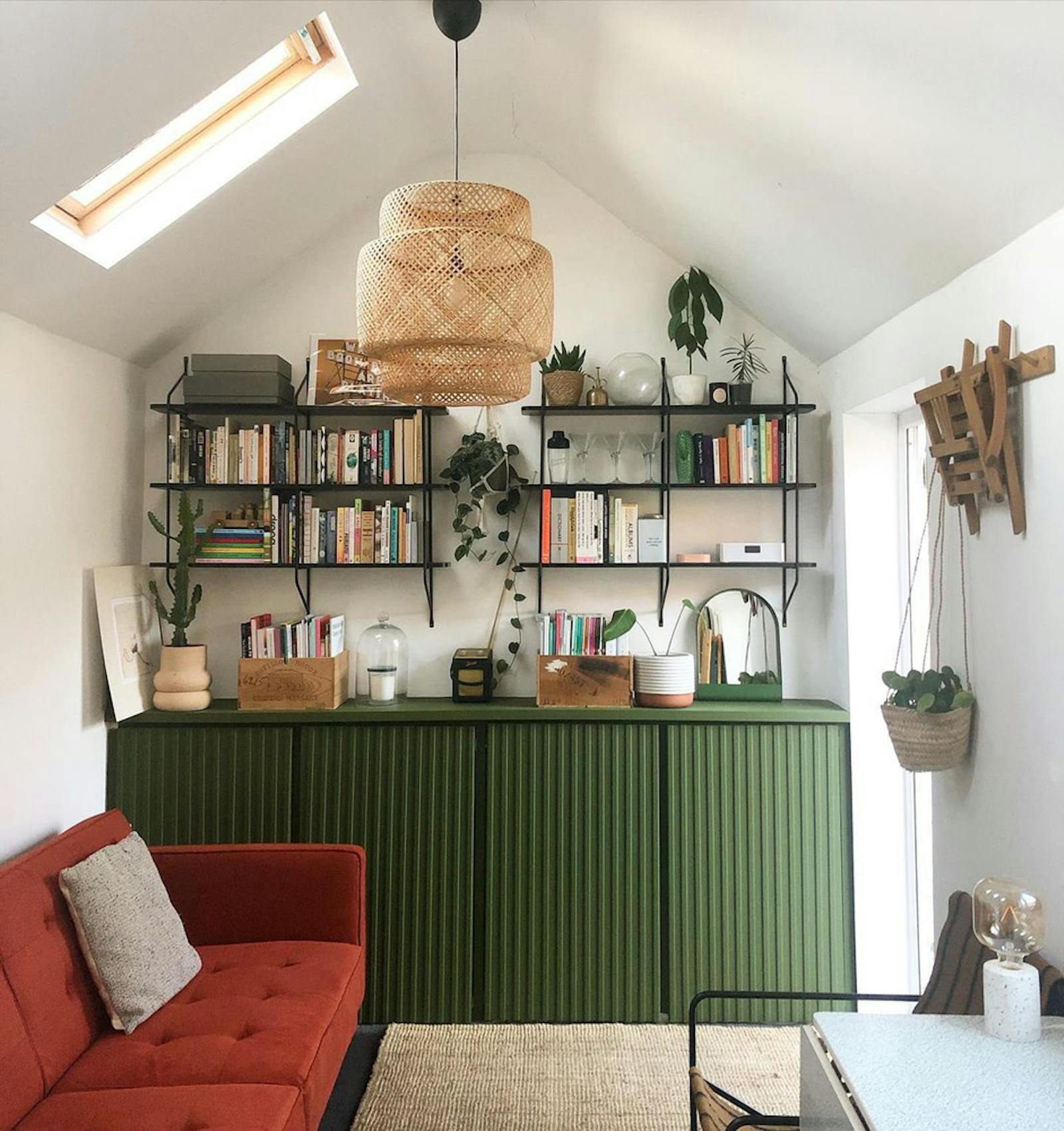 The open shelving by @archiesfamilyhome is a focus point of the room, without being overbearing
Harmonise your accessories
Your room is naturally going to have all sorts of accessories inside it, but the crux in an open-plan kitchen-living room is that a good number of them will need careful curation. Ideally, you'll mirror colours in your finishing touches so your different zones relate to one another. Take cushions as a prime example. Maybe you've filled your sofa with a green palette of velvet square pillows, olive linen bolster cushions and so forth. You could then use green tiling as a splash back in the kitchen and then terracotta pots huddled on your dining table to make a modern greenery centrepiece.
You can do the same with pattern or with texture too – unglazed ceramics objets on your open shelving and then the same finish by a different maker on mugs or a utensil pot in the kitchen.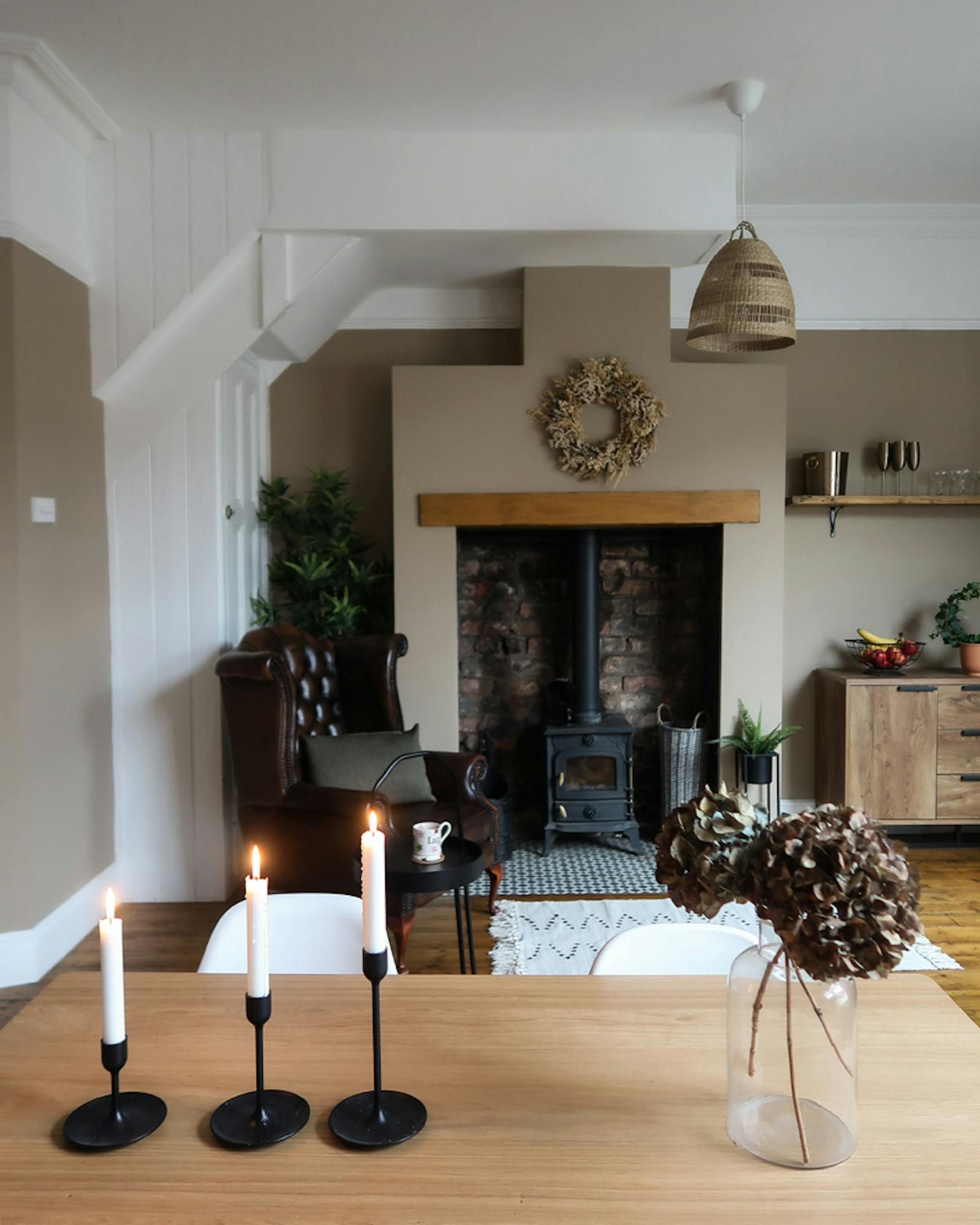 The beiges, blacks, browns and whites in this space echo each other in elements around the room @__itslucy__
Play around with lighting
Lighting is one of the most crucial facets to get right when decorating any room, but in a big living space, you'll need to call on it even more for the all-important zoning. Enter lamps.
Having multiple lamps dotted about your space will give you freedom to light up different pockets of the room at different points of the day. Play around and see how it feels when you're working from the sofa with a floor lamp on for directional light.
Be sure to layer your lighting too, not keeping it all from the ceiling with spotlights, but checking off that you've got some from above, some in the middle (floor and wall lights) and some lower down (lamps, candles and the such).
Plus, if you have pendants, vary their heights so that the one over your dining table is lower and more atmospheric than any you happen to have over a kitchen island. This is where they'll be providing focussed shafts of task-style light, so you don't chop off your finger.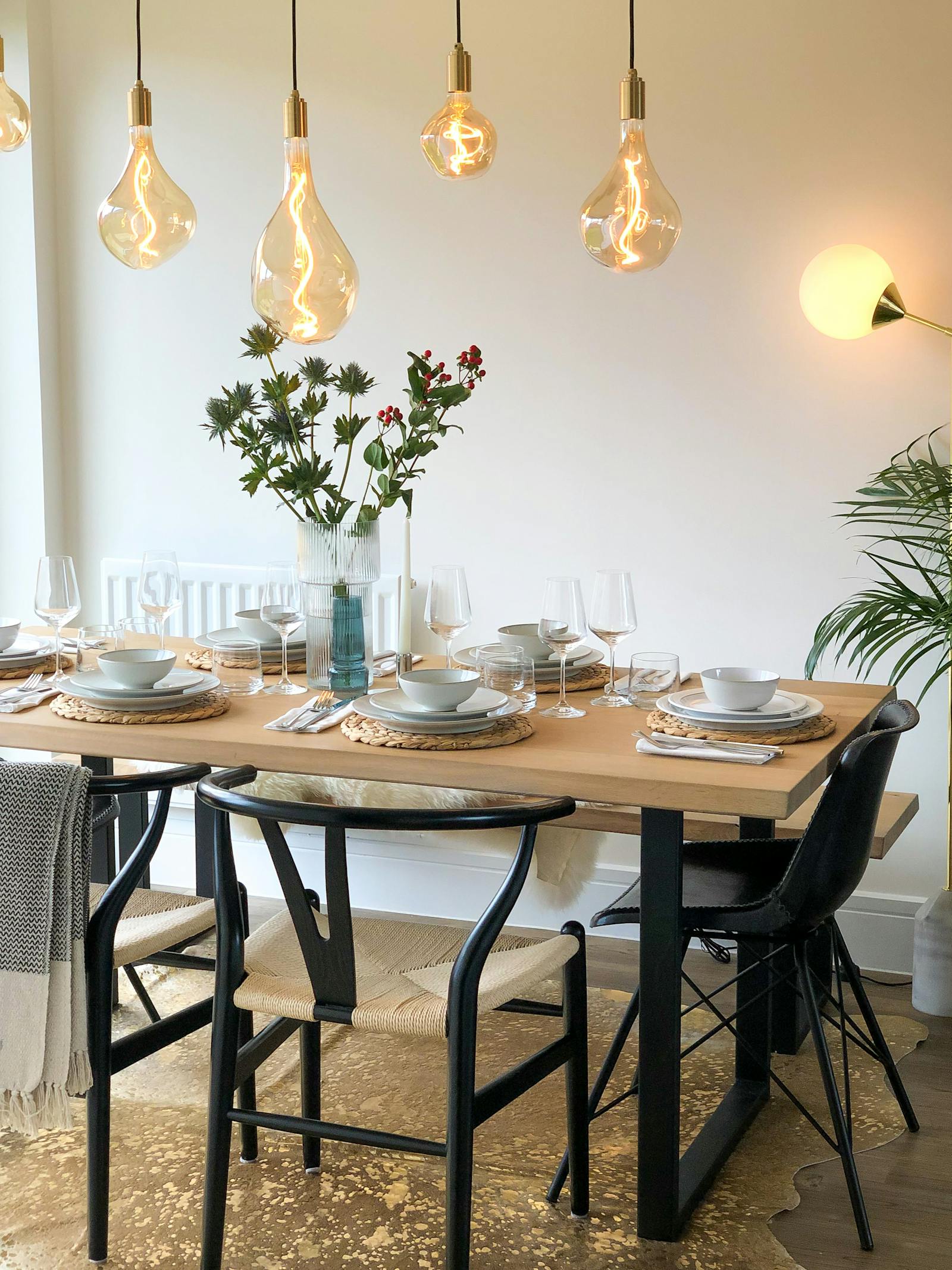 We are in love with these layered pendants above the dining table of @insidesixtythree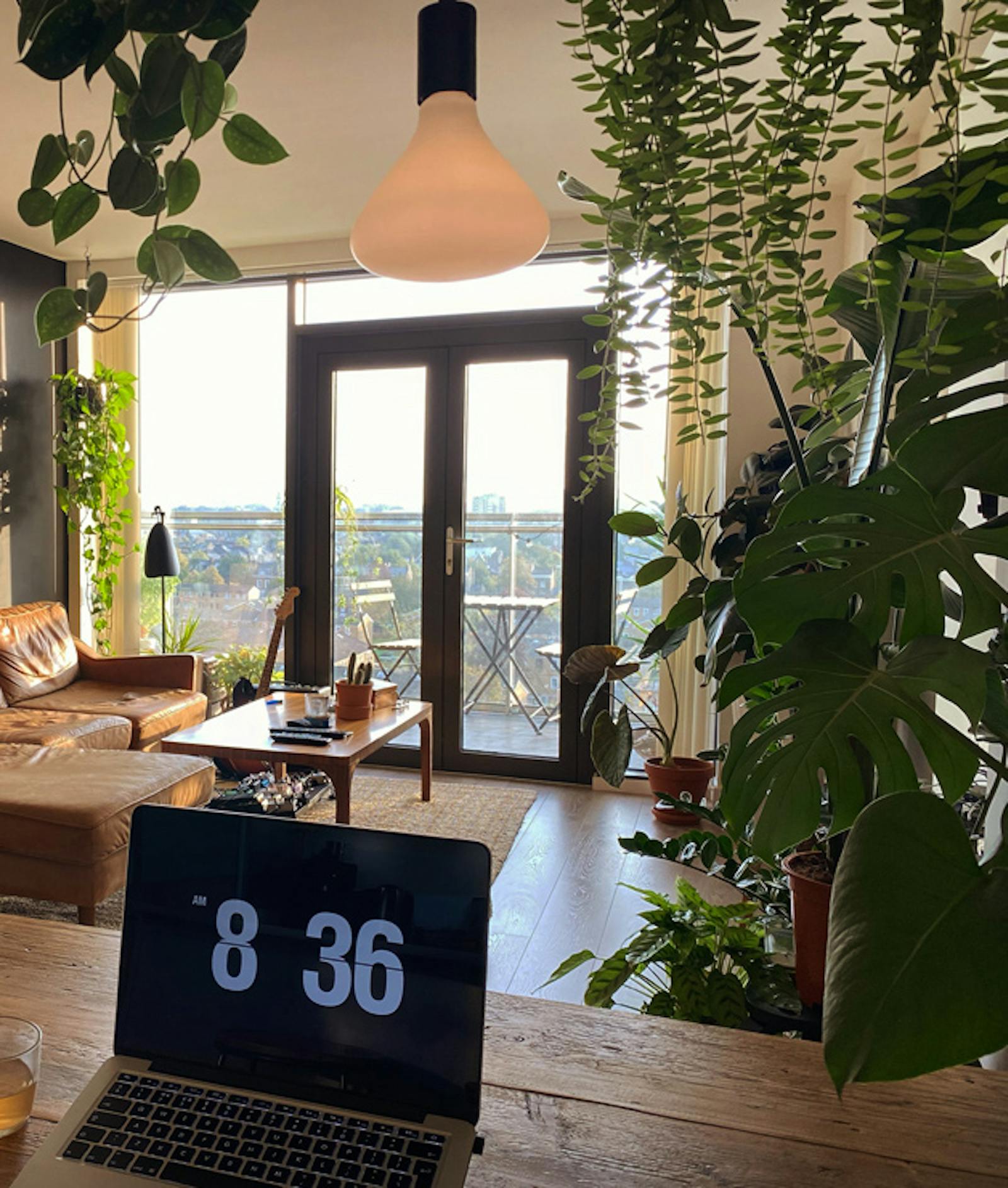 Layered lighting in the home of @__nest____ makes for a very cosy space
Minimise clutter
Your final scrap of decorating advice for an open-plan room? Everything in its place and try to reduce clutter. An open-plan room can take a surprising amount of furniture, but because of its space, it's also very easy to overfill. By keeping clutter at bay though, you'll safeguard that sense of openness.
How to create the illusion of space in a small open-plan kitchen-living room
Is your open-plan kitchen living room on the smaller side? Open-plan is a configuration favoured in small contemporary apartments and it works a charm. But if you're keen to find nifty ways to open up your living quarters without knocking through the walls, there are two areas of interior design to tap into.
Maximise light with mirrors
Mirrors bounce light about the place, making a space seem lighter, brighter and ergo bigger than it really is. Mirrors also, when strategically hung, reflect back the best bits of a room so you can appreciate them twice, and so that again, it looks like a much larger space, especially if you reflect back a window view.
With mirrors, it's a case of the bigger the better. Size really does matter here, so you could go for a leaning, full-length mirror or an oversized wall mirror if you don't fancy another object taking up floor space. You'll thank yourself for it.
Opt for soothing colours
Colour palette-wise, the best tones for a smaller open-plan space are those that recede outwards. Light blues and greens on your walls are your best bets – Blue 01, Blue 02 and Blue 03 in particular, and in the green camp, Green 01. Neutrals like any of our whites and beiges will have a similar effect and will soften your space so that your open-plan kitchen-living room can be its very best self.
Tread with slight caution when it comes to reds, oranges and yellows as these fireside hues in an open-plan room. Red steps forward first and is the colour that will hit your eyes before all other shades in a way that's very sudden. That's why stop signs are always in red. Totally fine in a room where you want to remain right there, but less so in a free-flowing layout where you want to maximise the square footage, to move through the room and to roam free.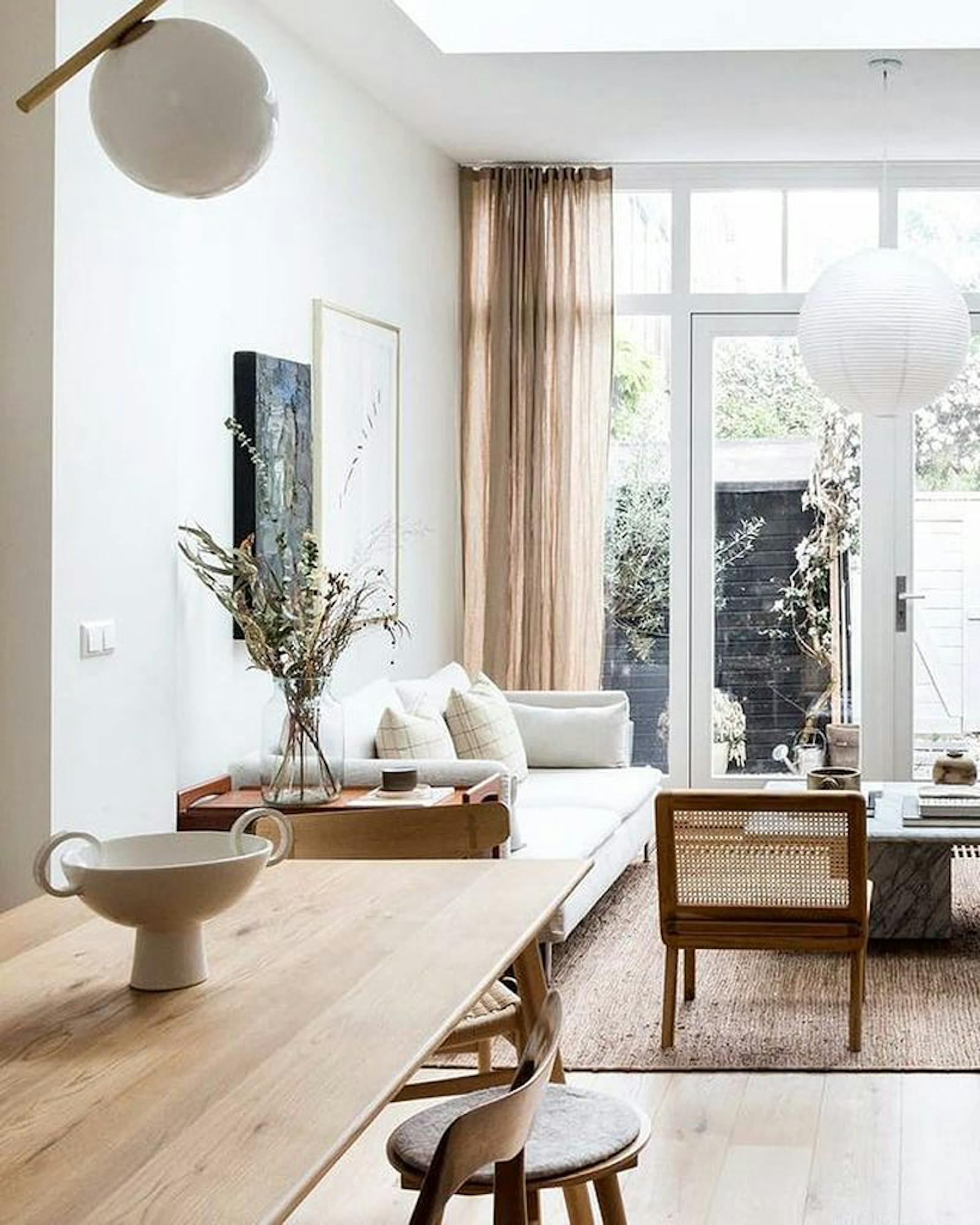 Restful and soothing, the gentle neutrals in this open plan room marry the space together @japandi_design