How to create a wall mural on a budget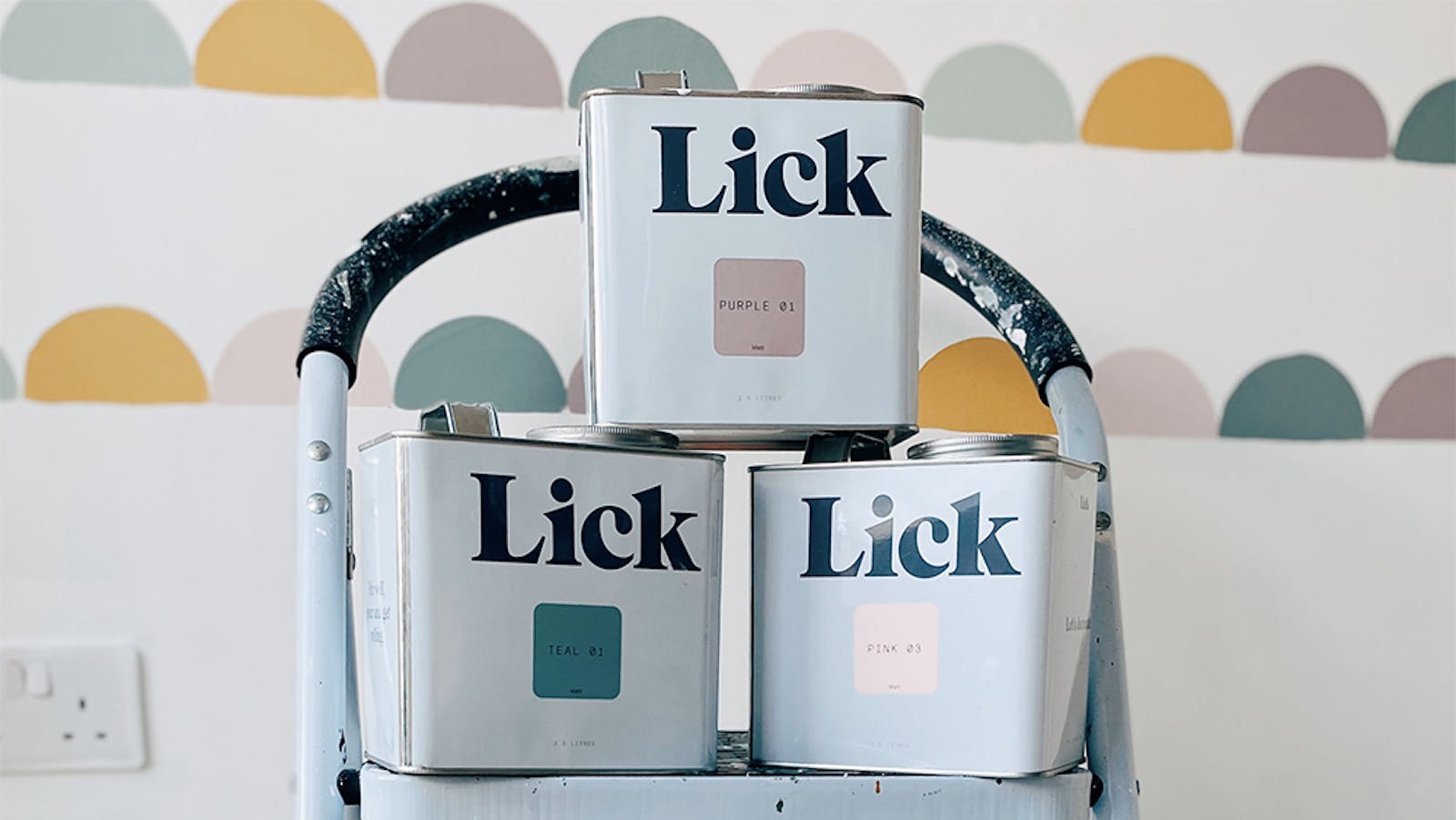 Jennie (@jens_den09) is 22 years old and lives in Wiltshire with her partner, Jack, and their two sons, Louie and Arlo. Their property is a three-storey new build, and they have lived here for two years now. Alongside her current role as a full-time mummy, she is slowly renovating their home and introducing lots of beautifully bright colours.
Jennie has chosen to share her recent kitchen/dining room makeover with our readers…
Before the makeover
When they first moved in, the kitchen/ dining room wall had been finished in a standard white emulsion and was in need of some colour and character. Jennie initially decided to paint this one wall in a shade of teal, but very quickly got bored after staring at it a lot during the first lockdown of 2020.
She described the teal wall as "boring" and "dull", and desperately wanted to design something that would bring them some daily joy. This wall is the first one you see as you enter the kitchen and dining area room, so she really wanted to create something impactful and memorable.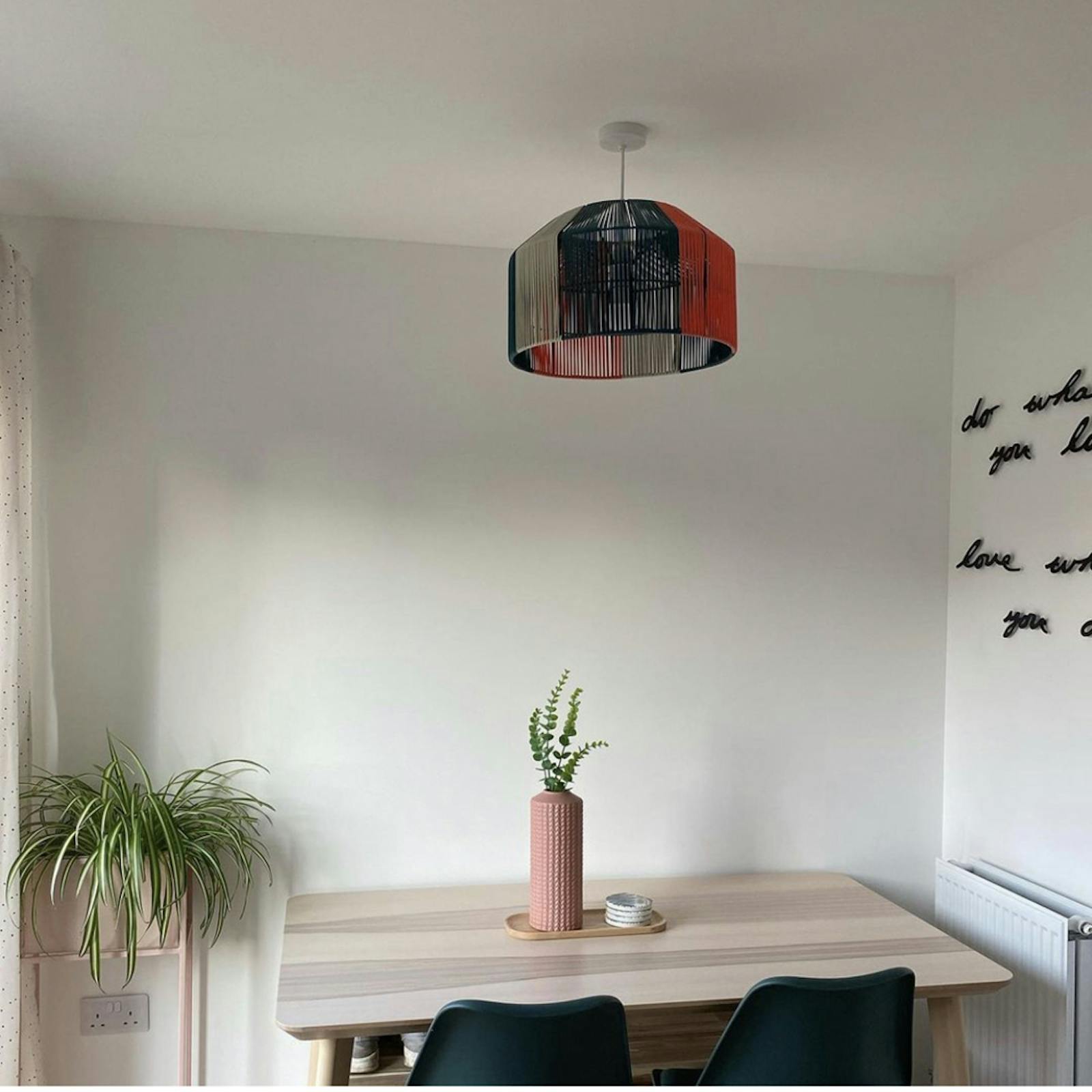 The kitchen/ dining room when Jennie first moved in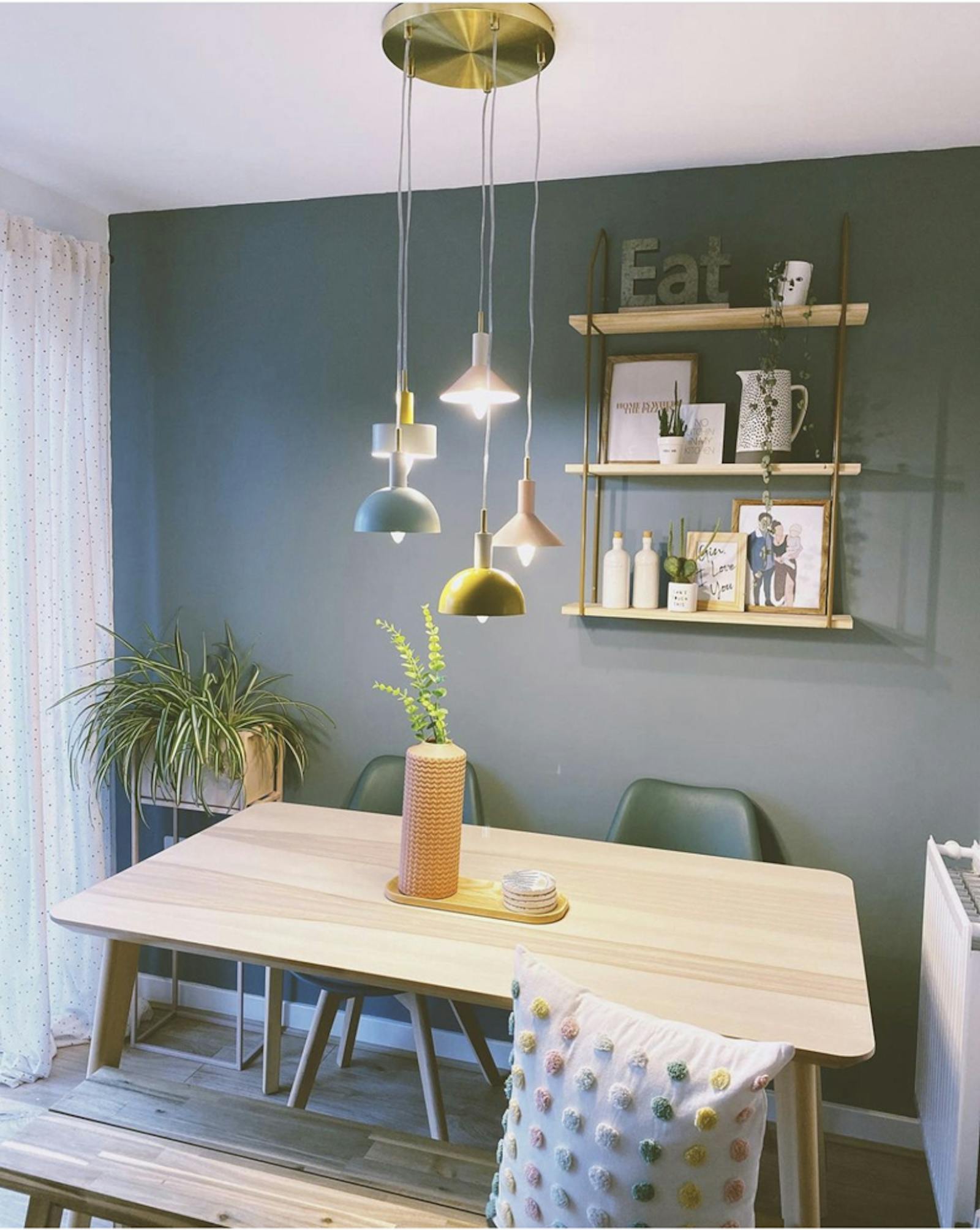 The kitchen/ dining room painted in Teal
Planning & inspiration
Jennie had recently used a number of our paint colours to create a rainbow effect on her staircase. If you haven't already seen this amazing project, visit her Instagram page for a very impressive and vibrant concept or have a glimpse below…
So, with left over paint sitting pretty in the house, it was the perfect opportunity to spread more colour across their home.
"I have always loved scallop print and have used it all around my home. I really wanted to take inspiration from my rainbow staircase, and tie all the rooms together."
Establishing the budget
The beauty of this project came in the fact that she already owned the paint colours from a previous project. Thrifty, very budget-friendly and super creative!
How to create a wall mural
 Jennie has kindly provided us with a step-by-step process of this transformation…
The first step was painting the wall back to white. This took 3 coats of paint, as the wall was previously a dark teal

Next, Jennie had to make the perfect size scallop template. She drew round a small plate onto some cardboard, then halved the circle perfectly down the middle before cutting out the scallop shape

Once she had her template, Jennie planned where she wanted the scallops to go and how far apart she wanted each row. She used a ruler to make sure the width between the scallop rows were equal

Jennie then drew straight lines across the width of the wall, using a spirit level and ruler to make sure it was accurate. Once she was happy, she took the scallop template and drew around it as many times as it took to reach across each of the horizontal lines

Next, she designed her colour pattern. She didn't want the same pattern the whole way down, so decided that every other line of scallops would match. In total, there are two different colour patterns

Jennie filled in each colour before moving onto the next, and carried this on until every scallop was full. Allow a short drying time in-between each scallop so that the wet paint doesn't accidentally mix when you are joining them up
Jennie's experience with Lick
I absolutely love Lick paint; the colours are a perfect match to the samples and the coverage is fantastic! A little paint goes a long way with Lick.
"I absolutely love Lick paint; the colours are a perfect match to the samples and the coverage is fantastic! A little paint goes a long way with Lick."
This project took Jennie two full days to complete, and the satisfaction levels were off the chart...
"Filling in the scallops was my favourite part, literally watching the wall come to life every time I added a new colour"
Hands up – who fancies giving this a go? *Lick team holding up our hands*
Revealing the budget
It truly is amazing that this incredible transformation cost Jennie a grand total of zero. The spare paint was left over from her staircase project and the tools for the job were already hers. The only thing Jennie spent, was her time - and it was certainly worth every second.
Jennie's DIY advice & tips
Always wash your brushes out thoroughly… save them and look after them, don't throw them away! Do the same with your trays too, all items like this can be reused a few times and saves you money for your next projects
Try battling through that DIY job list yourself - it saves you paying someone else to do it, and you will also be learning a new skill, which is totally priceless!
Don't rush a project, just take your time and enjoy it. I absolutely love DIY, it's my happy place and has become a great hobby of mine amid my maternity leave and the COVID19 lockdowns