How to create a soothing bedroom environment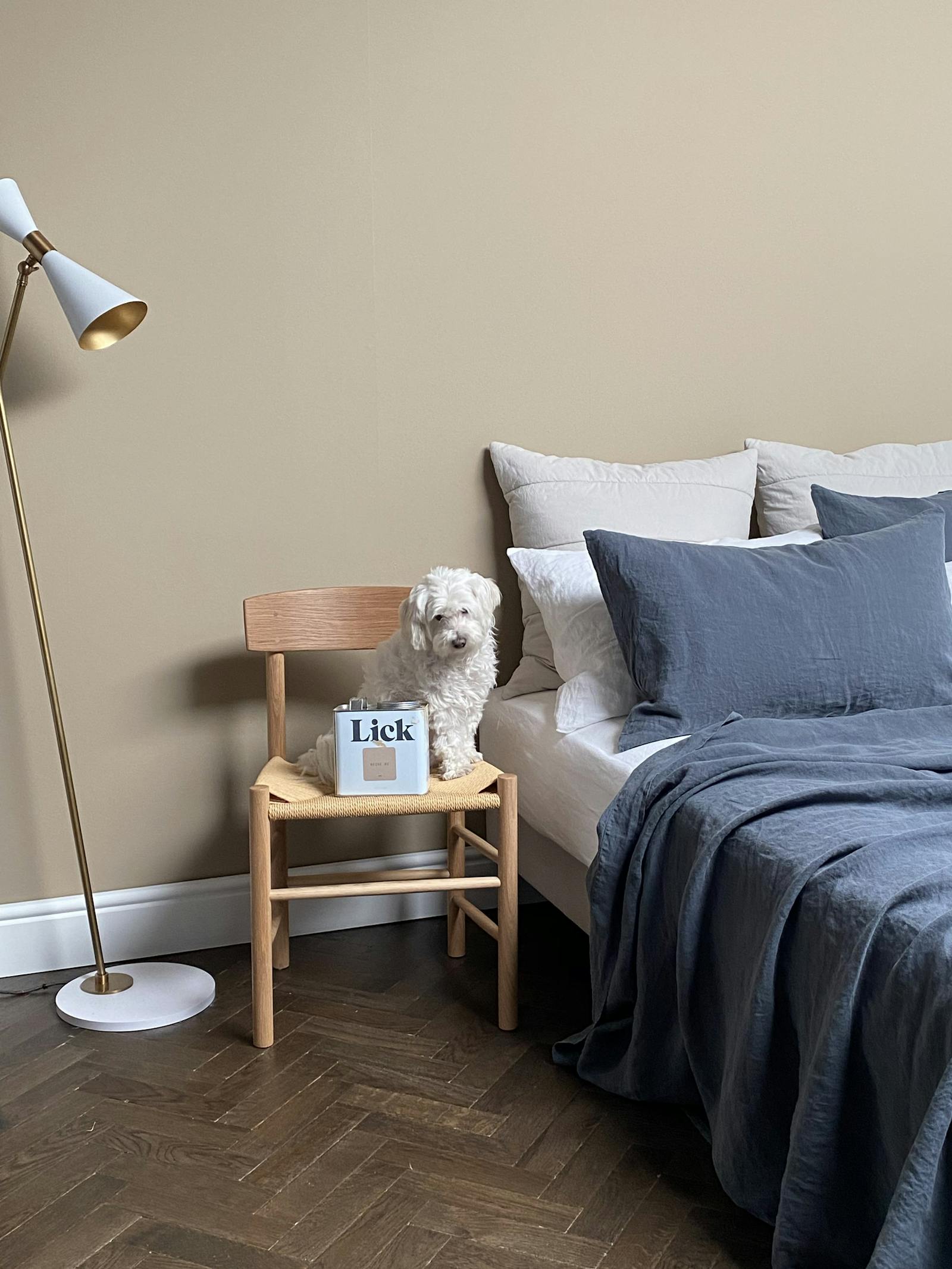 This article is part of our partnership with Bedfolk. This week, Bedfolk founder Jo James shares her tips on how to create a relaxing and soothing bedroom environment.
At Bedfolk, we sell ridiculously comfortable bedding you want to dive into… So you could say soothing bedrooms are our forte.
We share our top tips for creating a sense of calm, warmth and cosiness in your bedroom.
Opt for calming colours
When creating a soothing bedroom environment, soft, muted colours are key as they create a serene and tranquil feel.
Go for classic neutrals in your colour scheme such as beige, grey and white. If you're feeling a little braver, pastels and earthy tones are great alternatives.
In the Bedfolk studio we have Beige 02 on the walls which we love as it's calming, makes a statement and goes beautifully with our linen. The Greige paint collection is another Bedfolk favourite too.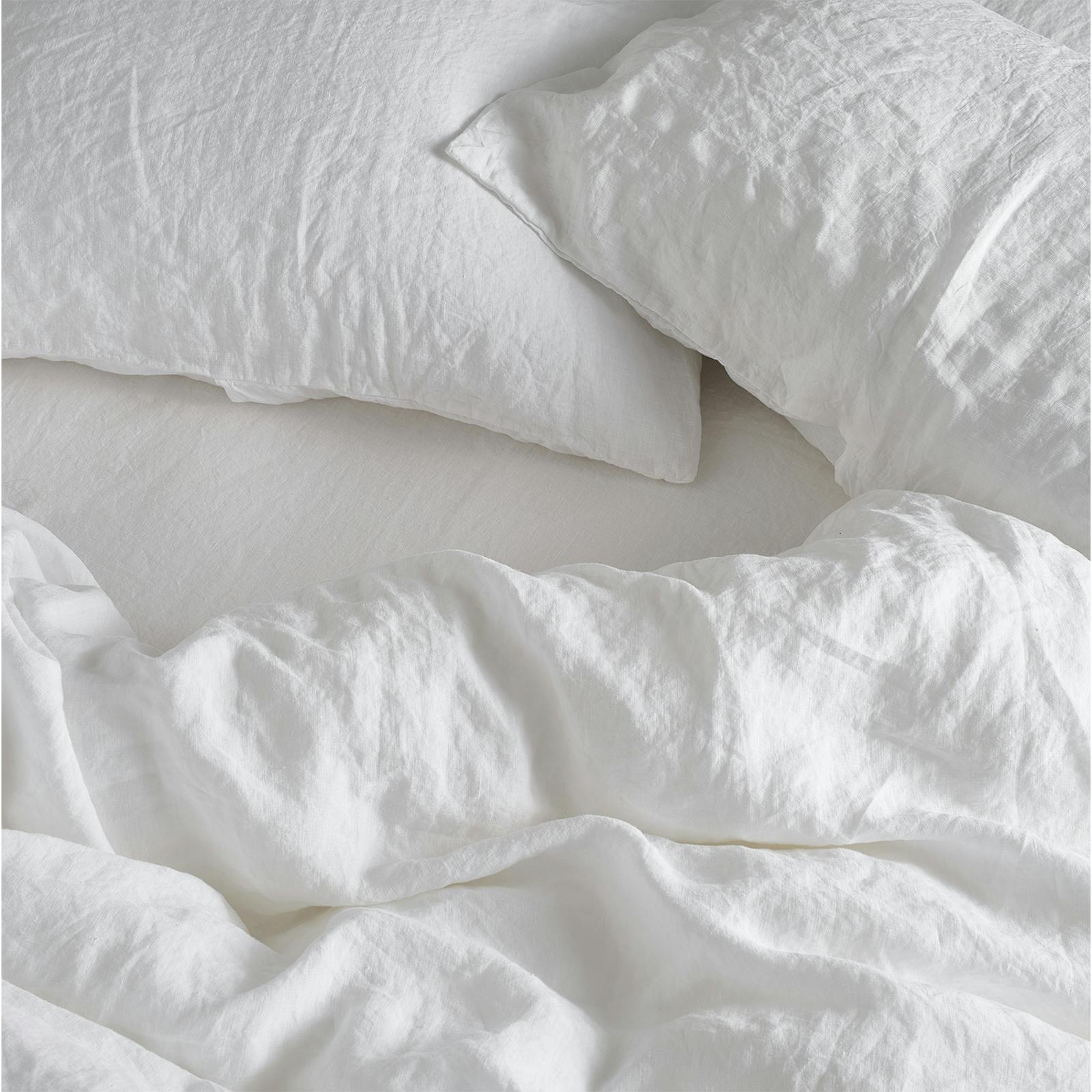 Bedfolk textured linen in Snow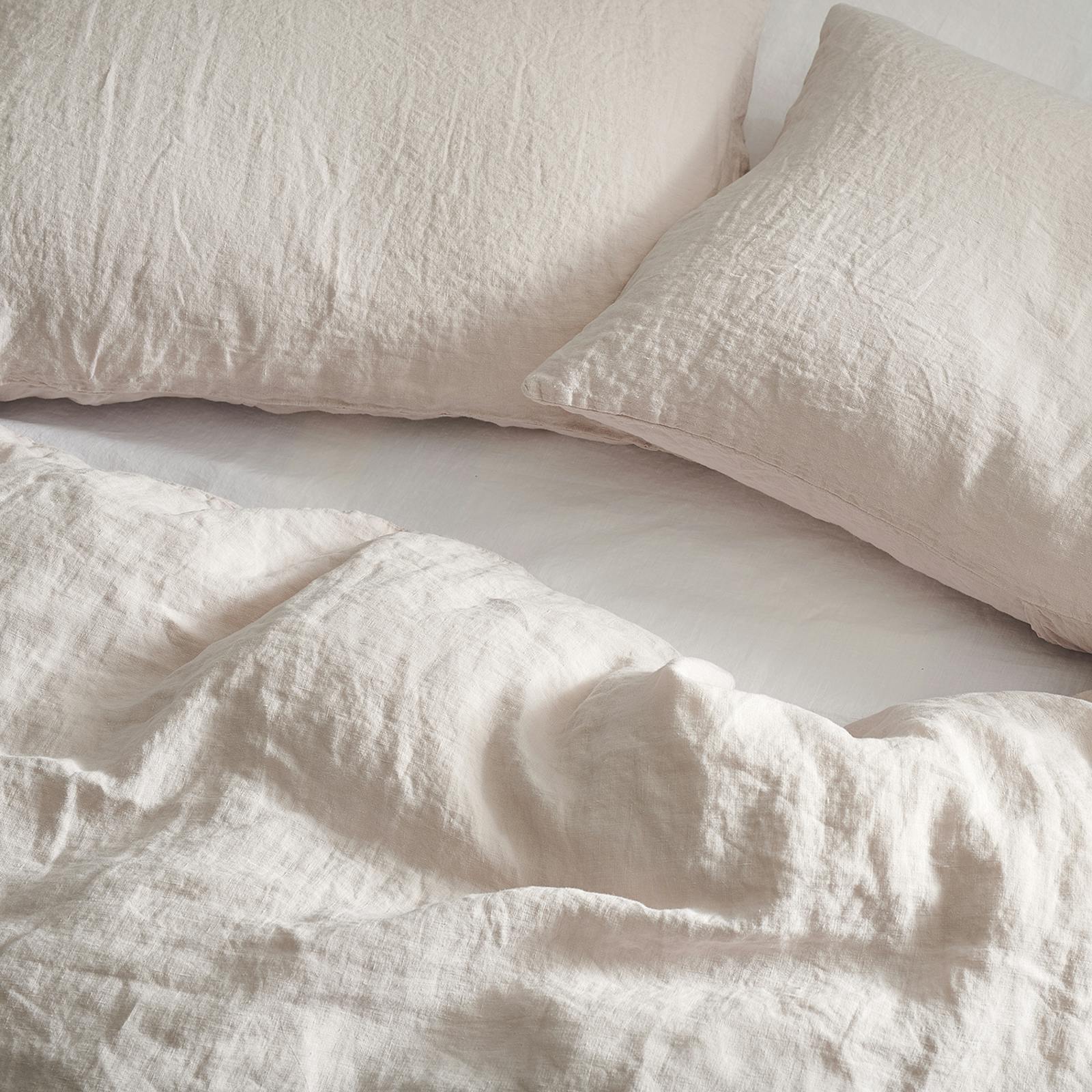 Bedfolk textured linen in Rose
Layer up on the bedding
A big, comfortable bed layered with super-soft bedding is the epitome of 'soothing' at the end of the working day.
Let's start with the duvet. We recommend getting a duvet that is one size up from your bed. Not only does this mean you've got plenty more duvet to snuggle into, it also puts a stop to squabbles over duvet hogging during the night.
Next, layer up with a quilt or throw. They make your bed look even more inviting by adding texture, and a quilt is ideal for wrapping up in on a dreary day.
Finally, get yourself some oversized square pillows. Not the type you use for decoration and throw on the floor before getting into bed, but the big, squishy and comforting type. The kind of pillows you prop yourself up in bed with to enjoy a hot cup of tea or read a book. We call them the 'game changers' because once you've got a pair, your bed won't be the same without them.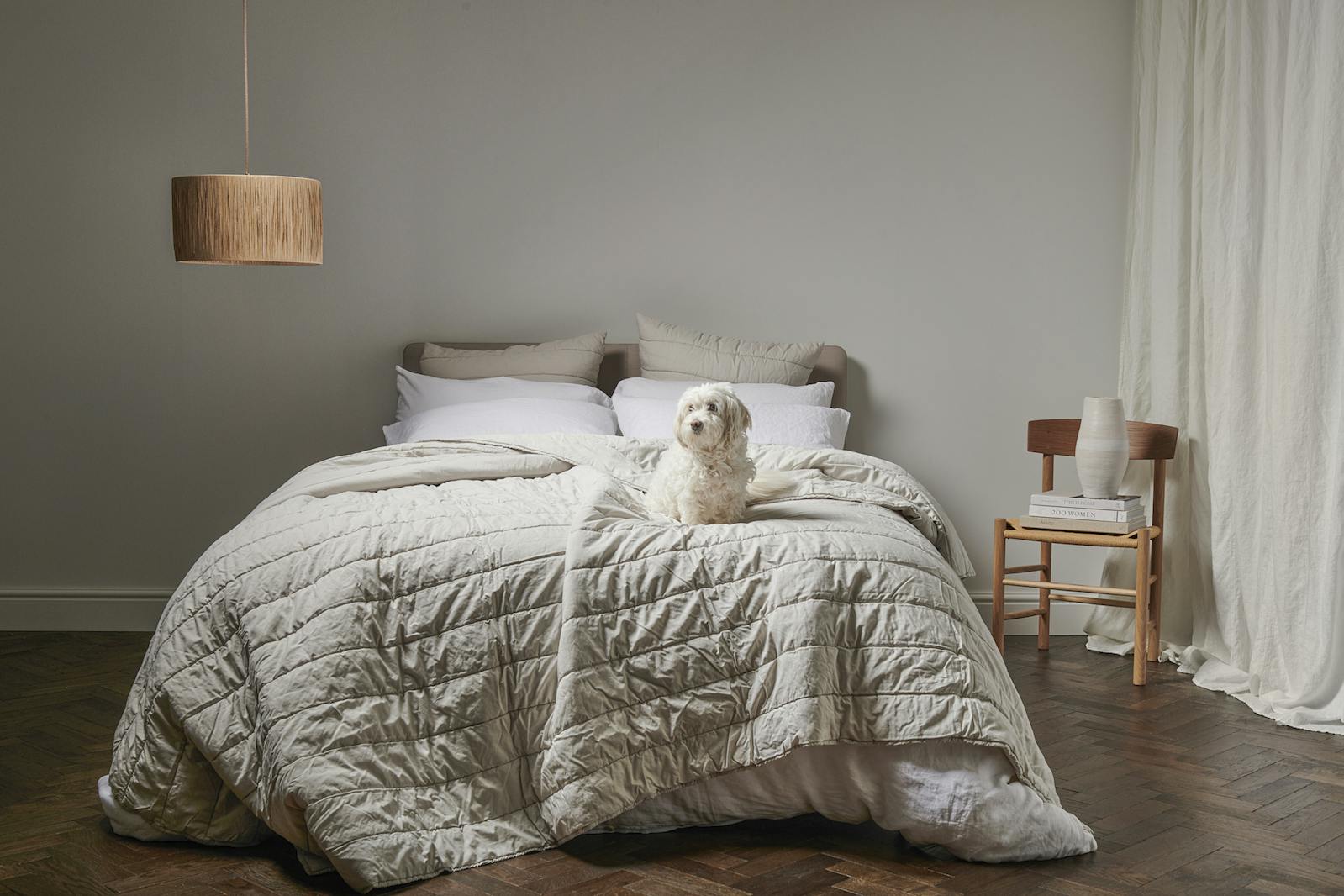 Bedfolk layered bedding to make your bed look more inviting, with special guest Juju
Use mood lighting
Lighting is key for setting the mood of a bedroom so it's always good to have options.
Whilst a large pendant or spotlights are great for practical use during the day, bedside lamps and wall lights make the perfect accent lighting for creating a calming environment.
A top tip is to have a dimmer installed so you can control the mood in your bedroom at the flick of a switch.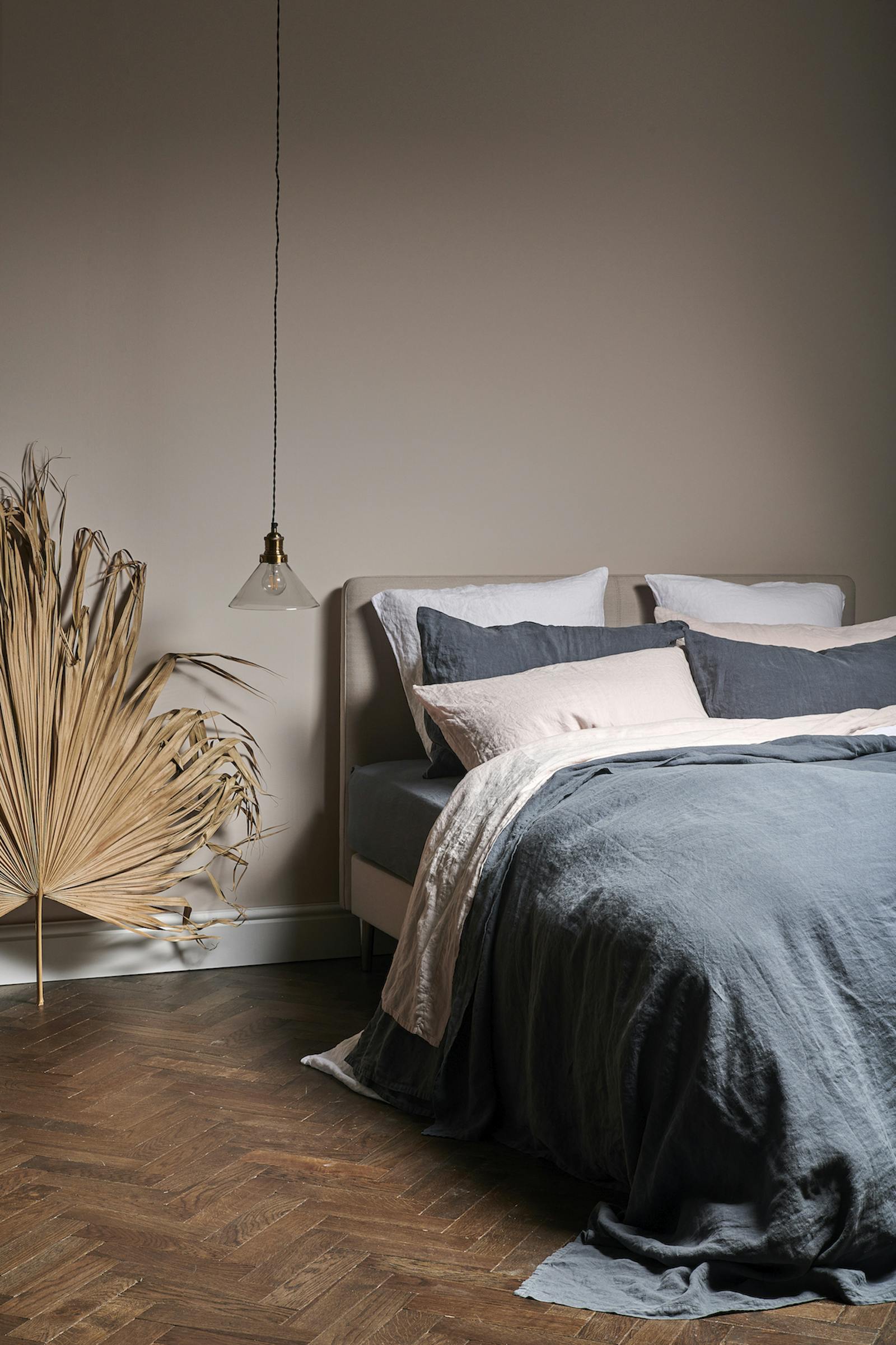 Lighting is key for setting the mood of a bedroom
Add texture for cosiness
Texture is the sense of how something 'feels' when you look at it, so the texture of your bedroom décor is really important when creating a sense of calm and warmth.
A soft rug underfoot (such as a Berber or faux sheepskin) is always a nice greeting on your feet when you first get up in the morning.
When it comes to bedding, linen has the perfect 'just woke up like this' scrunch factor. It's the kind of bedding that looks good thrown on the bed; no styling, tucking or folding required.
Washed percale cotton is another good choice for adding texture. At Bedfolk, our Relaxed Cotton has the similar laid-back and effortless crumpled look of linen.