Beat the November blues with these uplifting colours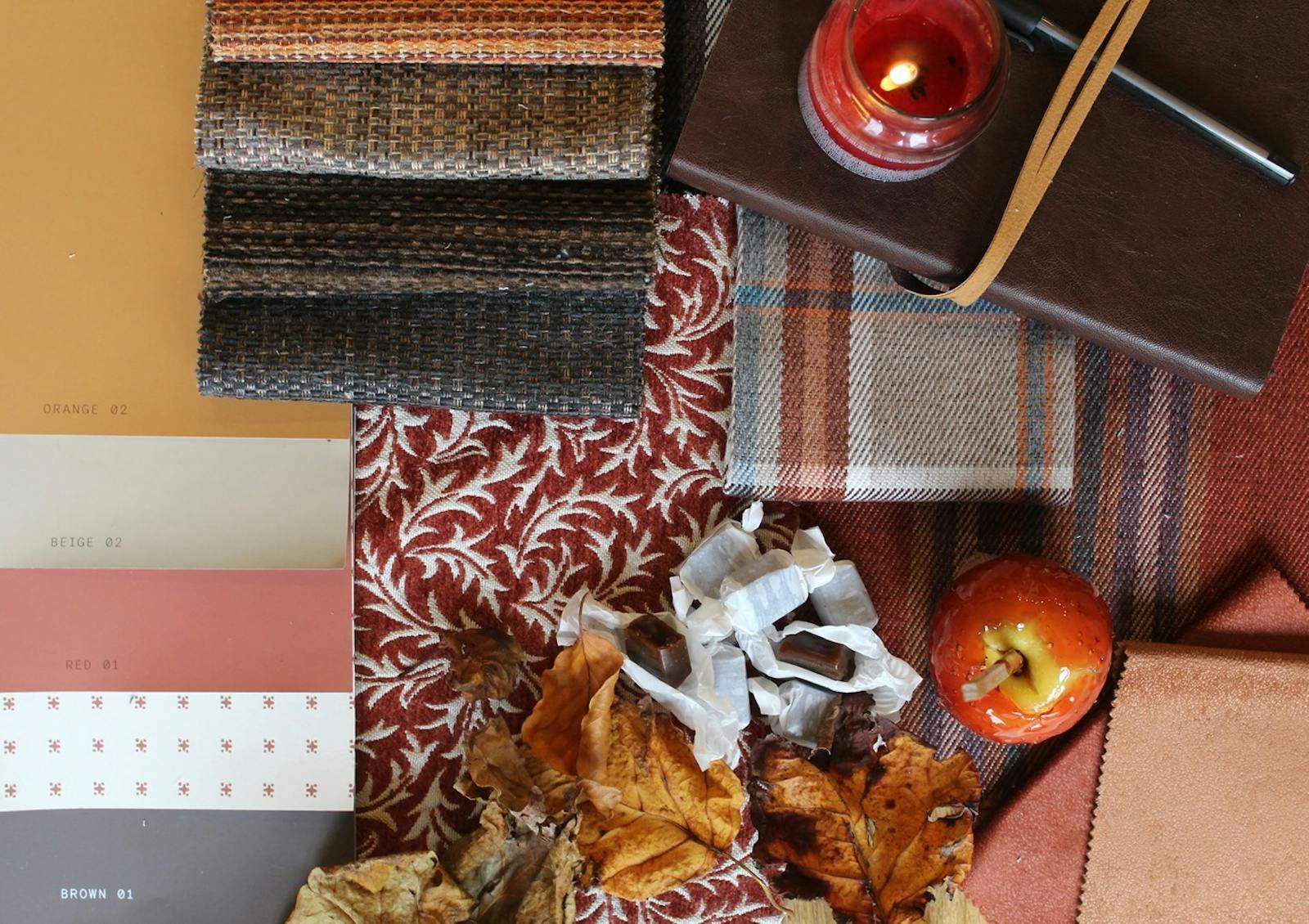 November, you're here and in our book, what a warm welcome you deserve. The leaves are now a swoon-worthy mix of rosy cheek red and are practically gilded in gold, thoughts have turned to firesides, salads are gone and soups are in, and in no time at all, sleigh bells will be ringing.
But if you need to up the ante on November's cheer to buoy you through the winter months, then feast your eyes on our edit of the toastiest tones – because colour is one of the best mood-boosting tricks in the book after all… For what awaits is the most positive palette in town to welcome into your home in whichever way you please, from full-on moon repaints to a seasonal feature wall.
Orange: the feel-good colour
Whether you're a sucker for the earthy, terracotta tones of Orange 02 or prefer something that's alive and kicking like zingy Orange 01 (aka, sunshine in a can), orange is a happy-go-lucky hue and then some.
Think of orange and it's hard not to have at least a passing thought of summer, of ripe and zesty oranges segmented and ready to savour. It's a colour that transports you to brighter, sunnier times. But it's also a colour of contrast, because orange too is about warming embers from the fire and, back to things citrus, the Christmassy clementine – a cheering thought if ever there was one.
"Put simply, orange puts a positive spin on things. It energises and it uplifts."
Remember that famous brand slogan, "The future's bright, the future's orange"? There was a reason they picked it – orange equals positive vibes only.
Get creative: orange is said to encourager conversation and even increase appetite, so try it in a dining room as an accent. You could even repaint wooden dining chairs to pepper it into and across the room.
Tones to try: Orange 01 works well with deep greys like Grey 07 and Orange 02 is a match made in heaven with any of our teal paints from Teal 01 to Teal 03. Shades of blue and teal always make good friends with orange - being on the opposite side of the colour wheel - so they are another good colourway to consider with either of our oranges.
Yellow: the friendly colour
How could you not always look on the bright side of life with sunny-side-up yellows in your home? Yellow might be known as a bit of a tricky shade to wear in the world of fashion, suiting certain complexions and hair colours more than others, but the good news is that it's far simpler to bring into your interior than your wardrobe.
"Yellow is associated in design with its optimism, feelings of friendship and ability to inspire confidence."
In the Lick palette, there are two yellows to choose between. Custard cream Yellow 01 is the soft, creamy one that is the more playful of the two, so use it if you want your scheme to feel young, jubilant and to turn any frown upside down. Yellow 02 on the other hand goes to show that yellows can be calming too. It's a warm yellow with red undertones that's closer to ochre so will feel very grown-up, not to mention on-trend as we move into a year of warming, earthy hues.
Get creative: one of the go-to rooms for yellow is the nursery or a child's room, but why not bring yellow into the hub of the home like chef, author and Instagram extraordinaire Skye McAlpine (@skyemcalpine)? She painted her London townhouse kitchen in two tones of yellow, inspired by the one in her Venetian grandmother's when she was a little girl and the results are golden.
Tones to try: Yellow 02 would work a dream in a tonal palette of Orange 02 and a bit of Beige 01 for balance. And to modernise Yellow 01, try it with Greige 02.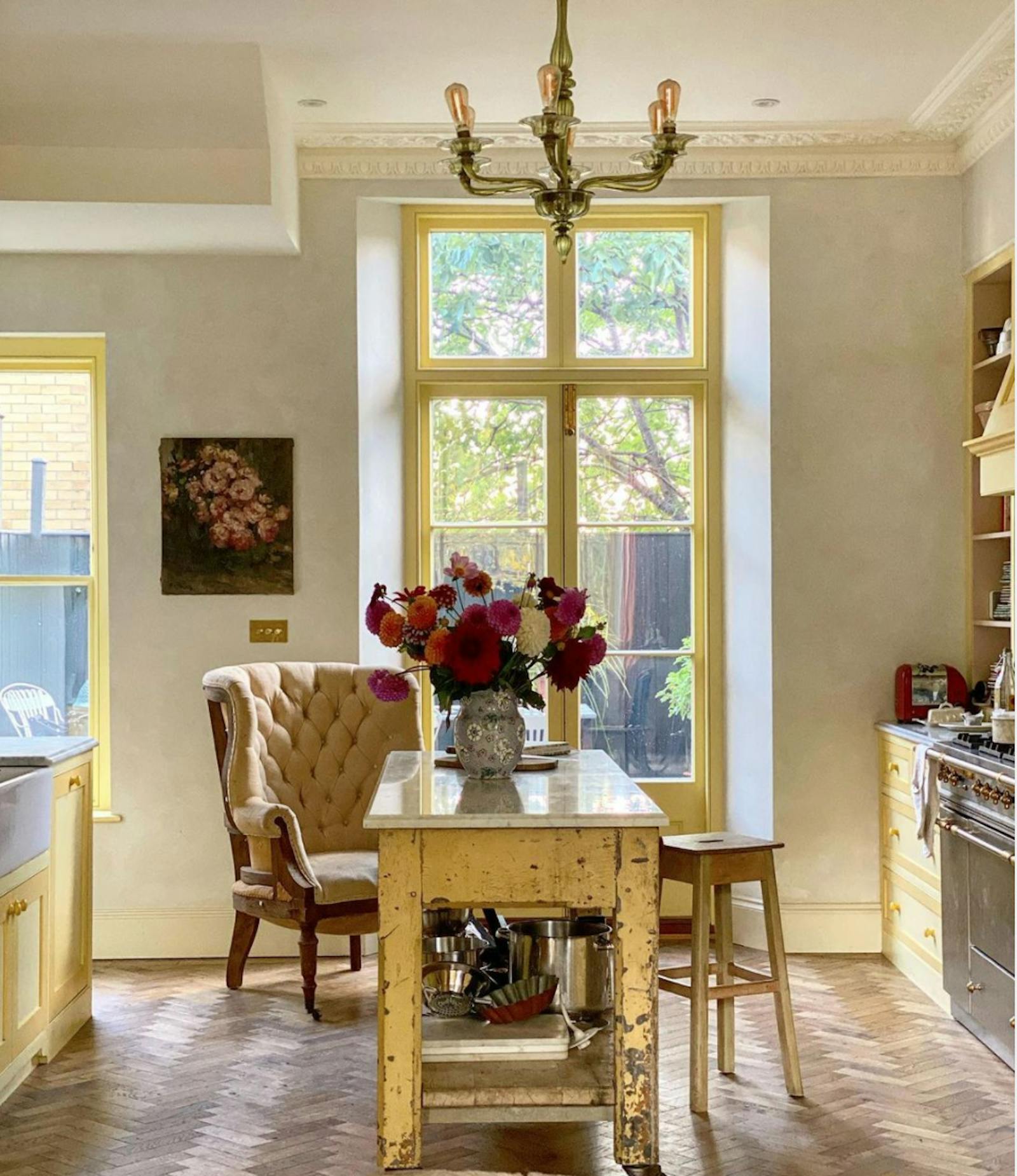 A dreamy yellow oasis in the heart of the home, perfect for chef @skyemcalpine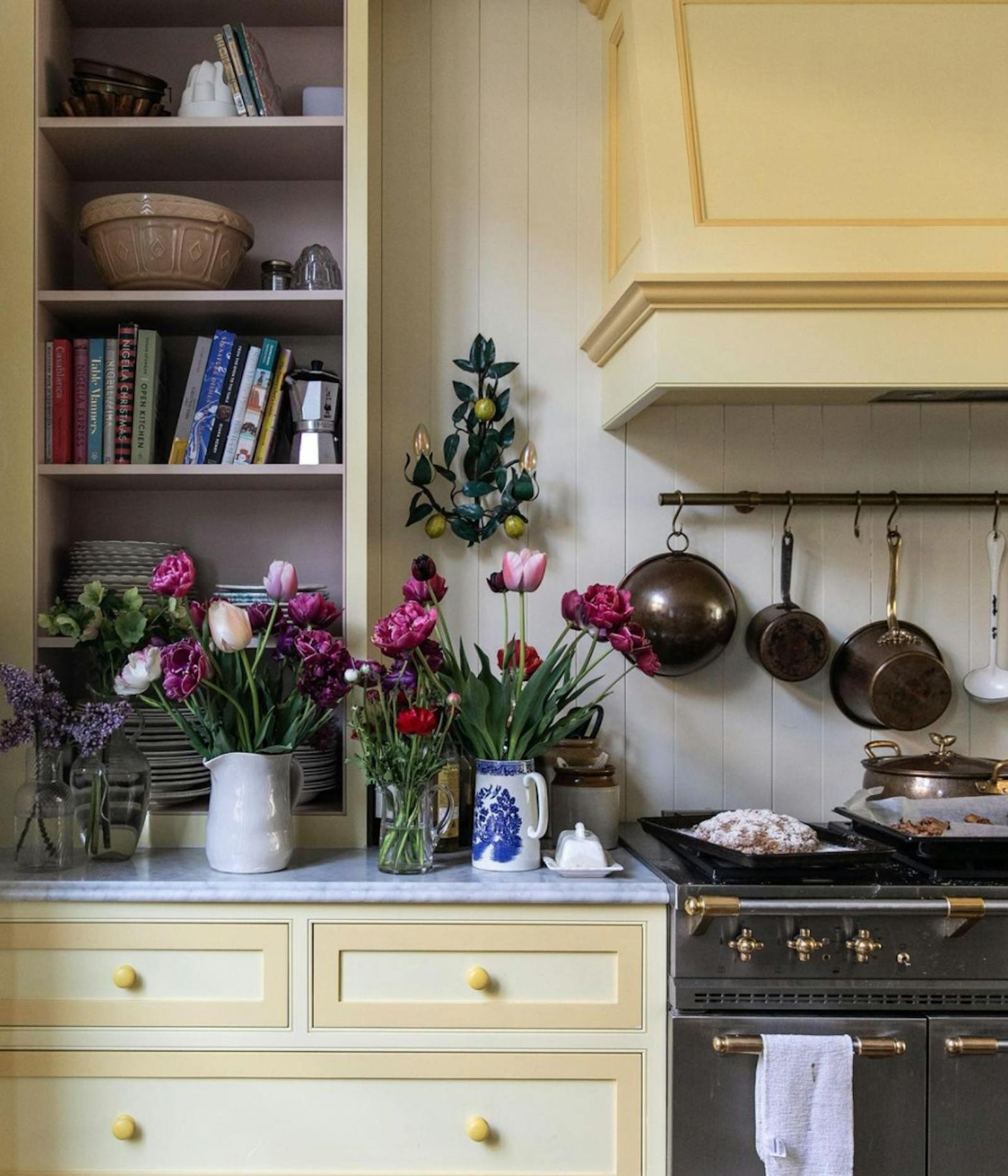 Two tones of yellow playfully compliment one another in the accents of @skyemcalpine's kitchen
Green: the harmonious colour
The colour of nature, of renewal, of growth and of vitality, green is a colour to count on if you're looking for both peace and positivity in your scheming. Green might say go in some walks of life (traffic lights, we're looking at you), but in other areas, it's about slowing down, breathing deeply, and taking things one step at a time to appreciate the smaller things. Green helps us to relax (ever wondered why you're taken to the green room before going on air?) and it makes us feel safe and stable, so get painting and expect to feel cocooned.
"The colour of nature, of renewal, of growth and of vitality: green is a colour to count on if you're looking for both peace and positivity."
If green gets the thumbs up from you, consider which shade you naturally gravitate towards and that'll tell you which is going to make you and your home feel at its best. Is it the grass green notes of Green 07 that are going to make you feel like you're ready to take on the day? Or do you feel perkier in the company of meadow fresh Green 01?
Remember too that it's not all about light and bright colours when it comes to happy homes. The dark side can be just as comforting, meaning the likes of Green 06 are just as worthy of consideration for a feel-good scheme. Expect it to soften a scheme like your favourite, familiar, alpaca-soft blanket might.
Get creative: what better way to bring the outdoors in than by making your window treatment an indoor green scene? A roller blind in Green 01 will do just that, inviting leafy freshness inside even when the trees are bare.
Tones to try: finding yourself drawn to neo-mint Green 08? Then keep it fresh with a soft grey-like lilac-tinted Grey 02. Or if rich and velvety olive green has set your heart aflutter, try Green 05 with a warming modern neutral like Beige 02 – your room will end up making you feel so zen and proud, you may find yourself never wanting to leave, lockdown or not… You could also try pairing Green 05 with Black 01 or Blue 07, for that rich opulent modern feel.