Introducing: Lick × Studio Coverdale wallpaper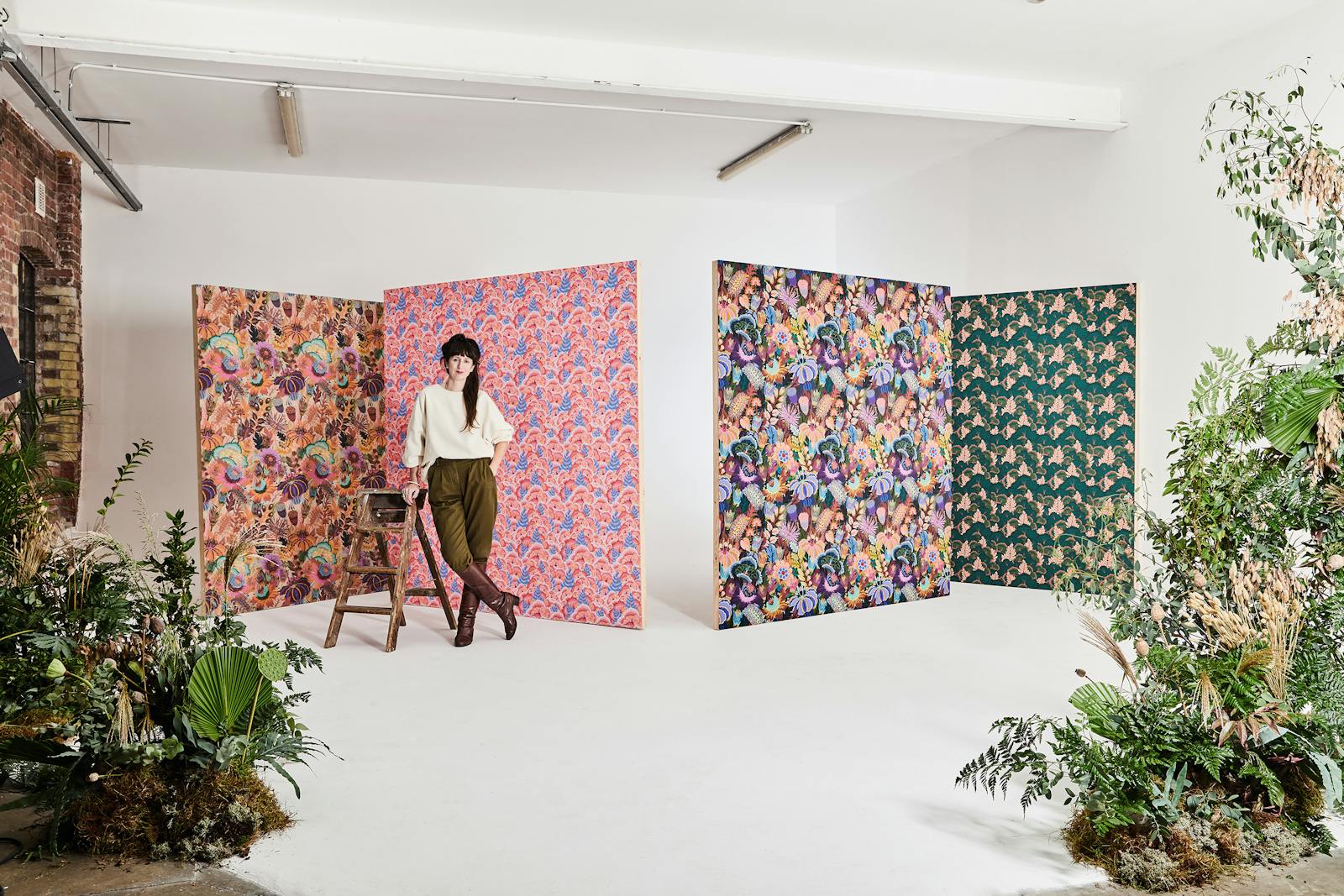 This one's an announcement that we've been brimming with excitement to share with the Lick tribe for some time. But today, we can finally let the cat out of the proverbial bag as our debut designer collab is officially a go-go. An edited collection of four wallpapers borne from the fantastical mind of digital flower arranger, Natasha Coverdale, AKA) Studio Coverdale, these aren't papers to simply look at but to immerse yourself in, to get lost in, and that provide "a sort of escapism and colour therapy," as Coverdale puts it. Eyes open wide, sense of adventure intact, it's time to step into her world…
Natasha – the designer, the illustrator, the fantasist
Born in Hong Kong, raised in England, followed by a short stint in Texas, Bangkok, and then back to Britain. Graphic design for many a luxury brand, a Master's in print textiles, and an illustrator on the side as her own private pride and joy —it's fair to say that Natasha's story is as rich and varied as her work.
It wasn't until 2018 that she took the brave step of going it alone and launching her own studio where she could do what she does best and what she loves most of all: creating her own artworks for people who embrace colour, botanical pattern, painterly heritage and the notion of hidden treasures. Natasha's known for hiding surprises in her pieces such as Derek the iguana who crops up again and again amongst her dreamt-up blooms.
But that's enough from us, get the proper lowdown in our exclusive lockdown Q&A here.
The Lick × Studio Coverdale collection
Two designs, two colour ways, four fantastical wallpapers, this is a collaboration that seeks to showcase Natasha's imagination and creative hand with zero holding back. Focusing on her favourite florals to date, in our papers she layers and layers to create a mass of foliage, especially in the aptly-named Mars Meadow wallpapers.
"It's a cornucopia of so many flowers that I've used in other prints. I always create my own flora, coming up with names, characters and even scent profiles for each of them from Ice Sprites, Dragon Bells and Pearl ferns to the rare and fragrant Electric Poppies that I showcase in my other wallpaper design. Mars Meadow is best of the bunch if you will!" says Coverdale. "I wanted to design wallpapers that were as rich and indulgent as my mind would let me, with as many colour influences in one piece as possible."
Back to boho-meets-British-heritage Mars Meadow, it comes in two distinct palettes – one that draws on the colours of fresh foliage, rightly named Evergreen, and the other, Harvest, that is warm, comforting and nurturing. Our second paper, Electric Poppies, might share the same distinctive character and 17th-18th century inspired detailing.
It comes as no surprise then that Natasha watches period dramas as she draws and spends much of her time lost in the archives at Kew or sketching in various National Trust properties), but it's a far cleaner, more vibrant design. Here, pick from Mansion Library, which has a sumptuous deep green as its hero hue or Candy that Natasha hopes will encourage people to be playful in their interiors. "It's about fun, femininity and frivolity," she says.
"It's about fun, femininity and frivolity."

Natasha Coverdale
Find your wallpaper and pair your paint
Think you've found your perfect wallpaper? Natasha's hope with her pieces is that it'll make people feel good about colour and pattern and at Lick, our aim's much the same. Which is why our resident colour experts have paired a palette for each Lick x Studio Coverdale wallpaper, which means you can easily either build up a multi-tonal colour-rich palette or, pick out just a hue or two. Depending on whether you want to let the paint sit back in the scheme or to make a statement on every surface in the room.
Mars Meadow 01: There's something a bit psychedelic going on here and we think it's important to not let the paint colours distract from the magic that the wallpaper is creating. We'd suggest quieter paint colours like Blue 02 and Blue 03. If you're somebody who prefers a darker colour scheme, look to Blue 05 or even Green 05 with Teal 03 as a happy middle ground.
Mars Meadow 02: We love the idea of really celebrating the hero hues in the harvest finish by taking them to the walls too. Orange 02, Yellow 02 and either of our reds – Red 01 and Red 03 – will help the wallpaper to seamlessly settle into your living space. This palette is less about contrast and more about consistency in colour so that the whole room is one big statement rather than having a feature section. If you want some contrast however, try Blue 03.
Electric Poppies 01: 'Pull out the understated pale blue trim seen on the petal edging with Blue 01 or Blue 02 and work in some contrast with Blue 05 on your skirting boards. Electric Poppies is all about fun after all. If you want to maximise the blush element of the Candy colourway, try Pink 03, but I like the idea of Pink 04 too.
Electric Poppies 02: 'Pink 03 works well as a paint colour partner for both Electric Poppies papers if you want to break up the greenery. Otherwise, run with the verdant theme and go for the olive tones of Green 05 balanced out with Green 04 or Teal 03 which is a bit fresher. Green 06 would create a beautifully dramatic colour scheme too."