Why Lick eco paint is the pawfect paint for your pets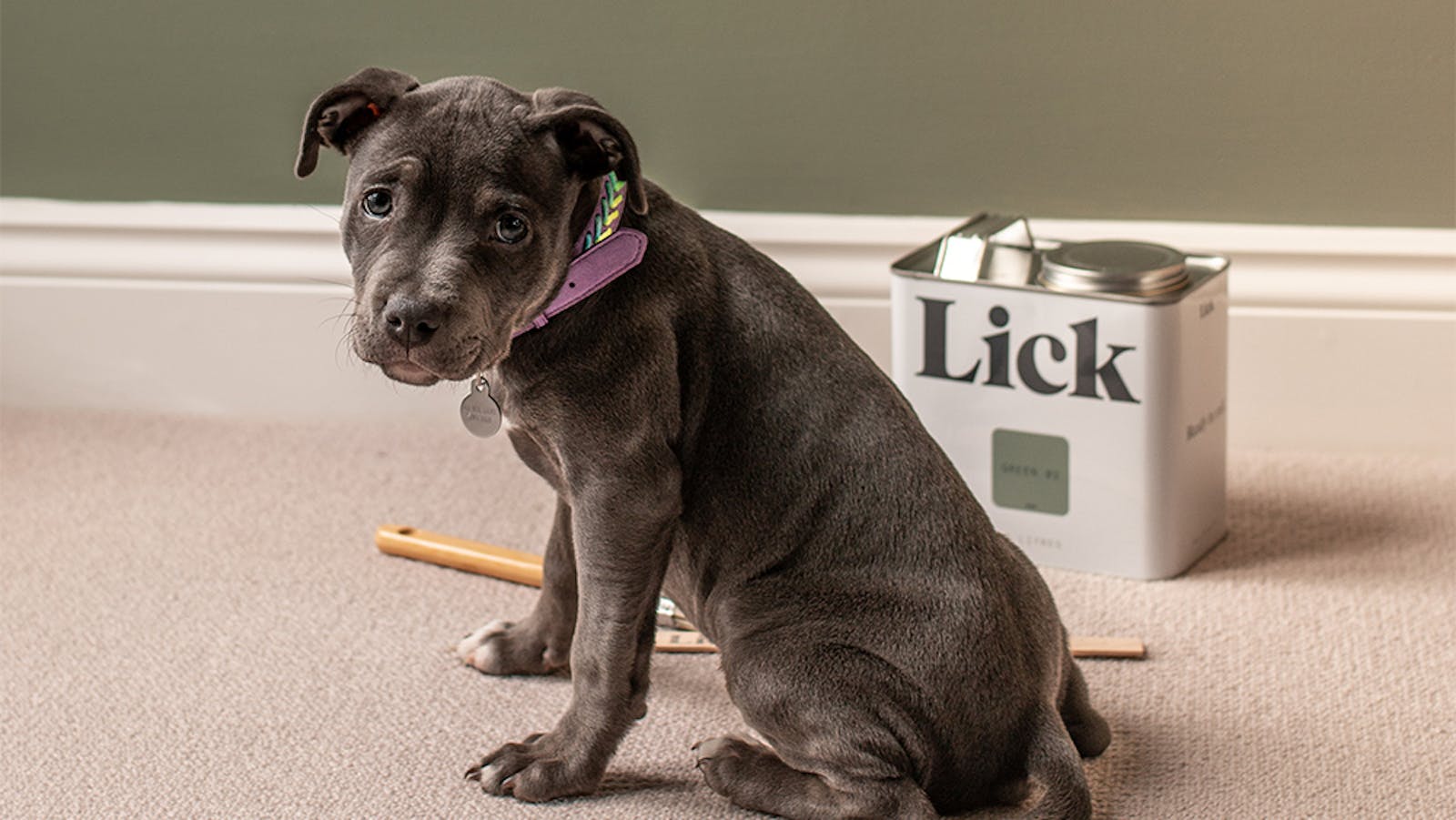 The pawfect paint for your pets? Lick no further. 
Pets, we don't deserve them. At Lick, we love our four-legged friends, that's why it's so important to us to provide a product that loves them back (especially naughty puppies that love nothing better than a tasty skirting board). So, if you're looking for a paint that is safe for your pets and kind to animals, look no further.
Non-toxic, water-based, and low VOC
Our non-toxic, odour-free paints are not only safe for humans; they're safe for animals too. Whilst oil-based paints contain higher levels of VOCs (volatile organic compounds) that can contribute to asthma and allergies in animals, not only are Lick's paints low VOC, they are water-based too, which means no sneezes and no wheezes.
Smell-free
High levels of VOCs also contribute to a pungent odour. That 'fresh paint' smell? It's actually metals, chemicals, and other nasties. Our pet pals have a much more acute sense of smell than us humans and what might be a strong smell for us, would be overwhelming for them. Lick's 'smell-free' paints won't be.
Read more about why you should only be using low VOC paint.
100% Vegan
Unlike some other paint brands, which can use anything from milk, bone, to beeswax in their manufacturing process, all of Lick's paints use plant-based alternatives and are 100% Vegan. Meaning you can decorate your house with a clear conscience.
100% cruelty-free 
And, whilst other companies might test their products on the skin or even by ingestion of animals, none of Lick's paint is tested on animals. Our confidence in both the safety and humanity of our product ensures you can decorate your walls knowing that no animals were harmed in the making of our paint.
Protecting the planet and its environment
Did you know that the earth's forests are home to 80% of its biodiversity? And a remaining 15% is found in our oceans? That's why at Lick, we are committed to protecting the planet and preserving its environment. Through our ongoing partnership with 'One Tree Planted' and '4Ocean' we have contributed to planting 1,666 trees and counting (covering an area of 23.5 football pitches) and have cleared a total of 4,564 kg of plastic (equal to 50,710 plastic bottles) from the ocean – thanks to you!
How does it work? We make a donation on your behalf for every pot of paint, pair of blinds, and roll of wallpaper you buy. Therefore, as we as a company grow, so will our contributions to the environment.
For more information, check out how we plant a tree for every wallpaper purchase and remove plastic from the ocean with each paint tin purchase.
So, not only is Lick safe to use in your home with pets, but we are also cruelty-free, and working towards helping protect the natural environment of our world's wildlife. What are you waiting for? Let's decorate our way to a sustainable future together.
Decorate sustainably with Lick eco paint and visit our sustainability hub for more information.