What your wallpaper says about you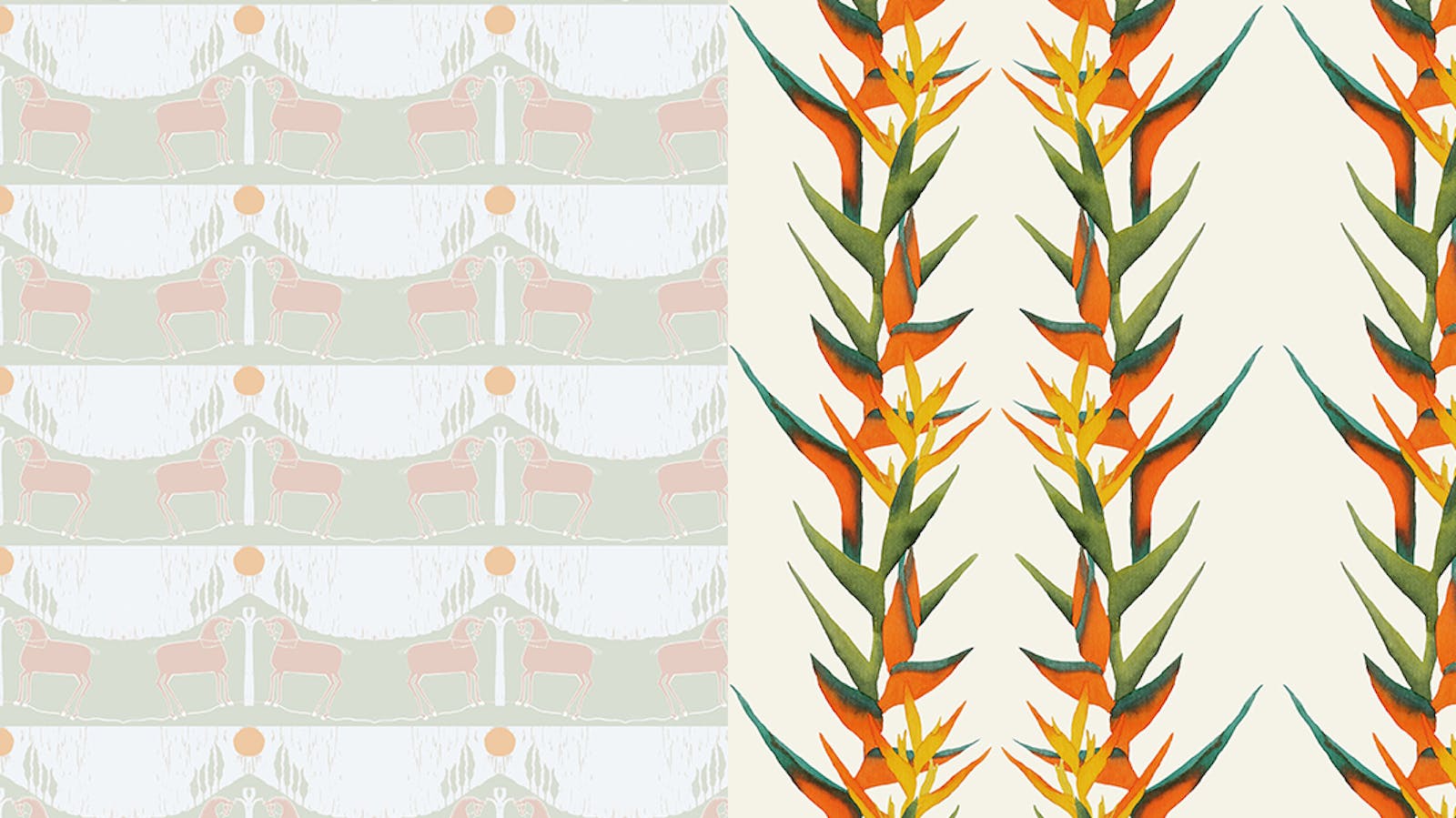 Your home is your kingdom, your playground, your safe space, your blank canvas to express yourself as creatively as you please. It makes sense then that your interior speaks a thousand words about y-o-u; it's less a window into your world but more an insight into your imagination.
So what conclusions are there to be drawn by the wallpapers that you gravitate towards? What hidden messages are there between a botanical wallpaper and one full of folklore motifs? Take a peek at our just-launched line of limited edition wallpapers by our Artists in Residence, see which one speaks to you most, and then read up on what your chosen wallpaper says about you…
Patterned wallpaper: you're sophisticated
First up, patterned papers. But not just any patterns, ones where the shapes are perhaps hand painted and detailed without being over-the-top. That means no outlandish swirls, no cutesy characters, and nothing too bold or ballsy. Instead, prints that are elegant and understated à la Travelling Tiles 01 and Travelling Tiles 02, inspired-by-the-Ancients Hestia 01 or even Belinda Bayley's Paradise Vine 01 that's one of the most majestic botanicals on the block.
Note that this sort of patterned wallpaper is all about the palette too. The prints should be in colours that are just as grown-up and demure as the motif itself. It goes without saying then that if you pick a paper like either of these four designs, you're likely to be known as one sophisticated so-and-so indeed.
Animal wallpaper: you're whimsical 
If you can't help but go weak at the knees when you come across a wallpaper peppered with animal illustrations, then the chances are, you're somewhat into whimsy. You're a storyteller, and an avid story-reader and love nothing more than the playful side of life.
By animal wallpapers, we're referring not so much to animal print but more along the lines of bird silhouettes and folkish horses. Cue Western 01, Western 02 and Western 03 that all feature head-to-head horses in hues that range from barely-there pink to denim blue and are therefore a perfect case in point. But so are Dove 01 and Dove 02 where you get the best of both animal worlds (equine and avian) in a playful palette thanks to the black pigment in the saturated pink and teal backdrop.
Reminisce about your childhood with papers like these, or better still, unleash your inner infant every time you walk into the room.
Magical kids wallpaper: you're creatively stimulated 
Boy or girl, nursery or kid's room, a magical wallpaper will always go down a storm.
If papers such as Enchanted Forest 01 or Woodland Animals 01 by artist Franki Barber catch your eye, then it sounds as though you're the sort of parent that gets why creatively stimulating schemes are so important and so special to the little people in our lives. It awakens their imaginations as the characters come to life in their own little world of make-believe.
Both of Franki's designs were painted with children in mind to give them their own little zone in home that's exciting, that's magical and lets their dreams begin before it's even bedtime. There's much more to them than cheeky, charming characters though. The colours all  have the same weight, which means there's soothing colour harmony going on. Yes, stimulation on the one hand, but not so much they'll be wired night after night.
Botanical wallpaper: you're down-to-earth
One of the most popular styles of decor, botanical wallpapers proclaim loud and clear that you're a down-to-earth soul.
Anybody who wants to plaster their walls with emblems of Mother Nature shows a deep connection to the outside world. You're someone who embraces bringing the great outdoors into your home to live amongst on the daily.
Jungle 03 in particular is a prime example that mellow folk will love. Botanical in pattern and true-to-nature in palette, it's a modern design for upbeat homes. But so is Fern 01 – a wallpaper that offers a more painterly version of events that'll suit cottages and period properties to perfection.
Floral wallpaper: you're feminine
Sticking to the nature theme, floral wallpaper is another of the most popular patterns for putting onto your walls. But on the whole, it's the feminine sort who walk this path. This doesn't mean to say it's a girls-only option, but that it's an interiors choice for people who appreciate feminine charm – elegance, grace, pretty patterns and delicate palettes.
Step right up Anemone 01 and Anemone 02 – a dainty-as-they-get wallpaper but whose tangerine orange petals mean it's not totally colour shy either.
Palm leaf wallpaper: you're playful
One final nature-inspired category that homes in on a very specific, very trend-led botanical – palm leaf wallpaper.
Just as in nature, the leaves are large, the colour is deep and a shrinking violet it is not. It goes then that personality-wise, you probably have a few things in common.
Individuals who add to basket Jungle 01 and Jungle 02 are typically the flamboyant kind – fun, creative and far from afraid to take risks. There's possibly an inner rebel in there that likes to do things differently and whose decor is energising. Step into a space with a burnt orange background and sky blue palm leaves on repeat, and alive and kicking you'll feel in a flash.