The perfect home office colour based on your personality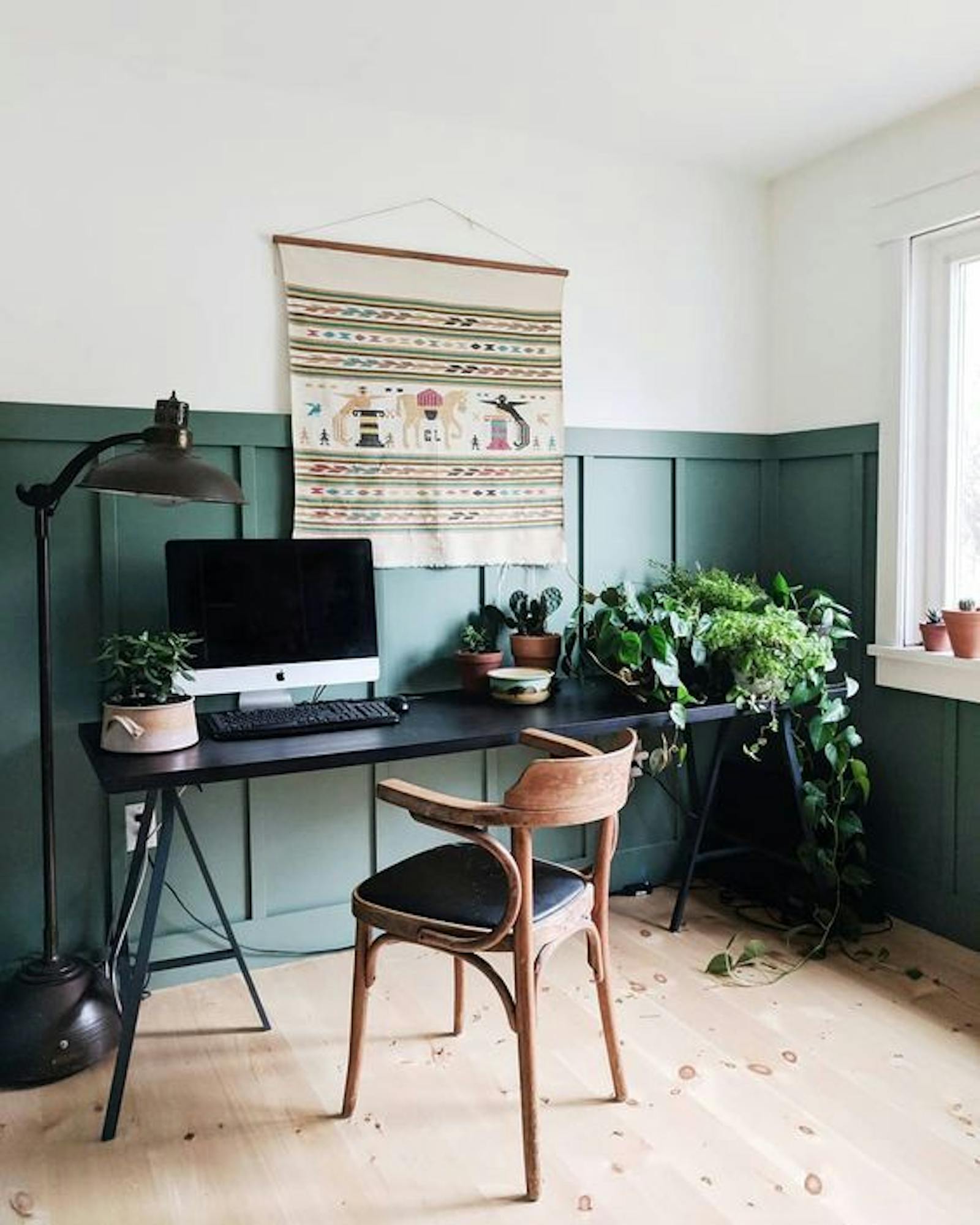 Stuck somewhere that's doing nothing for your creativity, let alone productivity? This could be a big problem, especially when we're rarely leaving the house and the only change of scenery and environment we're experiencing is a  walk around  the neighbourhood, or a short trip to the supermarket.
Even under different circumstances, the place you call your home should feel warm and inviting, it should be a place where you actually want to spend time in, and it should inspire you to create and grow. As we like to say, our home is our sanctuary. If we don't feel happy there, then where?
Our Colour Specialist - Tash Bradley, has put together a useful guide for you, so you can make that space in the back of your house a creative heaven. According to Tash, there are three colour groups that we should consider when painting our home office: uplifting, positive and happy.
The ultimate uplifting colour: Green.
combination of yellow and blue, green encompasses the mental clarity and optimism of yellow with the emotional calm and insight of blue. It is one of the most restful colours for your eyes and is known to make you feel optimistic and refreshed. For those who love the outdoors, it also gives a feeling of being close to nature.
Lick's range of uplifting colours consists of Green 01, Green 02, Green 03, Green 04, Green 08, Blue 02 and Blue 03.
The positive nuance we're all looking for: Blue.
Blue has positive effects on the mind and the body. As the colour of the sky, ocean and sleep, it invokes rest and can cause the body to produce chemicals that are calming and exude feelings of tranquility.
However, if blue ain't your thing , here are some of our other favourite positive backdrops  for a working space: Pink 01, Pink 02, Red 03, Orange 01 and Orange 02.
And of course, the colour of happiness: Yellow.
The reason why yellow is associated with happiness is that it makes any room come to life with energy and warmth. For example, our Yellow 02 gives off the feeling of warm sun rays whilst Yellow 01 has a subtle cheeky charm and inspires creativity.
Some happy Lick colours for your home office are Yellow 01, Yellow 02, Green 01 and Pink 01.
To help you pick the right colour for your working space, we've put together a colour palette of four colour schemes for four different personality types. See them below.
The Creative
The Creative personality needs an environment that will inspire them and encourage their    imagination to work at its full potential. The colour palette that Tash chose for this personality is Pink 02, Red 03, Grey 03 and White 02. Combine those colours in your home office and you'll feel charged and inspired without being overwhelmed by strong, dominant colours that will distract you from your working process.
The Focused One
Being inspired is a crucial part of the working environment, especially if you're doing it from your home. However, you probably won't be able to be productive if you can't focus on your work without being distracted by the details in your home office. For the Focused One, Tash created a colour palette that consists of Grey 01, Blue 01, Black 02 and Blue 07. Keeping it neutral but also adding a splash of colour will help you ignore the distractions and create the perfect piece work that will make you proud. Let's be honest, who doesn't want that?
The One That Needs Some Energy
Spending most or all of your time at home might lead to a significant drop of energy and lack of motivation. It's a process that can easily become a routine, leaving you moody and exhausted. That's why you need to surround yourself with uplifting energy, and you can easily get that from the colour palette Tash created for that particular personality type. It consists of our Green 01, Green 02, White 02 and Green 05.
The Family One
Now this is what we call a challenge. Do we keep the children away from our creative space, or do we welcome them and encourage them to participate in our working progress? If you recognise yourself in the latter pattern, we have a palette for you. Our colour specialist Tash created a "kids welcome" colour scheme that would serve as a nurturing environment for all creative types, regardless of age and energy levels. For that she picked Lick's Grey 07, Black 02, Yellow 02 and Grey 02.
In the end, no matter how you style it, your home office should be calm, inspirational and a good match to your personality. Play around with different colours depending on your needs and see what works best for you.
For more inspiration and colour tips, follow us on Instagram.
Can't pick the right shade for your home? Book a colour consultation session with Tash here.