The hottest wallpaper trends of 2021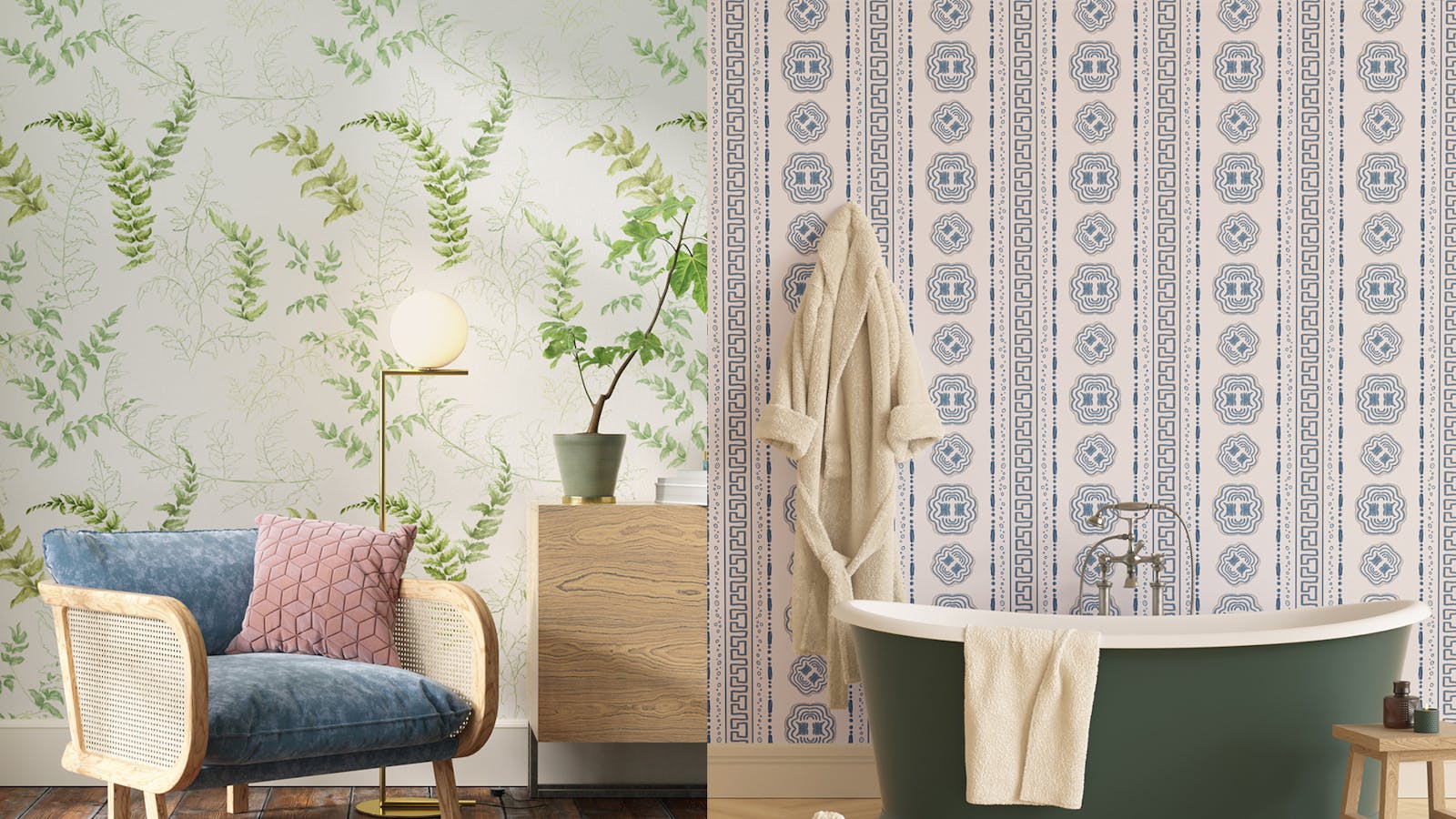 Want to refresh your walls with fresh wallpaper prints but have no idea where to start? Look no further. We've put together a list of the hottest wallpaper trends of 2021 below. Get the full lowdown on how to introduce these trends into your home, with prints and patterns created by some of the most exciting up and coming artists in the world of wallpaper.
Wallpaper trends: Maximalist 
Going all out with your wallpaper choice is very much in. As we spend more and more time at home, wallpaper is a quick and easy way to inject a bit of fun and frivolity into our decor.  Expect 2021 to be the year where the bold replaces the boring across walls in the UK. 
Prepared to brave it and incorporate the maximalist wallpaper trend into your home? Choose from any of the four wallpapers we recently launched for our collection with the awesome Natasha Coverdale, including the fun and fantastical Mars Meadow and the wonderfully distinctive Electric Poppies.
Wallpaper trends: Uplifting shades of yellow
Speaking of adding a bit of fun to your home, it's officially time to start taking yellow wallpaper seriously. One of 2021's Pantone colours of the year, bringing yellow into your home (in any design choice) can add an instant touch of warmth, joy and positivity. Our colour experts recommend hanging yellow wallpaper in your hallway, particularly if there's a lack of natural light there. Read our advice on how to use wallpaper to brighten up your space.
Try our Jungle 01 wallpaper if you want to introduce a bit of yellow with a cool blue pattern to your space. It brings in that warm yellow without going all yellow.
Wallpaper trends: Welcoming the outdoors in 
We're not getting out much these days. So let's bring the outdoors in. Other than adding a bunch of low-maintenance indoor plants (succulents FTW) to your home, you can use your wallpaper choices to make your home feel like an extension of the natural world. 
Fern 01 helps you achieve just that, with its creamy background and a subtle, leafy print.
Wallpaper trends: Dream destinations 
While 2020 has hardly been the year of travel, 2021 could be the year of bringing the memory of far-flung destinations into your home. The trend for 'holiday-inspired' interiors may just have been a result of the unpredictable year we had, but then who doesn't love a bit of escapism? 
To start getting inspired for your future travel plans, try the aptly named Traveling Tiles 01 or Travelling Tiles 02 wallpaper for a welcome statement in any room – particularly one you can sit and daydream in at your leisure. And then there's Hestia 01, a perfect Greek-chic print if we ever saw one.
Wallpaper trends: Artisan walls 
Expect to see a ton of texture throughout home interiors in 2021, whether it's in sumptuous upholstery or tactile soft furnishings – your home needs a textured layer or two if it's to be on-trend. We love Annika Reed's artisan-style wallpaper for a bit of easy wall texture that feels almost hand crafted and is also super unique.
Wallpaper trends: Florals 
Yep, this particular wallpaper trend isn't going away any time soon. In fact, floral prints are set to be bigger than ever in 2021. This year, it's all about large scale floral prints, such as Electric Poppies 01 by Natasha Coverdale. By opting for a floral paper, you're also on-trend with the whole 'bringing the outdoors in' thing. 
When working floral prints into your home, always consider the scale of the flowers in relation to the size of the room. Large prints can make small rooms appear even smaller, so stick to daintier designs such as Anemone 01 or Anemone 02 to create the illusion of space.
Wallpaper trends: Nature's finest 
The third trend on this list that references those outdoor vibes, expect to see a lot of nature-related prints, patterns and colours in the wallpaper world this year. Having that view of plants and foliage will bring a touch of wellness into your space, even if it's just on paper. Bonus: no watering required. 
To introduce this trend into your home, check out the colourful Paradise Vine 01 or the more subtle but still leafy prints of Jungle 03 or Fern 01.