The best paint colours for a small bedroom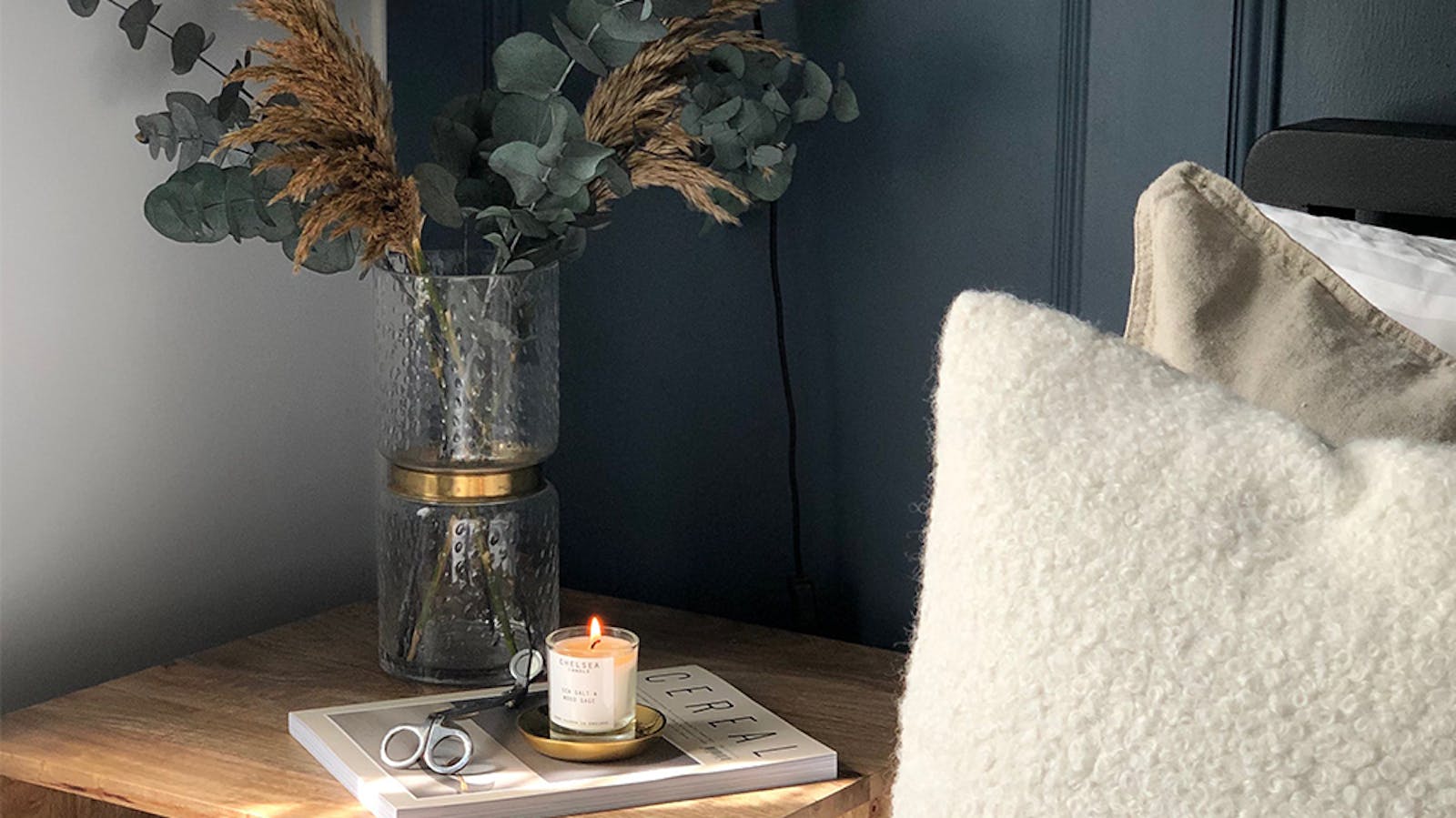 Image courtesy of @insidesixtythree
Does your bedroom make Harry's cupboard under the stairs look practically palatial? Don't despair. You can create the illusion of more space with your design and DIY choices. From adding more reflective surfaces to minimising clutter with smart storage hacks, there are plenty of small bedroom decorating ideas that can turn a tiny space into a room that feels comfy, not cramped.
A potential solution to your small bedroom woes? The right paint colour. Not only can a splash of the right colour help to energise and invigorate your space, it can also help to make your small kitchens, bedrooms and living rooms feel bigger. 
Of course, we consulted with our colour specialists on this. And they had a few thoughts on the matter. 
First, consider the light
Before you make any big colour decisions for any room, it's important to assess what you're working with when it comes to light. According to our Lead Colour Specialist Tash, you've got to consider shadows when you're painting a small room, as you can see more shadows in smaller rooms. As Tash explained, "Colours help to absorb shadow - so you don't notice the corners against a room so much."
Luckily, the right colours can offer a solution for this. Find out more about how to brighten up a dark room and discover the best paint colours for your small bedroom below. 
The best paint colours for a small bedroom 
Greys 
Let's kick off with a classic (and one of Pantone's 2021 colours of the year) grey. Based on colour psychology, looking at grey doesn't really evoke a strong physical connection. However, this theory applies to a grey with no undertone and no pigment—also known as "battleship grey". At Lick, we've developed a whole host of greys that all have an undertone which you can really connect to. 
Tash recommends the following grey paint for a small bedroom: 
If you're looking for a bit more depth, Grey 04 and Grey 07 have green undertones, giving them a richer look that can add instant personality to any room. For deeper colours like this, we wouldn't recommend painting all the walls of a small room with them. Use darker colours to create an accent wall or paint the bottom half of your walls and paint the top half in a lighter/whiter colour.
Whichever grey you choose, bring out its undertones with another colour elsewhere in your bedroom. If you're going for Grey 02/03 on your walls, add pink or yellow cushions to draw out the lavender undertones in the paint. If you opt for Grey 04/07, add green plants to bring out the green undertones in the paint.
Pinks
Using an uplifting colour such as pink can not only help to energise any small space, it also has a strong nurturing quality. Sleeping in a pink bedroom is kind of like sleeping in a warm hug. As pink comes from red, it's a colour that evokes that strong physical reaction. If you want to create a space where you feel snug and safe, light pinks such as Pink 03 or Pink 04 are the way to go.
Blues
To create the illusion of space in a tiny bedroom and a room that you can really unwind and relax in, reach for a soft blue. Blue recedes, so it's a great choice for smaller rooms. Paint up to your ceiling in Blue 01 or Blue 02 to add height to your room, and then paint your ceiling in White 03 or White 05 for an airy, spacious effect. 
Vanessa, one of our resident Colour Specialists, recommends a blue/grey combo: "A personal favourite of mine is Blue 06, a beautiful slate blue with pigments of black. This can be balanced with the playful and warm Grey 02 to soften the bedroom."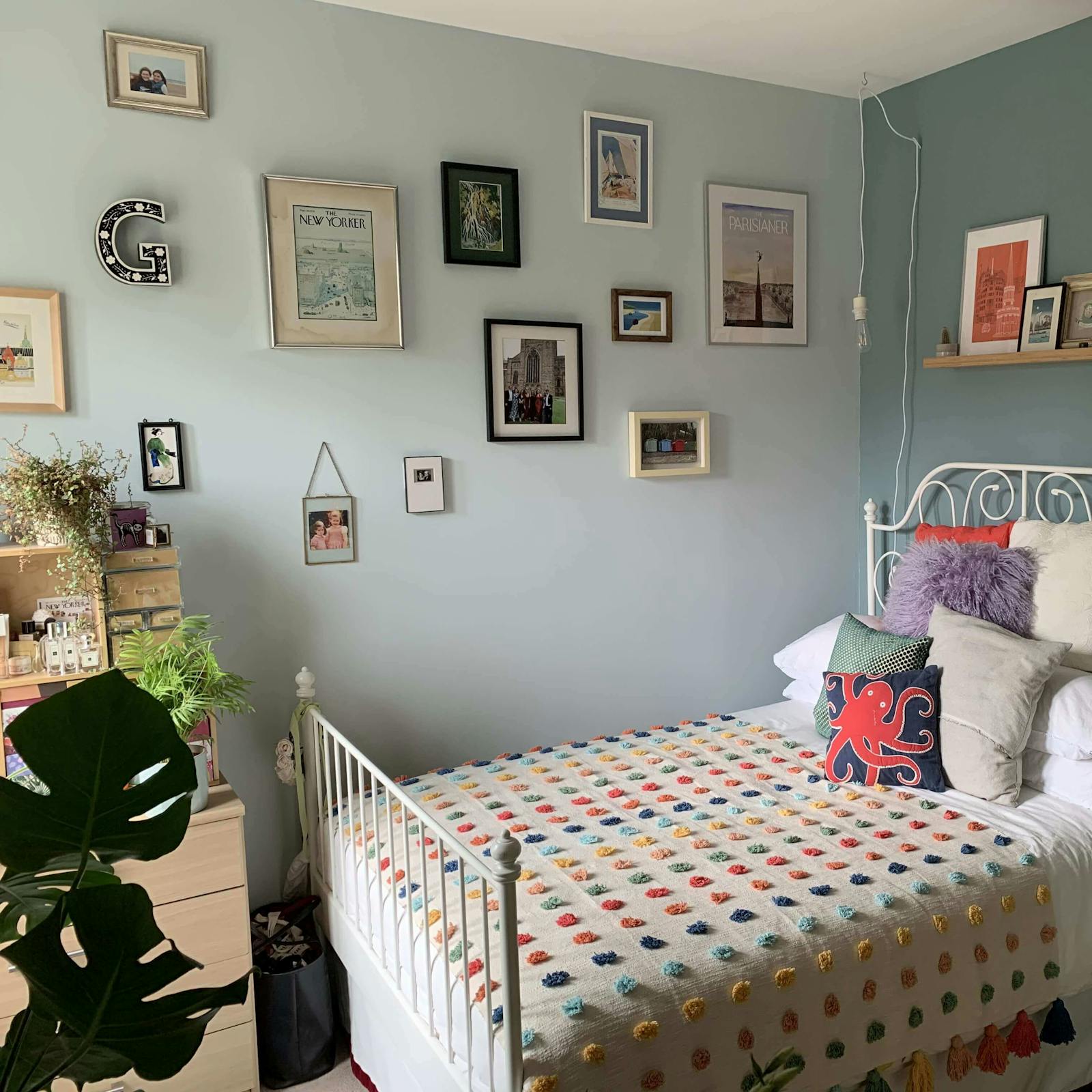 @georgianalouisa paints her bedroom Lick Blue 01 and Teal 01, whilst keeping the ceiling white for an airy effect
Greens
Speaking of combos, another recommended colour pairing for a small bedroom is green and grey. As Vanessa says, "The subtle undertone of blue in our Grey 01 is the perfect match for Green 02. Its deep richness is naturally inviting and brings the outdoors in, a great way to add some life to your bedroom." And we're all about bringing the outdoors in right now! 
"The deep richness in Green 02 is naturally inviting and brings the outdoors in, a great way to add some life to your bedroom."