The best kitchen paint colours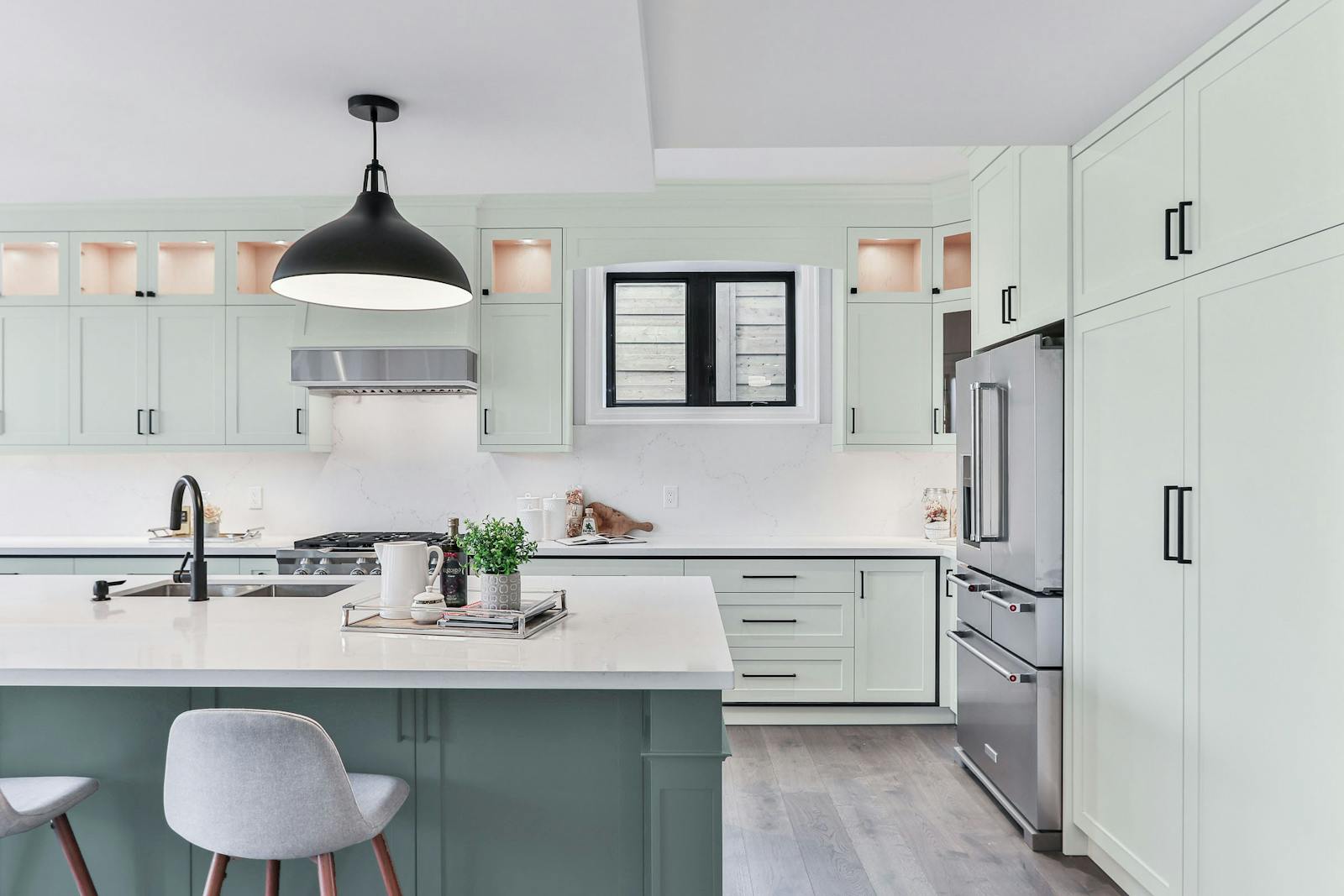 Kitchen colour ideas are one of the most multi-layered palettes in your whole home. You've got your walls (ripe for painting, naturally). You've got your ceiling (remember, it's your fifth wall). You've got your floor (hello painted floorboards). And of course, you've got your cabinets (the star of the show). With kitchens, there's a lot of surface area to cover and there's a whole world of ways to go about colouring it all in – here are the Lick team's suggestions for starters…
Kitchen paint colours – five things to keep front of mind
1.     Go for the same colour all over to make your kitchen feel bigger
Who doesn't want their kitchen to feel airier, wider and their ceilings loftier? Paint can work magic if you apply the very same shade across walls and cabinetry. Let the architecture of the room in on it too, from architraves to cornicing, so that your whole room melts into one. The less there is for your eye to read, the larger your space will seem.
2.     Light kitchen paint colours aren't always impractical
The world of fashion has led us to believe that dressing your home in light colours is as impractical as wearing an all-white outfit. But you're not asking for trouble if you choose a pale shade as your kitchen paint colour. In fact, light kitchens show up less dust and scuffs than darker ones, so can be even easier to live with, especially if you have little or furry ones running around.
3.     Eggshell is your best friend
Before the paint rulebook was torn up, you were always told, 'Eggshell for woodwork and Emulsion for walls'. Nowadays, it's more about what finish (read: kind of look) you want to achieve. A bit more sheen and a whole load of durability points you in the direction of Eggshell paint, which can be a real winner in a kitchen if you want things to be mega low maintenance and have high humidity areas. That being said, plashes of water from the kitchen sink and tomato puree squirted onto the cupboard door are no bother for our hardwearing, wipe-down, multi-surface Matt finish paints. But when it comes to Matt vs Eggshell.. we've got you covered with both. Have a read here.
4.     Get creative inside your cabinets
Got yourself a wooden kitchen? Then why leave out what's going on behind cupboard doors from your paint party? This is where you can be brave with a bold splash of colour that you feared would've been a bit too zingy elsewhere. Or to work a playful contrast that'll make you smile every time you root for a pan or dig out cutlery.
5.     It doesn't have to be forever
If you're somebody who gets bored easily or are likely to be torn between a navy kitchen or a blush pink one, then remember that with paint it doesn't have to be forever. You can change it up and give the heart of your home a makeover whenever you have the urge. Same goes for if you aren't quite as chuffed with the outcome as you'd hoped. With paint it's no biggie, just endless opportunities to get creative with colour.
Kitchen colour idea #1 – the new neutral kitchen
Redefine the term neutral by taking your favourite variety and applying it all over with an easygoing hue like White 02 or Grey 01. A neutral kitchen doesn't have to translate as pale and interesting, but can be about how you apply the colour to the space. Cover your walls and cabinets in Blue 01 to make your room seem larger and suddenly more pigmented shades can be seen in a whole new neutral light.
Kitchen colour idea #2 – the colourful paint-the-town-red kitchen
There are some colours that simply don't get used enough in the kitchen and red is one of those. A red kitchen is a room that will feel alive, energetic, and is therefore one of the colours best suited to social spaces. Where better than the hub of the home? For the most impact, pick our deepest red of the bunch Red 02 (inspired by poppy petals that we've dusted down to make it a notch more contemporary) and never look back.
Kitchen colour idea #3 – the light, bright and white kitchen
White is cool, white is classic, white is always more than alright in any room of the home —kitchen included. So why not take white to its limits and explore several shades in its spectrum, playing them off against each other to really show it at its best. We're talking calming, grounding White 02 on most of your cabinets, White 01 on the interior so they feel alive and kicking whenever you open them and how about White 04 on your kitchen island (if you're lucky enough to have one) so there's a centre point with a difference, but a subtle one.
Now, head back to your kitchen, look it in the eye, and start planning your palette, remembering that extra help is always at hand with one-to-one colour advice from our colour consultants, Tash and Sam. Read all about how to make the most of their tailor-made guidance in our colour consultancy article here.