The best blinds for a living room
Since launching our range of blinds, we've been getting lots of questions about which type of blinds would suit which room, and of course, which colours (read more about how to choose the right colour when buying blinds) we'd recommend. Read on for Tash's (our resident colour consultant) top tips on how to add some oomph to your living room with the right blinds.
The best type of blinds for living room 
Before we delve into colours, let's take a look at the types. From roller and Roman to vertical and Venetian, there's no lack of choice. We've focussed our range on the two most popular styles: roller and Venetian. Get the lowdown by reading through our more detailed posts on roller blinds and Venetian blinds. 
The good news? We offer all our most popular colours in both styles.  Both styles work equally well in living rooms, so which one you choose comes down to personal preference.
Best blinds to add colour to your living rooms 
Open to adding a pop of bold colour through your blinds? For those who aren't colour shy, Tash recommends living room roller blinds in Red 02 roller. This vibrant red roller blind has a dusty grey-tint. Prepare for comments, this is a stand-out. 
On to the walls. Opt for a darker colour wall as a base for your poppy red blinds. Try the dark and inky Blue 07 for a living room with drama.
Best blinds for calming living rooms
Turn your living room into a cocoon worthy of multiple chillout sessions by decorating with calming colours. The colours that Tash recommends for a super serene living room are Grey 02 roller blinds or White 01 Venetian blinds. 
Paint your walls in Pink 01, our go-to colour for low-key vibes. It'll contrast just enough with the white or grey blinds and add a touch of warmth to the room. Cocoon it up.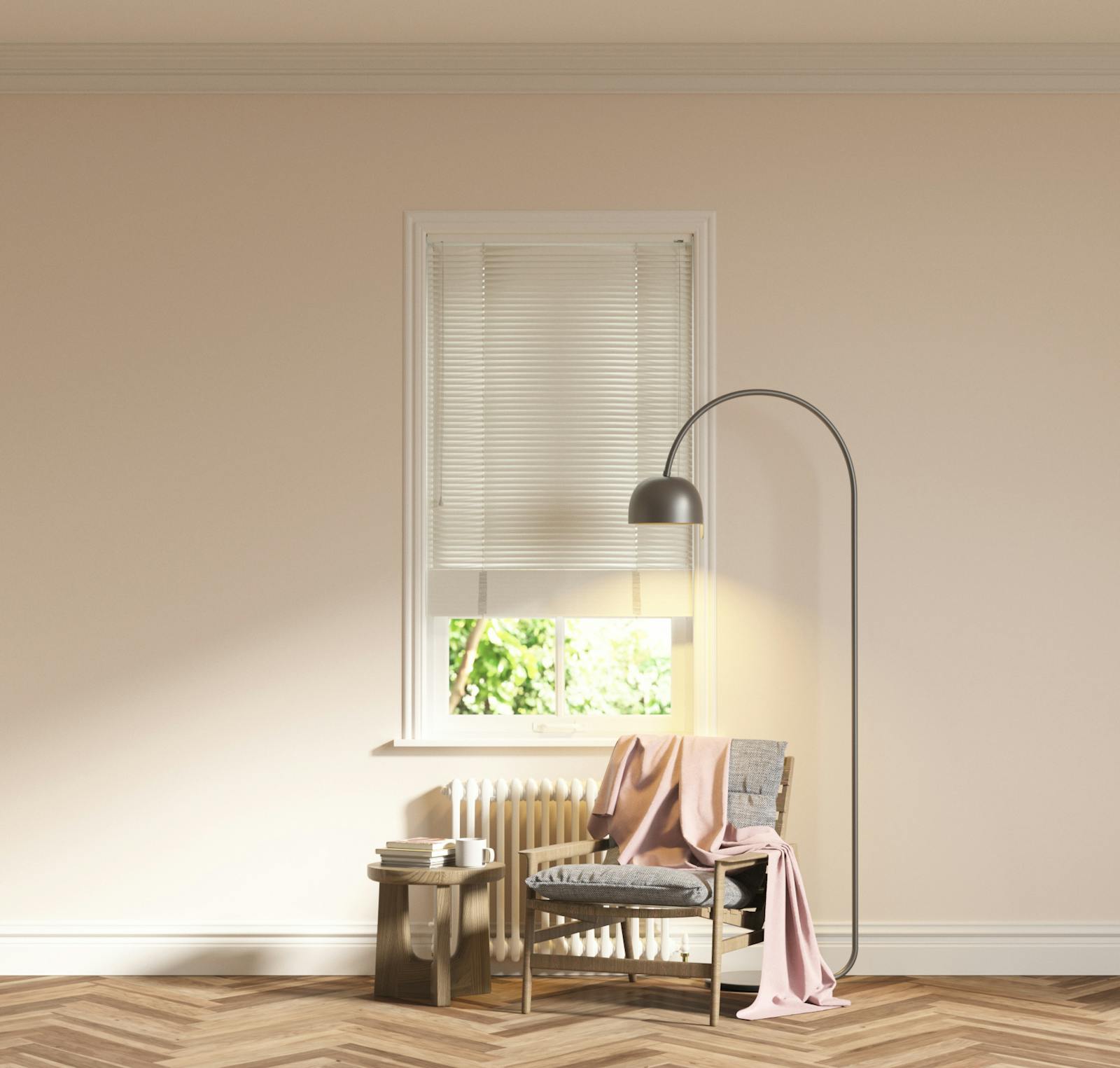 Opt for some calm and serenity with this relaxing colour combination
Best blinds for neutral living rooms 
Want your blinds to blend in so your furnishings can stand out? For a neutral look, opt for a roller blind in Beige 01. This light caramel blind is versatile and would work well with pretty much any window style and design scheme. If you want to keep things very neutral, pair with wall paint in Beige 01. Or Green 02 for a touch of quiet sophistication.