How to use wallpaper to brighten up your space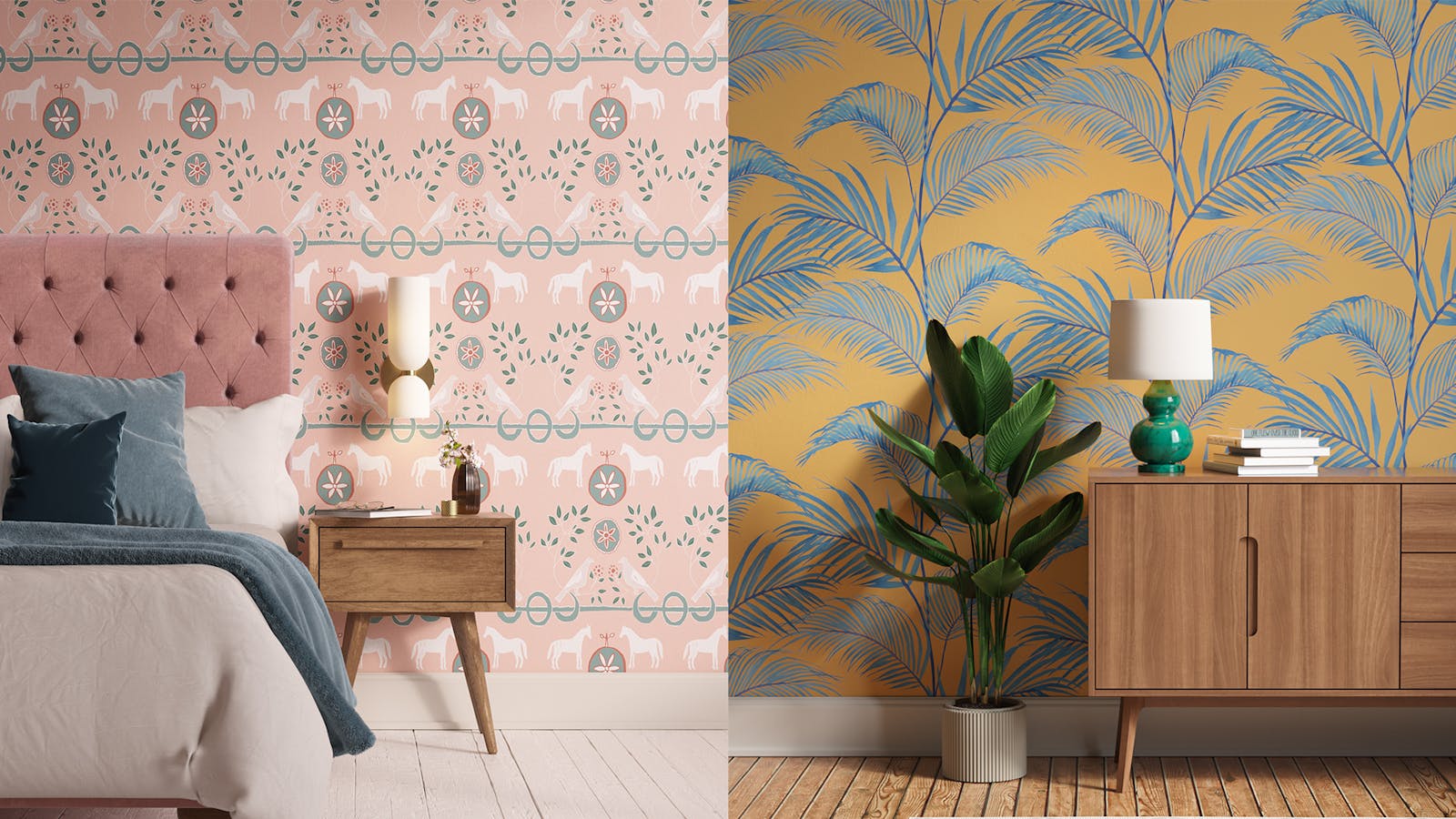 Hands up, who loves art? We do, and that's why we live for not only bringing it to our walls, but covering our walls in it.
Wallpapers, whether their pattern is micro and understated like the mini red cross repeat on Pattern 02 or mega maximalist like any of the designs in our artist collaboration with Studio Coverdale, liven up a room to no end. They add a sense of luxury, they present you with your colour palette (pick up on the tones used on the paper and reflect them in your furnishings), and they can even redefine your room's proportions – that's right, vertical designs like Botanical 05 will make your ceiling feel inches higher and those with bold pattern like Botanical 06 means the edges of the room are blurred so small spaces appear larger than they really are. 
But wallpaper is often pricier than paint, so you want to be 100% confident you're making the right choice before you get stuck in. The golden rule according to our lead colour expert Tash? Always stick to one wallpaper per room rather than mixing up colours and patterns – it'll overwhelm your space and everyone who's within it.
Dive right in with our suggestions for the best papers from our new wallpaper collection to use, room by room.
The best wallpaper designs for hallways
Your home's first impression. Your entryway. Your 'welcome home'. And yet, the hallway often gets neglected – seen as a passing place rather than a room in its own right. Get your hallway right however, and it'll set the tone and raise the bar for your whole house. 
Jungle 01 and Jungle 02 were made for using as a hallway wallpaper. Their vertical lines will transform it into a grand room indeed – one that puts a spring in your step when you head on out and that makes you feel just as good when you close the door behind you all thanks to optimistic yellow tones.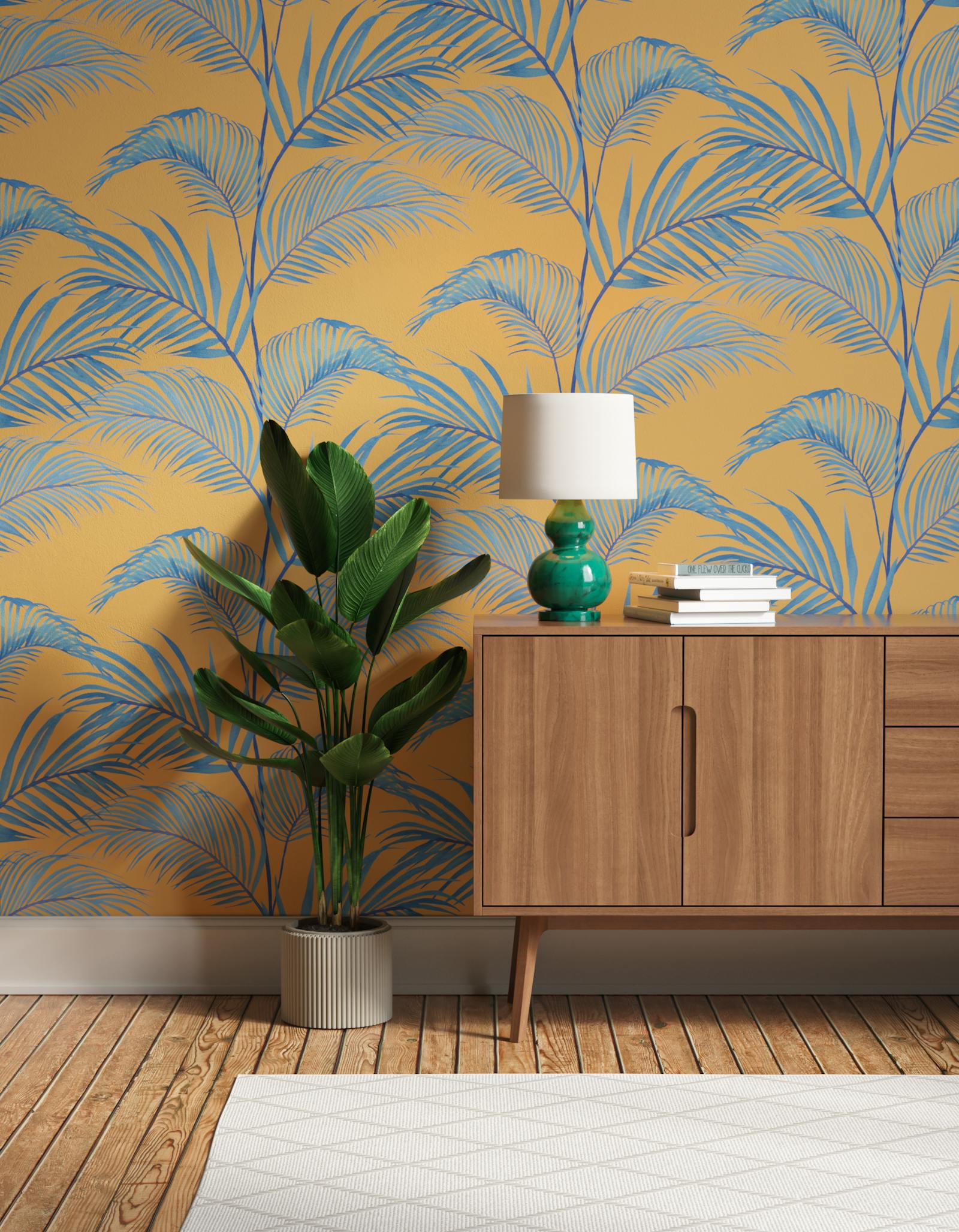 The vibrant yellow piercing through the leaves in Jungle 01 will add a burst of energy to your hallway
The best wallpaper designs for kitchens
Kitchen wallpapers are a great tool for zoning your room. Say you want to claim part of the kitchen as a dining area or a comfy sofa section, wallpaper will help you do that by marking that area as a separate room of sorts. At the same time, you need to be mindful that kitchens are busy rooms with lots of cabinetry and appliances, so watch out for wallpapers that could make things feel cluttered or paint colours that compete with one another (read up on our the best kitchen paint colours here). 
Hestia 01 and Fern 01 are prime examples of kitchen wallpapers. There's lots of white in there to avoid that busy feeling and the colours and soft and clean. Imagine a kitchen with dark-painted cabinets (like our Black 01) that leads onto a feature wall in either of these two wallpapers, complete with a kitchen table for informal dinner parties in front. 
The best wallpaper designs for downstairs bathrooms
Go for wallpapers that are full of personality in a downstairs loo. You could even wallpaper the ceiling if you're feeling brave and like the idea of totally immersing the room in pattern. Western 01 is a great choice because it's dark and moody but also cool and cheeky. Jungle 03 is another perfect pick, especially for the ceiling idea, because you'll feel like you're deep in The Amazon.

Tash says: "Downstairs bathrooms are meant to be fun. They aren't used so often and you don't spend tonnes of time in there so they're the perfect environment to push the boundaries and get creative."
"Downstairs bathrooms provide the perfect environment to push the boundaries and get creative."

Tash Bradley
The best wallpaper designs for bedrooms
Think bedroom, think accent wall behind the bed that will make a statement as soon as you step into the space.
Travelling Tiles 01 and Travelling Tiles 02 are ideal as bedroom wallpapers because their vertical lines and scalloped shapes are instantly calming. The colour palette is completely harmonious too, making both of these wallpaper designs even more soothing – precisely what you want in the most relaxing room in the house. 
Tash says: "I love the idea of having panelling on the bottom half of the walls, painted in Teal 01 or Green 04. Then paper the upper part of the wall in Travelling Tiles and it'll look completely dreamy."
The best wallpaper designs for guest bedrooms
Like with your master bedroom, for guest bedrooms either paper the feature wall or if your budget allows, go for it by wallpapering the entire room. You can get away with having that much pattern in a spare room as it's not going to be lived in day-in, day-out.
Dove 01 is a gentle place to start. Pink is a nurturing, warm colour and so you know that your guests will feel completely comforted. Anemone 01 keeps things on the delicate track with its pretty turquoise tone, but it's a touch more playful. But if you like the idea of taking your guest bedroom decor a bit bolder, try Anemone 02 with its energising orange character. 
Tash says: "Taking the time to make your guest bedroom a comforting, beautiful space is a lovely way to make your guests feel very special and welcomed into your home. Dove 01 and both Anemone designs will absolutely achieve that for you."
"Taking the time to make your guest bedroom a comforting, beautiful space is a lovely way to make your guests feel special and welcomed into your home."

Tash Bradley
The best wallpaper designs for bathrooms
What about bathroom wallpaper? Despite being a humid space, you can still use wallpapers in here, the only exception being wet rooms where it's simply too hot and streamy. 
We love the idea of Paradise Vine 01 behind the bathtub. Its vertical lines are totally zen – just what you need when you're having a long soak – but the exotic flowers have a sense of mystery to them so that you can truly escape and unwind. 
Tash says: "Dove 02 is another good bathroom wallpaper to set the mood – blues and teals are perfect soothing hues for bathrooms being the colour of water. That's why I always really encourage people to consider wallpaper for their space. It creates an experience."
"Wallpaper is art, and that's the best way to enter into choosing yours" Tash concludes. "It's a lovely way to express yourself and it's incredibly personal. But, like art, wallpaper is more of an investment and has real longevity." In other words, you wouldn't change it up as frequently as you might with paint, so choose it slowly and carefully, and you'll be amazed at what it will do to your whole home."
Discover how to use wallpaper to brighten up your space. From hallways to bedrooms, it's time to deck your walls with art from our wallpaper collection.