Black bathroom paint trends | Five things to consider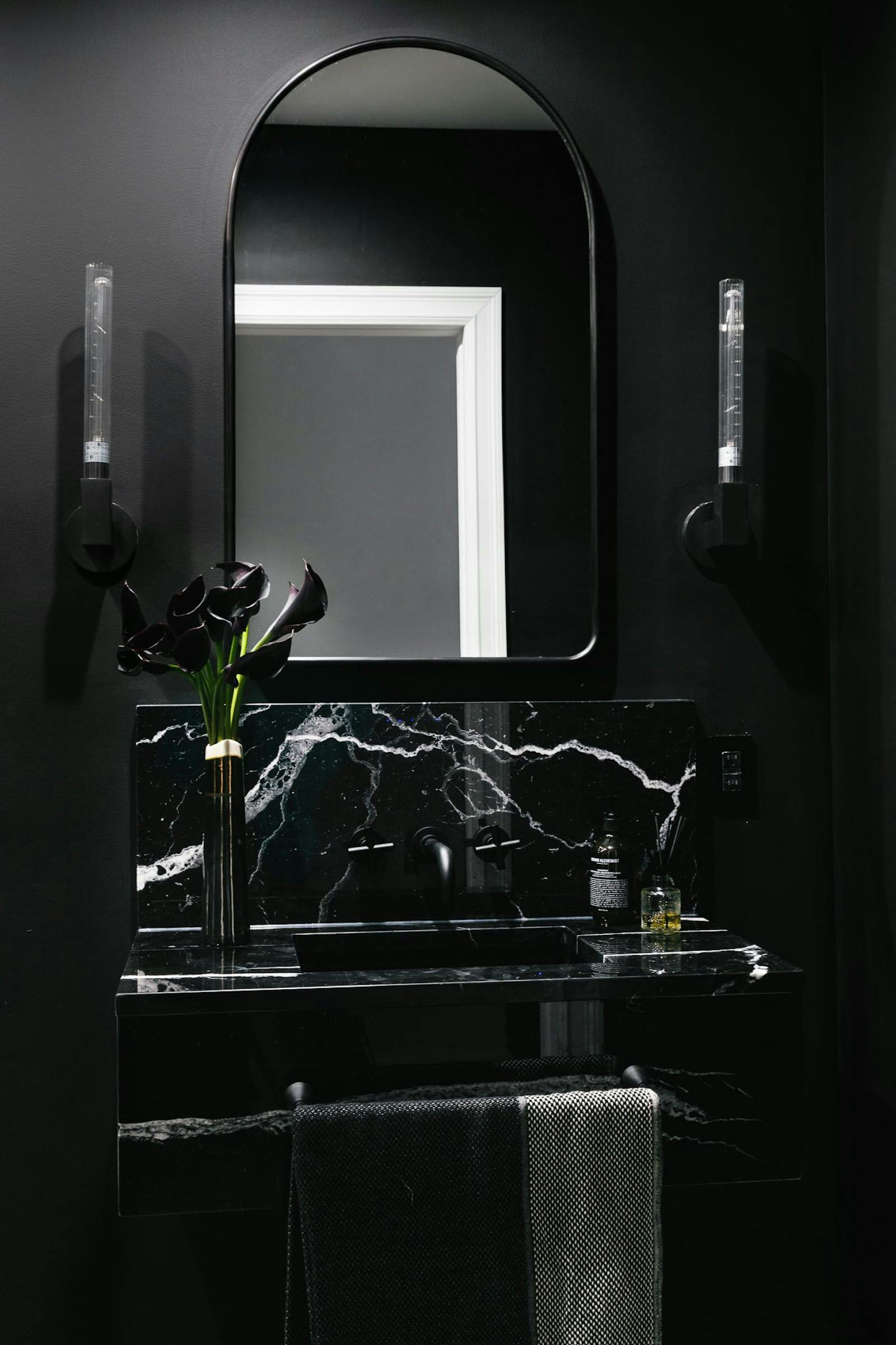 We all know that black is the new black. But one of the less predictable interior colour trends of 2020 has been for black bathroom walls. Moody, dramatic and impactful, using black paint in a bathroom – either as a striking accent wall or an all-over paint finish above tiles – can look incredibly chic. But proceed with caution! Here are five tips and tricks to consider before you take the plunge and go back to black.
Consider the way your bathroom faces
If you're decorating a north-facing room with less natural light, you'll want to inject warmth and character via your colour scheme. So, no black paint then? Not necessarily. A dark velvet black warmed up with red undertones, Black 02 from our paint range is a great option. Indulgent and rich, it adds an air of aristocratic opulence to your space (and who wouldn't want that?). Why not contrast it with white subway tiles and polished fixtures for a monochromatic look?
Size matters
Black paint makes a great addition to a large master bathroom suite. With ample space to play around with lighter and brighter accents to create stunning contrast, the extra-brave can even try painting all walls black. For this, we recommend our Black 01 paint: graphite black with blue undertones. Great for larger spaces with high ceilings, or simply a statement wall to divide your room, an injection of blue tones keeps it lively.
For smaller shower rooms and bathrooms, black paint is certainly not off-limits. You just need to be clever with it. A black feature wall behind a toilet can work wonders in a downstairs loo, while a black backsplash behind an indulgent claw-foot bath is a smart choice for a snug guest bathroom. Similarly to north-facing rooms, a small bathroom with no windows will benefit from the warmer red undertones of Black 02, while those with more light enjoy more paint options.
Make sure your fittings complement black paint
With black paint on the walls, the rest of your bathroom theme is important to do it maximum justice. This is where your floor tiles, choice of shower and other features come into play. Enliven all-black walls by opting for white-and-black geometric tile flooring, which draws the eye and looks super luxurious. And, even in a larger space, it's also a good idea to include plenty of mirrors and lighting options so that, whatever the time of day, you can enjoy a light, spacious bathroom.
Try some texture
A monochrome bathroom scheme presents a perfect opportunity to incorporate plenty of different textures. Whether it's small, shimmering mosaic tiles around the sink unit, or dark black stonework inside a walk-in shower, using a variety of textures throughout the room will add depth. Natural textures, such as black rattan, also work well here. Try incorporating them as baskets and storage solutions around the room.
Get creative with a black bath or cabinets
Who said paint is just for walls? Update tired bathroom cabinets with a coat of black paint for a simple, budget-friendly master bathroom update. We also love the idea of repainting an old claw-foot bath with black paint. Because all our paints are wipeable, hard-wearing and ready to use on all surfaces, it should come up a treat!