The best blinds for a nursery and kids bedroom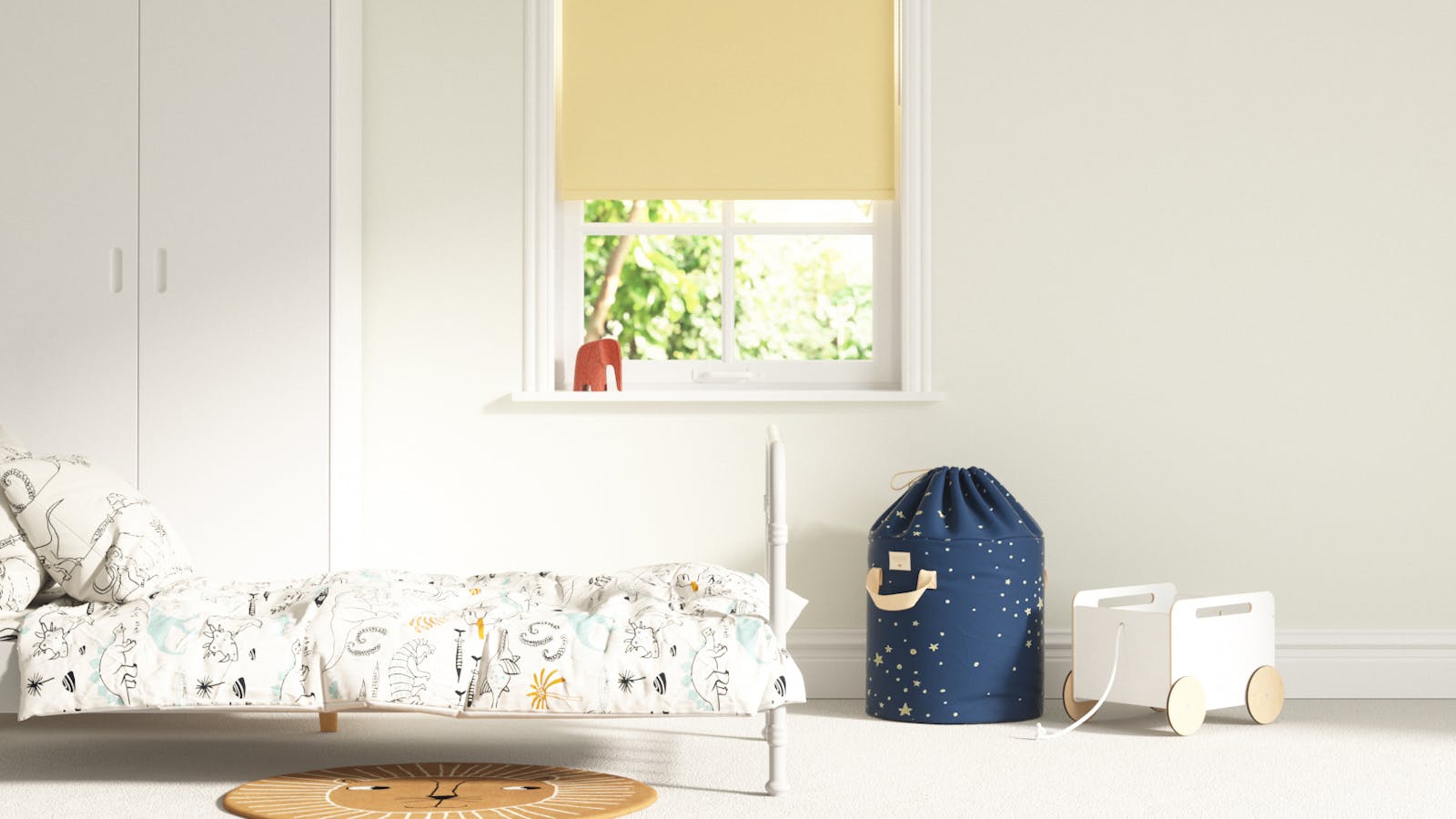 Decorating a kid's room is all fun and games when you're at the Pinterest stage, but it can easily get overwhelming. Let's simplify one part of it - the window covering.
For us, it's a no-brainer between blinds and curtains for nurseries. Blinds are tidier, they're easier to operate, and you can get dim or blackout ones (see our blog on the difference between dim and blackout blinds). Making it easy for you to stick to their nap schedule, without any pesky sunlight interference.
Why roller blinds are great for nurseries and kids bedrooms
Now that we've narrowed it down to blinds, time to decide on the actual type. Our recommendation for a kids room would be roller blinds (check out everything you need to know about roller blinds). All our roller blinds are child-safe and come with black-out and dim options - perfect for those post-lunch baby naps. And the fabric of our roller blinds is easy to clean with a swipe or two (a must-have for any kids room).
Best blinds for a minimalistic nursery and kids bedroom
If your child's room decor leans more towards Scandi-chic minimalism (with a touch of toddler toy clutter), maintain it with our White 05 roller blind. This light, oaty white has a hint of yellow for the warm tone you'd want for a little one's room. Pair this with our creamy White 03 paint on the walls and you have the perfect base to contrast with any pops of colour in your furnishings.
Best blinds for a pop of colour in a nursery and kids bedroom
On that note, a kid's room is no place to be colour-shy. Tash (our Head Colour Specialist) recommends adding a pop of colour with our roller blinds in Yellow 01 for a happier baby. As Tash says, "Yellow produces the 'happy hormone', serotonin, which is why it's great to have hints of it in a kids bedroom". Note, the same theory applies for adults too. You can find out more by reading our blog about the best blinds for grown-up bedrooms.
Back to the nursery blinds for now. Pair our Yellow 01 roller blind with White 03 paint on your walls, a soft creamy white with a touch of yellow. If you want a bit more colour on your walls, pair the yellow blinds with Blue 03 paint, a beautiful dusty, light blue.
"Yellow produces the 'happy hormone', serotonin, which is why it's great to have hints of it in a kids bedroom."

Tash Bradley
Best blinds for a calming nursery & kids bedroom
Keep your child (and yourself) calm by creating a nursery with serene vibes. Easier said than done, we know. But the colours you choose can help.
For a calming nursery, Tash recommends the Blue 01 roller blinds, our palest blue blinds. If you believe in colour psychology (which we very much do at Lick HQ), blue is said to have a calming effect on our minds and reduce anxiety levels. We're not promising anything, but hey, anything to help with those toddler tantrums right? Remember to pick dim or black-out blinds to keep nap times just as calm.
Find the Lick blinds that are perfect for your nursery & kids bedroom
Want a little more colour guidance for your nursery blinds? Our colour consultants can help. Get in touch for a personal colour consultation. Or, just head to our blinds page for a little browse and order samples for a little feel.