Bathroom colour trends: 2020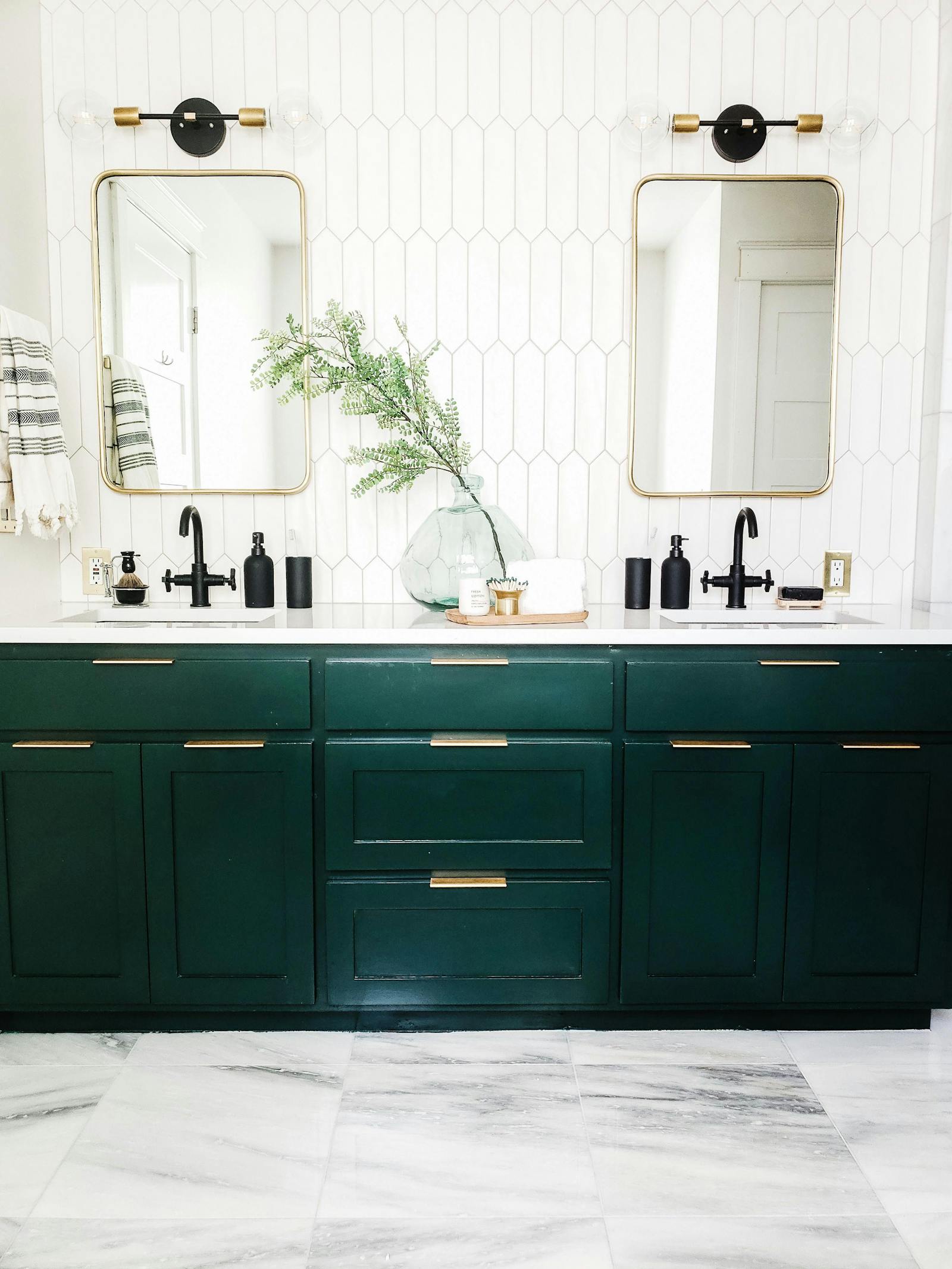 Considering a bathroom update but not sure what's trending for 2020? Add a lick of paint to your bathroom, shower room or ensuite with our guide to this year's most-wanted paint shades. All our Lick paints are suitable for multi-surface use, so, even in steamier rooms like the bathroom, they'll have a flawless finish. From botanical greens to soothing neutrals, there's a paint colour to make an on-trend splash in your home.
Going green
All along the spectrum, from verdant jungle green to sage and seaweed-hued paints, green colour schemes are popular 2020 interiors trends. And, with its mood-lifting tropical feel, there's no reason you can't use green paint in your bathroom theme. Darker shades of green feel opulent and luxurious; they look great contrasted with gold taps and bathroom fittings. If you're after something a little more relaxing, then lighter shades, such as our blue-tinged-sage Green 02, give a calming, coastal feel. Contrast with natural or white-washed wooden fittings for that holiday feeling in your own home.
Down to earth
Natural and earthy tones, from terracotta to rust to sand, are increasingly popular as 'new neutrals' to update your bathroom space. With beautiful earthy pigments, Beige 02 works well with whites and greys, while our terracotta-inspired Red 01 is an ideal backdrop for a Moroccan-inspired bathroom, finished off with stunning floor tiles and golden accent mirrors.
Moody blues
Across all rooms of the house, moody blue paints are high on the list of paint trends for 2020. Impactful darker bathrooms are gaining popularity – think inky navy blue and deep slate walls – and we love them in all sizes of bathroom suites. In a smaller ensuite or shower room, try using a dark blue paint such as Blue 06 on one wall to create a 'zoned' effect. Alternatively, if you've got a larger bathroom space to play with, we love dark blue paint used above white tiles or marble fixtures. Just add fluffy white towels.
Back to black
Black paint is enjoying a serious revival – just type 'black bathroom ideas' into Pinterest if you don't believe us! From feature walls in downstairs toilets, all the way through to all-black walls in master bathroom suites, this trend is certainly making its mark. Tempted to try it for yourself? Read our guide to using black bathroom paint, whatever the size of your bathroom.
Clean white
It's a classic for a reason. When it comes to creating a blank canvas and an instant feeling of serenity, you can't go wrong with white bathroom paint. Look for paint options that tip more towards the blue or grey end of the spectrum, as opposed to yellow-toned white paints, which can sometimes look less light and airy. We recommend White 01, a bright white with a hint of grey. It's great for reflecting more light in and around your room, even on the darkest of days. And, of course, the best thing about painting your bathroom white is that it leaves you plenty of options when it comes to accessorising!