5 easy DIY ideas for a kids' bedroom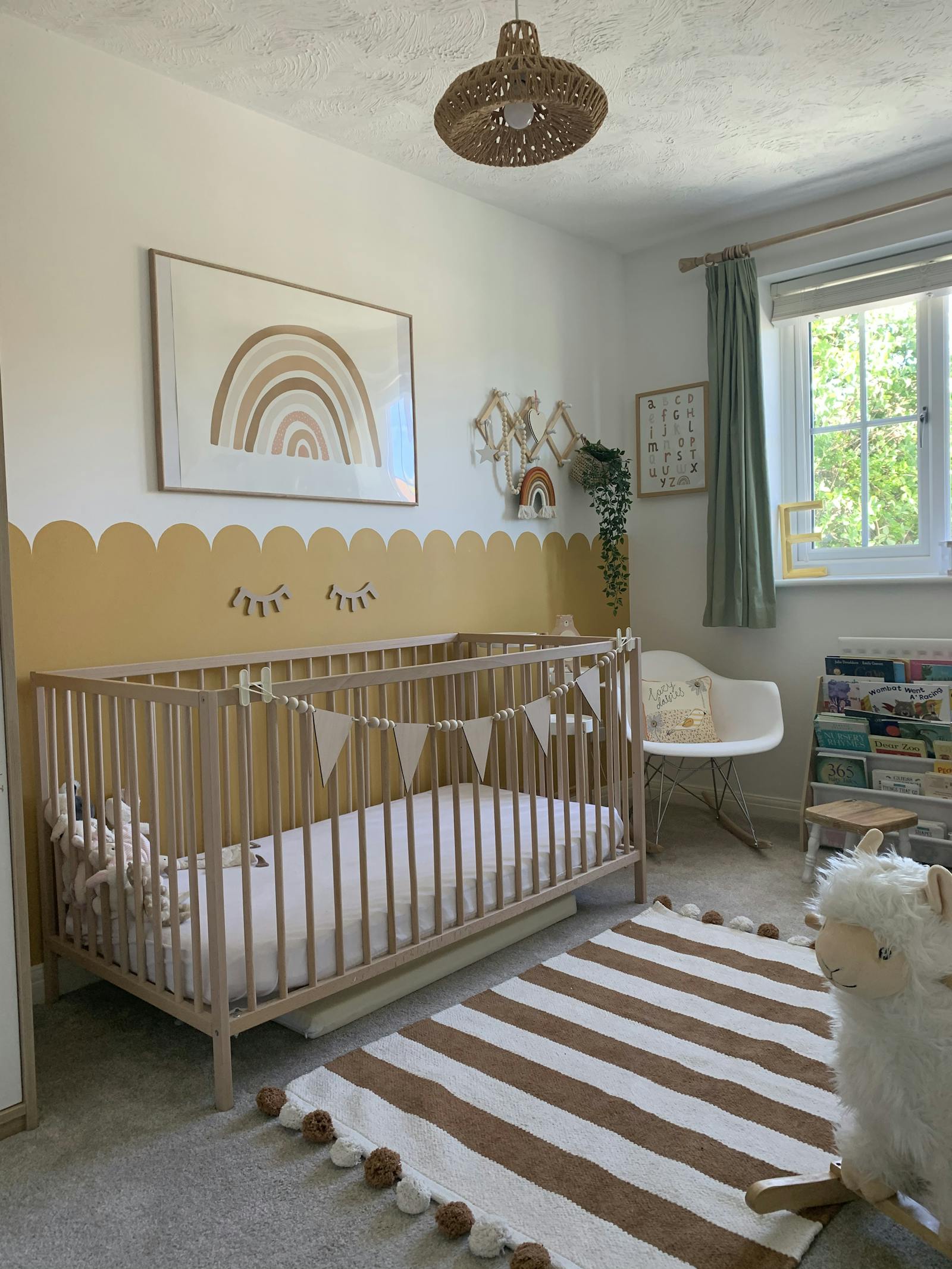 When it comes to painting, we have all the creative freedom in the world. Don't get us wrong - we love a neutral space, but we also have a soft spot for some extra creativity and imagination, especially when we're creating a room for someone else.
This September, to celebrate the month when kids go back to school, we've chosen to focus on some easy DIY and painting ideas for children's bedrooms and play areas. Here are 5 easy ways to decorate your little one's bedroom, recommended by our Lead Colour Expert, Tash.
1. Circus Tent
Create a faux circus tent in your kid's bedroom by painting thin triangles on the ceiling and the top part of the wall. Using masking tape, start at the centre of the ceiling and bring the triangles all the way down through it, where it meets the top of the wall (aim for about 5 inches down). This would create a unique atmosphere that your kid will absolutely love.
Tash's little tip: to achieve this look, use Lick's high-quality masking tape and pick a colour from our red palette - Red 01, Red 02 or Red 03.
2. Painted Headboard
Help your kids go to bed with a smile by making it a fun place to be. Whether there's already an existing headboard or not, you can create an extra pop in the room by adding the same or a contrasting colour to the wall behind it. This will make nap time even more enjoyable and will turn the boring routine into a real adventure.
Tash's little tip: you can make the space really exciting for your little one by painting a rainbow, a cloud, or simply some geometric shapes behind the bed. One of my favourite trends at the moment is the scalloped wall method. By adding this into the space, you'll create a cocooning effect and make the bedroom cosy and inspiring. For best results, use our masking tape, pencil, paint by your choice (I would recommend our yellows, pinks and blues) and a plate or embroidery hoop.
3. Mountain On The Wall
Make your kids feel like they're constantly on an adventure by painting faux mountains on their walls. This will help them feel close to nature and encourage their curiosity.
Tash's little tip: To make the faux mountain realistic but not too overwhelming, use our Grey 06 colour (and don't forget the masking tape).
4. Night Sky
It's no secret that a good night's sleep is crucial for the little ones... and there's something you can do to help them sleep better. Paint the ceiling in a midnight blue colour and make them feel like they're camping right under the sky. Bonus points if you add some stars too.
Tash's little tip: For a real midnight sky effect combine our Blue 06 for the ceiling and White 01 for the stars.
5. Colourful Mural
Challenge yourself and your creative skills (or simply call your artsy friend) and create a colourful mural, DIY wallpaper or just a simple illustration for your children. Trust us - they'll appreciate the time and effort you'll invest in their space - not to mention the personal touch that you'll add to their room.
Tash's little tip: Don't be afraid to experiment with different colours and go bold. Ask your kid what their favourite shades are and implement them in your design for best results and happy smiles.
For more inspiration and colour tips, follow us on Instagram.
Need some colour advice? Book a colour consultation session with one of our colour experts and they'll help you transform your home in no time.
*Cover photo by Helaina @the_3_stowe_aways - check out her profile for some beautiful interior inspiration.