Get inspired by this IKEA Billy bookcase hack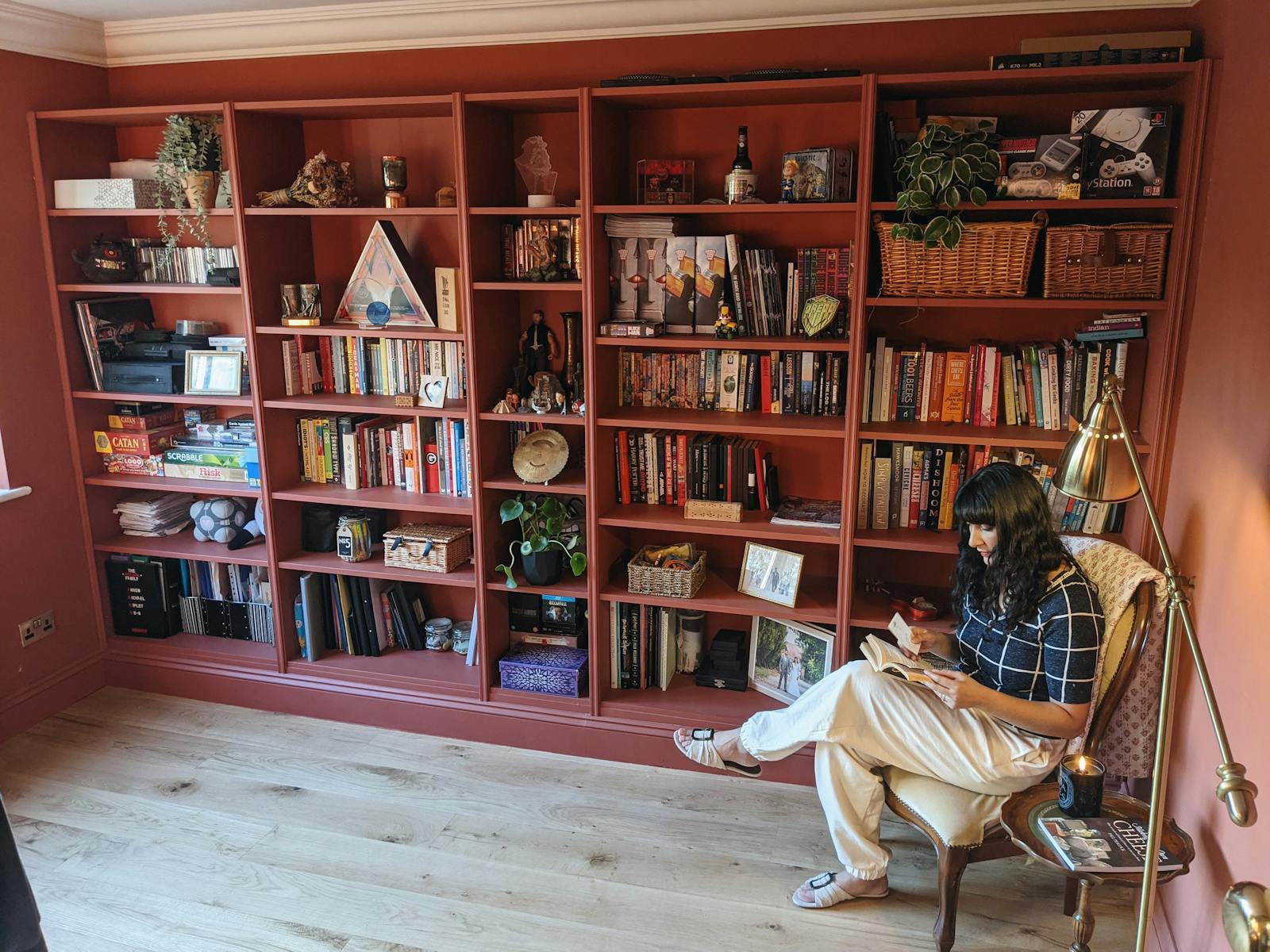 Annem is 31 years old and works for PlayStation, but also runs her own cheese business – hence her memorable Instagram username - @ahousebuiltoncheese.
She lives in North London with her husband Mike and they own a 1930s semi-detached, which required a lot of love and renovation when they bought it back in 2019. Sadly, in January 2020, a huge water pipe burst meaning they couldn't move in until all the damage had been repaired. This meant they were only able to officially move in last September, but we are so glad they are finally settled and able to begin enjoying their home renovation journey.
Annem has chosen to share the recent makeover of their home office, which has become a busy hub of activity as they now both work from home. It was important to create a space that allowed them both to comfortably work alongside one another, as well as create a large storage space for all their books and files.
Before the IKEA Billy bookcase hack
Annem described this room as bland, confused and small – telling us that the previous owners had placed big, bulky items in this space and it really didn't do the room justice. They were ready to give it a brand-new look, and ensure that the design suited their new-found WFH needs.
The previous decor was dated and clunky - it was time for a change!
Planning & inspiration
"Since buying the house, we knew that we wanted a wall in the office to be made entirely of bookshelves. We scaled Pinterest and found a lot of built-in bookshelves painted the same colour as the walls, and knew we wanted to recreate the look. In terms of colour, our old flat had a rusty red piece of space-themed artwork, so we may have subconsciously fallen for this colour because of that!
We chose Red 01, as it's a gorgeous rusty red with chocolatey notes! I couldn't think of a better room to get snug and read a book in".
"We chose Red 01, as it's a gorgeous rusty red with chocolatey notes! I couldn't think of a better room to get snug and read a book in."
"We wanted the office space to be cosy and warm. Many hours are spent in here so we wanted to move away from the look and feel of a corporate office space as much as possible. Natural textures, plants, throws, artwork, family photos, soft lighting etc.".
How to: IKEA Billy bookcase hack
Make sure the wall you're putting the bookshelf again has the skirting removed. This is so it's flush with the wall. If you can do this carefully, you can re-use it later.

Give the Ikea furniture a super light sand and a wipe, and then apply two generous coats of Zinsser Bin Shellac Primer, letting it dry between both coats (read our guide on how to prime and paint wooden furniture and other surfaces).

Once primed, leave them to dry for a few hours, or even the next day, so you can get painting. Use a roller to get a nice smooth finish. Apply 2 coats of paint, ensuring you let it dry between both coats. You can also use a spray gun to do this part, so if you've been thinking about buying one – now might be a good time to invest!

'Curing' time. Make sure you give avoid assembling for a week to ensure the paint has enough time to fully dry and adhere.

Assemble, push against the wall and figure out where you're putting it.

If you realise you have seriously wonky floors, then on the bottom of each bookshelf, attach kitchen cabinet legs. These can be adjusted/turned to get the height you want. (Full disclosure: Annem and Mike did all the assembly themselves but asked a local joiner to assist them with this so they didn't get it wrong). Now that they've seen how it's done, however, they reckon they could do it again themselves! It really depends on your level of DIY skills.

Using a laser guide, adjust the kitchen legs until the height is level all the way across.

Cut out some MDF to fill the gap on the front base of the bookshelves. If you have gaps either side you can also use MDF to hide it. Apply the MDF using some glue and if you want, nails. At this stage, you should also secure the bookshelves to the wall. Ikea give you the brackets to do this at the back.  You should also drill the bookshelves together so they are flush and neat.

Over the MDF, apply the skirting board making sure it's straight and level. If there is a gap at the bottom, don't worry – you can caulk it and then paint over so it's barely noticeable.

Annem and Mike purchased some decorative moulding from Wickes which they cut and placed at the point where the Billy bookshelves meet. This gave it a lovely built-in, custom look!

Caulk the moulding and skirting boards, as well as filling any holes from where you drilled in. Once dry, paint the skirting and the moulding, as well as any touch ups if you've chipped anywhere!

Give it a day to completely dry out, and then start styling your bookshelves!
Establishing the IKEA Billy bookcase budget
"The inspiration images we found for the bookshelves appeared to be custom made and built-in; but after enquiring about costs; many carpenters quoted us no less that £1800-£2000. Woodwork is an art form, so I appreciate trades being paid for their craft but unfortunately when you're renovating a rundown house from the ground up, you have to compromise and prioritise your budget. Instead, we found and purchased some 'Billy' bookshelves from IKEA; which set us back about £300".
y
Annem spent between £500-£600; which included the bookshelves, as well as the necessary tools and products. This kind of project can differ in costs depending on the number of bookcases you go for, teamed with the type of finish you desire.
This project cost them a quarter of the fee quoted by joiners, and we think they did an incredible job of building their very own dream bookshelves!
Annem's experience with Lick
"The Lick paint went on beautifully in this room. It was thick, had great coverage and has so far been pretty durable! In terms of choosing the colour, our advice would be to really try to think about how you want to 'feel' in a room. Warm, cosy, productive, energised? Everyone's idea of what these words mean, may differ; so, focus on the environment you want to create and then maybe shortlist 5 colours you feel do that for you. The Lick team have also been super communicative with their customer services, so if you're really struggling to make sense of your shortlisted colours, you can seek advice.
"In terms of choosing the colour, our advice would be to really try to think about how you want to 'feel' in a room. Warm, cosy, productive, energised? Focus on the environment you want to create."
Seeing Red 01 go on for the first time in this room was my favourite part of the whole project. I've never lived in a house with a colour this rich. It was one of the first rooms we painted and I thought I might cry. It was so beautiful!"
Annem's DIY advice & tips
There are some tasks during big renovations that you have to call in the experts for. When they're in your house don't be afraid to ask them a million questions and get advice, like I do. You never know what you'll learn, and it's a good way to gauge whether you can try your hand at it yourself again, in the future
Specifically, when transforming furniture, be prepared for how much time it can take between priming, sanding, filling and painting. It's not a quick job. It requires patience, but it's super-duper satisfying when you see the final result
I don't always love the DIY process, but it can be extremely rewarding when you've worked so hard to achieve the look you wanted. I would encourage everyone to give it a go at least once!