Real Homes of Instagram: Reece from @littleedwardian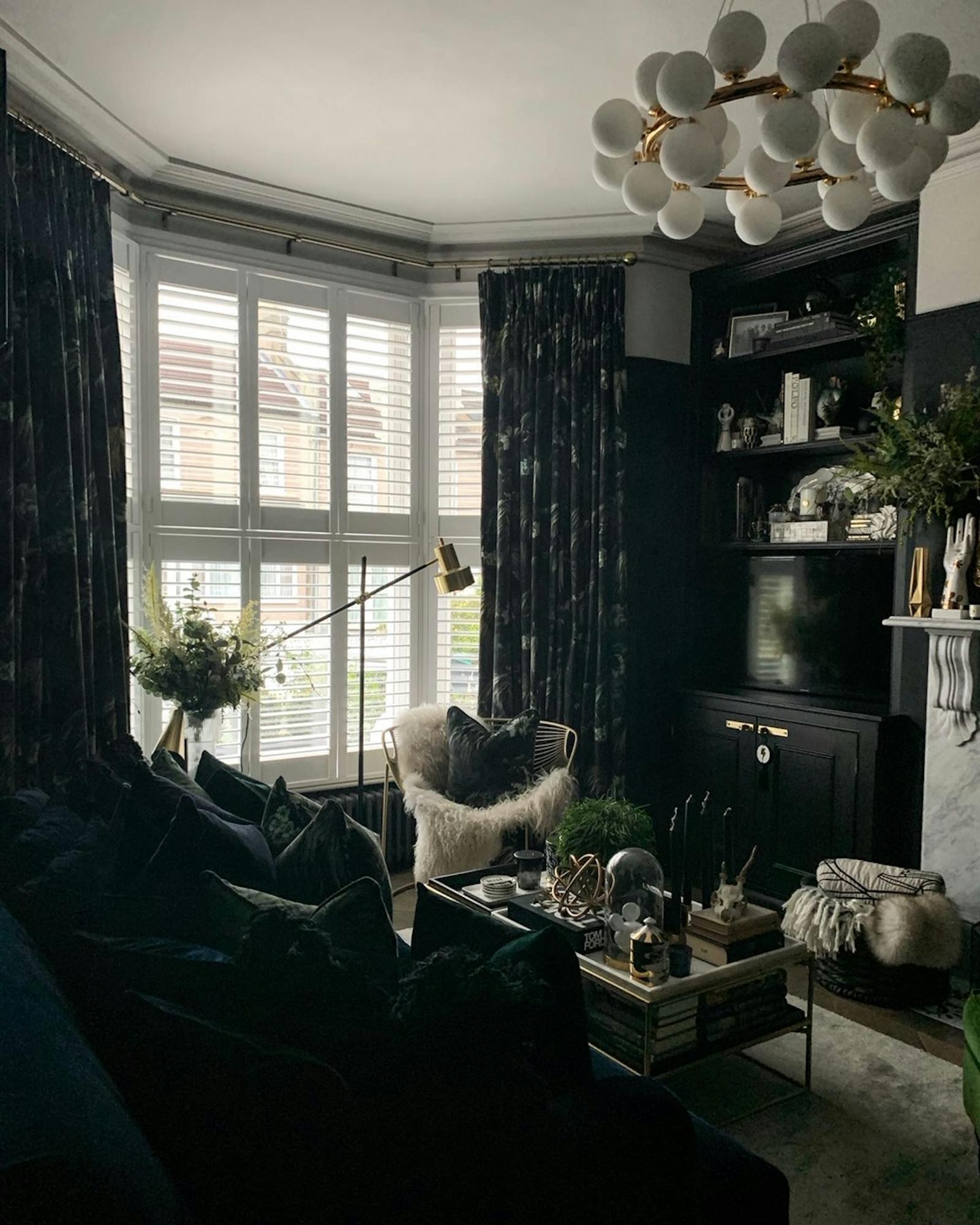 'Real Homes Of Instagram' is our weekly sneak peek into the homes of some of our favourite decorators from Lick's community and beyond.
Next up in the series, we introduce to you Reece, whom you probably know from his Instagram account @littleedwardian.
Reece is 31 years old and lives with his husband Paul and their miniature Dachshund, Izzie. Employed as a children's intensive care & transport nurse at Great Ormond Street Hospital, Reece is exceptionally hard working and currently faces an even harder battle amid the COVID-19 pandemic. We salute you Reece, and THANK YOU for all you do.
Reece with his husband Paul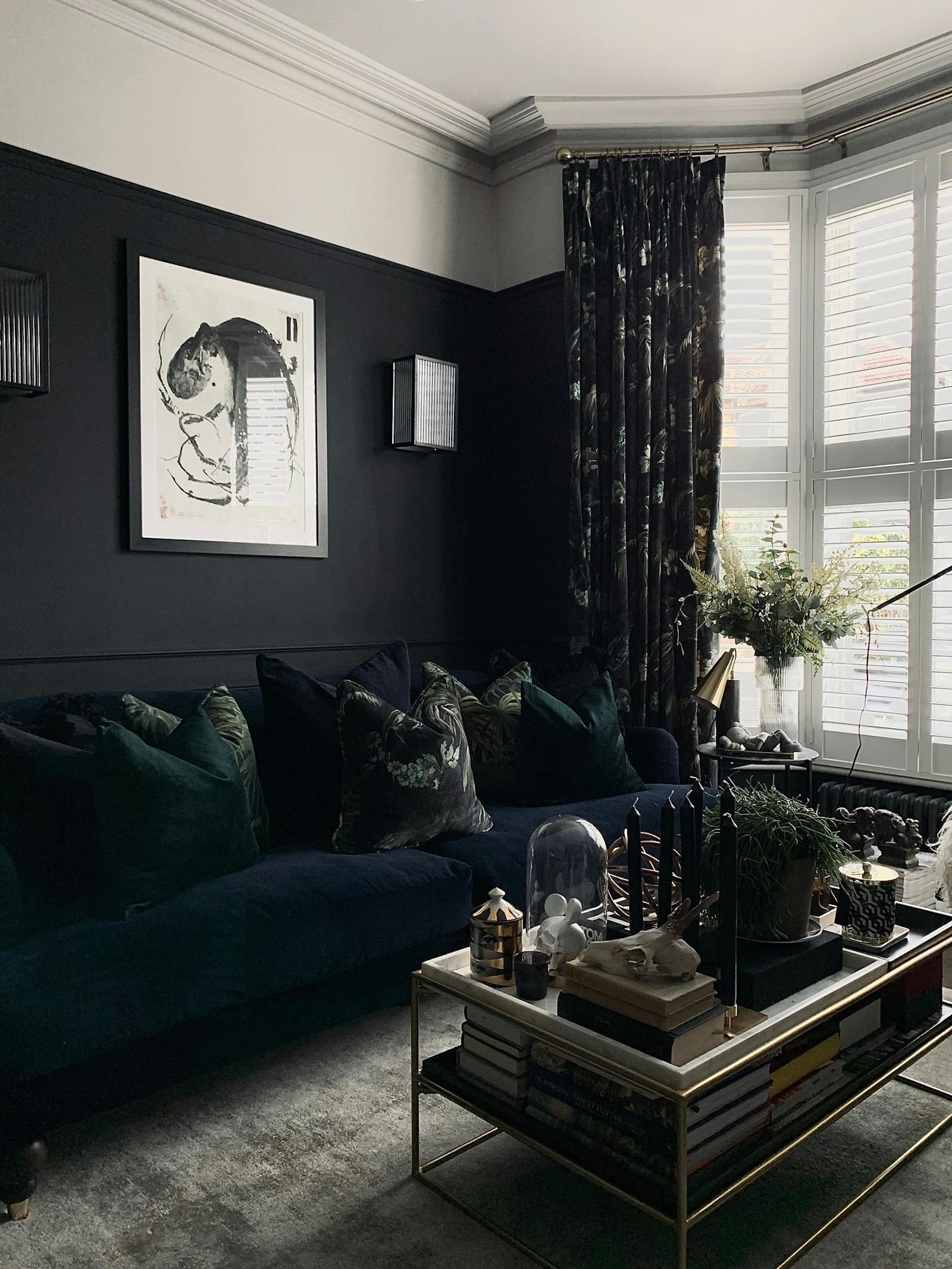 The style of Reece's home is very well defined - black and bold
When he's not busy at work, Reece loves to garden, cook and indulge in his passion for interiors and architecture. A self-confessed perfectionist, Reece's home looks fresh out of a glossy magazine and we've been left drooling over his stunning 1904 Edwardian terrace home.
When they bought the house, they knew they had a lot to do in order to turn it into their dream home. Continuing to renovate over time – Reece and Paul tick off projects as the days off work and budget allows them to.
Reece's dreamy bedroom... in black, of course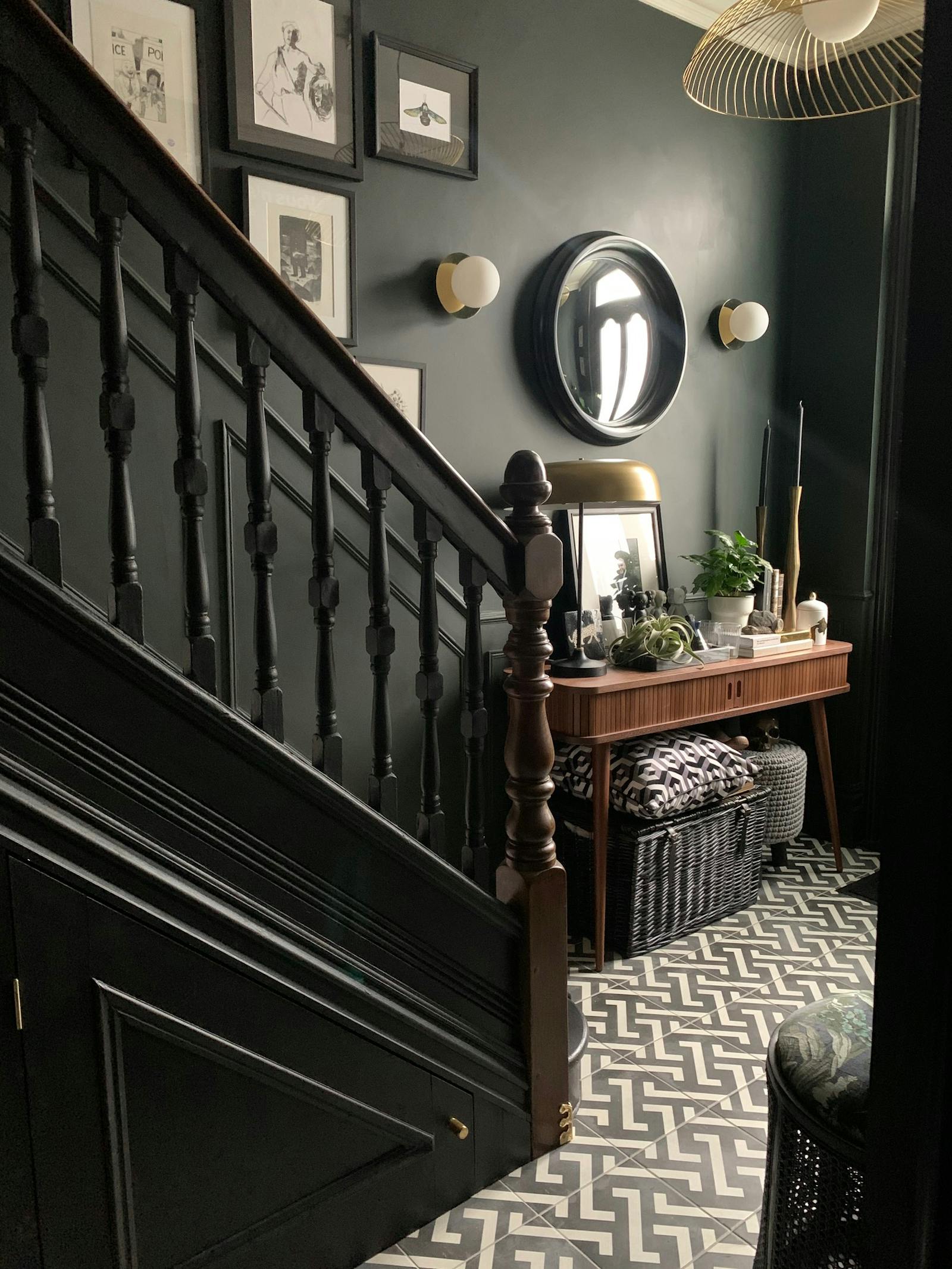 Every little detail in Reece's house is right where it should be, even in the hallway
Reece describes his style as dark, moody, masculine and maximalist; admitting that he only really discovered this in recent years.
"I love House of Hackney, they are the holy grail of styling and maximalist design. I also get my inspiration from many homes I see on Instagram, magazines and homeware shops. Black is bold and I love, and have always loved, dark colours. I think it's about embracing and being confident with what you like and don't like. Walk the streets, note places you visit and things you see on TV – everything is inspiration, as long as you own your own style!"
Dark colours go hand in hand with some greenery in the bathroom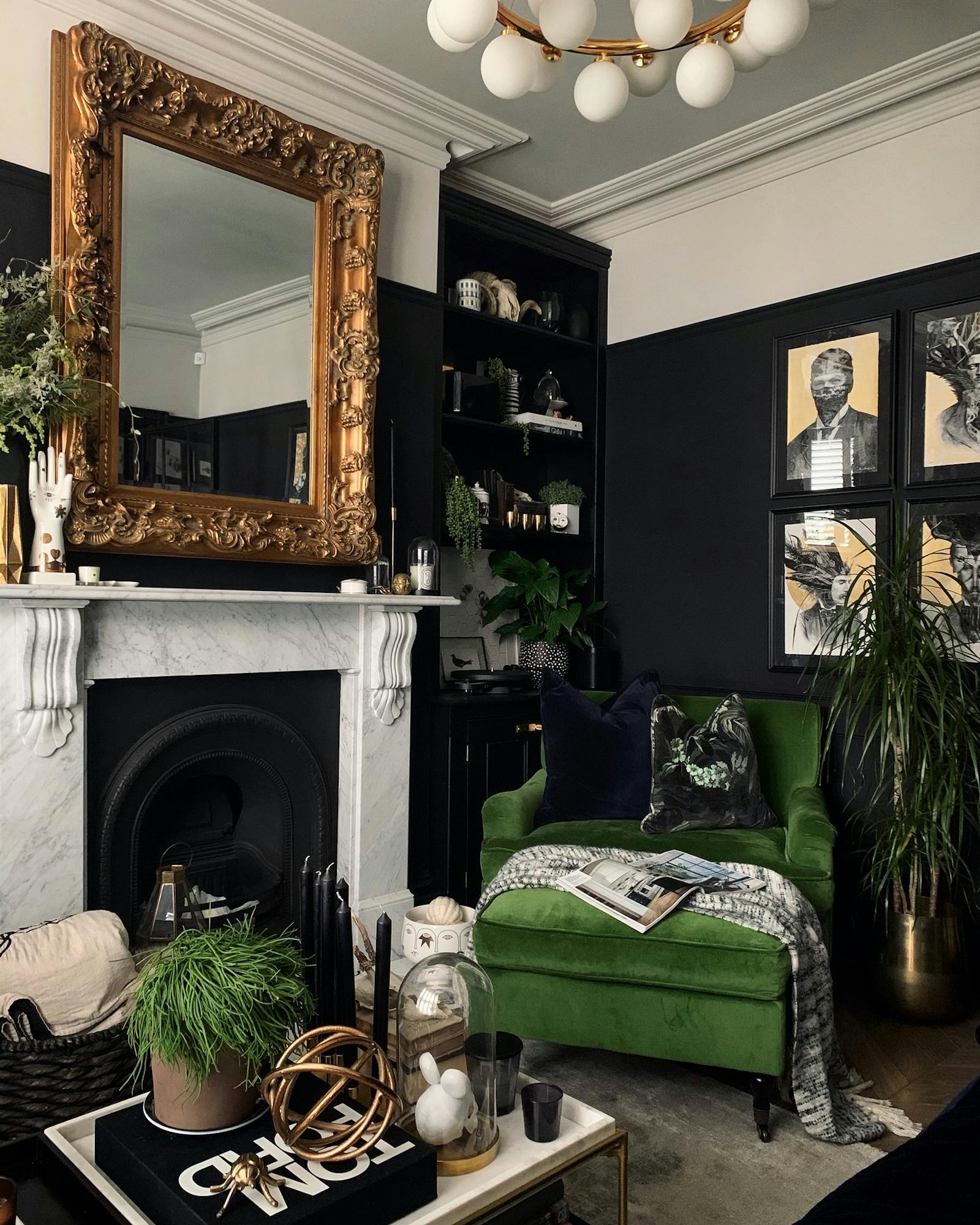 We're absolutely in love with this green armchair
Reece & Paul's latest home DIY project was their lounge and hallway; including the utility cupboard, cloakroom and downstairs toilet. Whilst restoring the original features, Reece also wanted to pay attention to the smaller details; such as quality light switches, plug sockets and wall panelling.
We asked Reece how they decided on the décor and style for these spaces:
"I've always loved a dark colour, and drew massive inspiration from the many swanky London bars and restaurants I've visited over the years. I'm not opposed to colour; but I like the rich, classic, high-end design that dark colours give off. The deep shades, texture lighting and ambience of these places make me feel so relaxed; therefore, I wanted to try and replicate this feeling within my own home."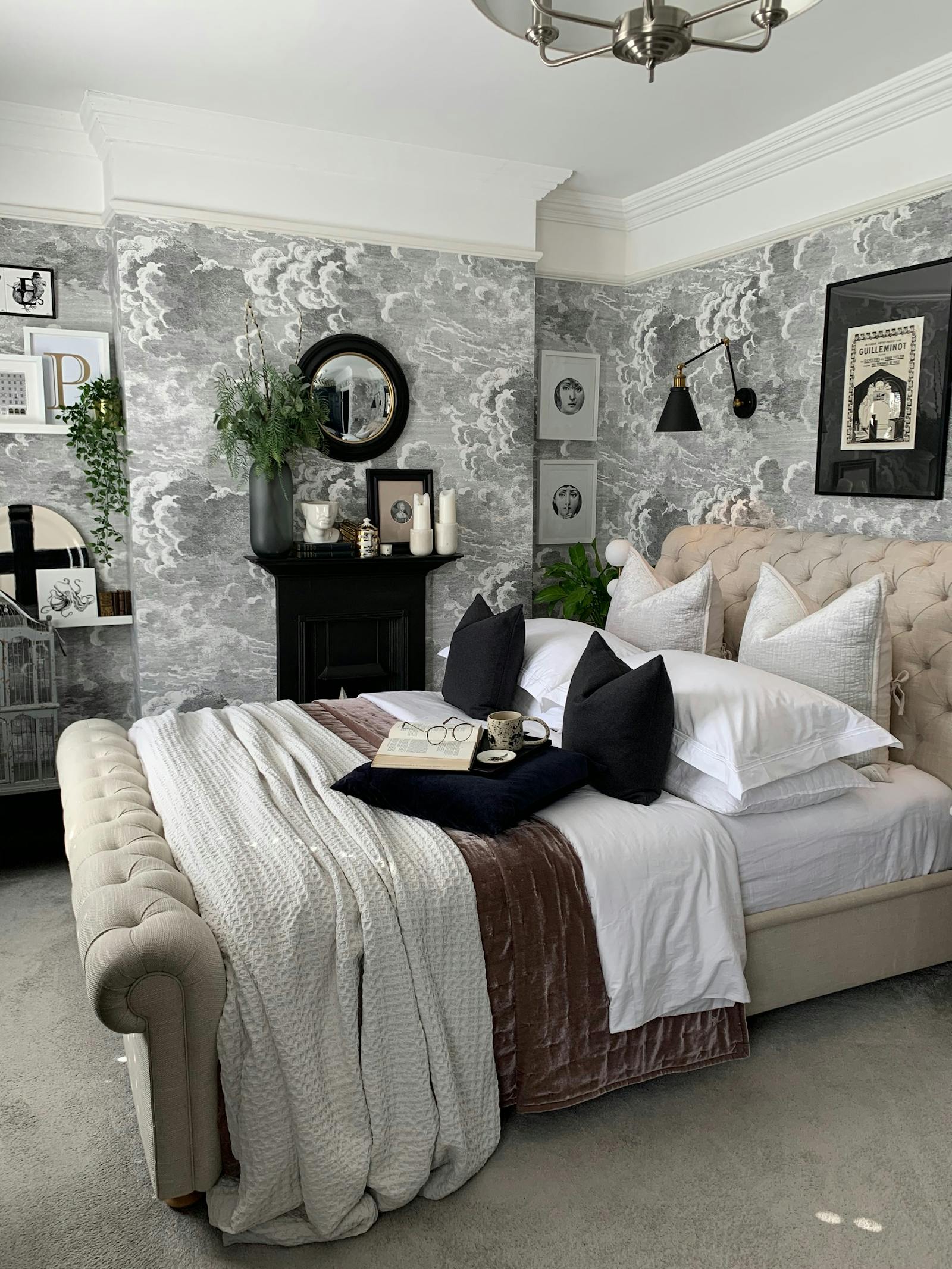 This bedroom has a lighter colour scheme but the dark details are still present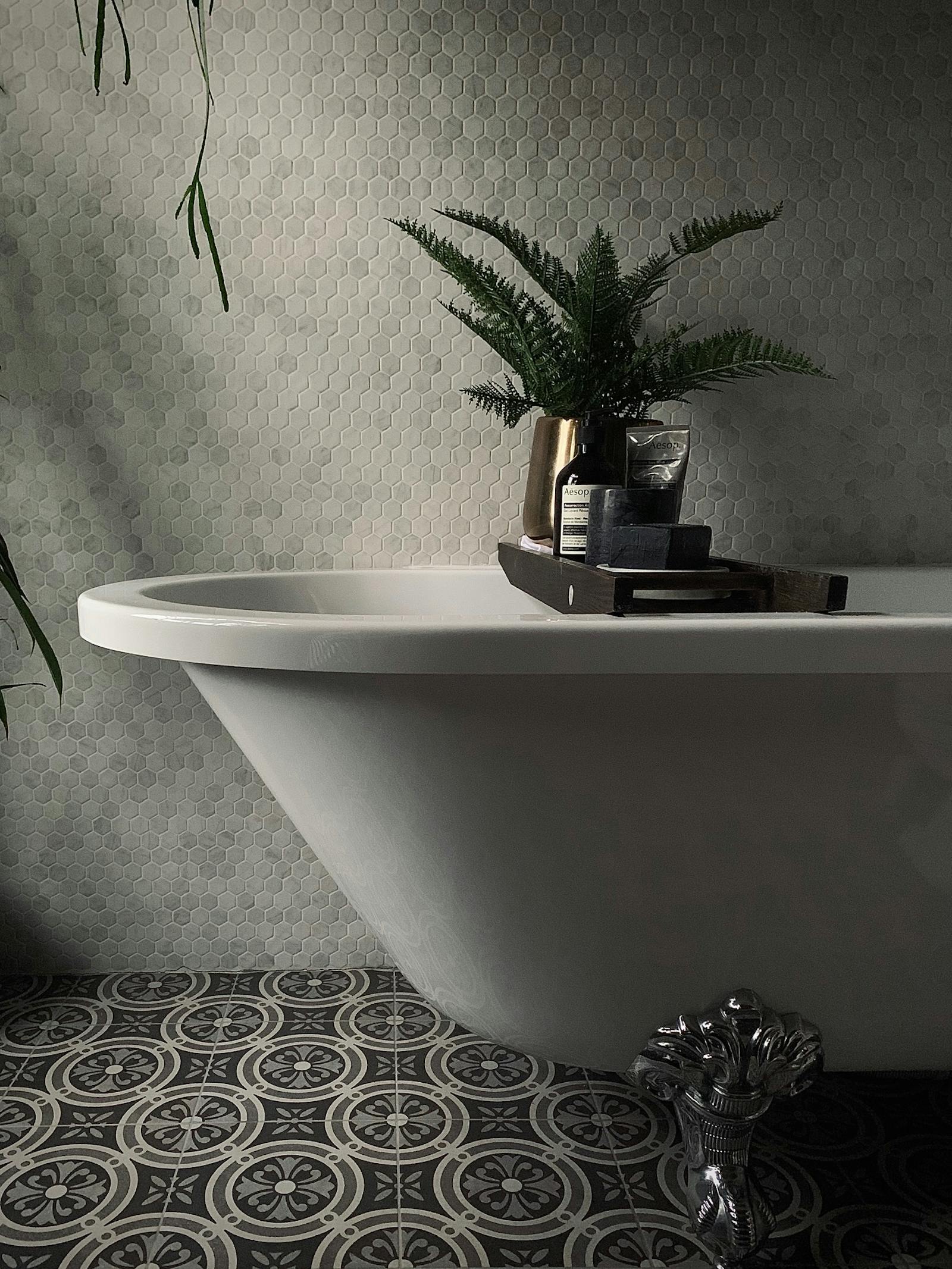 Reece loves DIY & home decoration, and finds it really rewarding to be able to contribute to a project (with help from Paul, of course!), and bring his visions to life. His favourite part, being a true maximalist, is the styling at the end; pulling the whole room and design together. Overall, it took them 3 months to complete and they're over the moon with how it's turned out.
Next up on the list is a home extension; giving them a new and larger kitchen space. Reece loves to cook, but currently the kitchen is painted red and he hates red – oh dear! Spending more time and enjoyment in the kitchen is a priority, and he looks forward to creating the perfect setting to invest more time and energy in.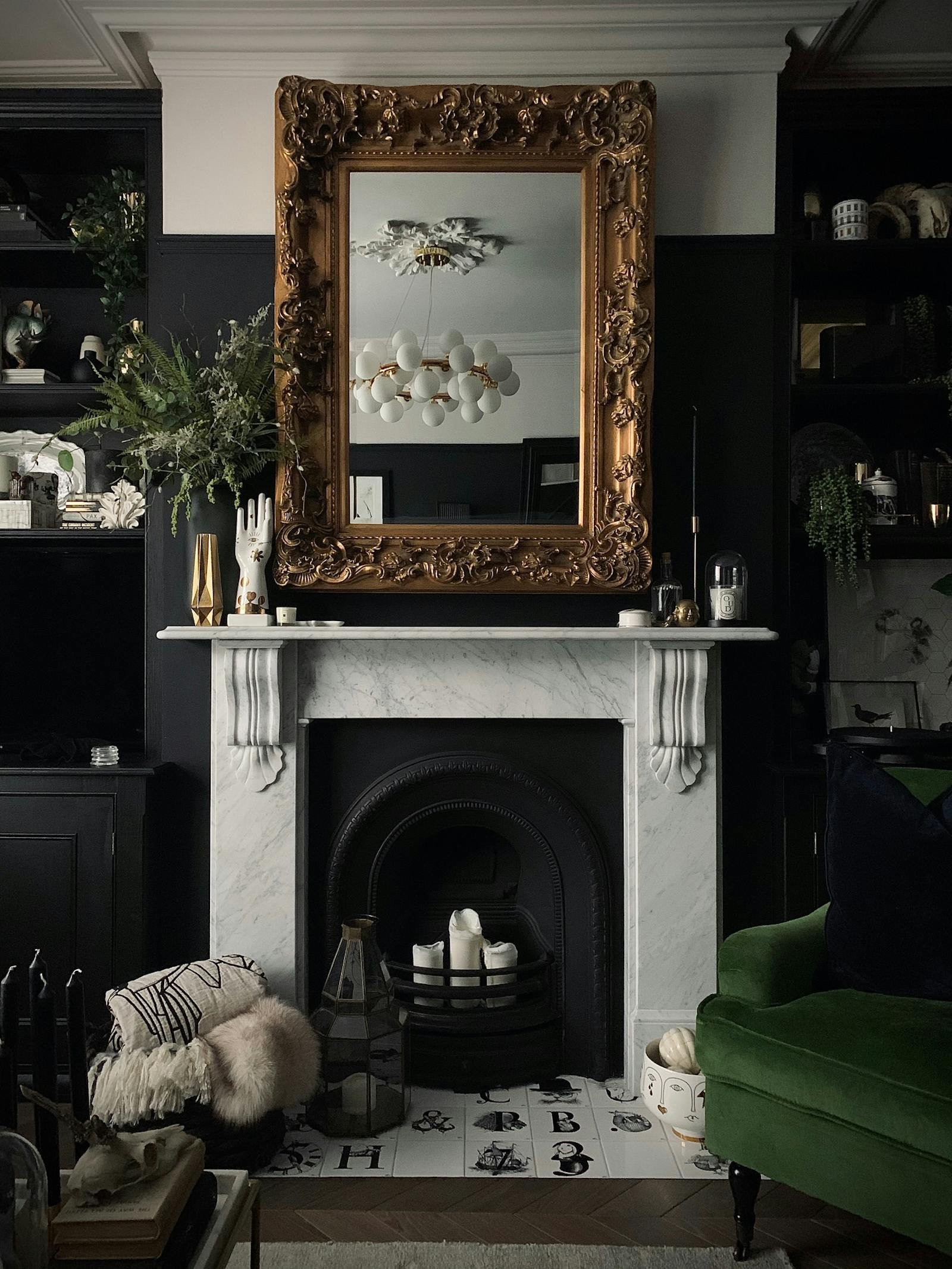 We're huge fans of this vintage mirror (and the reflection in it)
Reece's top tips for decorating:
Start any project off with a mood board of your inspiration and ideas. This is to ensure you know exactly what you're trying to create, without going off on a tangent
Quality paint, finishing and attention to detail are worth the extra pounds… it will bring the scheme together and ensure that 'high-end' feel
Make sure you have a good base to work with – paint doesn't cover every sin!
Be sure not to get paint on your plugs, flooring, switches etc. – as it can cheapen the overall finished look of the room
Frog tape is brilliant for masking edges – I highly recommend it
Reece's Lick Picks
I love Stripes 02 from the wallpaper collection. The bold dark lines are right up my street and I can imagine this in a bedroom or formal lounge.
I'm also drawn to the paint colour, Teal 02. It's a warm shade, and makes a subtle statement.
You can find Reece and his beautiful home on Instagram - @littleedwardian.