Real Homes of Instagram: Lisa from @loft208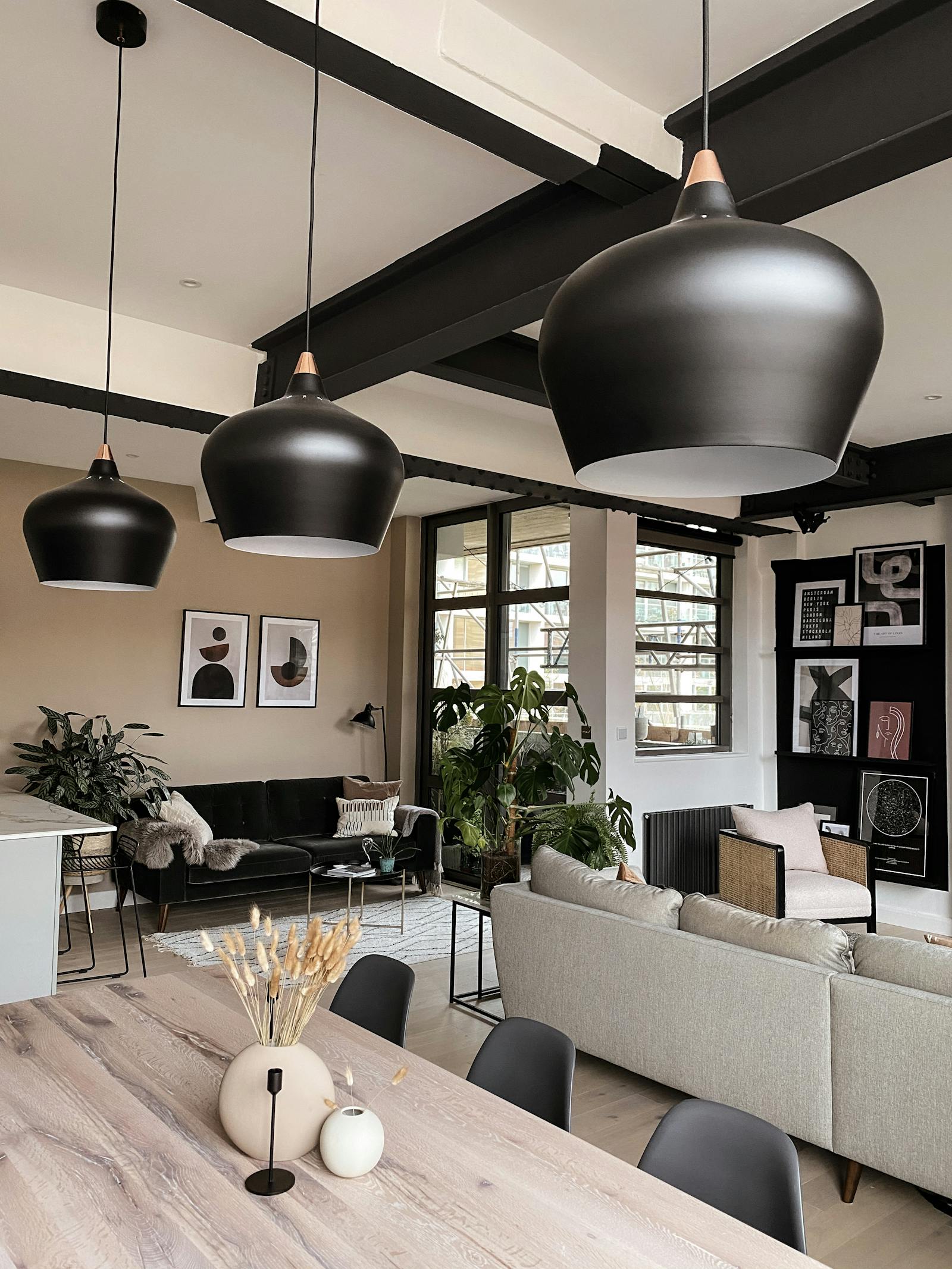 'Real Homes Of Instagram' is our weekly sneak peek into the homes of some of our favourite decorators from Lick's community and beyond.
Next up in the series, we introduce to you to Lisa from @loft208 and her beautiful (and super photogenic) home.
Lisa is 35 years old and lives in Manchester with her husband, Anand. They both share a huge passion for travel, and have managed to tick off a number of incredible destinations over the years. Next on their wish list is South America!
Their beautiful, industrial style apartment is based in Castlefield and they have lived there four years now. They chose an outer-edge city location to enjoy the best of both worlds, and particularly love the quieter, neighbourhood feel that their home brings them.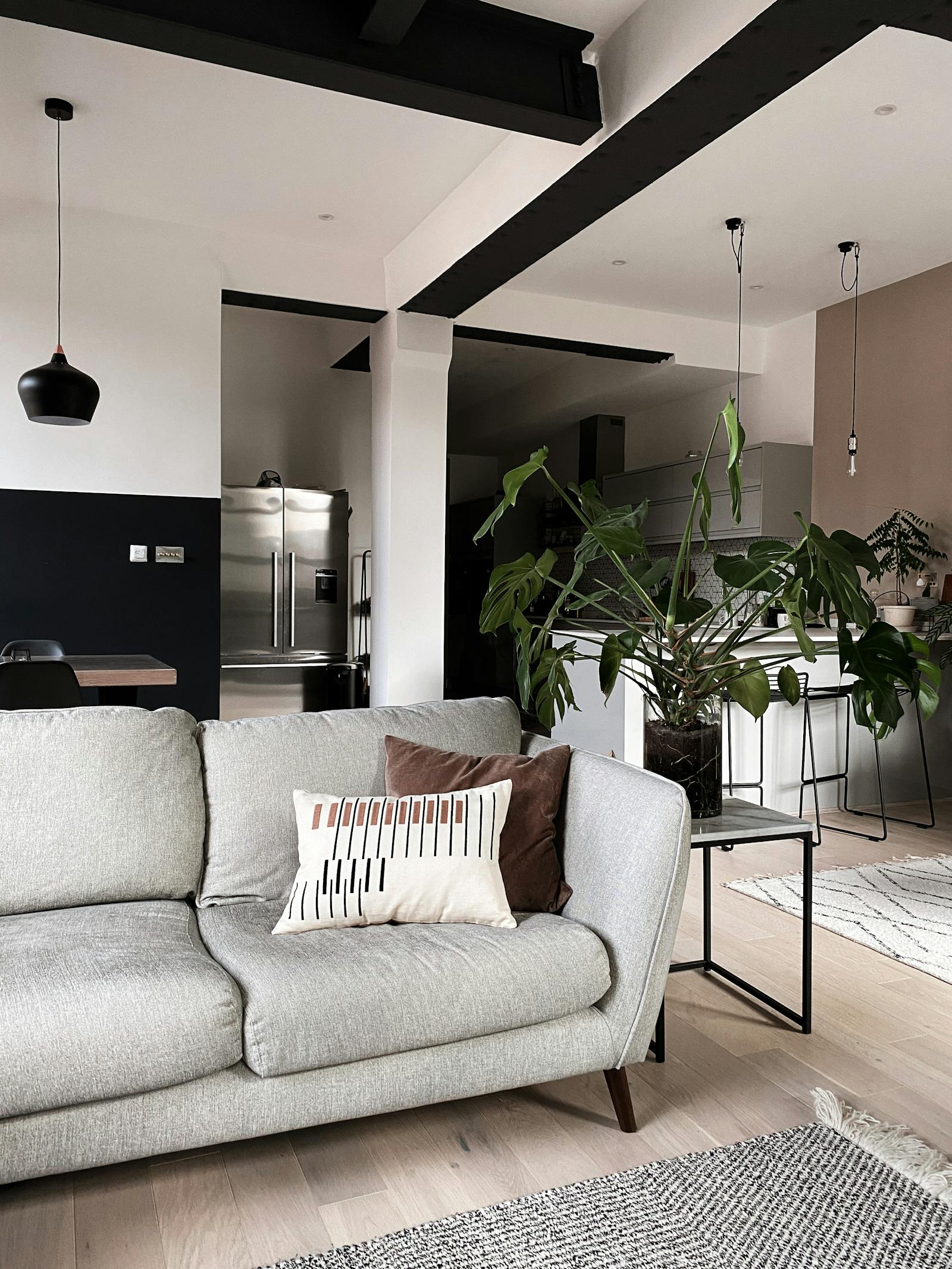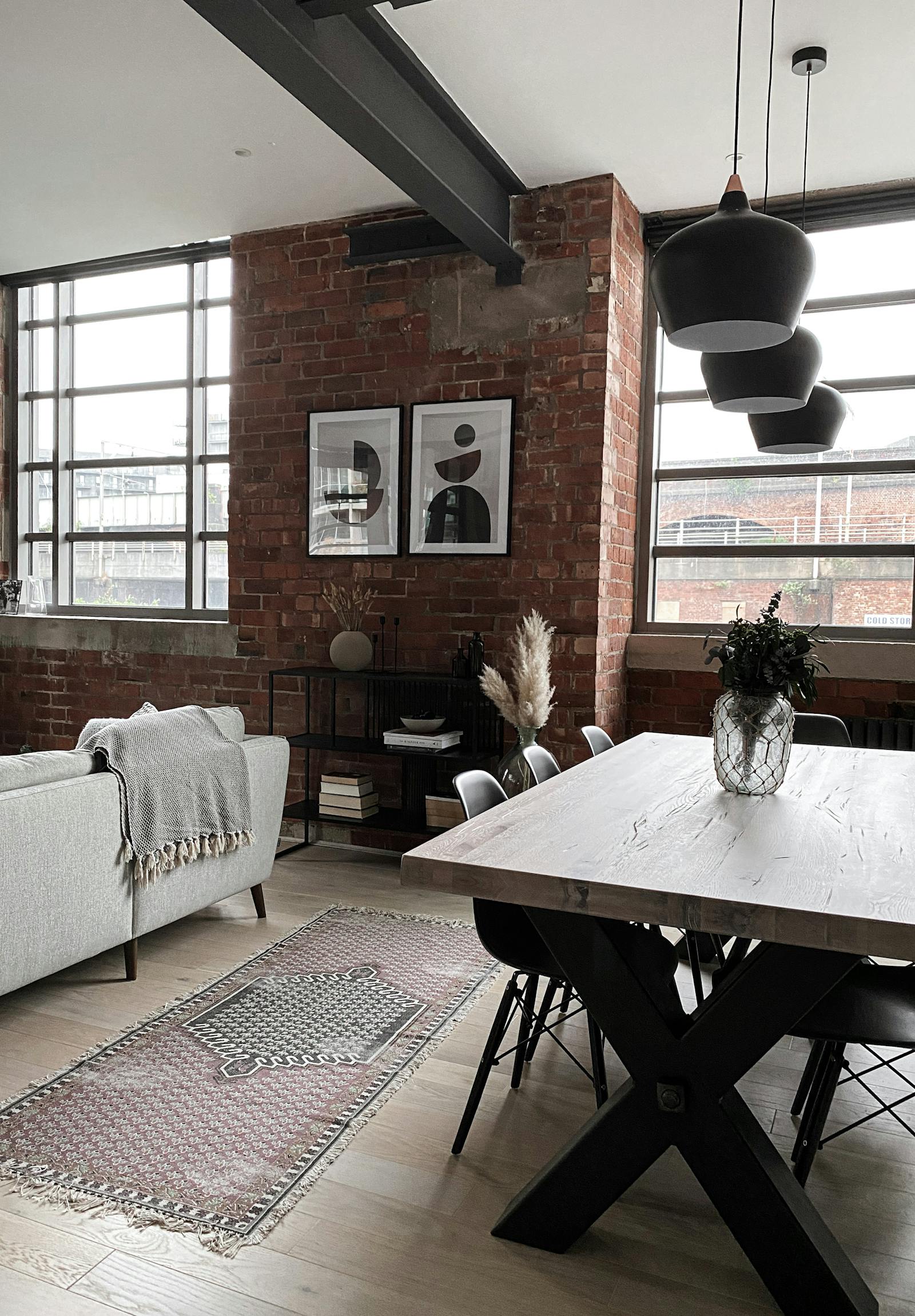 Dining area, part of the open space. We love the exposed brick wall
Another reason for choosing this warehouse conversion, was the sheer amount of space it gave them; 1,300 square feet, to be exact! There were so many possibilities for décor and layout, that it won their hearts straight away.
"The amount of space is incredible… and we saw some real potential with what we could do with it. We just loved all the original features to the building, including the exposed brick work and beams running throughout the entire apartment."
Lisa feels her signature style evolves over time, and recognises that a change in trends can have an influence on her personal preference. She currently describes it as, Scandinavian meets industrial warehouse – with a touch of rustic thrown in there, too.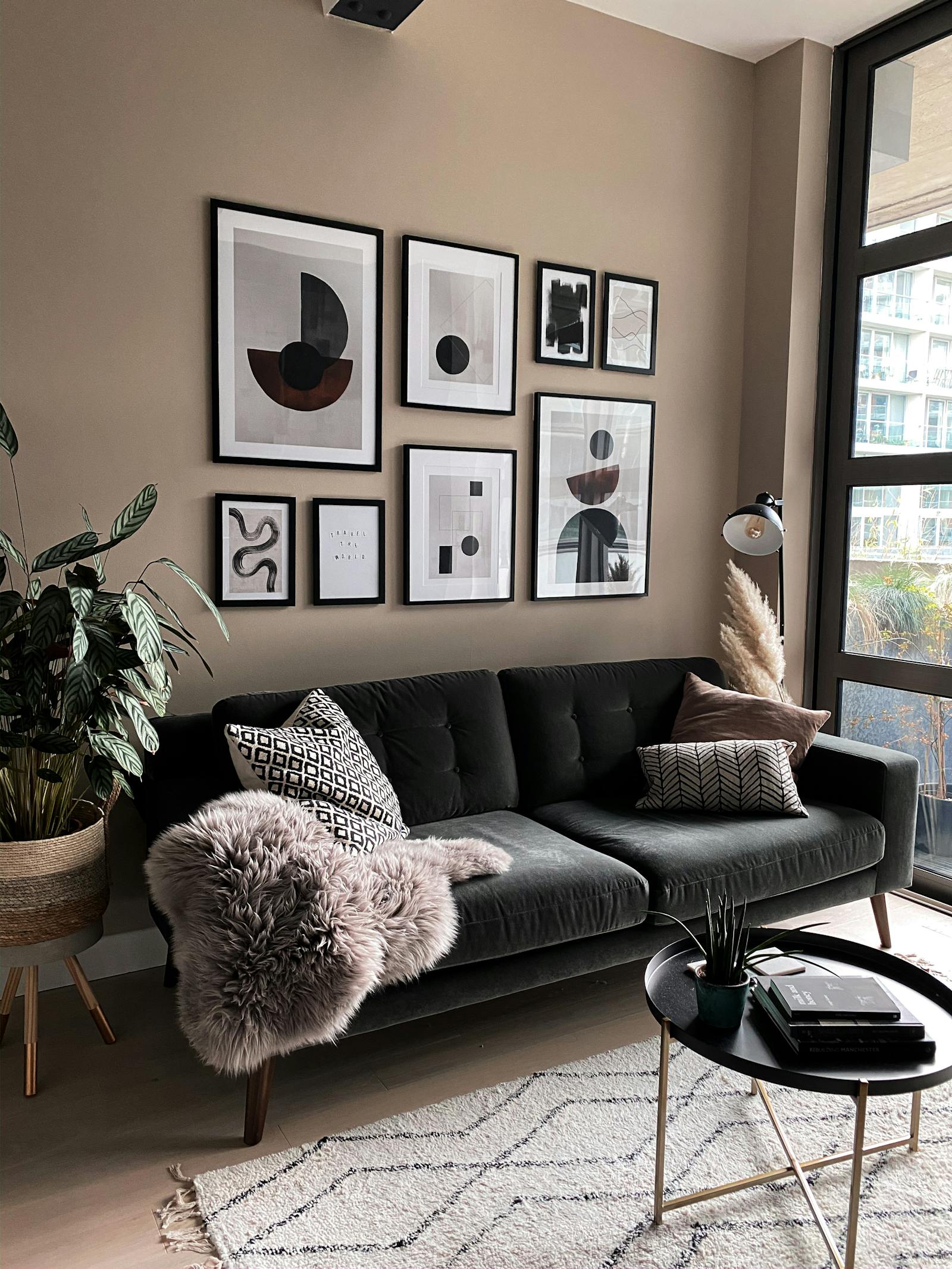 Another corner to relax in - the warm, neutral palette perfectly complements the colour of the sofa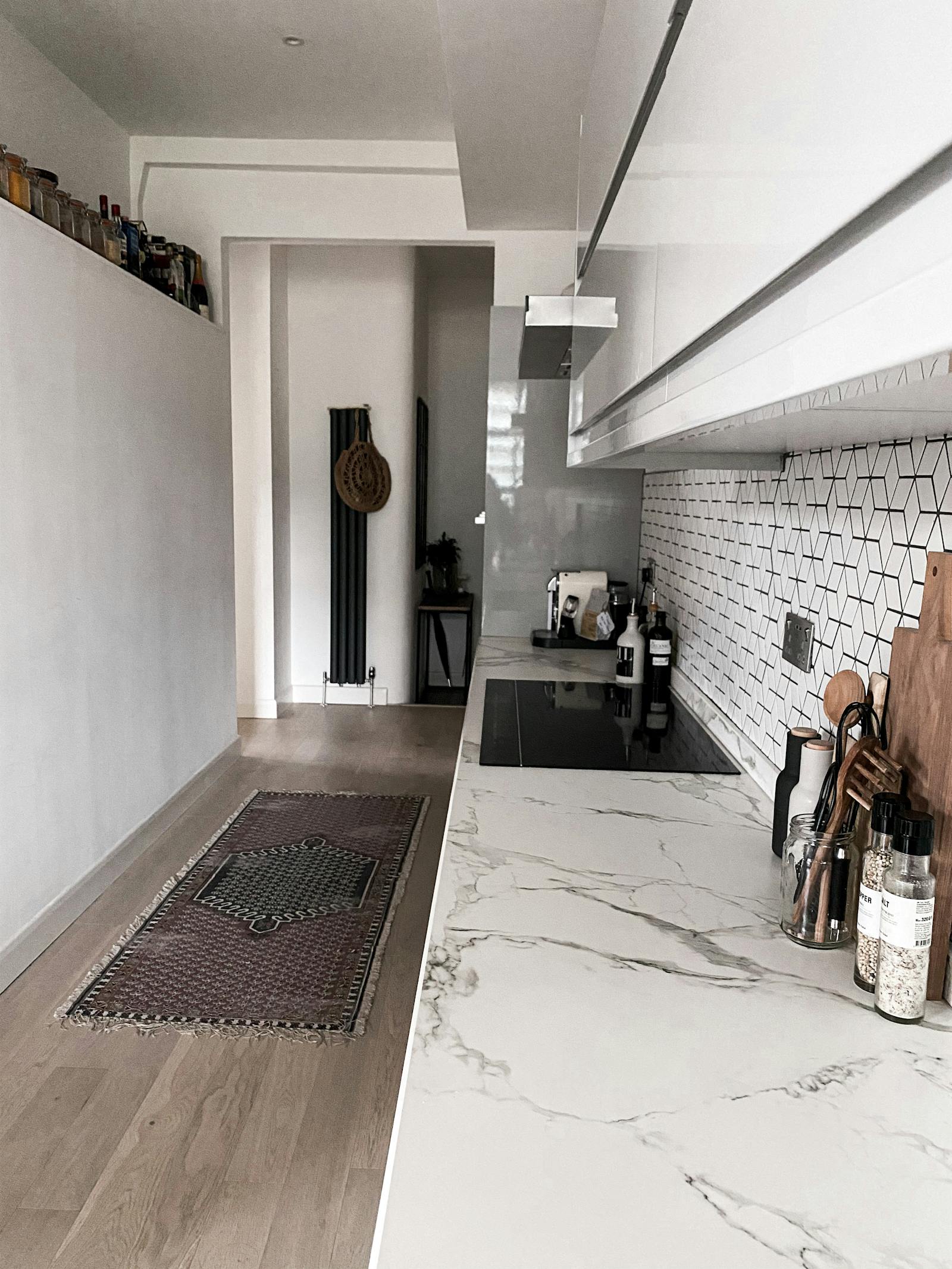 Kitchen area. How gorgeous is this marble top?
"I love texture – and so much of it runs through our apartment. We've purposely stuck to a very warm, neutral colour palate - allowing the textures to do all the talking!"
Lisa's favourite room in the apartment is her open plan living space between the kitchen, dining and lounge areas. It took them a long time to find all the right pieces of furniture to compliment the space, but good things come to those who wait – and they are over the moon with the finished look.
They have expertly managed to create different areas with slightly different styles, all within this same space. This allows them to escape to different parts of the room, whether it's to watch television, cook a meal or read a book. Every corner has a purpose, and this is ultimately why they spend the majority of their time in here.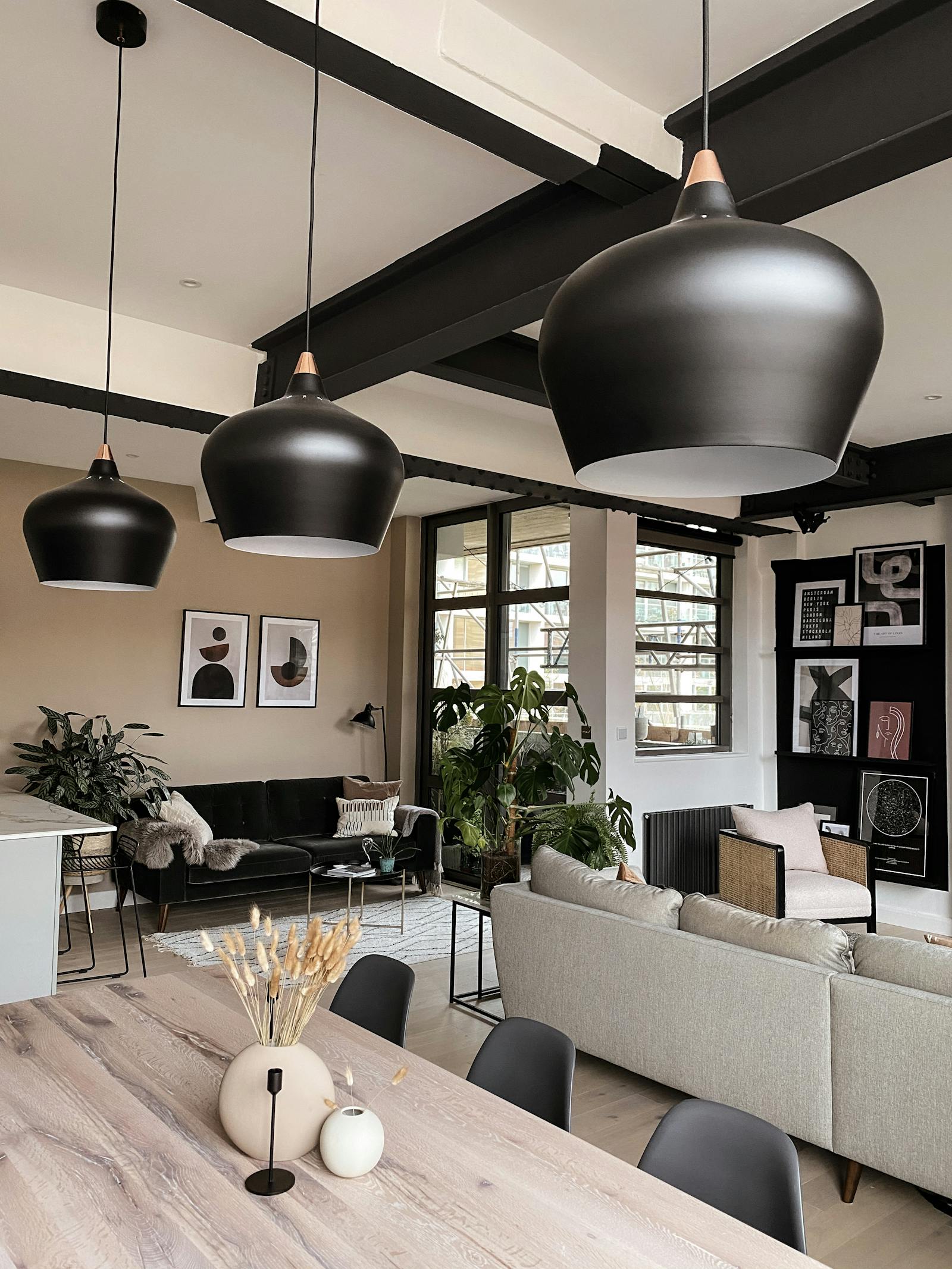 Another view of the open plan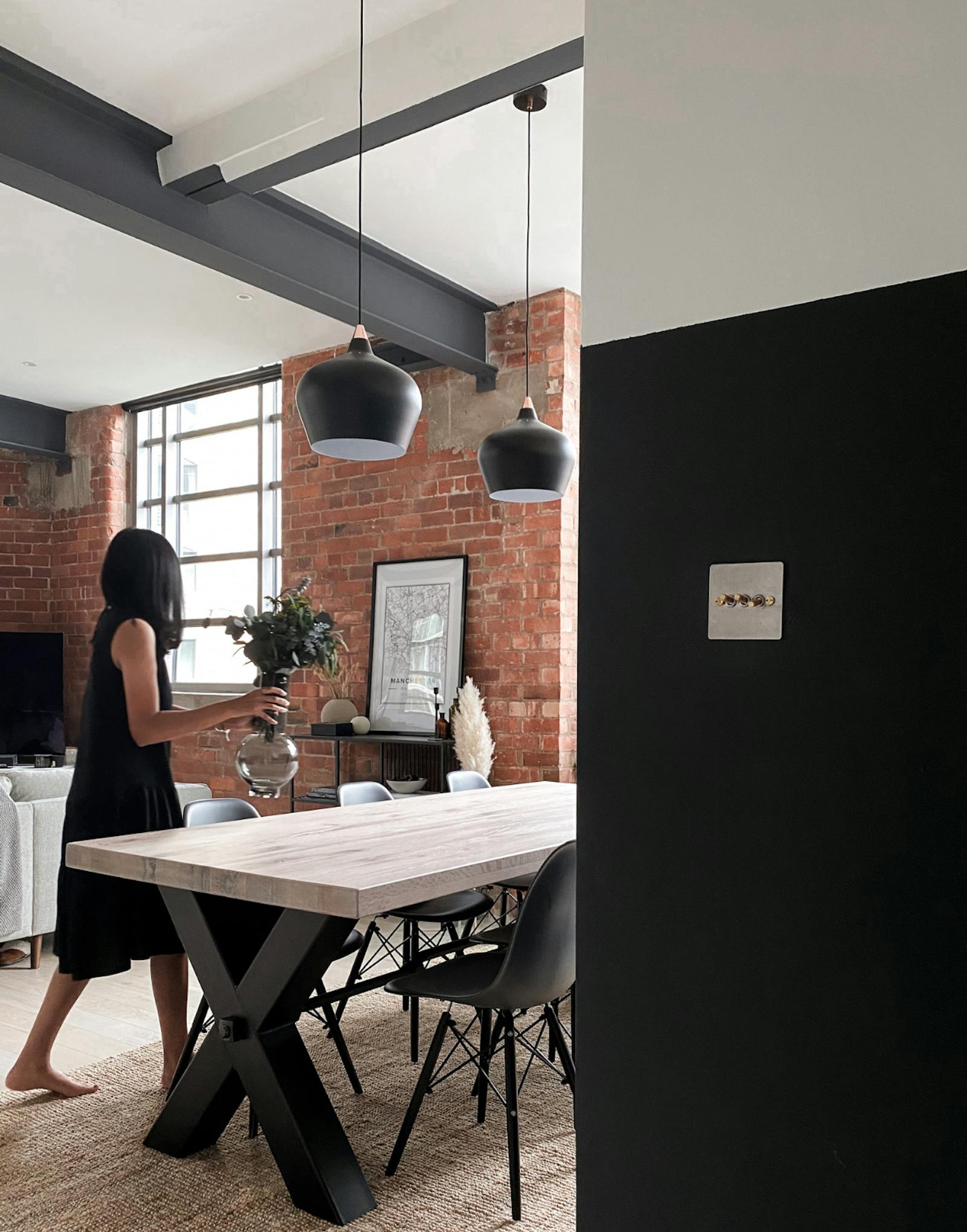 "We get our inspiration from places we visit; like restaurants, hotels and countries. Copenhagen played a huge part in our home styling, as I believe they have absolutely nailed the interior design. Simple clean lines, with beautiful materials."
Lisa also recommends Pinterest for another great source of inspiration, and admits she can spend hours on the platform just browsing and searching for ideas.
Lisa's most recent DIY project was to create their art gallery wall in the main living space. The corner originally featured a hanging chair, but they rarely used it and felt they could make better use of the area. Lisa gathered inspiration from Pinterest, and designed a very stylish gallery wall using frame ledges, beautiful prints and our very own paint shade Black 02, as the background colour.
The project took around three weeks, off and on; and we think it looks really fantastic. Well done, Lisa!
Next on her DIY list, is her spare bedroom. So far, she has created a mood board which consists of textured paint, warm grey and beige colours, rattan, a statement mirror and impressive lighting. We can't wait to see the reveal!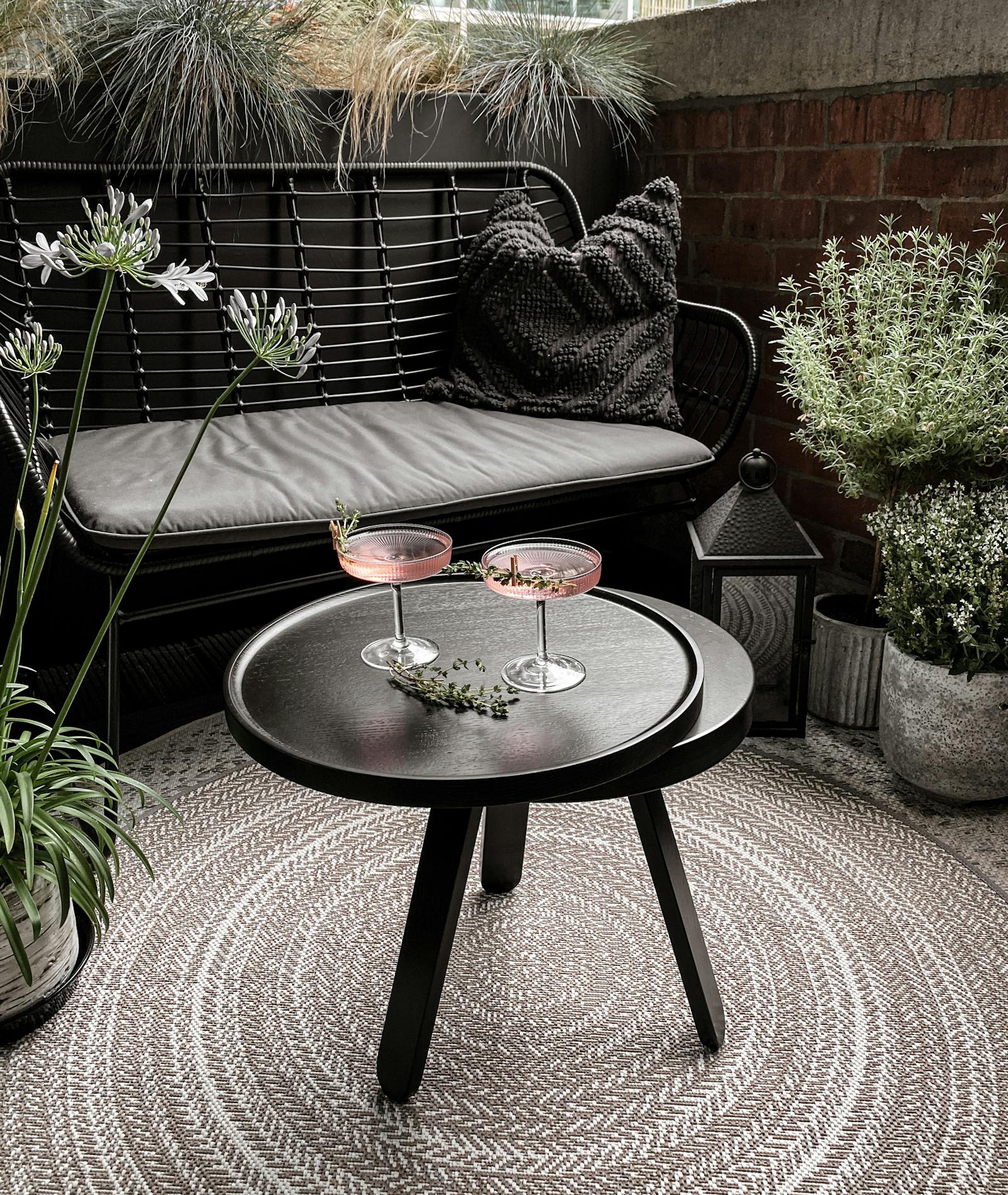 The garden area, dressed in black
Lisa's Top Tips for Decorating:
Before starting a project, make sure you've carefully planned your vision and selected which colour combinations you wish to go for. There are so many app's and websites that can help you with this – so, it's pretty hard to go wrong!
Always make sure you sample the paint before covering the walls in full. I've made this mistake recently, as paint always looks different in different types of light; so, adding a tester patch to the wall and living with it for a couple of days, is always worth the extra time spent
Good preparation makes for a great finish. Rushing into any DIY job is only destined for mistakes and doubts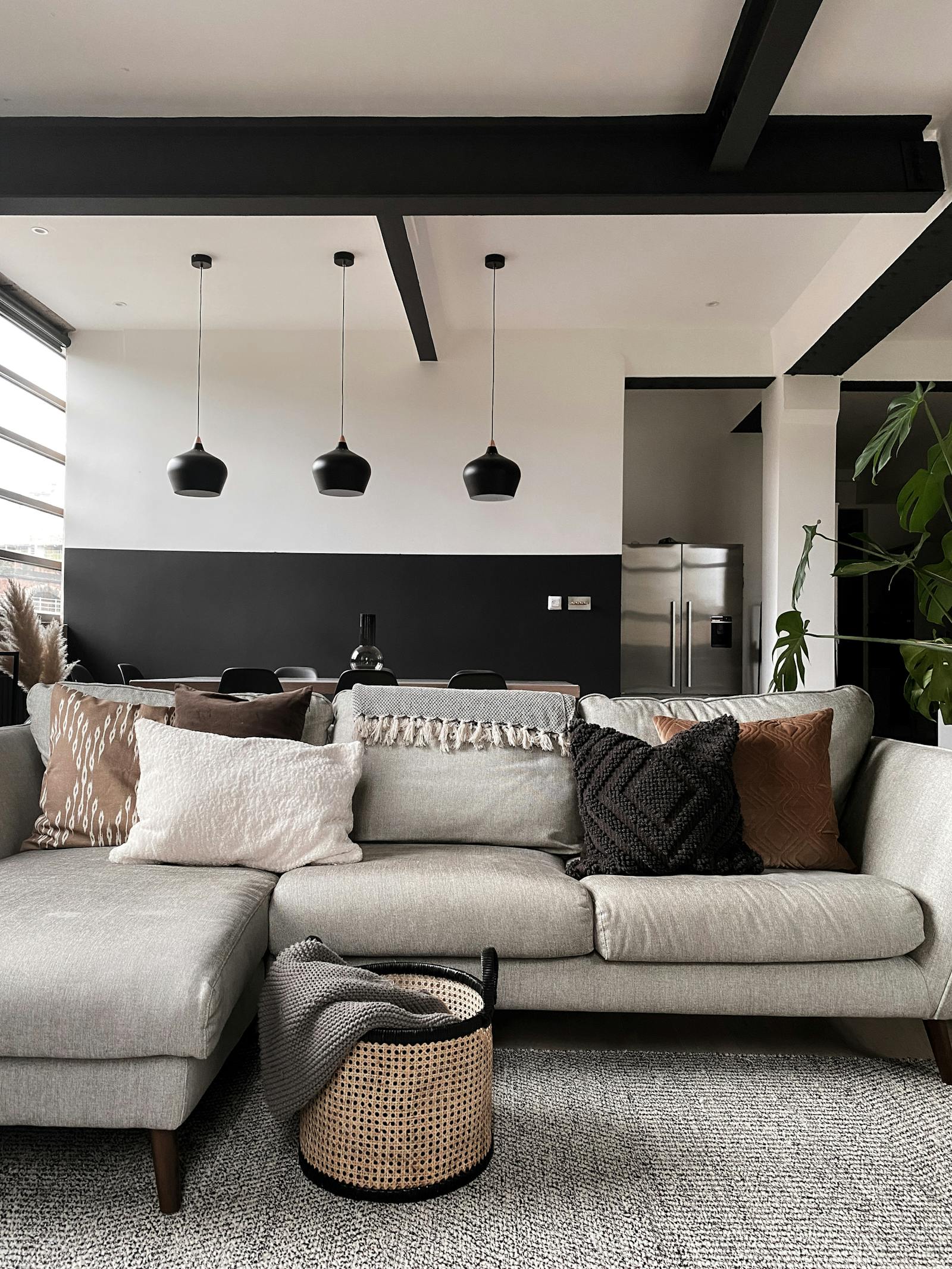 A full look at the seating area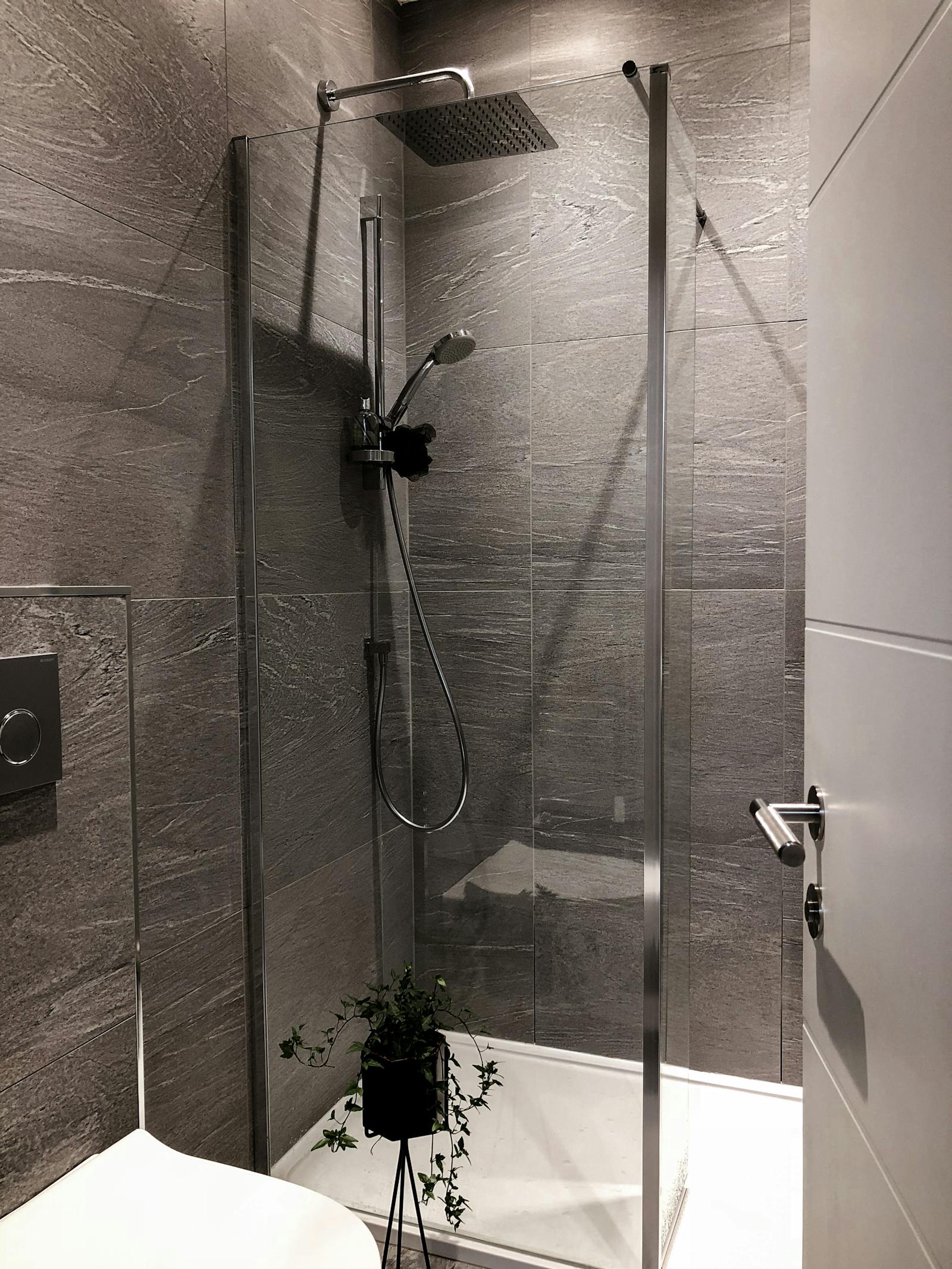 Even the shower area has a minimal and monochrome design
Lisa's Lick Picks!
I love a neutral palette, so Beige 01 would work really well in our spare bedroom. We want to create a calming atmosphere in here, and this would definitely help to do the job!
I've already used (and LOVE) Black 02, which has red undertones. Next to our exposed brick wall, this black looks super matt and has a beautiful chalky finish.
You can find Lisa and her beautiful home on Instagram - @loft208.