Real Homes of Instagram: Laura from @nofeaturewalls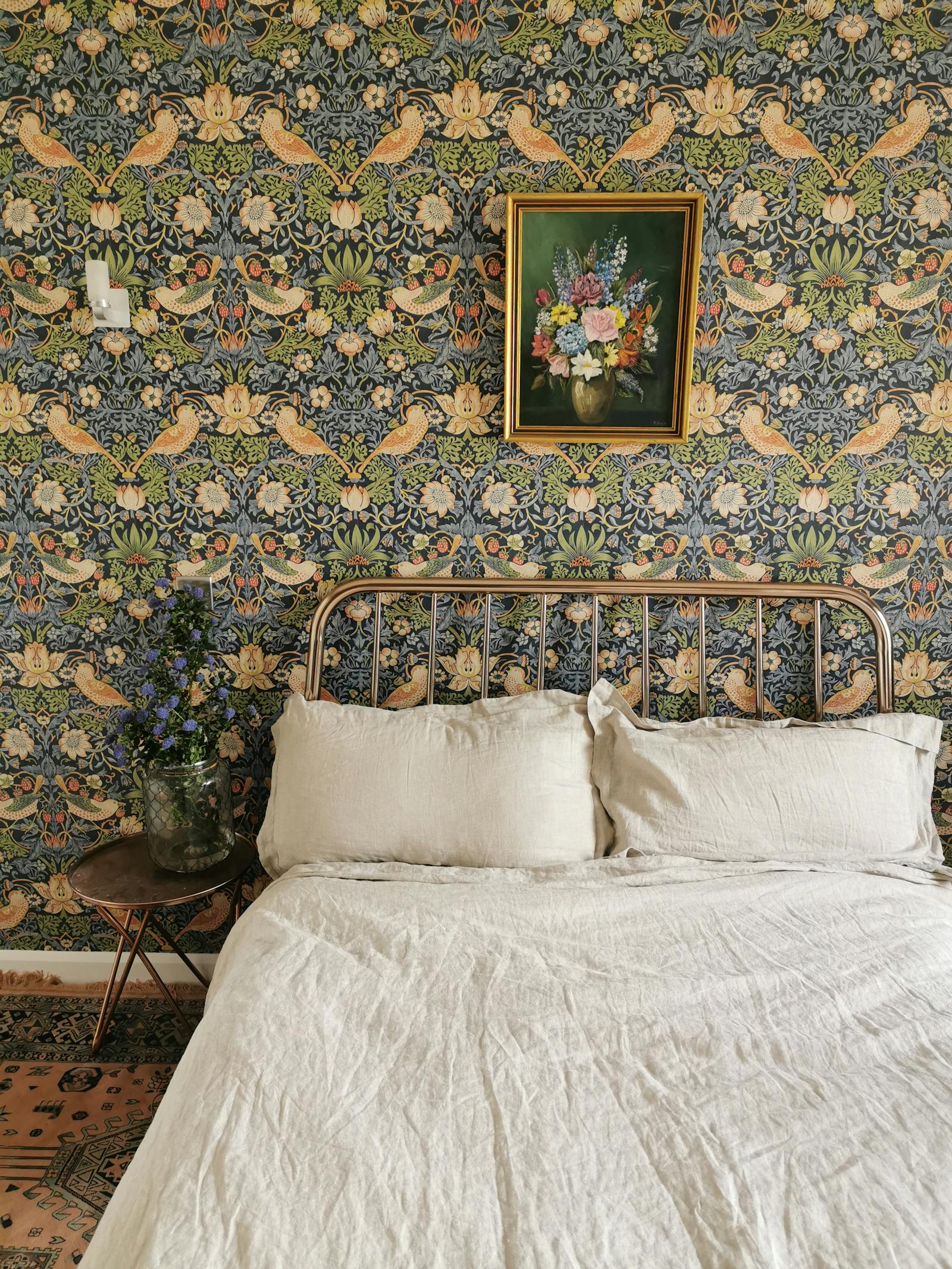 'Real Homes Of Instagram' is our weekly sneak peek into the homes of some of our favourite decorators from Lick's community and beyond.
Next up in the series, we introduce to you to Laura and her vibrant and colourful home that you can find on @nofeaturewalls.
Laura is in her mid-30's and lives with her husband and their two children in a small village between Henley on Thames and Oxford. They moved to Oxfordshire from London around 8 years ago now, and love the calmness and slower pace living that this small village brings to them. By day, Laura runs a National Tuition Agency which provides teachers to young people who cannot go to school. We really love this – what a great cause.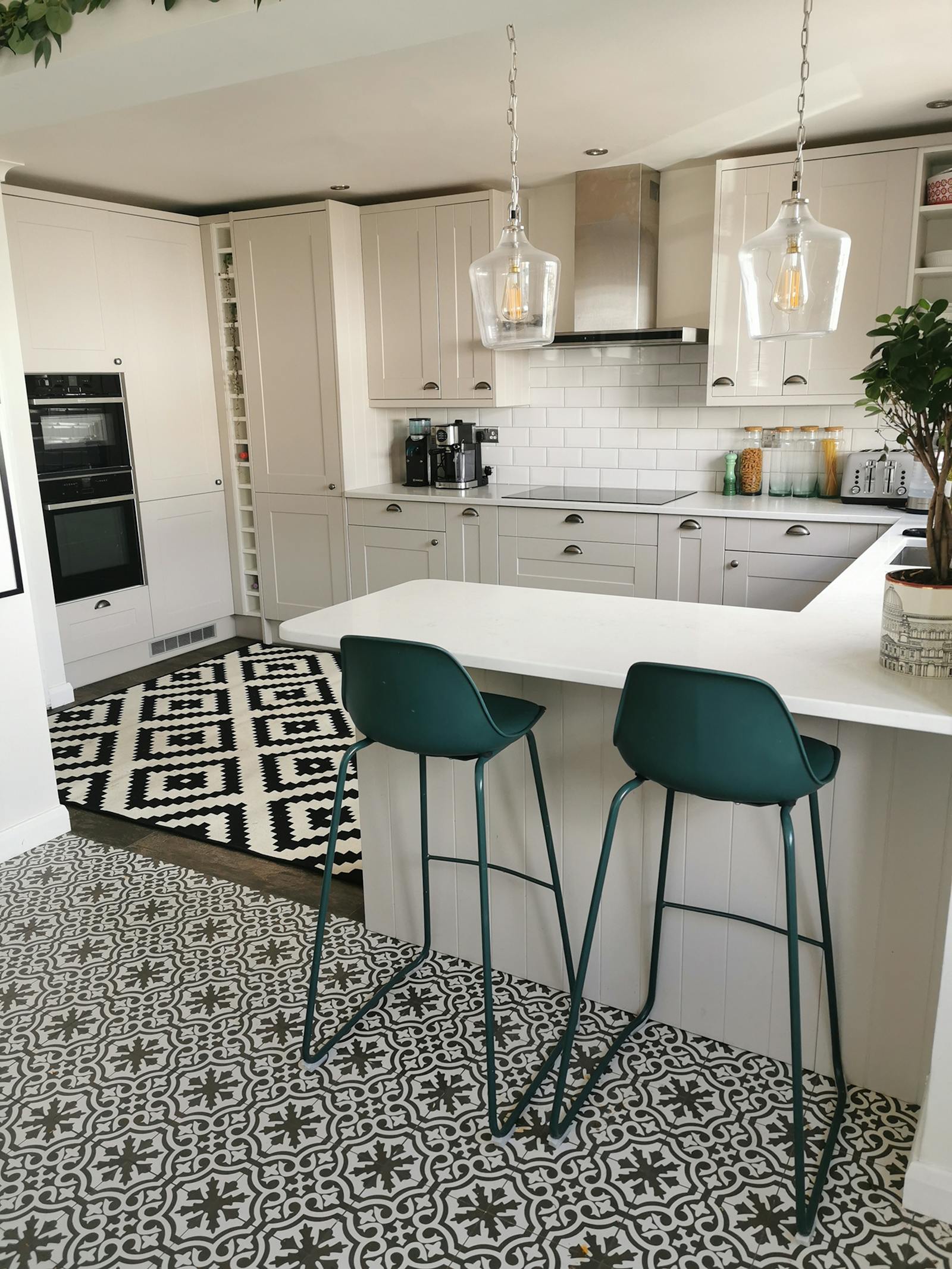 Embracing different patterns in the kitchen area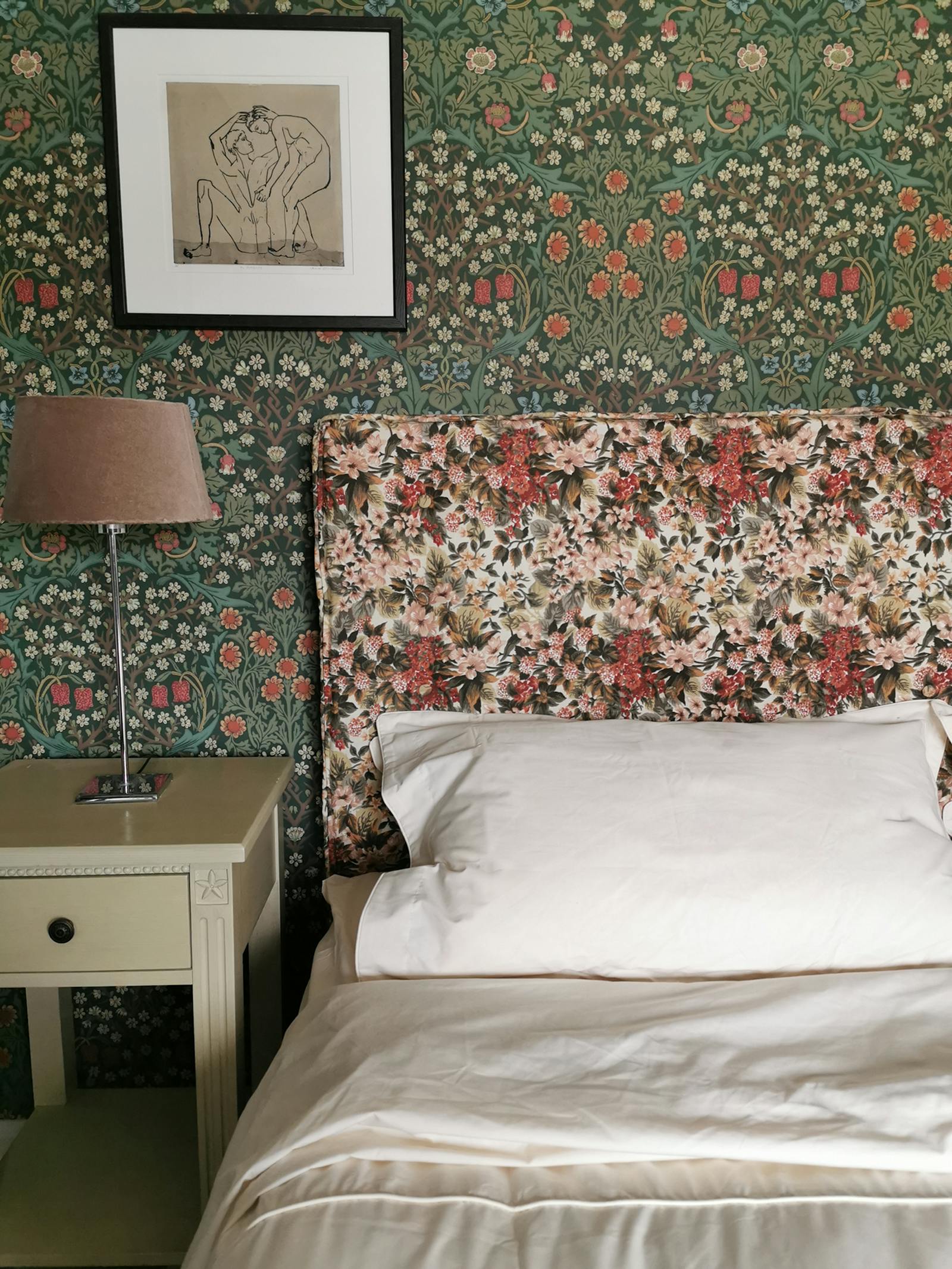 We're loving the combination of different floral patterns in the bedroom
They moved into their current house last September, which is an 80-year-old cottage that includes a 10-year-old extension. Thanks to location and size – this was the perfect find for the entire family, but there was still plenty of work that needed doing. The kitchen and utility room had to be completely renovated when they moved in, whilst the living room and bedrooms were redecorated to suit their taste and styles.
"The house has quite a few small and awkward shaped rooms, so there seems to be a never-ending renovation. Next on the list is the upstairs bathroom, now that lockdown has ended - so we're excited about a new project!"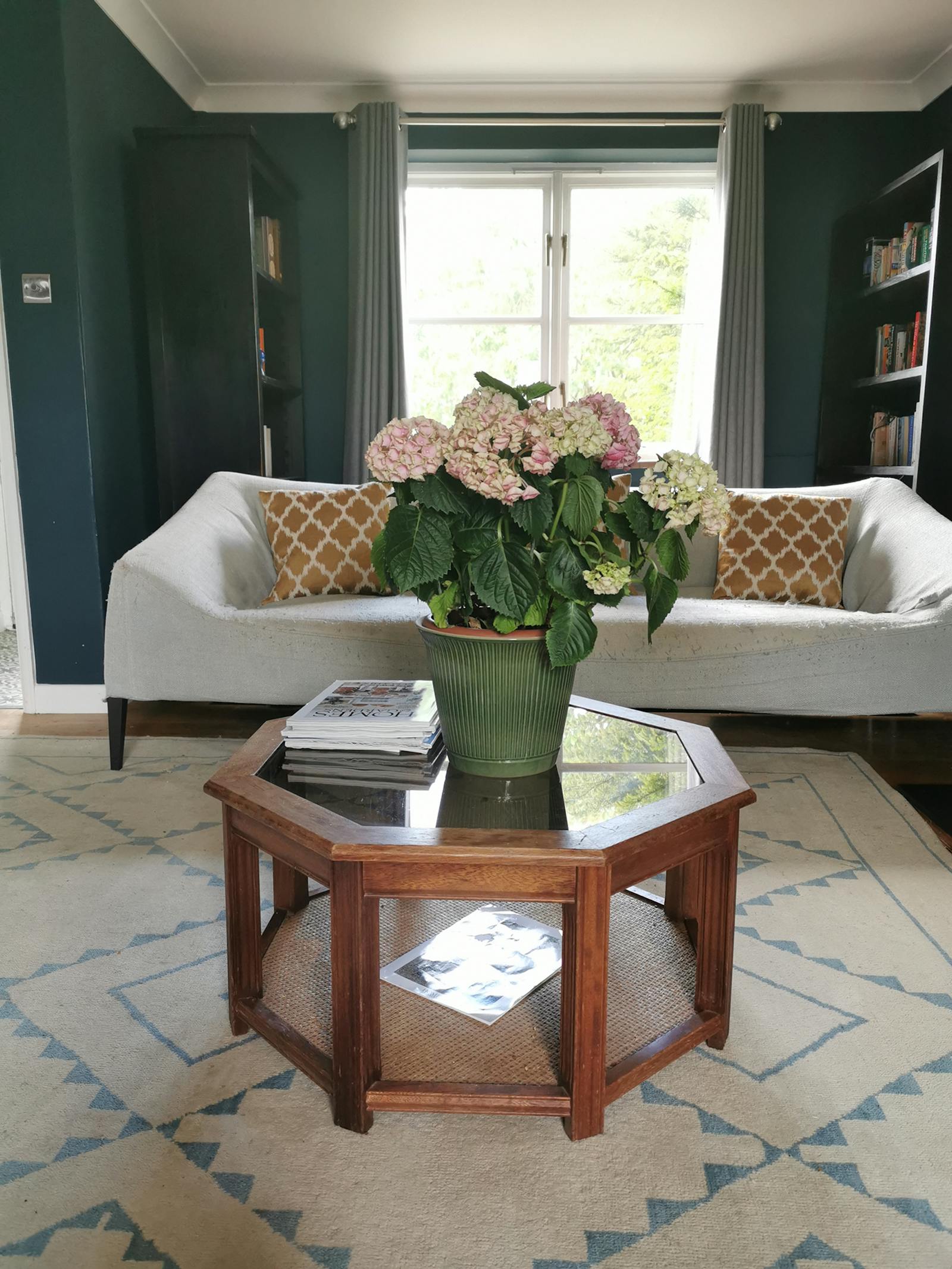 Living room with a vintage touch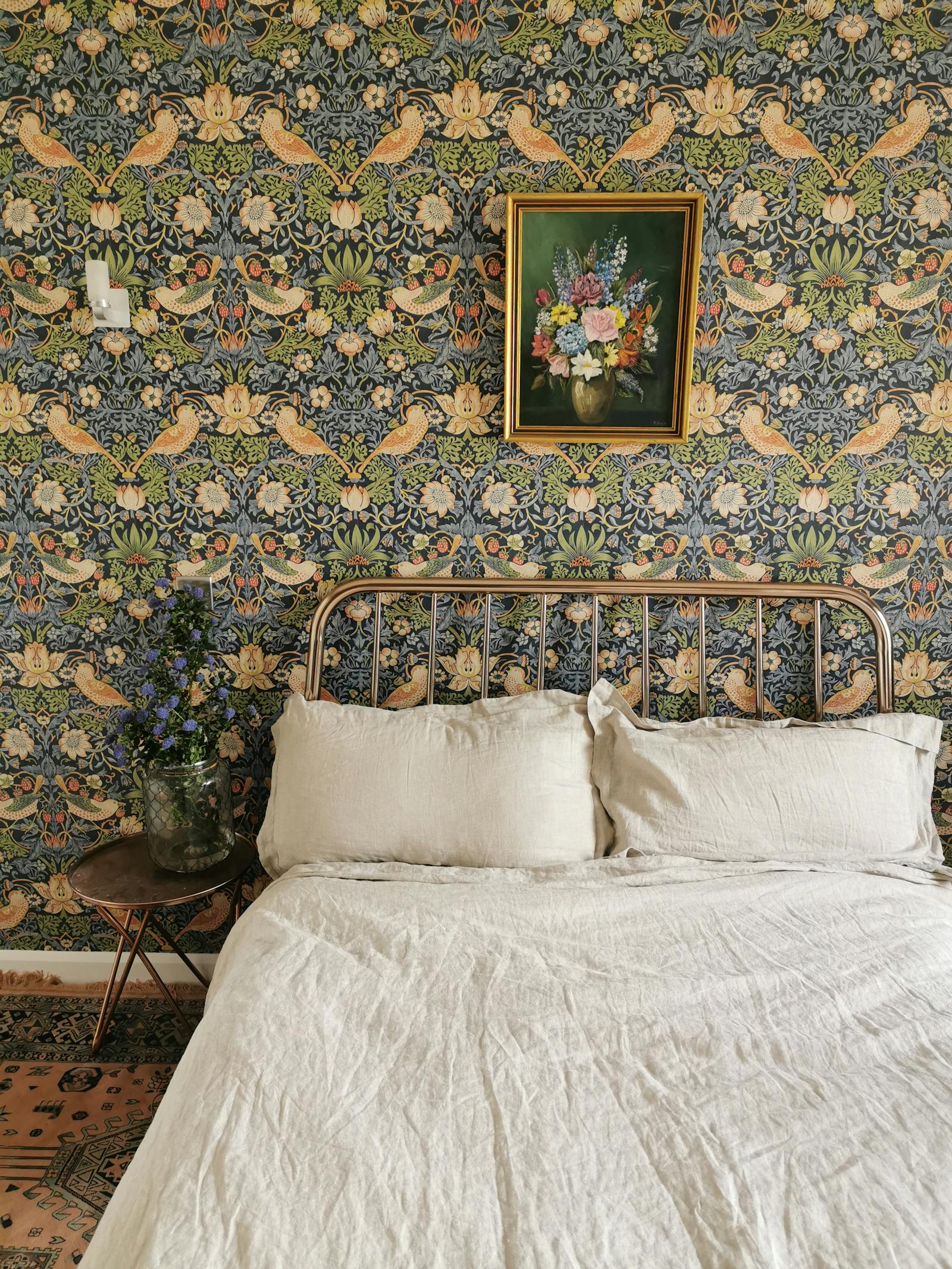 Laura's describes her signature style as 'Jamaican nan cottage core', with lots of patterns, wallpaper and a hint of chintz! Her favourite room in the house is their master bedroom, as they've decorated it with their favourite brand of wallpaper and a 'bum picture' wall. Laura has loved this particular wallpaper since being a teenager, so was itching to put it up as soon as they moved in.
When we asked Laura where she gets her interior inspiration from, she said her favourite 'go-to's' are a mixture of home magazines, Instagram and own life experiences; with a special shout out to her Nan and Grandma who both have similar tastes in amazing wallpaper and patterned carpets.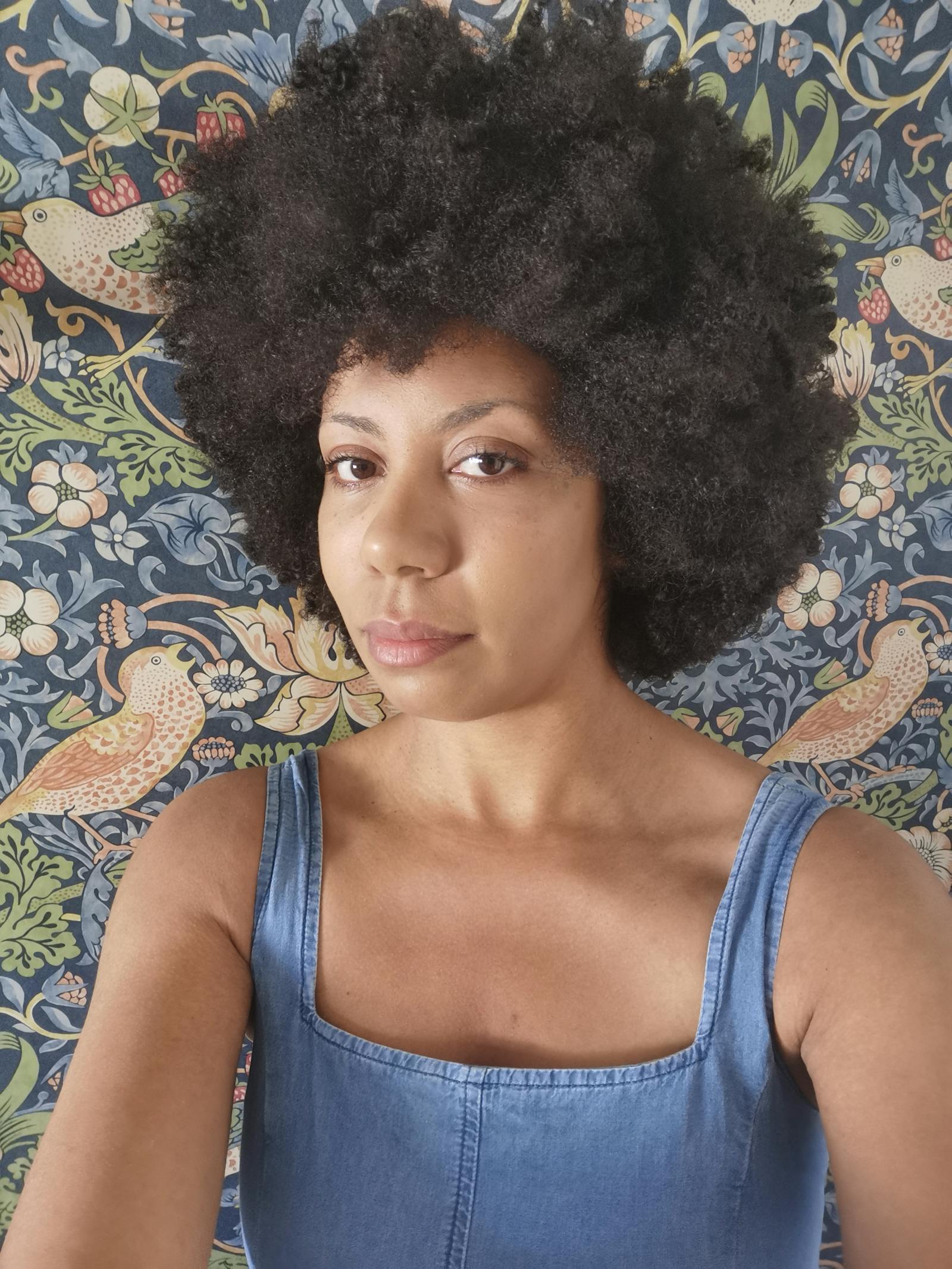 One of the first things we noticed in Laura's Instagram is the way that she sometimes matches her outfits with the walls...
"I would always recommend pulling inspiration from your own experiences – a holiday you liked or a home you visited, for example. The next stage would be to source pieces of furniture and accessories from magazines or Instagram. I've found some great products and designers through Instagram, that I would never have found otherwise!"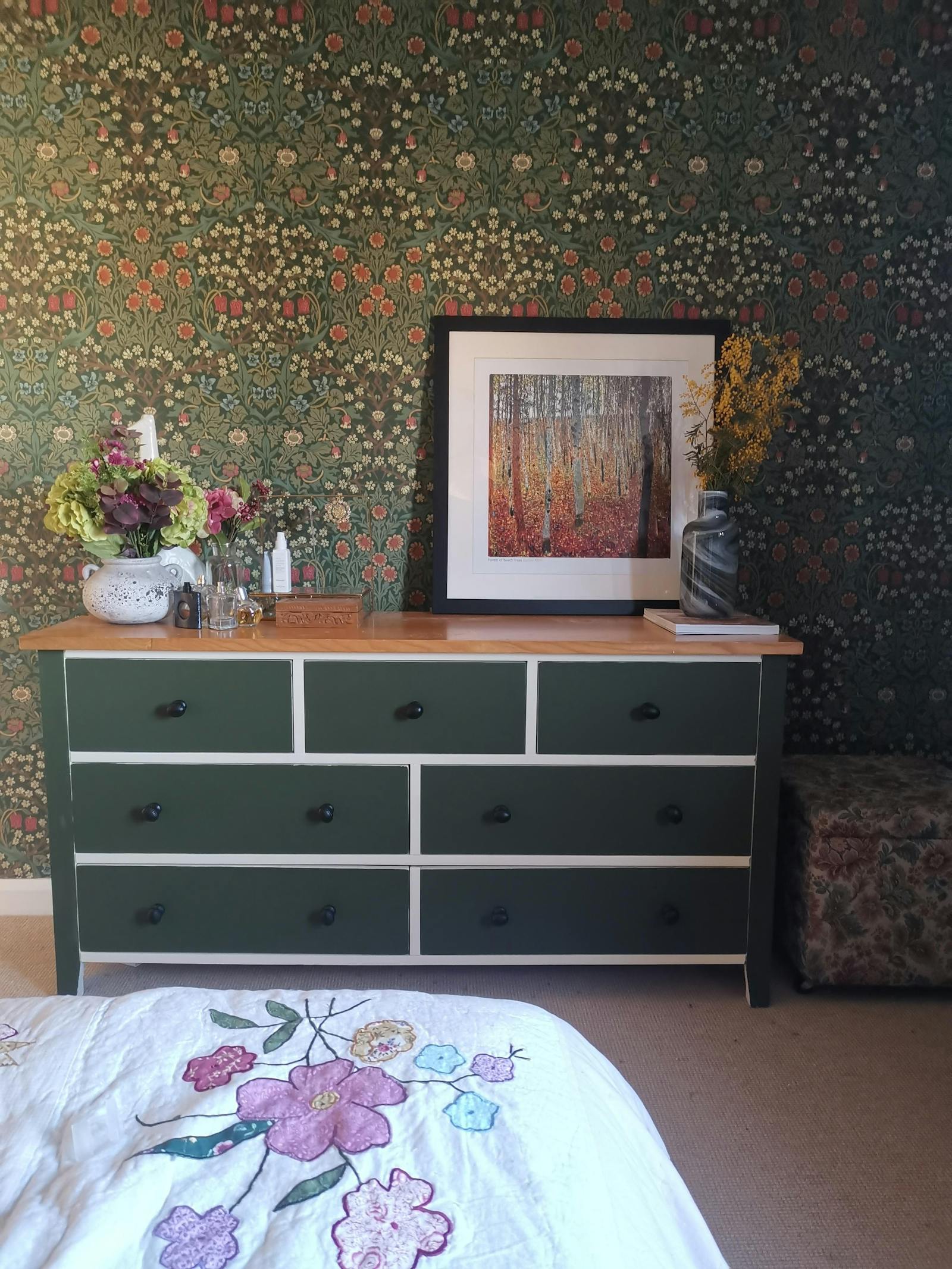 Flowers and florals are the heart of Laura's home
Due to lockdown restrictions, Laura's most recent DIY project was their utility room that they tackled not long after moving in. They covered it in more amazing floral wallpaper; which is pattern heavy, but a subtler finish in comparison to the other rooms. This project is still ongoing, but they love how much difference the paper has given to the space.
As Laura isn't a fan of painting, she decided to go on a course to perfect the art of hanging wallpaper. Following on from this, Laura even decided to produce a couple of 'how-to' YouTube videos for wallpapering – as her confidence for this task grew and she wanted to start helping others.
July is set to be a busy one in Laura's house, with builders coming in to start work on the new bathroom; and brand-new carpets being fitted throughout the hallway and landing. Describing it as a 'patterned masterpiece', we are positive that this reveal will be one to remember!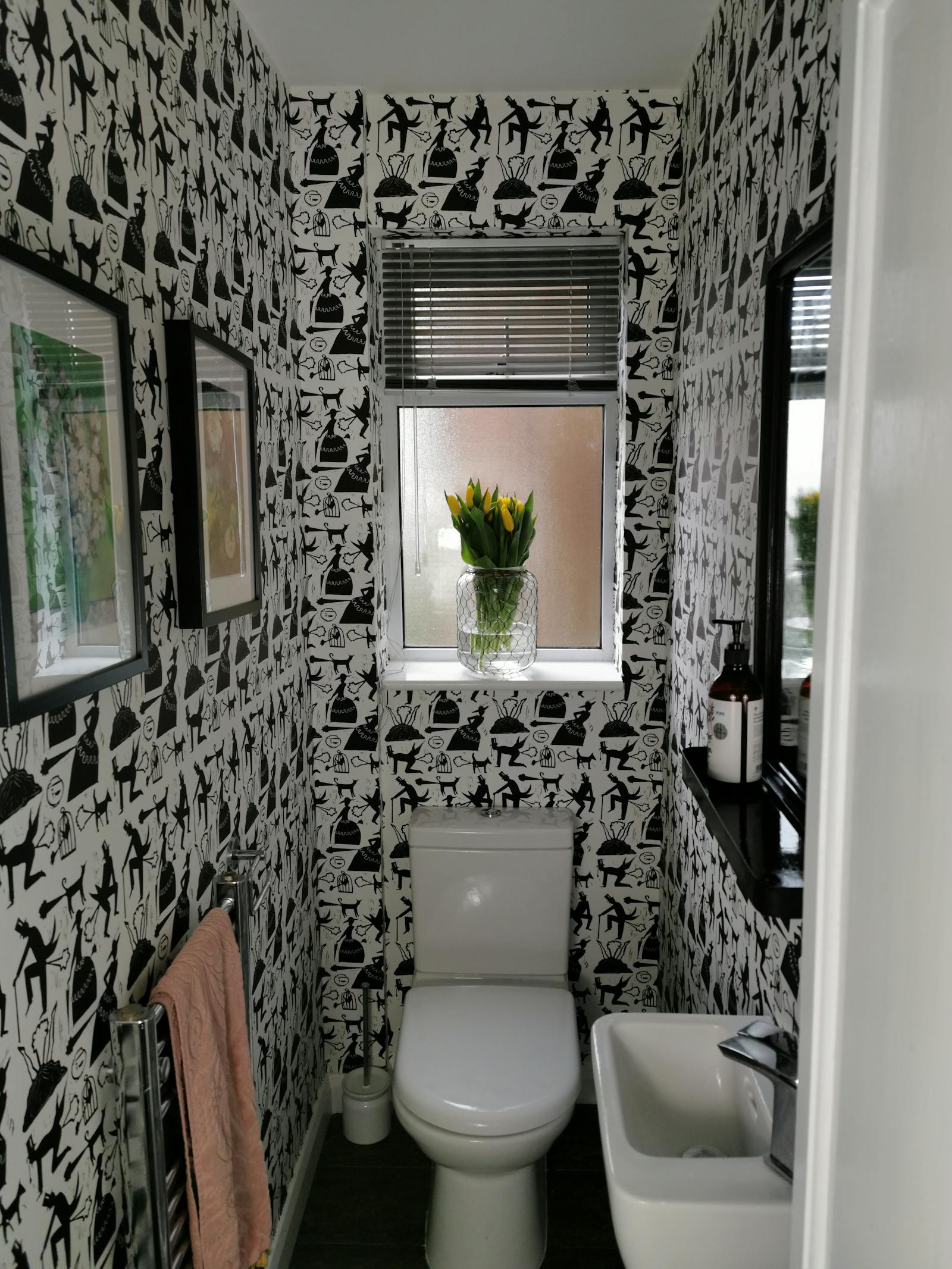 We're absolutely in love with this wallpaper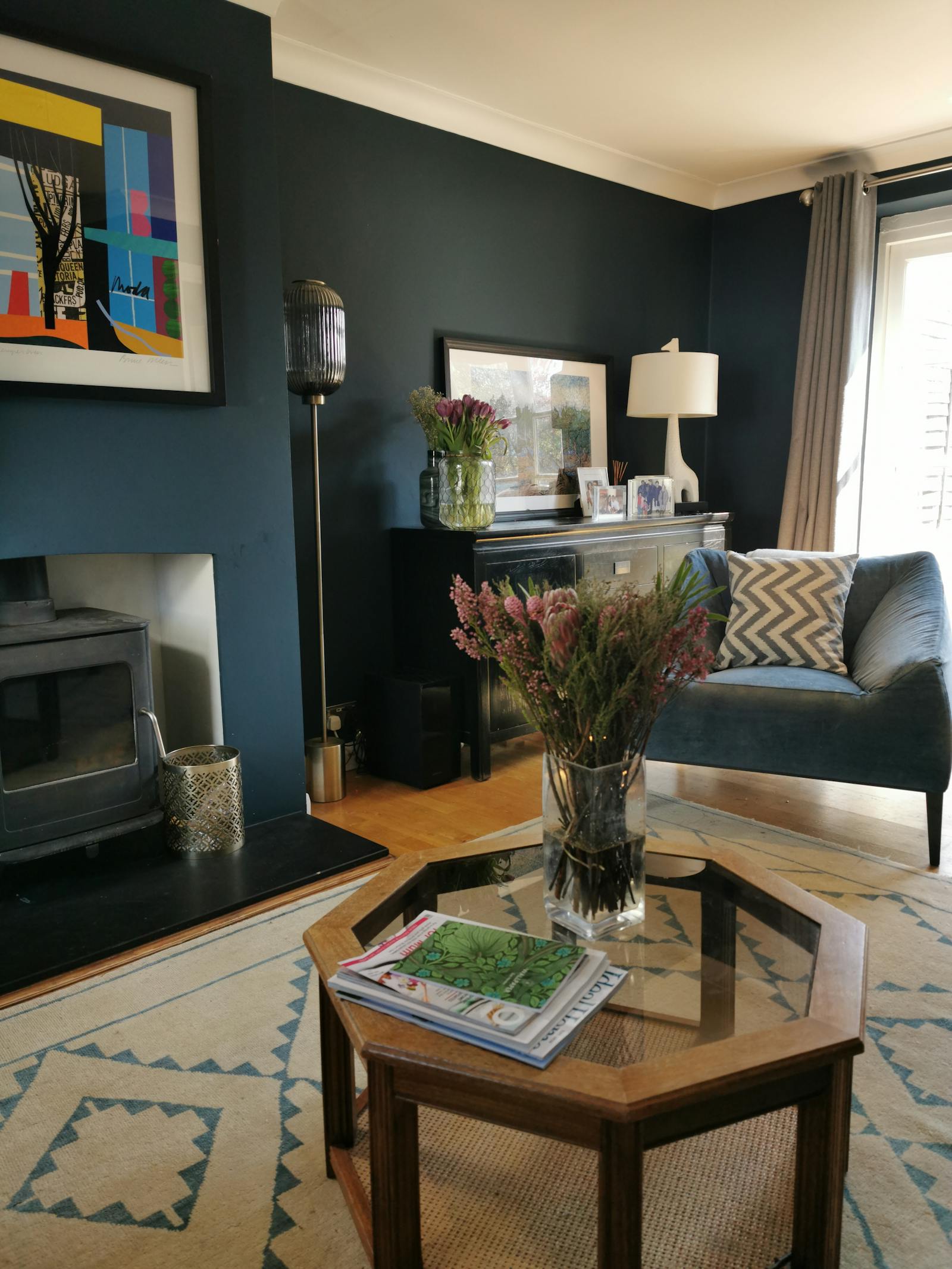 Another angle of the living room
Laura's Top Tips for Decorating:
If possible, try decorating before you've moved all your belongings and furniture in. We did most of our decorating a month before we officially moved in, and it was amazing!
If you fancy decorating with wallpaper, make sure you invest in a good quality decorating table instead of using random surfaces or the floor. Buying a step ladder and the proper kit for preparing your walls beforehand will also make all the difference
Make sure you have enough wallpaper for the job – I ran out of paper once, and when the new paper arrived I decided to use the old paste from three weeks ago and it had obviously lost its stick over time; meaning the wallpaper peeled off. It was such a waste of paper and time!
Don't be afraid to give DIY a go, rather than getting a decorator in. Not only will it save you money, but you will also learn a skill that you can continue using throughout your home.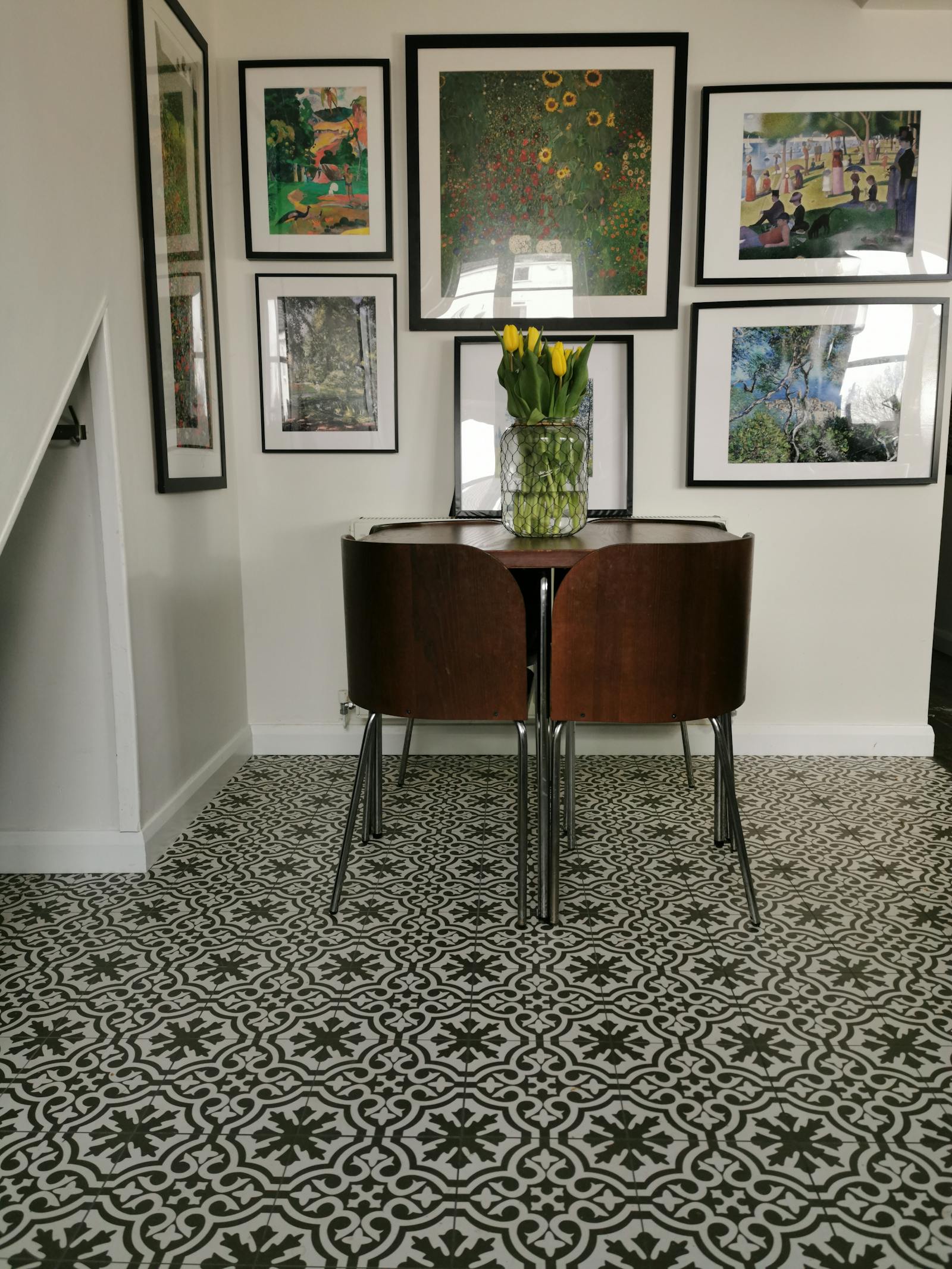 More patterns that look even more amazing combined with the vintage wooden table set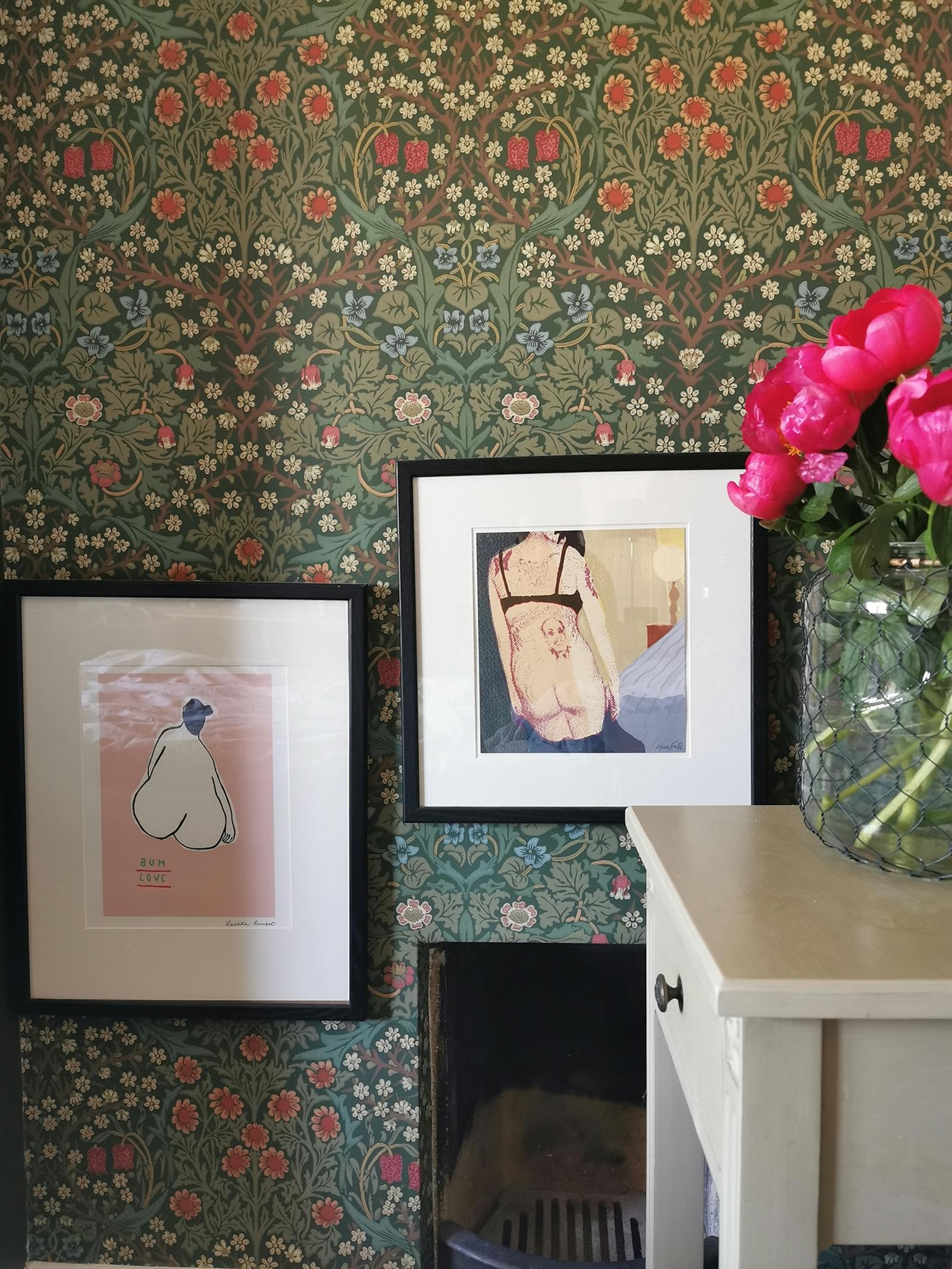 Laura's Lick Picks!
I absolutely love Botanical 03 wallpaper. I love green and I love botanical paper; so this one had such an impact on me since I saw the first picture of it on Instagram. I think this would look lovely in a bathroom or dining room.
Damask 01 is another favourite – clean, simplistic and lovely. I can imagine this in a guest bedroom.
You can find Laura and her beautiful home on Instagram - @nofeaturewalls.