Real Homes of Instagram: Kim from @the_home_kim_built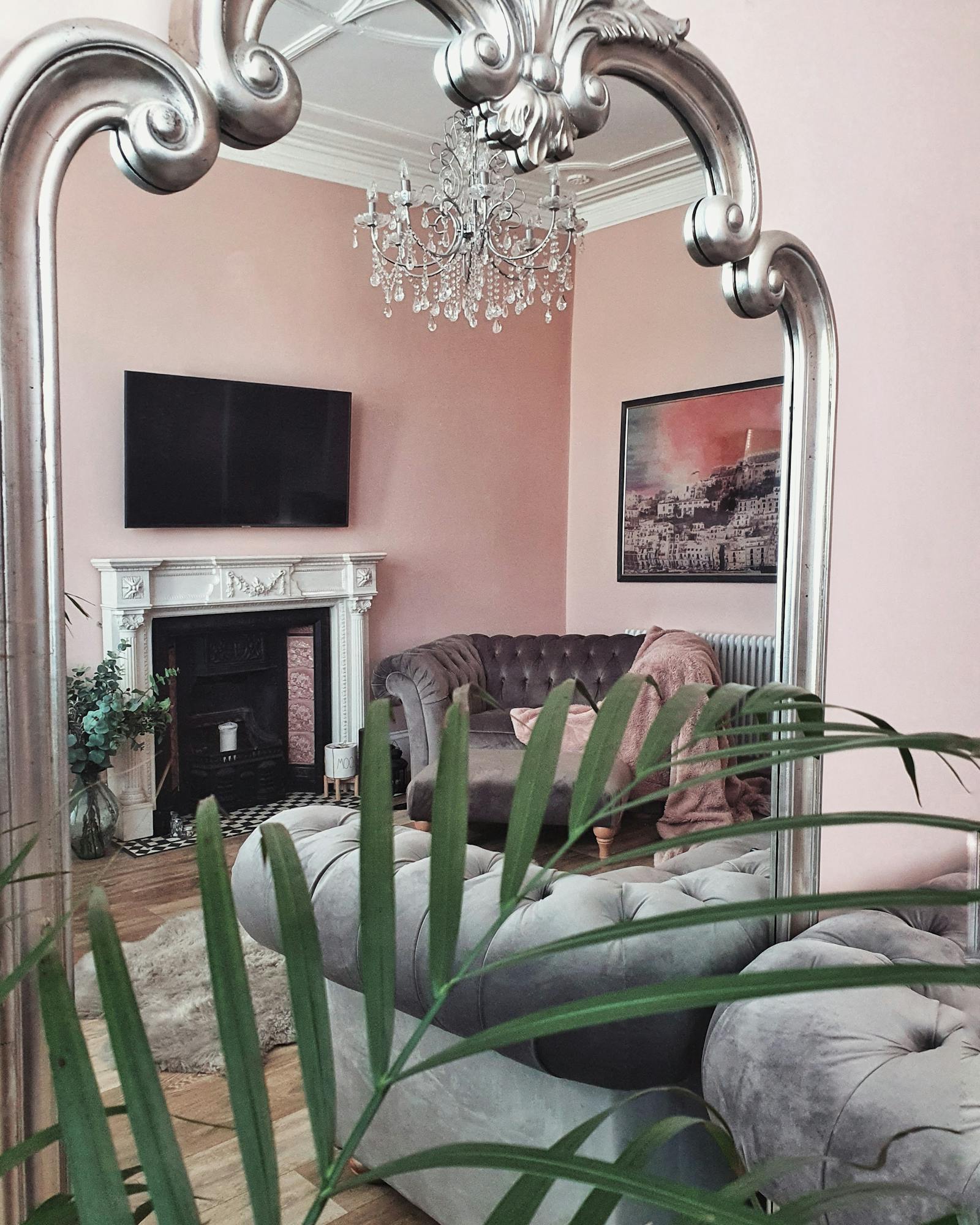 Today we are starting a new chapter on our blog - 'Real Homes of Instagram', where we'll introduce you to some of our favourite members of Lick's community and beyond. You'll be able to learn more about them, the places where they're spending their days, and how they chose to decorate them.
Our first guest is Kim McFarlane, who most of you probably know better as @the_home_kim_built. Let's see what her little decorating tricks are.
Kim is a 30-year-old Sales Consultant from Glasgow, who lives with her two dogs Maceo and Pepe. She bought her 1890's Victorian maisonette back in May 2018 and was so excited to completely rip the place out; redesigning and redecorating to reflect her own personal style.
When describing her hobbies, Kim referred to herself as an interior enthusiast who loves to get her hands dirty with DIY. Her home consists of large rooms, high ceilings, bay windows and plenty of original features; therefore, maintaining all of its character whilst completely modernising the interior was a super important factor.
When furnishing her remodelled home, Kim invested in Chesterfield sofas and a cast iron fireplace to maintain her well balanced and elegant mix of old versus new. Her favourite colours are blush pink and light grey; which prominently feature across her stunning home.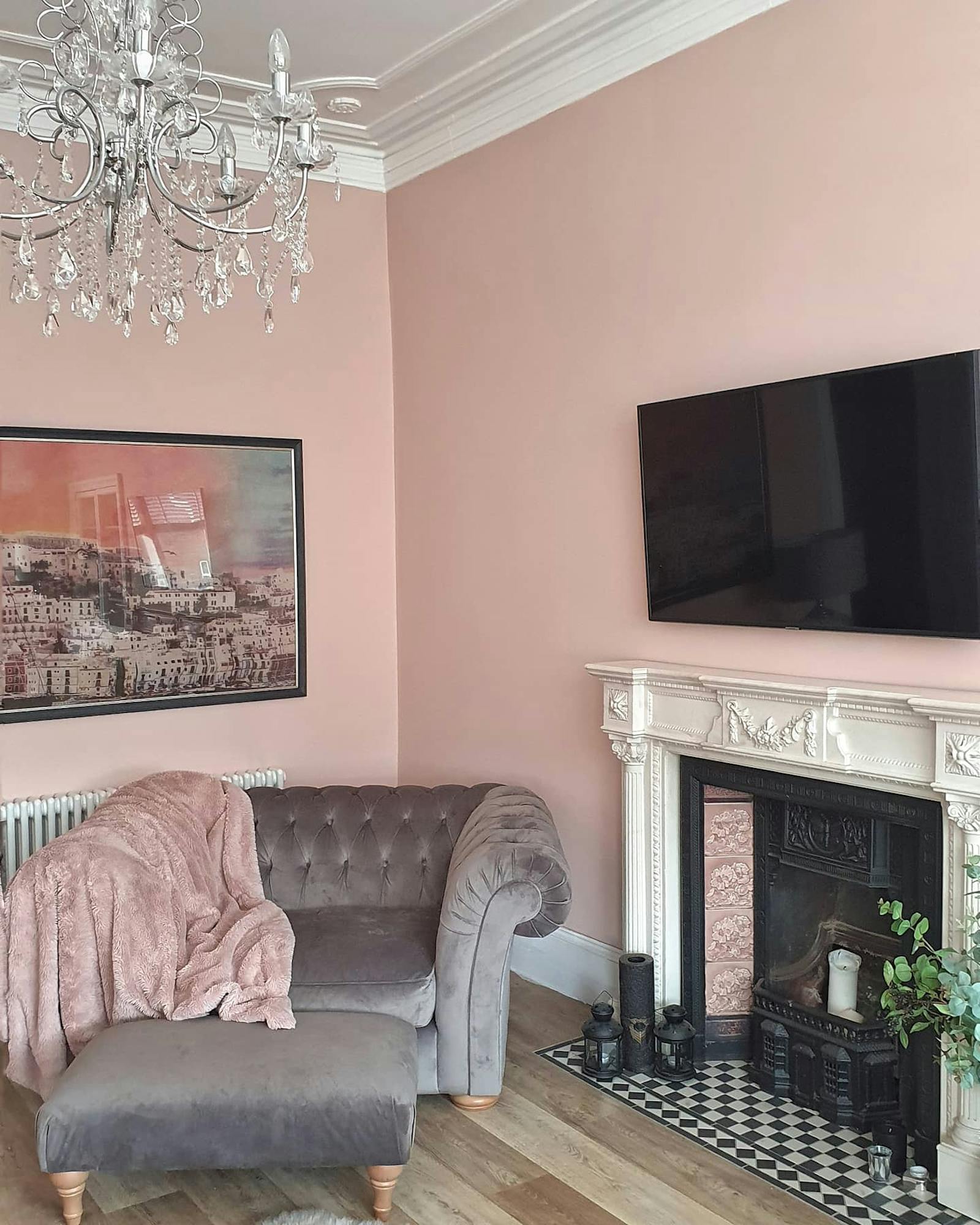 Kim's perfect little fireplace corner
When asked about where she gets her décor and style inspirations, Kim recommended the online interior worlds of Pinterest and Instagram. Although she already had a great eye for design and home styling, platforms such as these were a great way to expand her vision; encouraging her to bring the full design concept to life. "It's so easy!" Kim says, "…you can literally type in exactly what you're looking for and there are so many images to get further inspiration from. I would search for 'traditional décor', or use hashtags on Instagram and search for #victorianhomes. For me, this was the fastest and easiest way to find more ideas."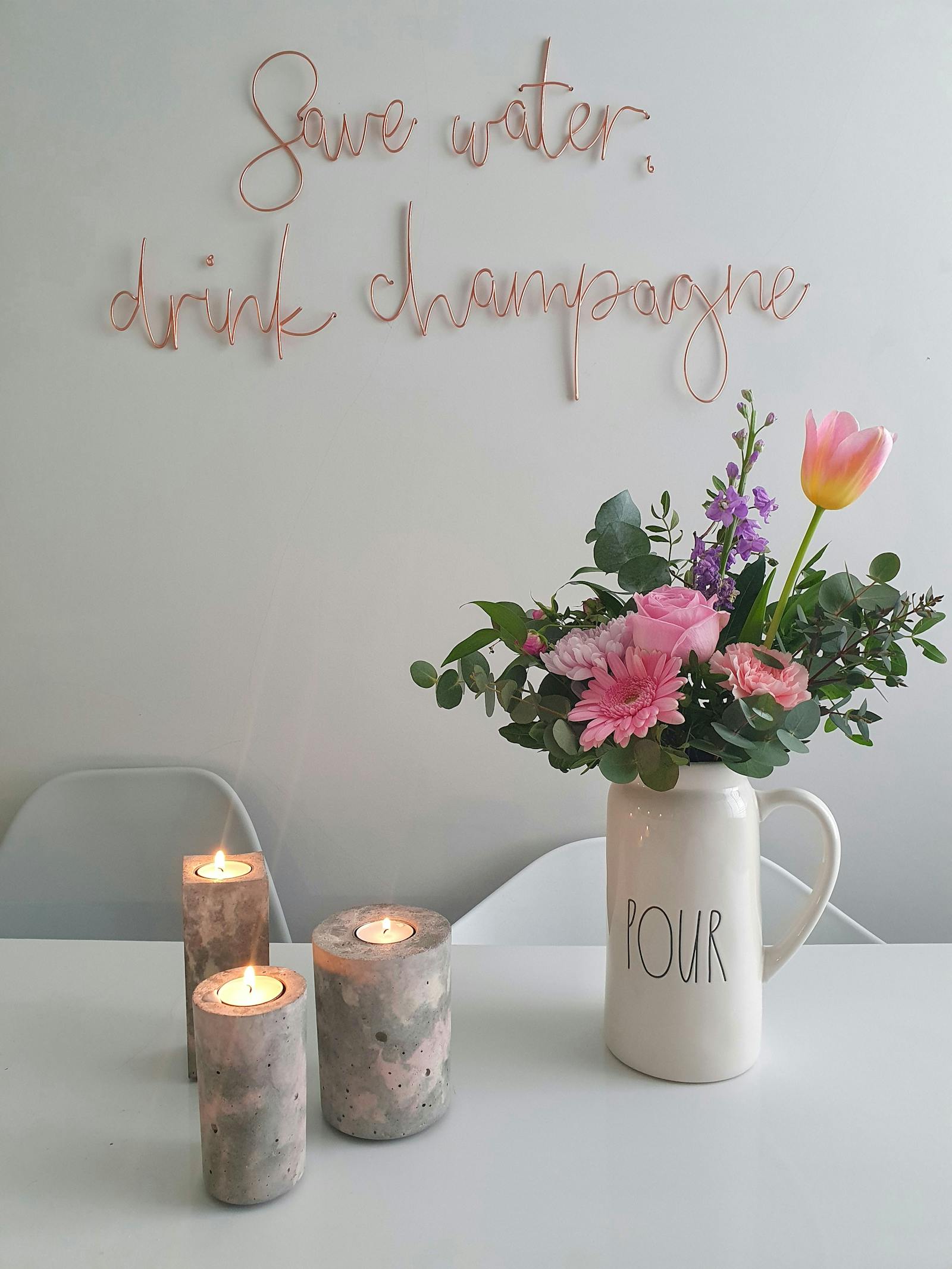 Flowers and candles - the perfect combination for a cosy atmosphere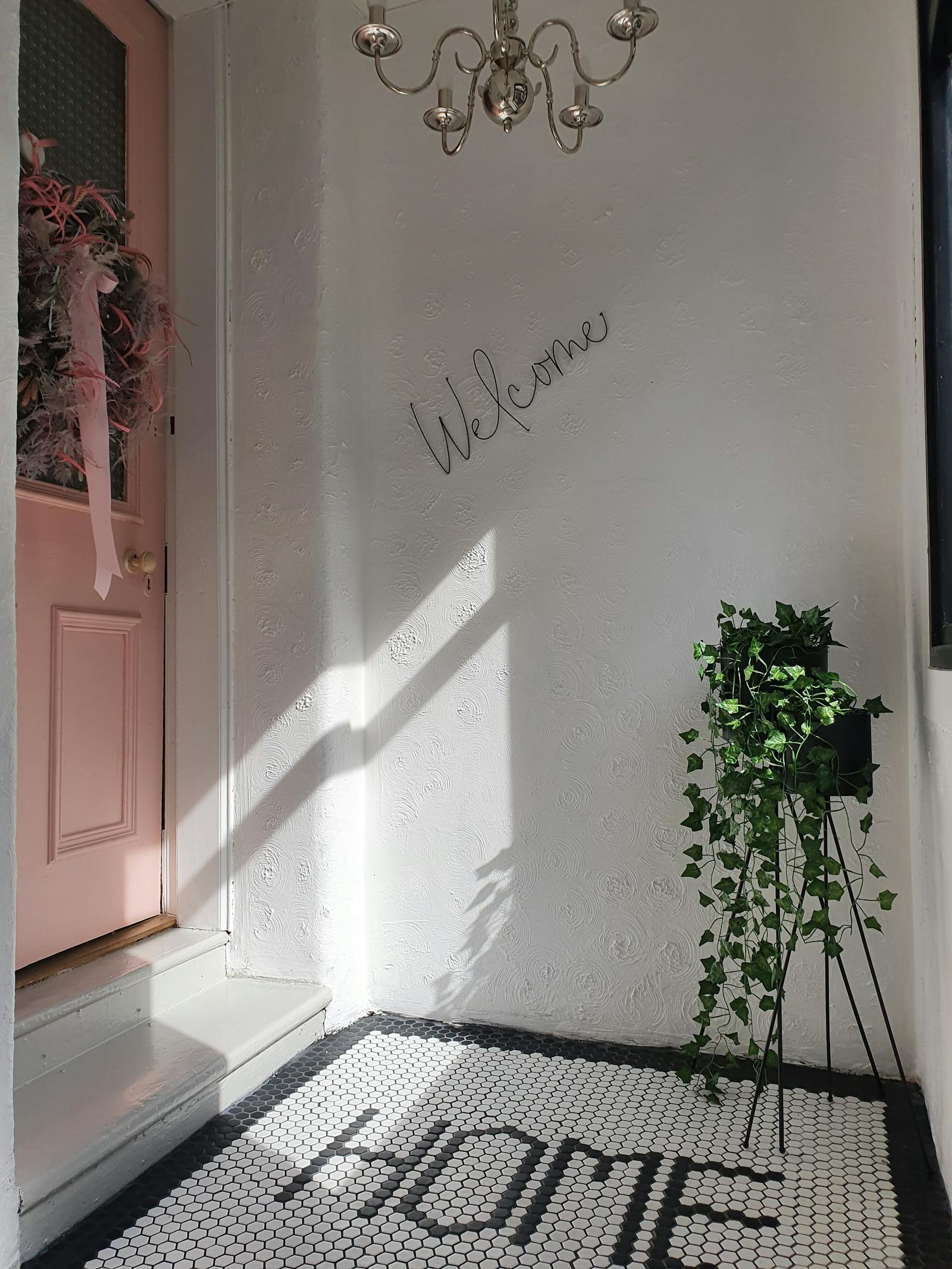 We love how girly everything in her home is - even the front door
We asked Kim about her most recent home decoration project:
"My most recent project was my spare bedroom. I wanted to make this a fun and vibrant room, and slightly different from the rest of the house. I love Dalmatian print style wallpaper, but it was so expensive and the rolls just weren't long enough for my ceiling heights. I decided to do some research and found a great, and more affordable, alternative; stencilling! Sure enough, it turned out amazing!"
So that you could benefit from starting your very own DIY projects at home, we asked Kim to explain her design and decoration process for this effect:
"After finding an alternative and cheaper way to recreate the Dalmatian print wallpaper, I began by selecting three different colours that I wanted for this room; black, bottle green and soft pink. I started by applying the stencil to the wall, and carefully repeating the print with these chosen colours. The great thing about using your own stencil is that you can choose any (and as many) colours as you desire. The project took me around 3 days; from stencilling the walls, painting the door and fireplace, and finally building and introducing the new furniture."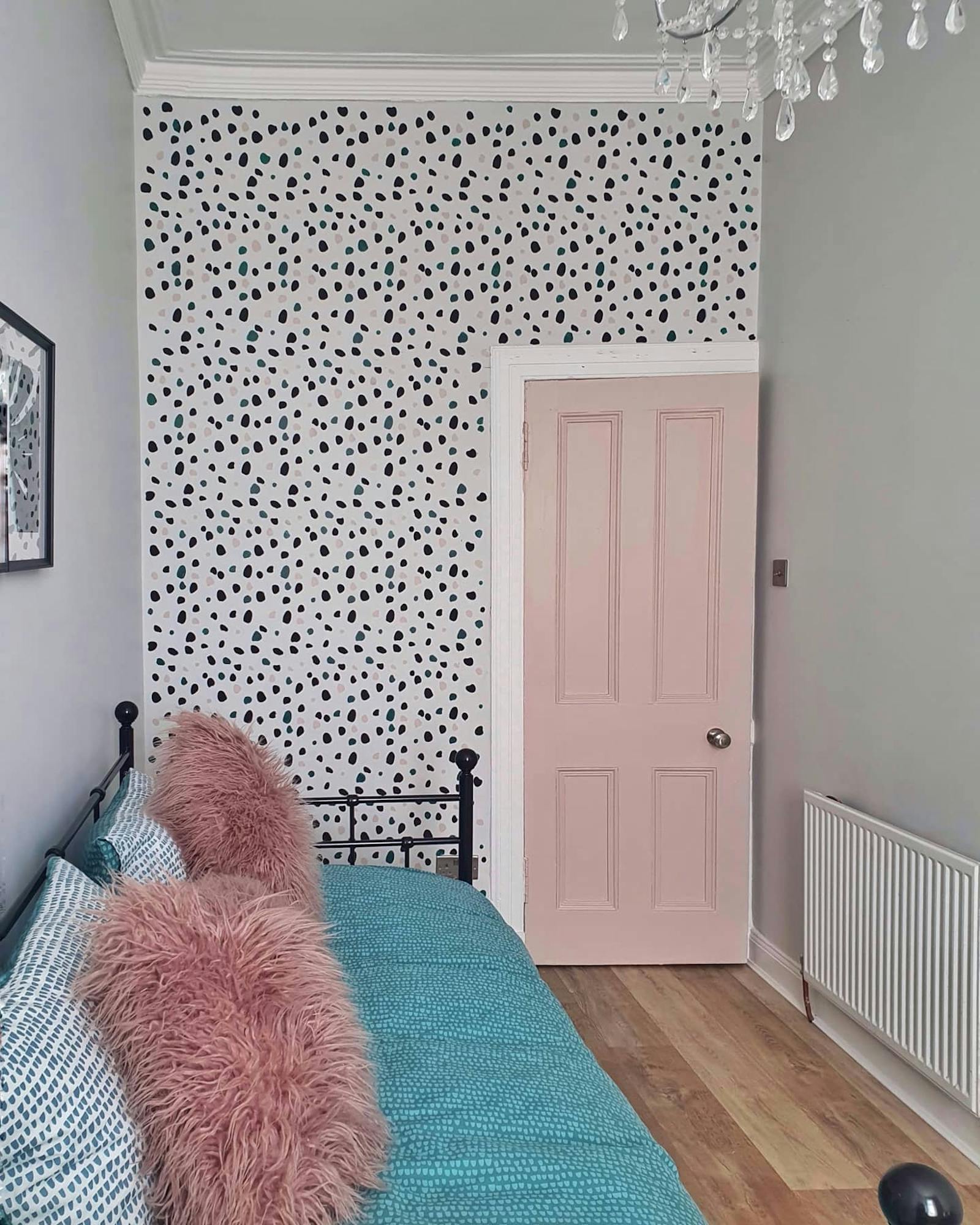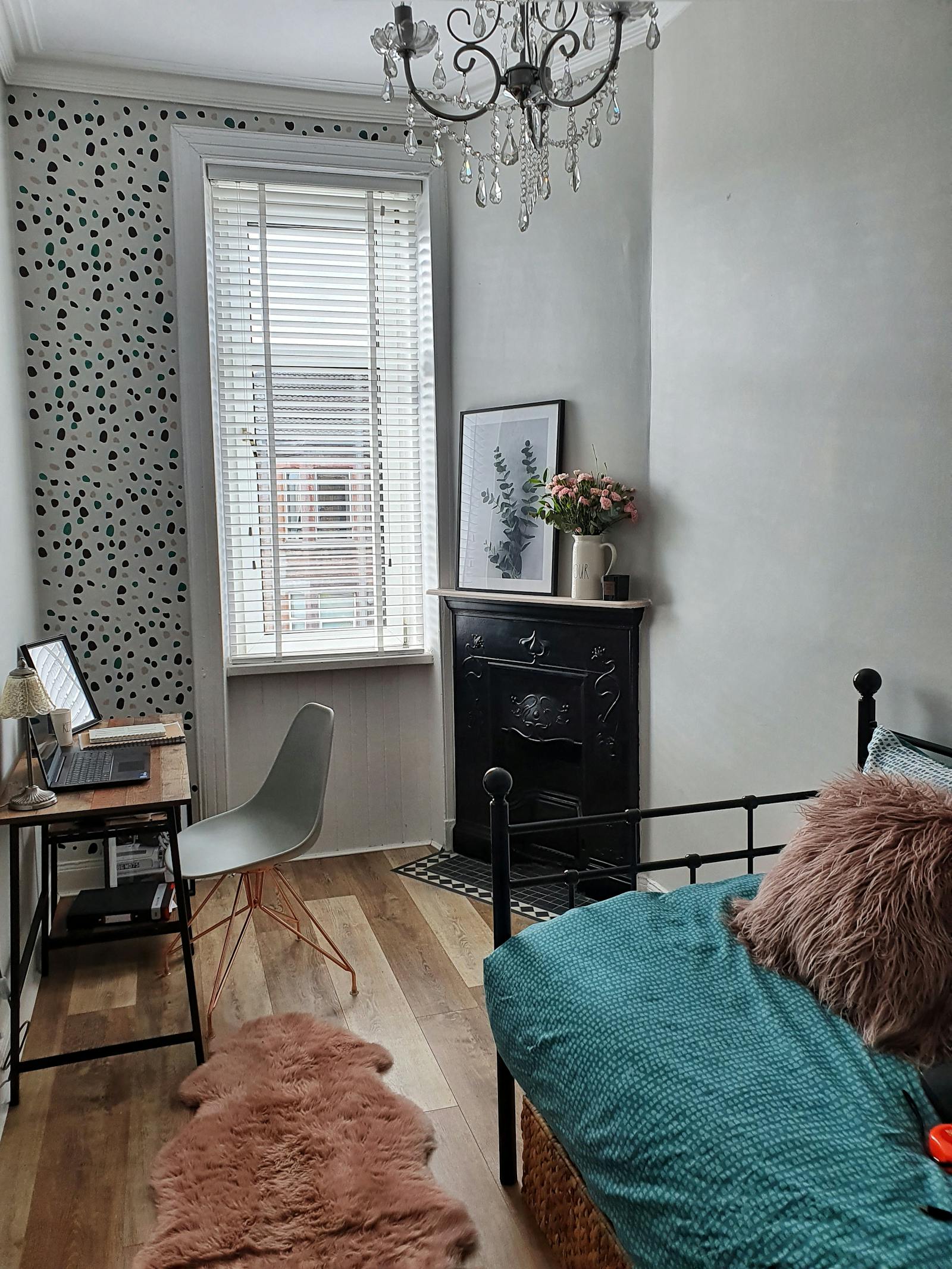 When discussing home decorating, Kim expressed her passion for DIY projects:
"I absolutely love it! There is no better feeling than finishing a project and thinking WOW, I just did that!"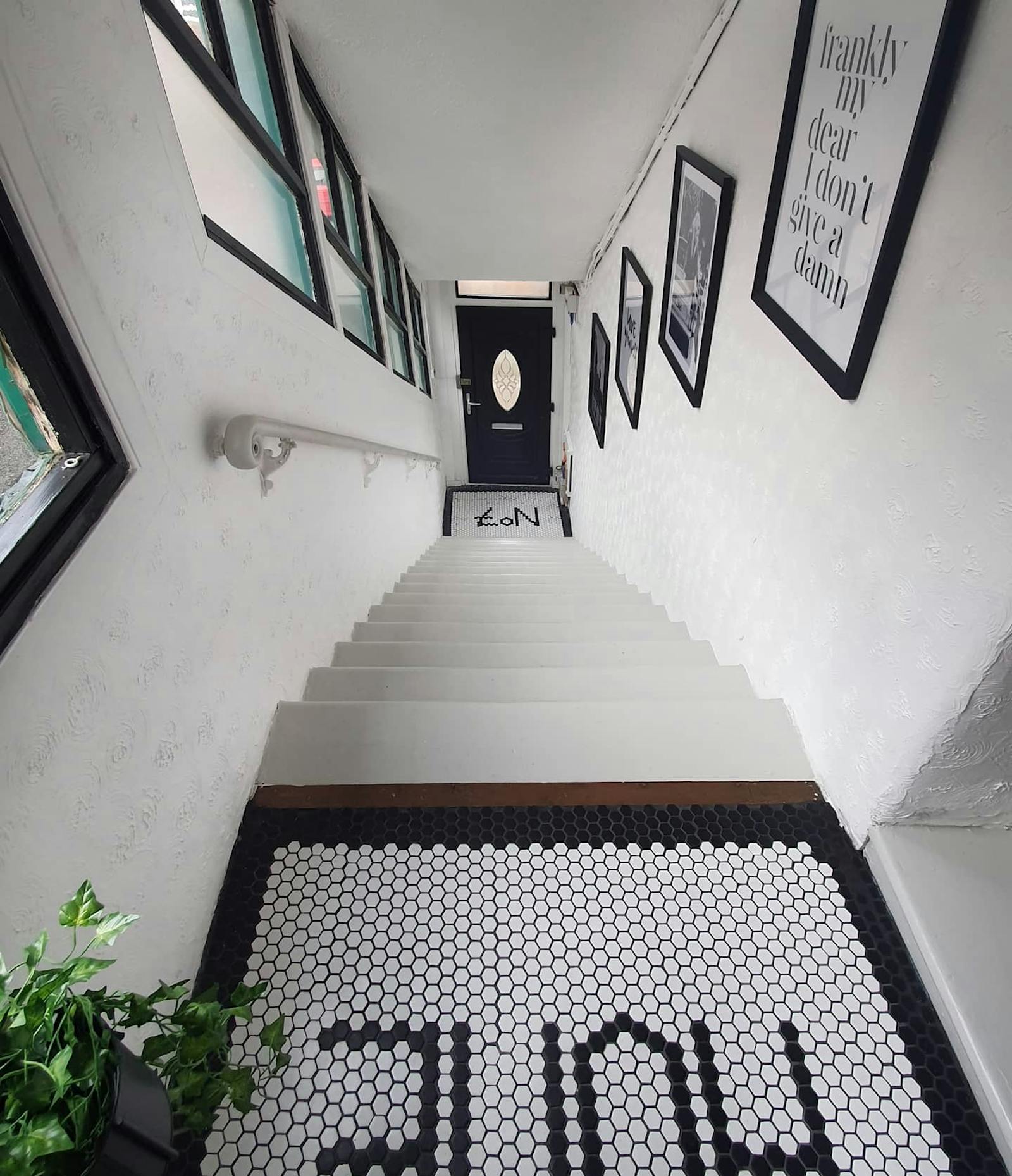 A monochrome approach to the hallway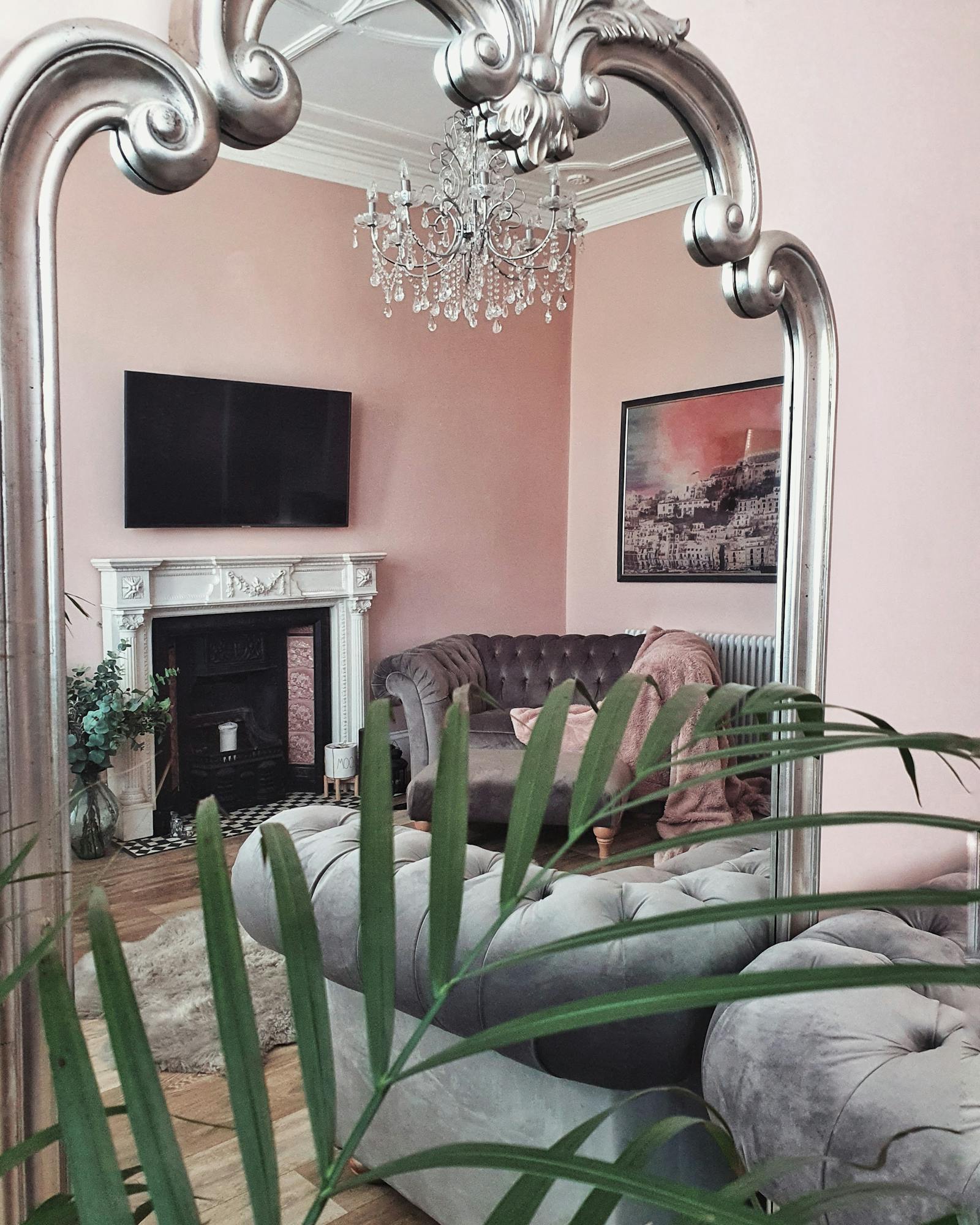 Kim's home is a perfect harmony of girly colours, vintage furniture and DIY details.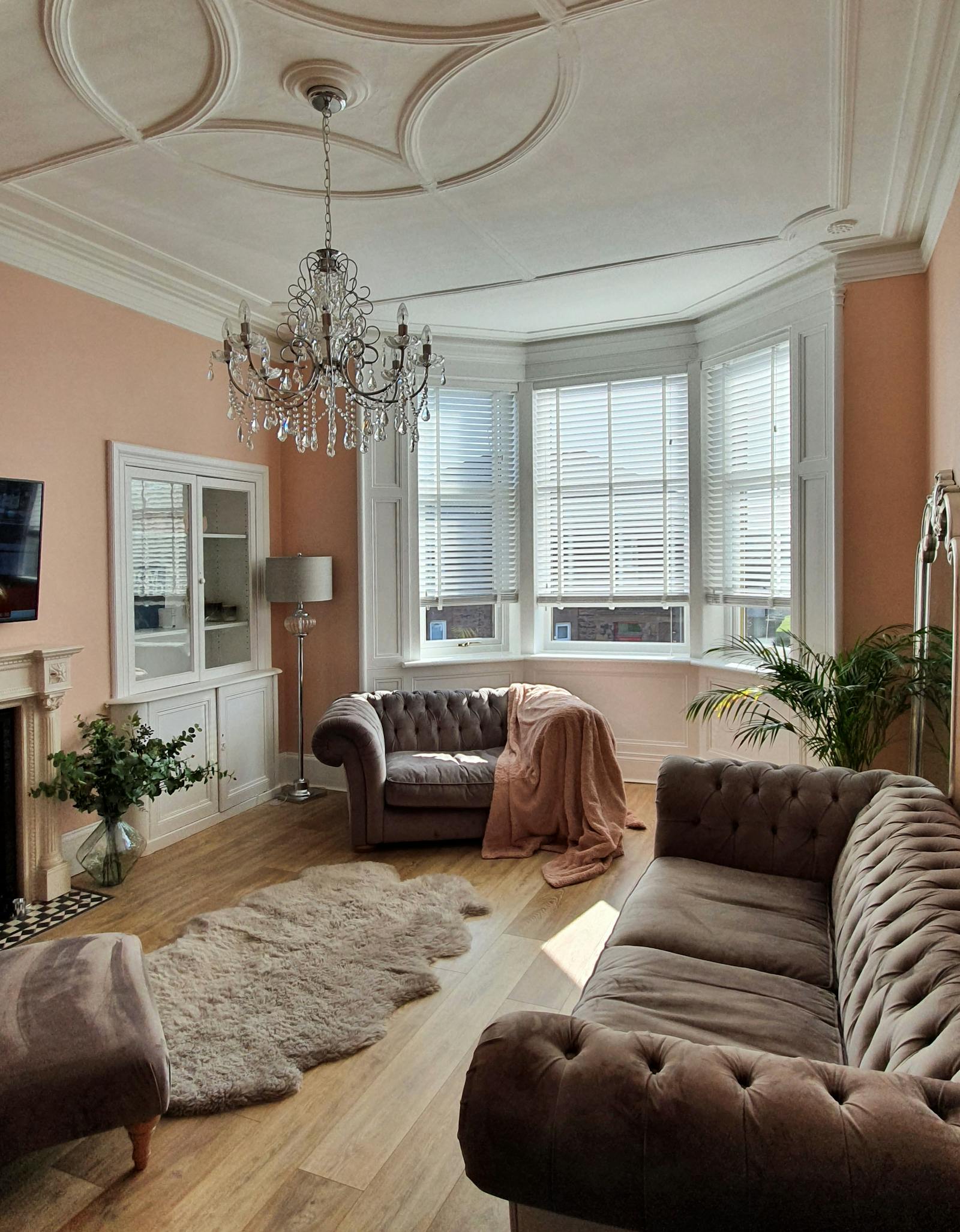 Even the ceiling has its own personality
Kim's top tips for decorating:
Make sure your space is clean and clutter-free. Be sure to cover anything that can't be moved with dust sheets, you don't want any paint splashing where it shouldn't!
For stencilling, I recommend flat headed brushes if you're using more than one colour; if you're just using one shade - a paint roller works perfectly
Don't rush – home projects can take as long as they need and are worth the hard work you put in
Believe in your vision – start with a small project and work your way up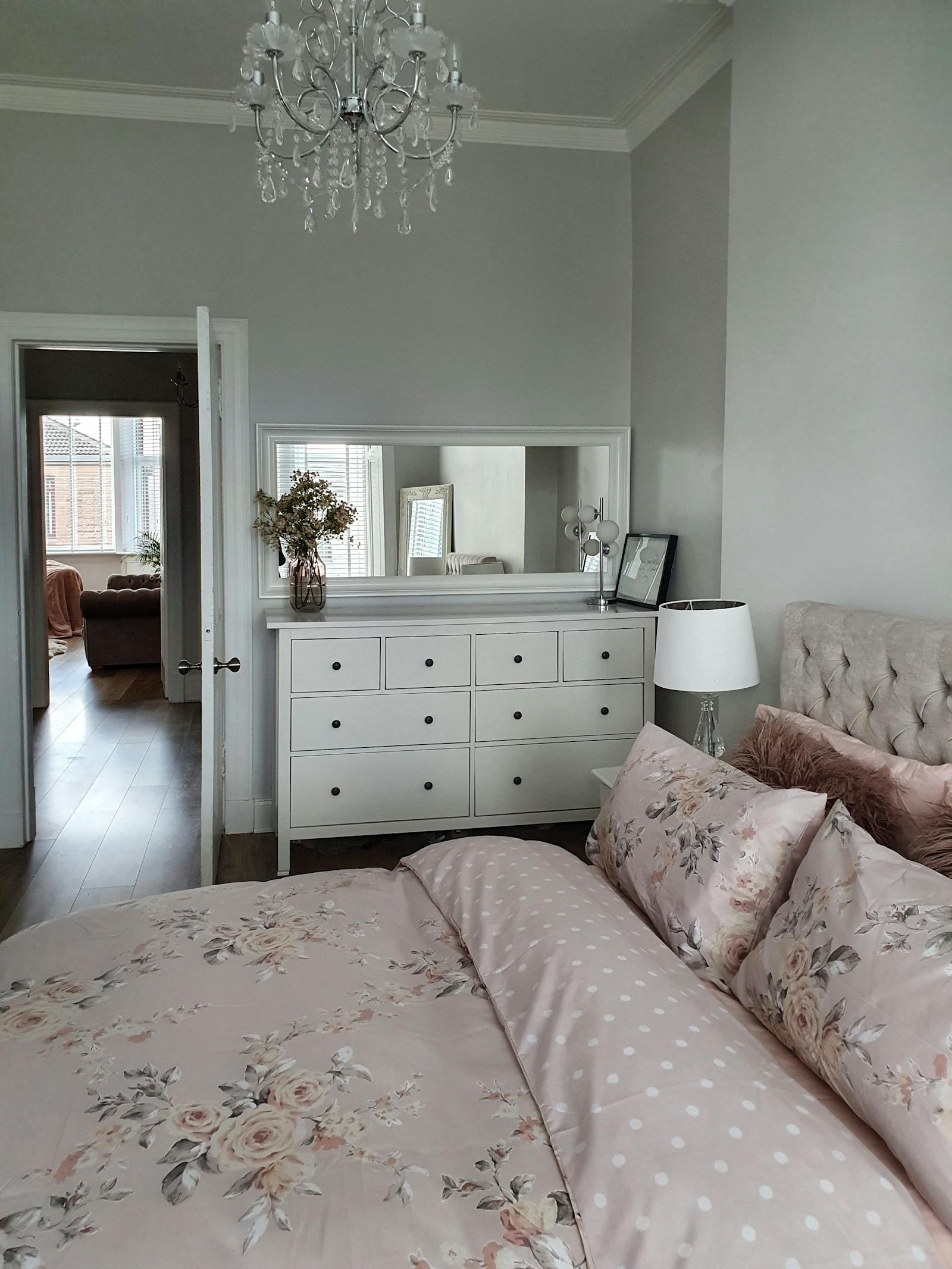 Kim's main bedroom in grey and blush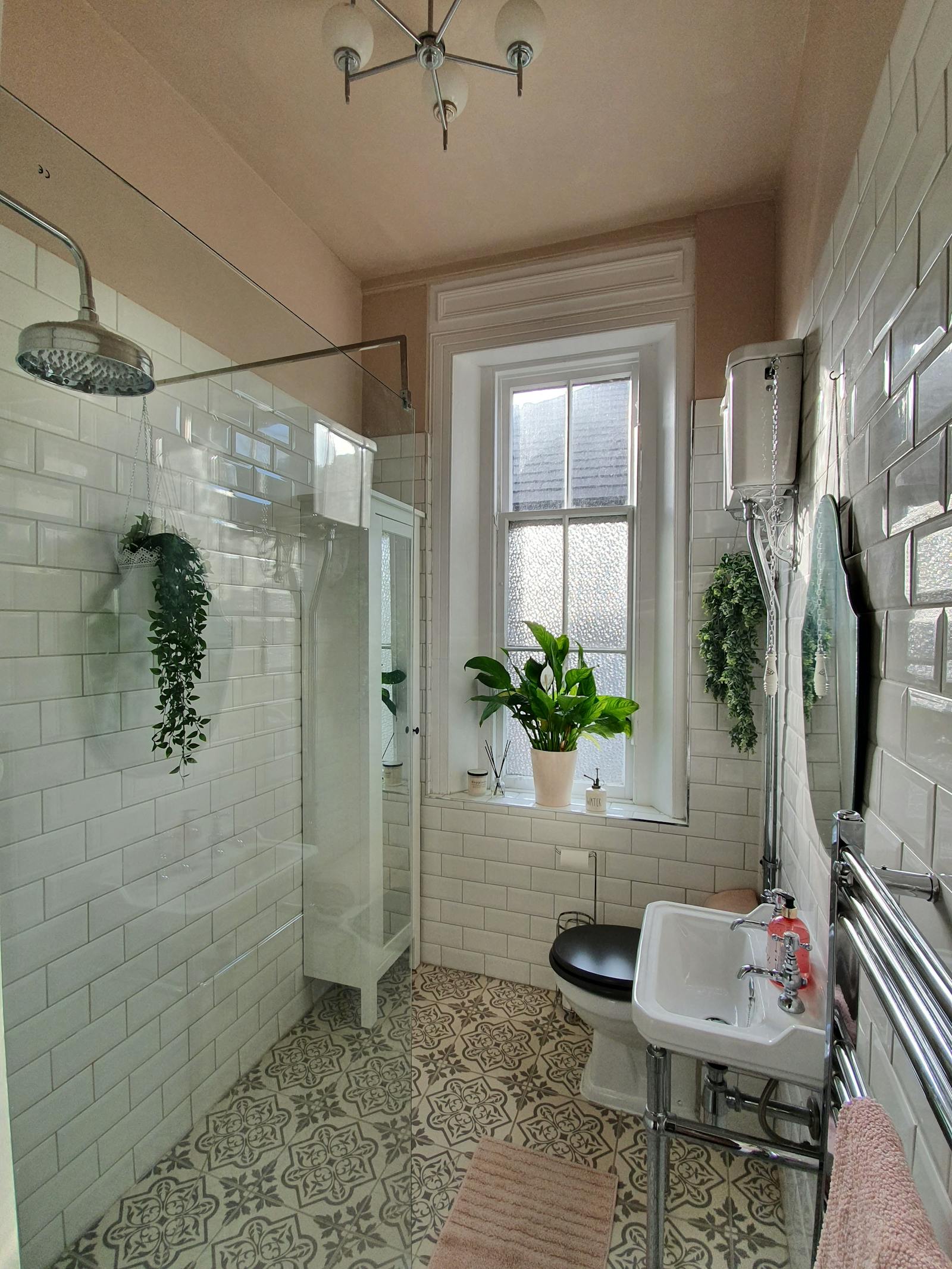 Here every little detail counts
Kim's Lick Picks
We asked Kim to choose her favourite paint shade and wallpaper sample from our range. Here's what she picked:
"I have fallen in love with the colour 'Grey 02'. I painted my bathroom in a blush pink recently, and in reflection, I think it would be much better in grey; this looks like the perfect shade to match my floor tiles!"
"I also adore the wallpaper 'Animal 01'. It looks really luxurious and the print is stunning. I can imagine this teamed with beautiful wood panelling in a dining room or long Victorian hallway".
You can find Kim and her beautiful home on Instagram - @the_home_kim_built.