Real Homes of Instagram: Kelly from @pinkandredgate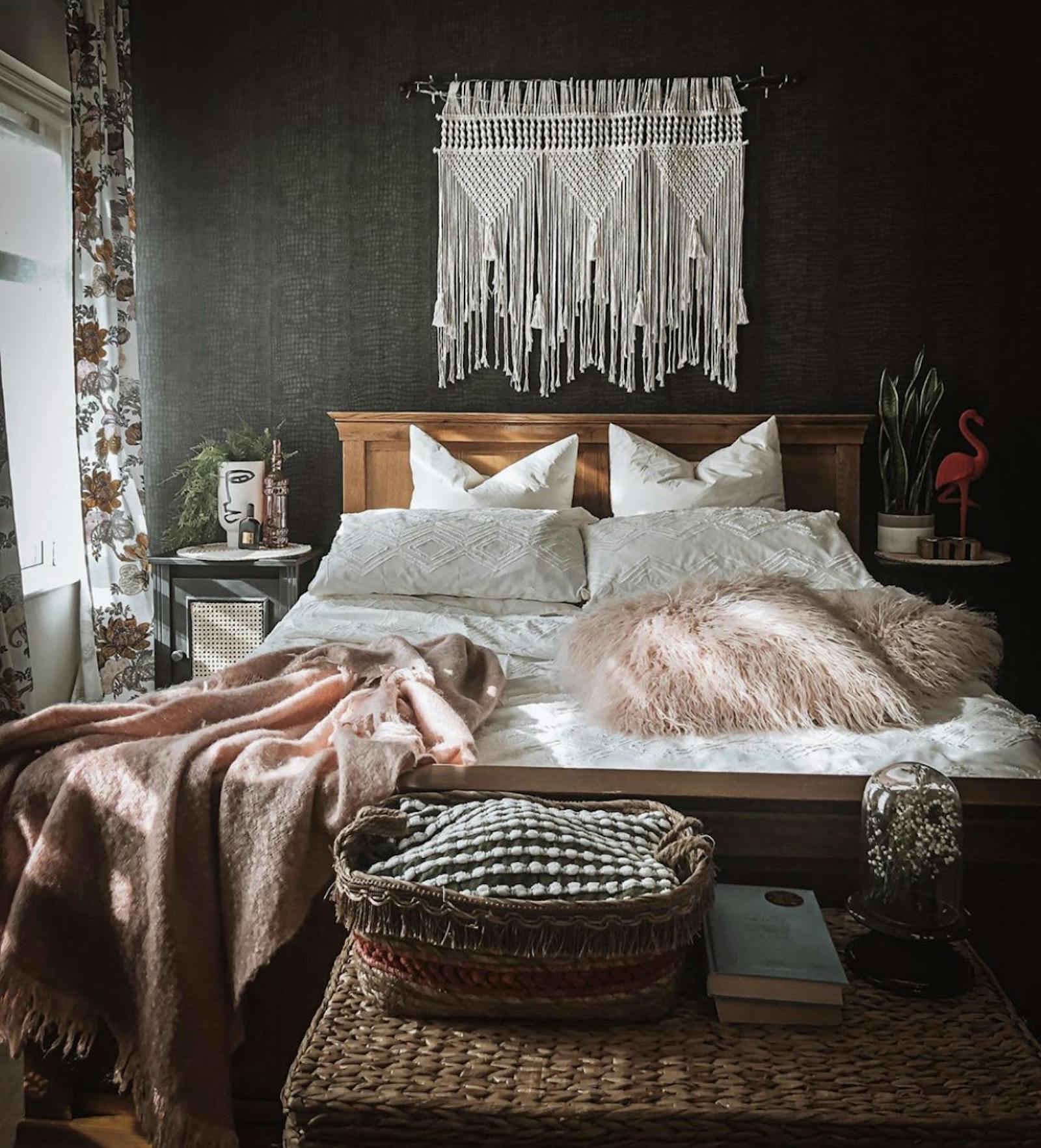 'Real Homes Of Instagram' is our weekly sneak peek into the homes of some of our favourite decorators from Lick's community and beyond.
Next up in the series, we introduce to you to Kelly and her amazing home that you can find on her Instagram account @pinkandredgate.
Kelly is 39 years old and lives in Merseyside with her boyfriend Ste and their two dogs, Bella & Moose. By day, Kelly works as a hairstylist within the TV and music industry; and is lucky enough to travel around the world with a job she is truly passionate about. In her spare time, she loves home DIY and clay pigeon shooting.
They have lived in their current terrace house for three years now, but the property was originally bought by Kelly before she met Ste. She chose the house based on location and character – but knew there would be a lot of work to do on it once she received the keys. Starting with the living room, Kelly re-plastered and painted the space to ensure a fresh and cosy feel in the heart of the home. Everything else became a work in progress, and she did her best to preserve as many of the original features as possible.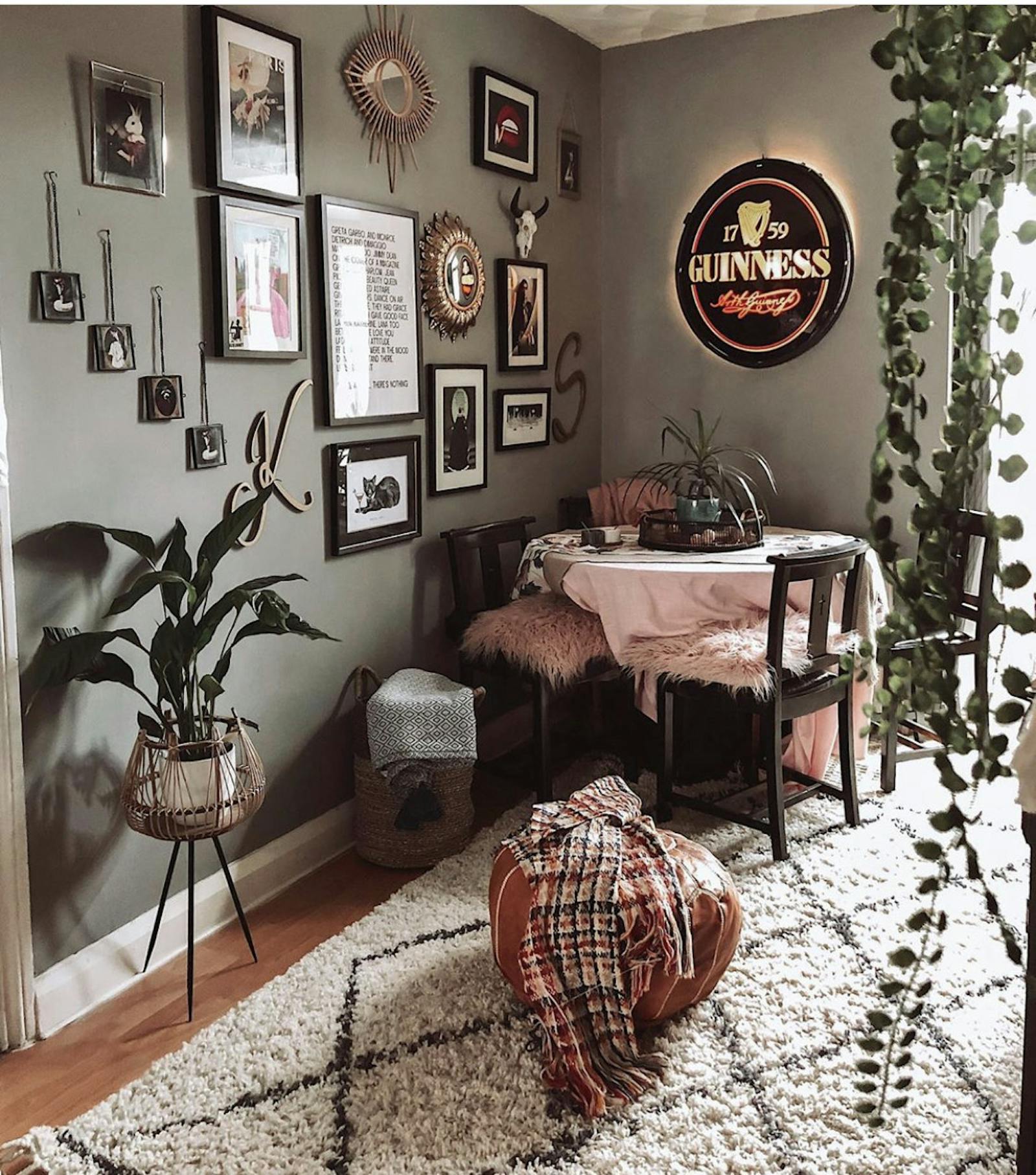 Dining room corner with a lot of textures and plants around
Kelly describes her signature style as 'eclectic'; mixing dark and bold colours, old and new furniture and the use of different textures. One of her favourite colours to use in the house is pink, as it softens the bolder colours she's used in most of the rooms.
"I want people to walk into my home and feel comfortable and cosy; where they can kick off their shoes and feel at home."
Some of her favourite stores for styling her home are Habitat, La Redoute, Matalan, eBay and H&M Home. Kelly mainly gets her style inspiration from designers, Instagram and Pinterest – but also loves brightly coloured flowers too.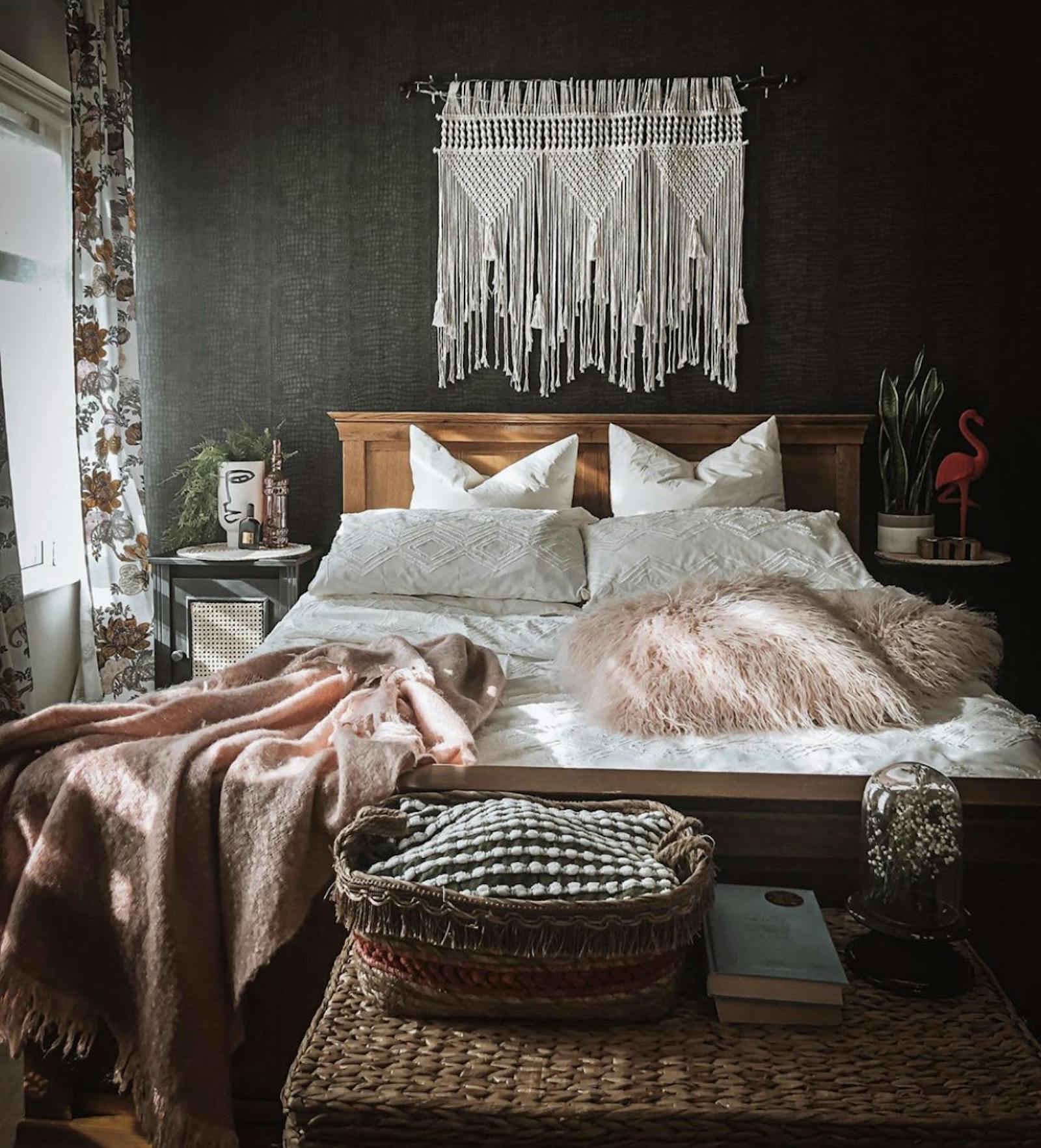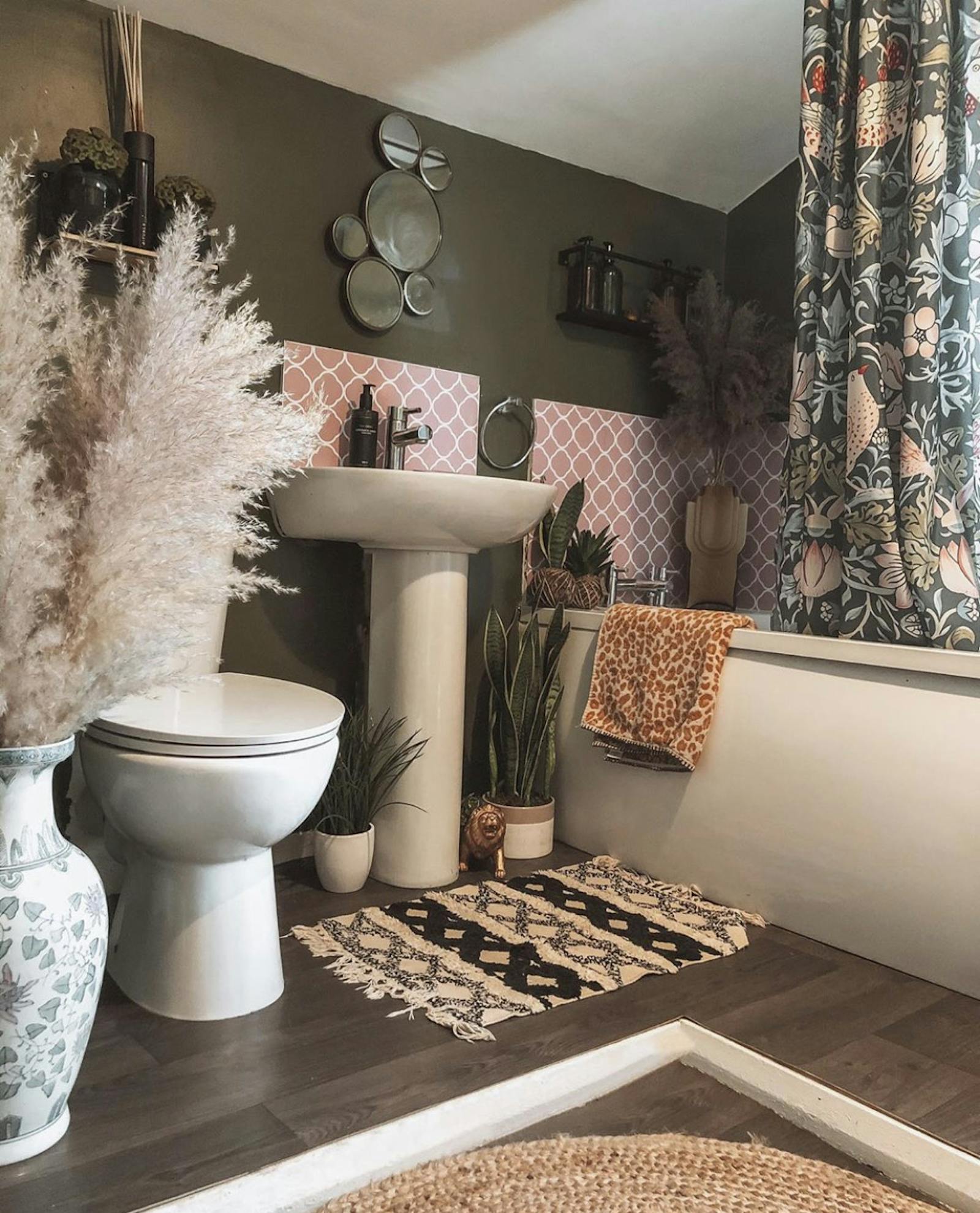 We simply love all patterns and textures here, feels like a tiny tropical oasis
Although it was a tough decision, Kelly's favourite spaces at the house are the living room and garden. The living room is a hub of cosiness; with deep colour tones, plenty of soft furnishings and an absolutely stunning wall mural. Kelly and Ste love spending their evenings relaxing in the space and watching crime documentaries on television.
The garden was a recent project, and an important one at that – as they love to spend lots of time outdoors. When the weather is nice, Kelly likes to sit outside with Ste and the dogs and listen to music. Kelly is super talented with a paintbrush, and carefully hand-painted a beautiful mural on the garden wall with just an ounce of prior inspiration from Pinterest. Completely free-hand and using Lick shades Green 03, Yellow 02, Red 03 and Black 01; she made the shapes and designs as she went along and we think it looks absolutely AMAZING! Well done, Kelly.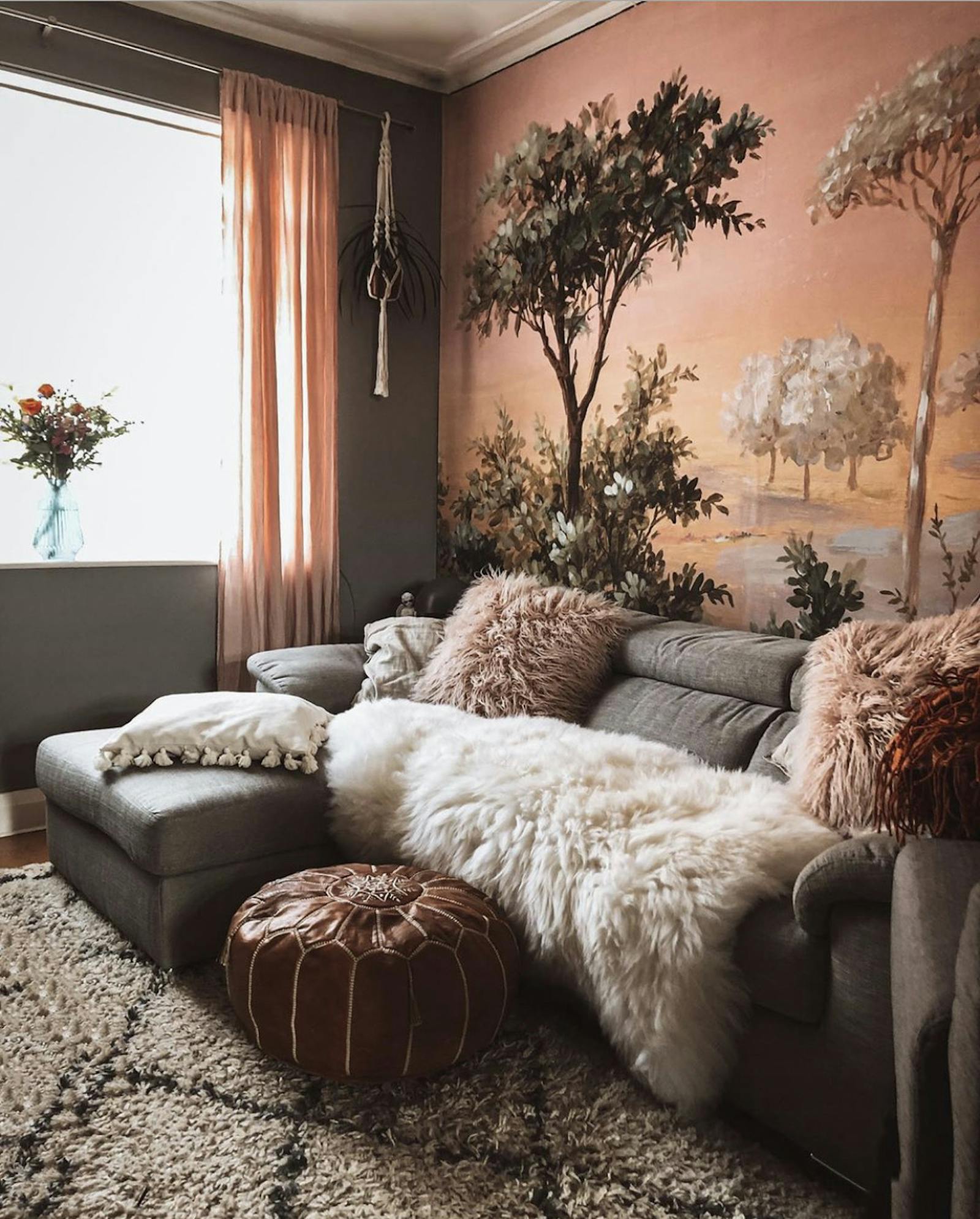 Again - textures, textures and more textures. The ultimate boho paradise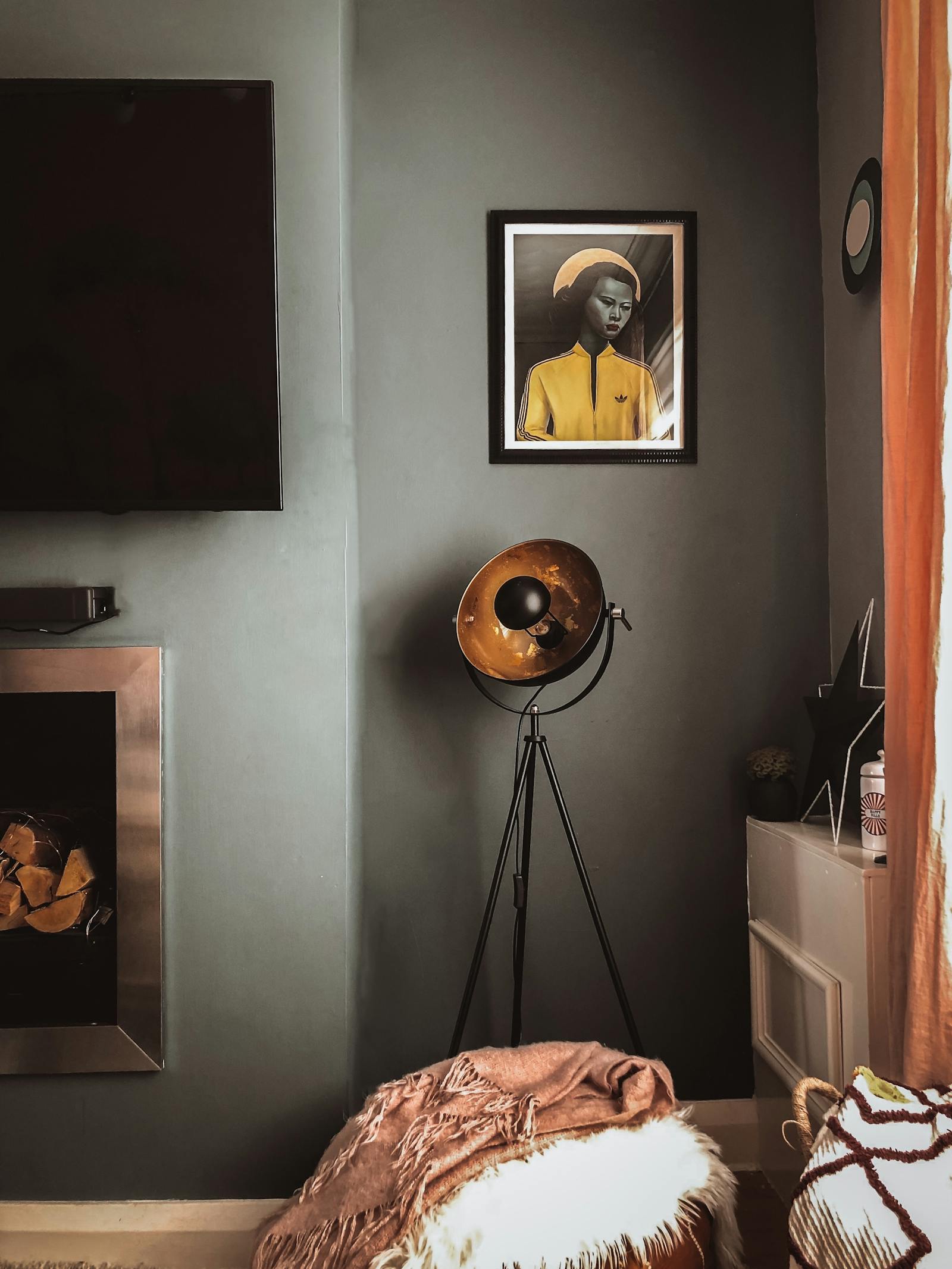 A great combination between vintage and modern... any Ross Muir fans out there?
Kelly's latest project was her kitchen renovation, which started with a video colourist session with our very own, Tash. Kelly and Tash talked about the vision for this space, and Kelly's favourite colours; before deciding on Yellow 02 for the ceiling and Red 03 for the walls.
"The kitchen is a galley kitchen, therefore it's very small; so, I wanted it to pack a punch. 'Go big or go home' kind of feel!"
They also upcycled the cupboard doors using Black 01, and added industrial shelving from old scaffolding boards for additional storage space. Kelly likes the look of a 'used' kitchen, so wanted to make sure everything could be displayed and to-hand.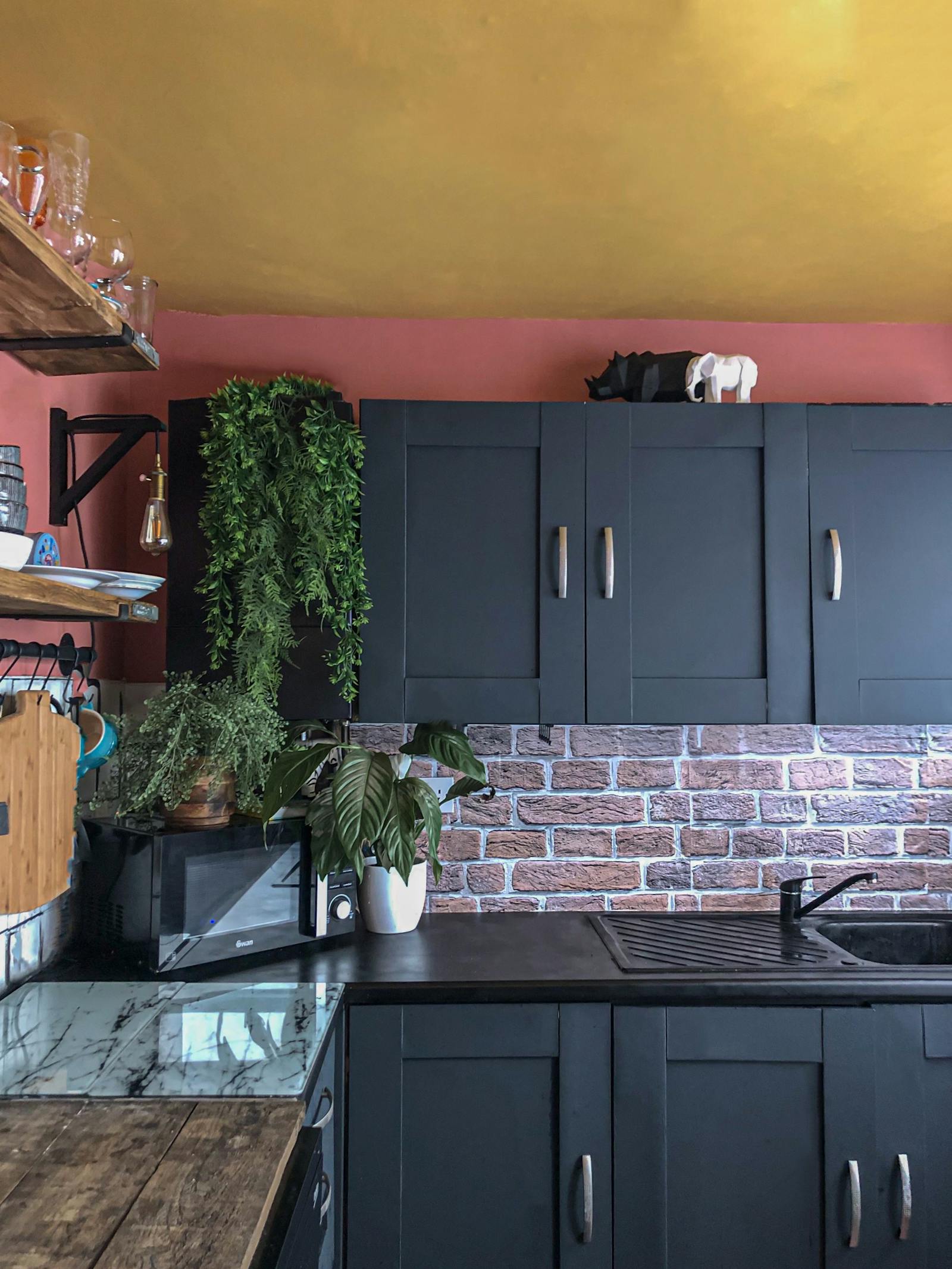 Kelly's kitchen painted in Lick's Black 01, Yellow 02 and Red 03
Kelly took advantage of the lockdown period to complete this project, and spread it out across the space of a couple of months in order to keep herself busy whilst having to stay home.
Next up on the DIY list is their hallway and landing space. They plan to paint and wallpaper the walls, and refresh the bannister and skirting boards too! Greens, blues, pinks and botanicals are on Kelly's mood board for these spaces, and we cannot wait to see the reveal. Stay tuned on Kelly's Instagram page to see how they get on!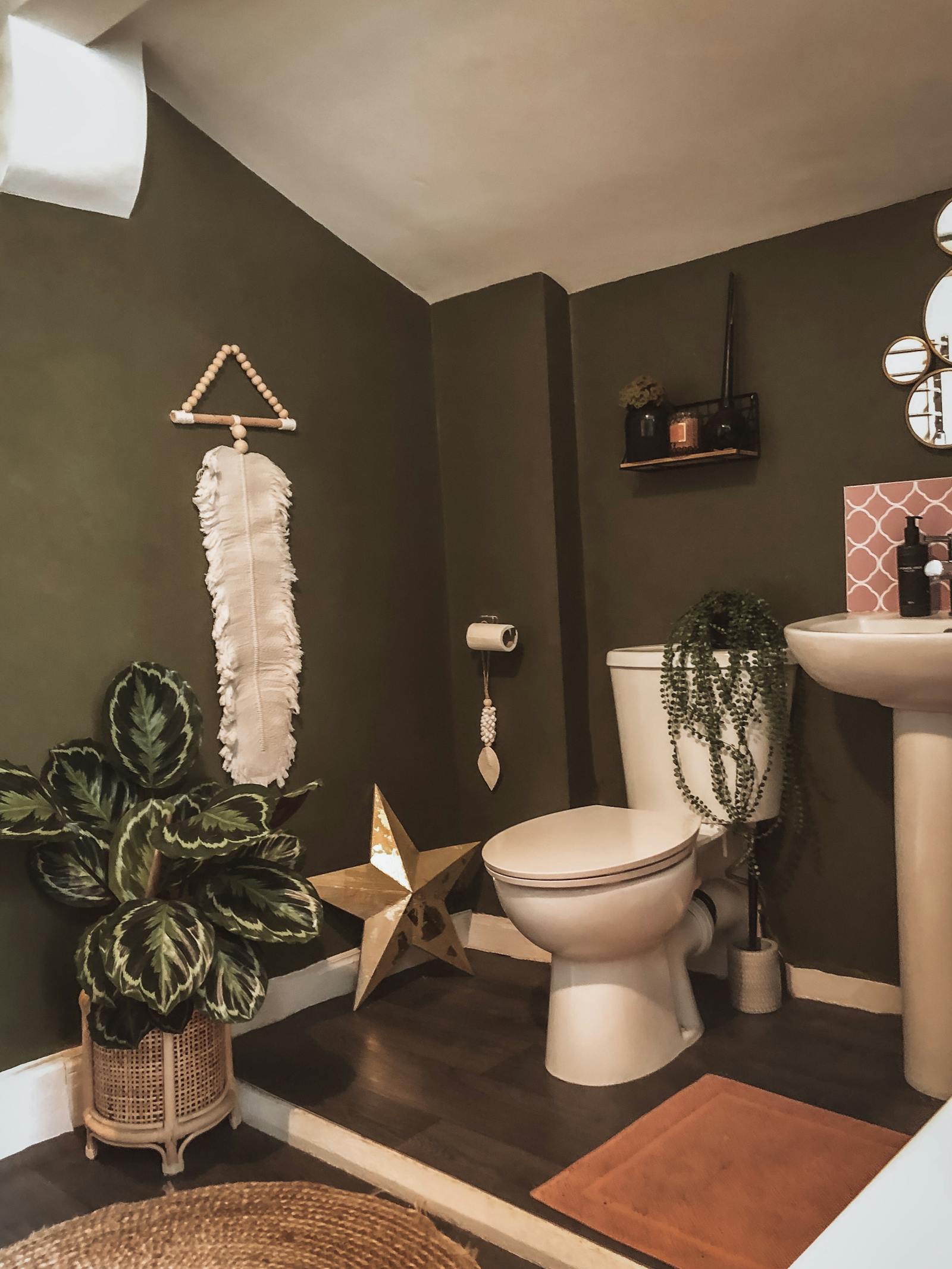 Creativity can also be found in the toilet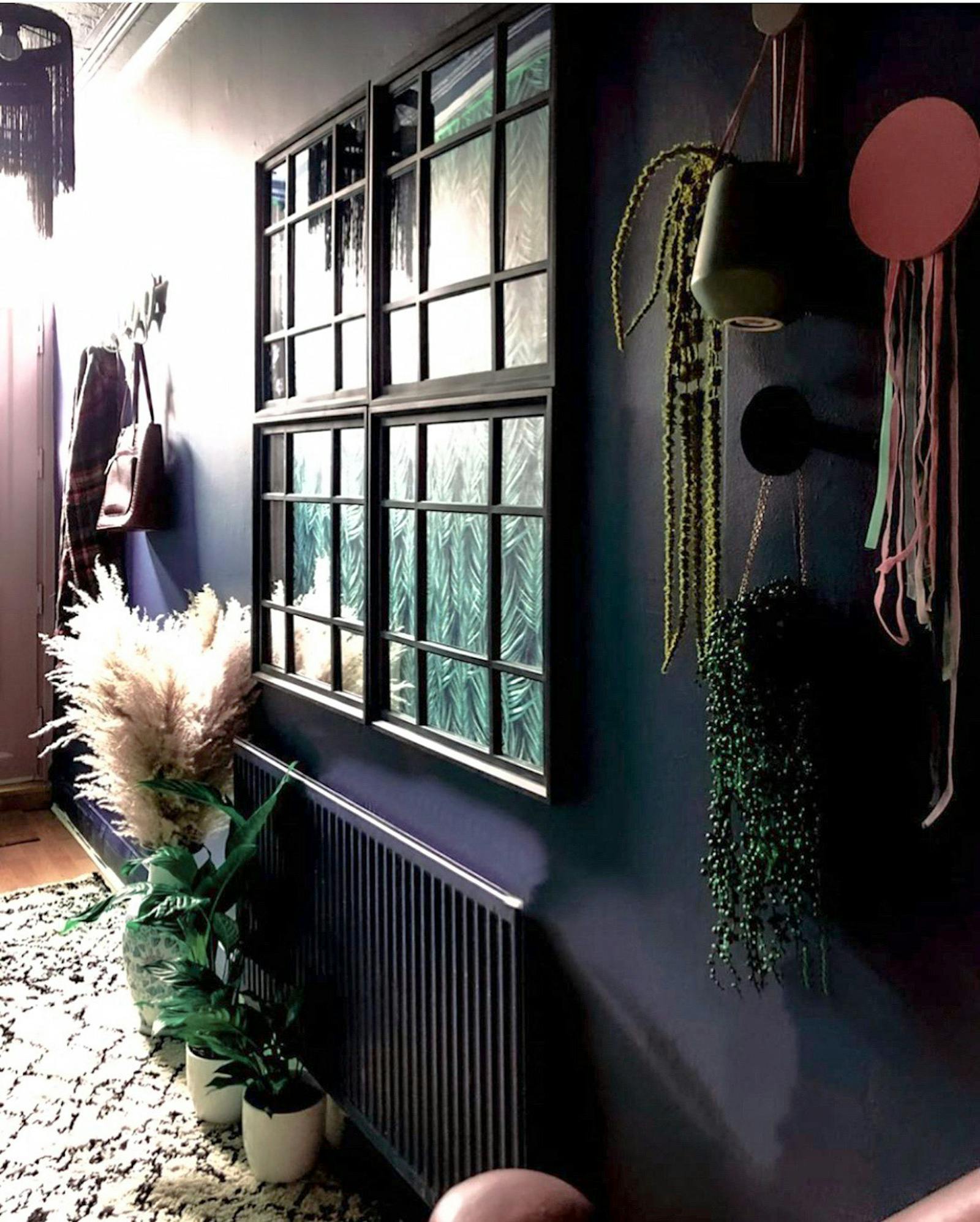 We love how much greenery you can find in each space of Kelly's home
Kelly's Top Tips for Decorating:
Take inspiration from everywhere; art galleries, clothing, nature, gardens, magazines and social media. You will find yourself naturally drawn to the things you like the most!
Invest in good brushes and tools – buy cheap, buy twice!
Always prepare your surfaces if you plan to wallpaper. I once wallpapered over a shiny painted wall, and it began peeling off over time.
Just do whatever makes you happy.  You want to walk in your house and feel like you, like it's your haven. Don't worry about what other people think.  We all have different tastes, and taste is very subjective.  We don't all like the same music, do we? So, we won't all agree on home decor. Express yourself and just enjoy it!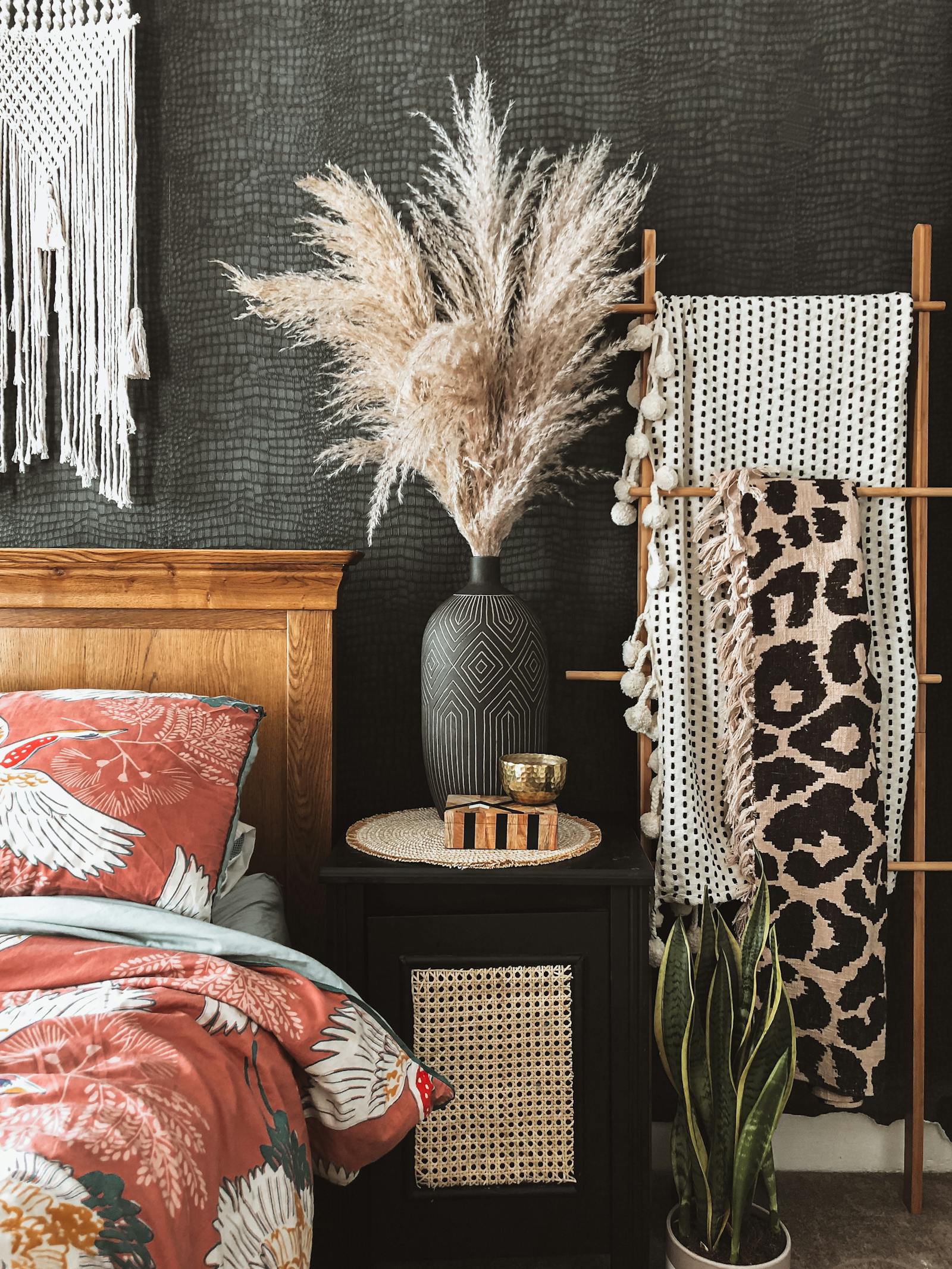 Kelly's Lick Picks!
If I had to choose another room to decorate, I would go for a mixture of greens in the dressing room/spare room.  I'd use a mixture of dark and light shades, and maybe do a feature wall with Botanical 05.
I would use Green 02 on the ceiling, doors and skirting; and Green 01 on the walls.
You can find Kelly and her beautiful home on Instagram - @pinkandredgate.