Real Homes of Instagram: Gareth from @gareth_at_31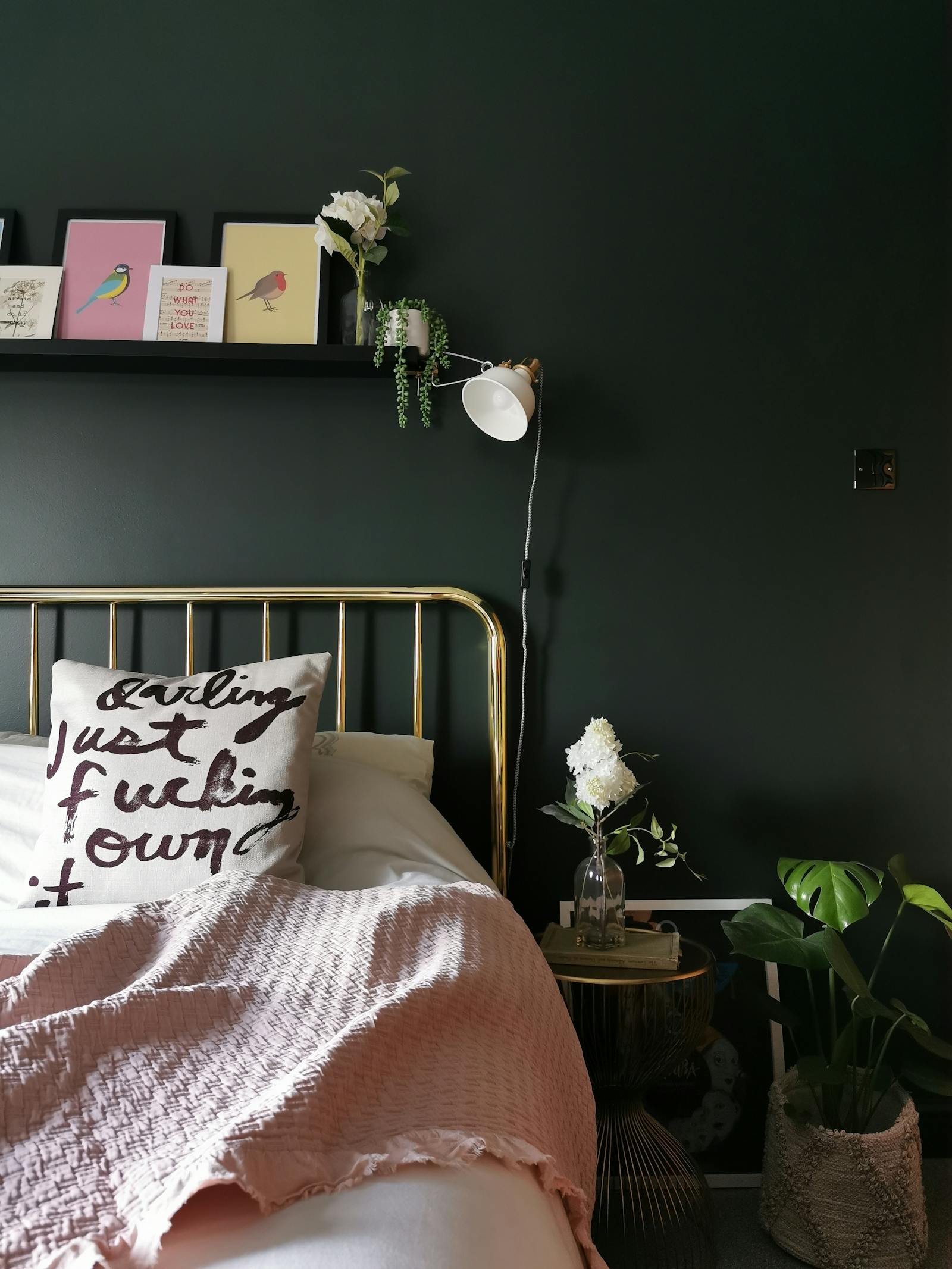 'Real Homes of Instagram' is our weekly sneak peek into the homes of some of our favourite decorators from Lick's community and beyond.
Next up in the series, we introduce to you Gareth Young; who is also better known on Instagram as @gareth_at_31.
Ready to explore his little DIY secrets? Here we go.
Gareth is 32 years old and lives in Derbyshire with his partner Paul and their two house cats, Tilly & Jake. He leads a very busy life, with a number of different job roles and commitments, including his full-time position at The University of Sheffield; a Trustee for a youth homelessness charity and his own upcycling and antique business, Design at 31.
Their home is an Edwardian three-bedroom semi-detached house, built in 1910 and sits on the edge of the beautiful Peak District. The location is idyllic and the house is bursting with charm – high ceilings, original floorboards, cornicing; simply stunning features. They have recently applied for a house extension which plans to increase the size of their kitchen, diner and sunroom; with an additional space that will give Gareth his very own workshop too!
Gareth's home is full of life - from the house plants to the tiny decoration details - it has it all
Gareth describes his home style as 'mish-mash', as he can appreciate a variety of interior designs and colours, but admits its ever-evolving. His favourite looks at the moment are rustic and French vintage.
"We went through a phase of going really dark; with a deep blue in the living room and a very dark green in the bedroom. We do really love it, but we are now moving towards a slightly more muted palette – hence Teal 01 in our office, and Teal 02 coming to the dark green bedroom very soon."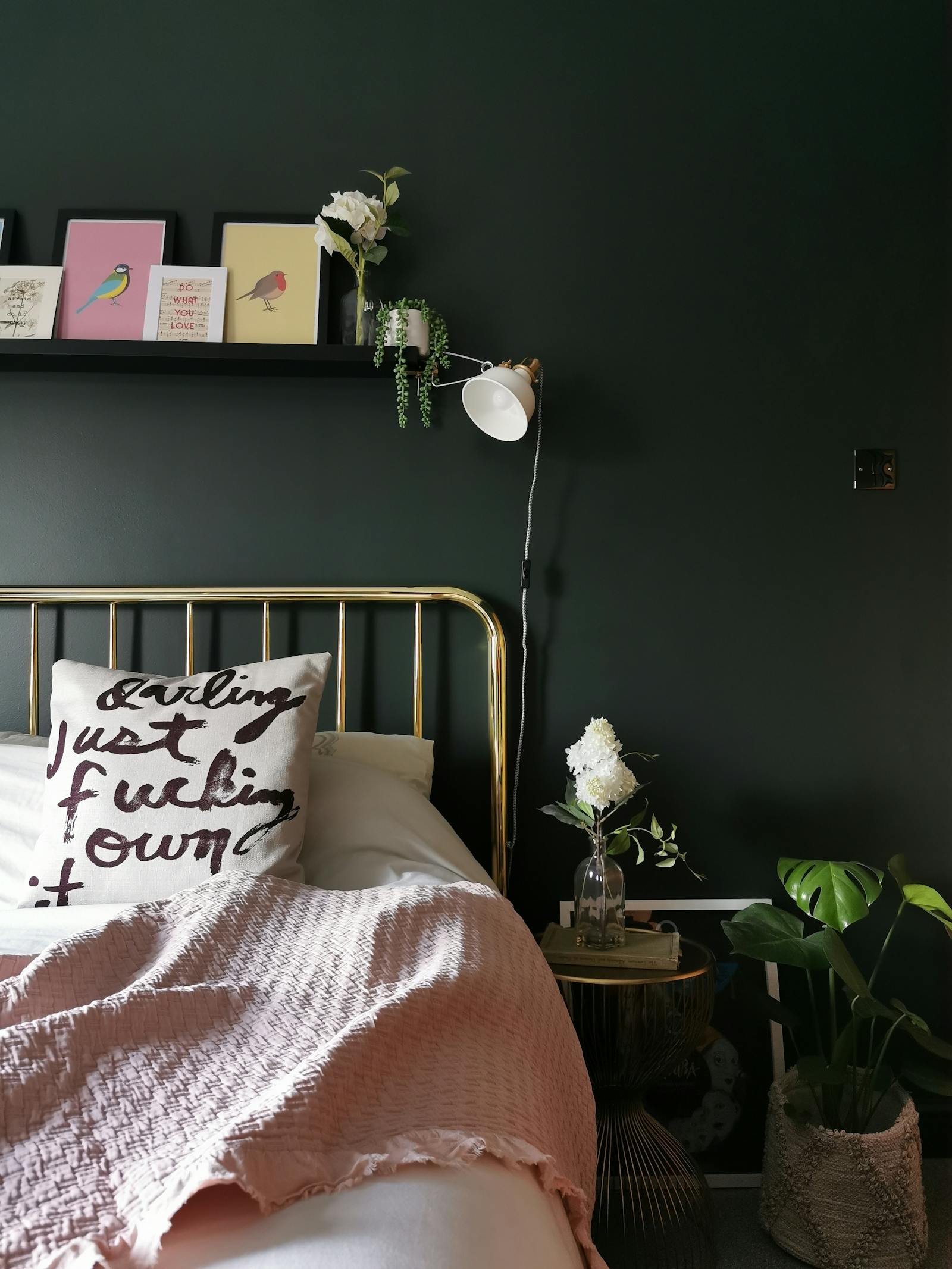 The bedroom in its current dark green shade
"I get my inspiration from lots of places. I think Pinterest and Instagram are great places to start for anyone looking for some home inspiration. I also really enjoy buying, reading and treasuring interior design books and magazines – especially those that explore French brocante country styles and rustic homes. I also love wandering and browsing antique shops and other interior stores, seeing how they style and display items. One of my favourites is a local shop called Grey Goose Interiors."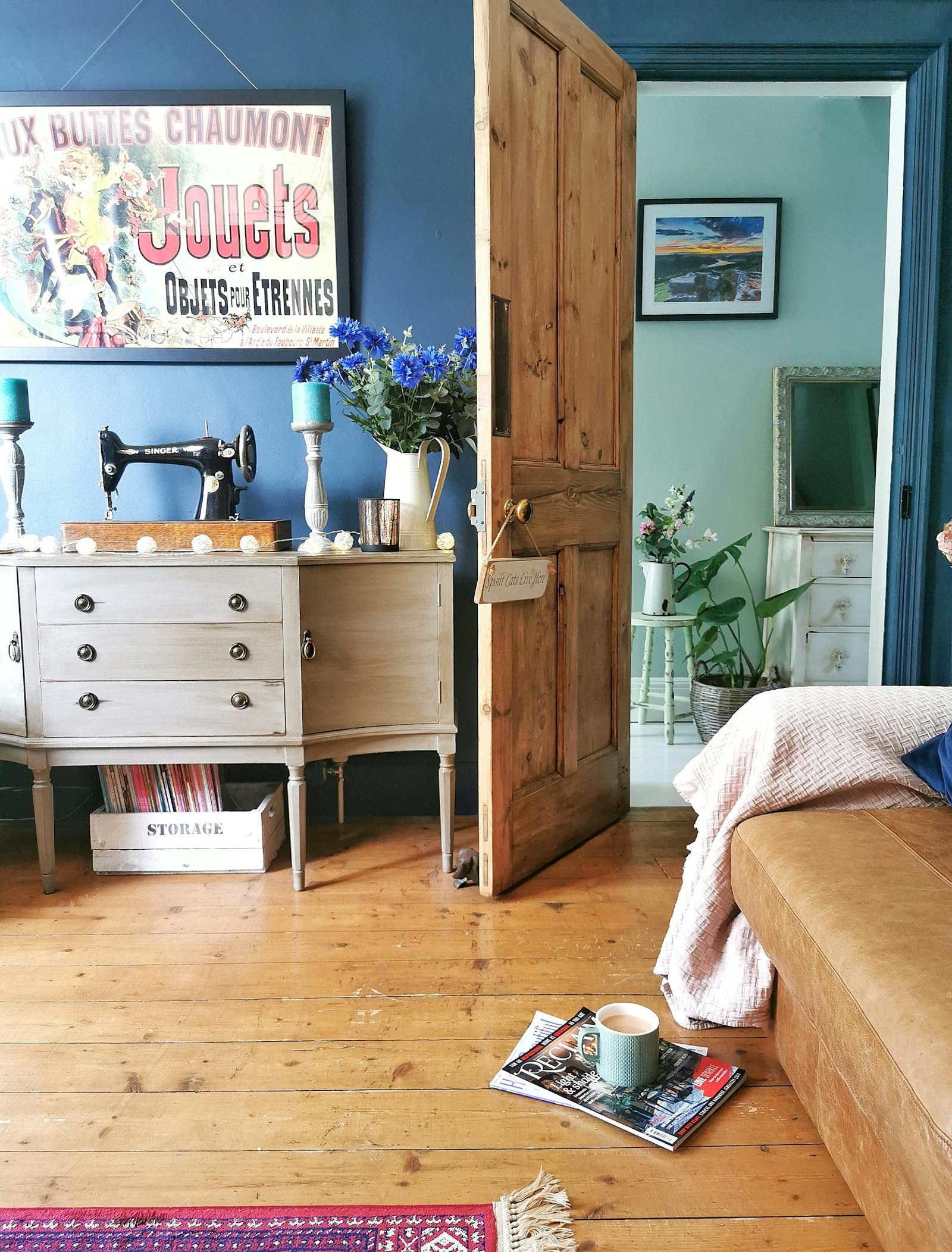 Gareth's living room fully embraces his passion for antique decoration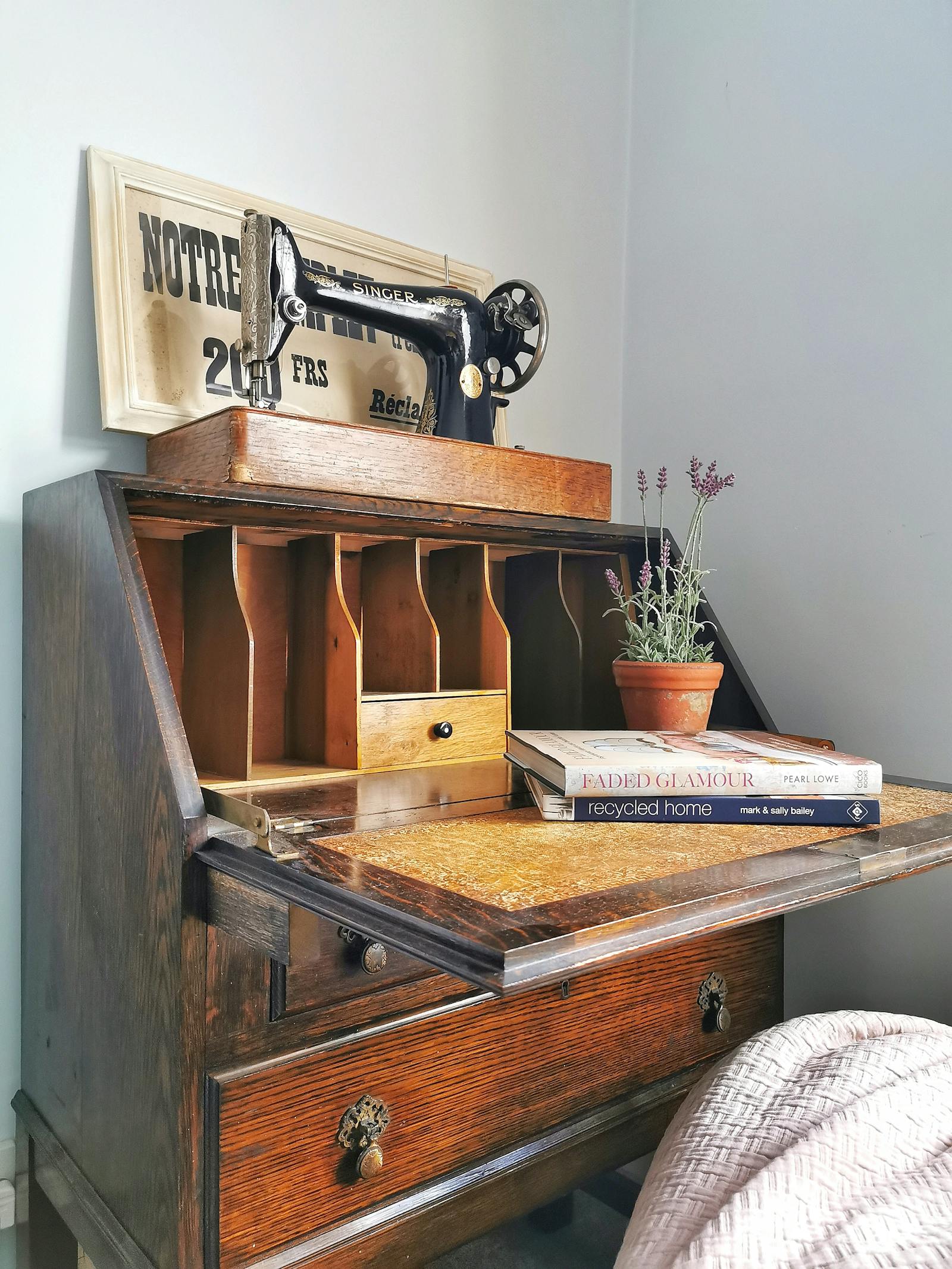 Every item in his home is right where it belongs, and all the decoration works in perfect harmony to create that rustic French look
Gareth's most recent DIY project was a quick update of their hallway; ripping out the old dark carpets and instead, painting the floorboards white - all part of their rapid shift towards that French country style. He described the transformation as incredible - simply using up old paint from their cellar. Waste not, want not!
Hallway aside, his biggest decoration project of the year so far was their home study – a job they've been putting off for a long time as the room was just being used as a 'dumping ground'. Who can relate? (WE CAN!).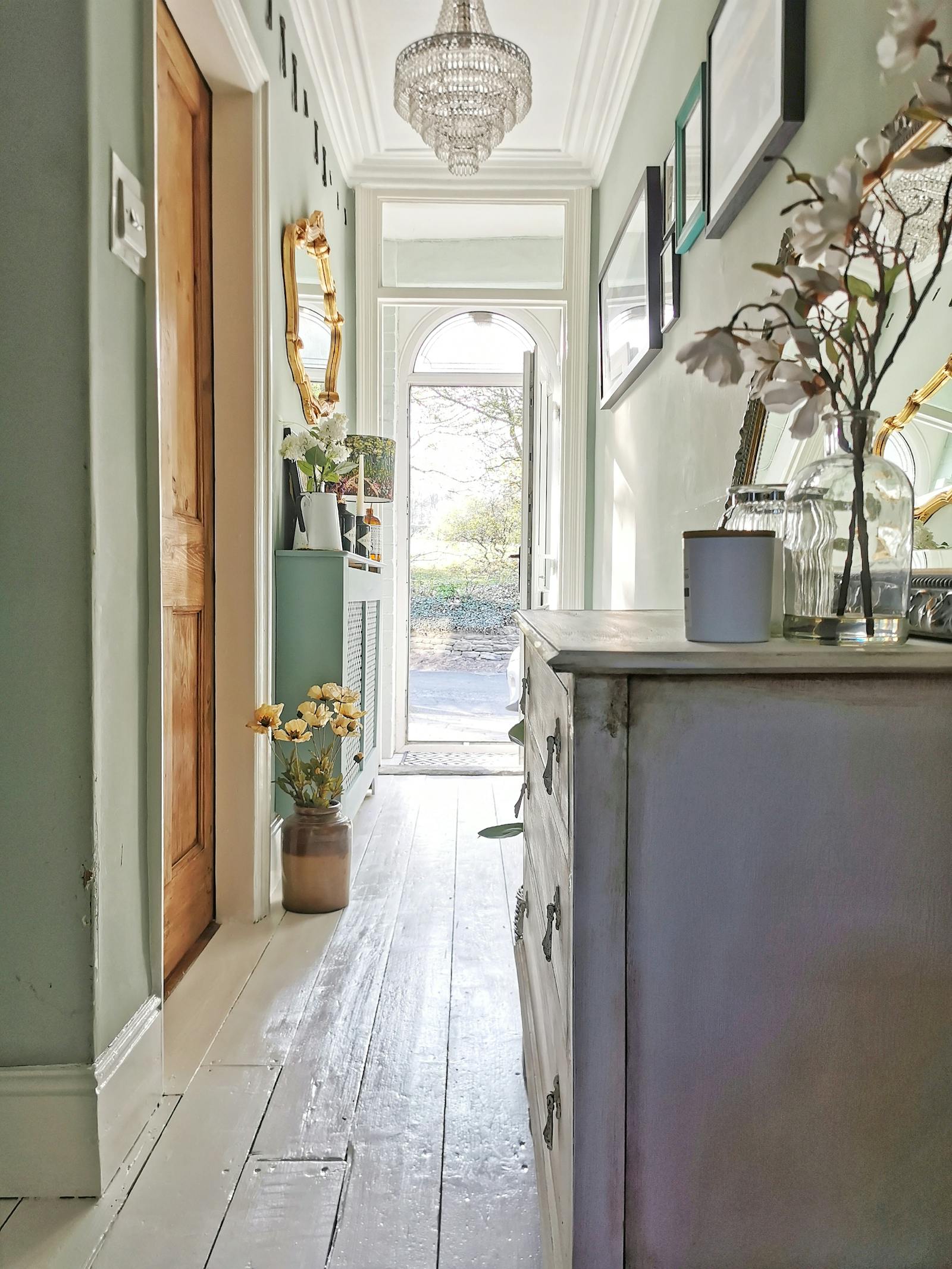 We're absolutely in love with those white floorboards...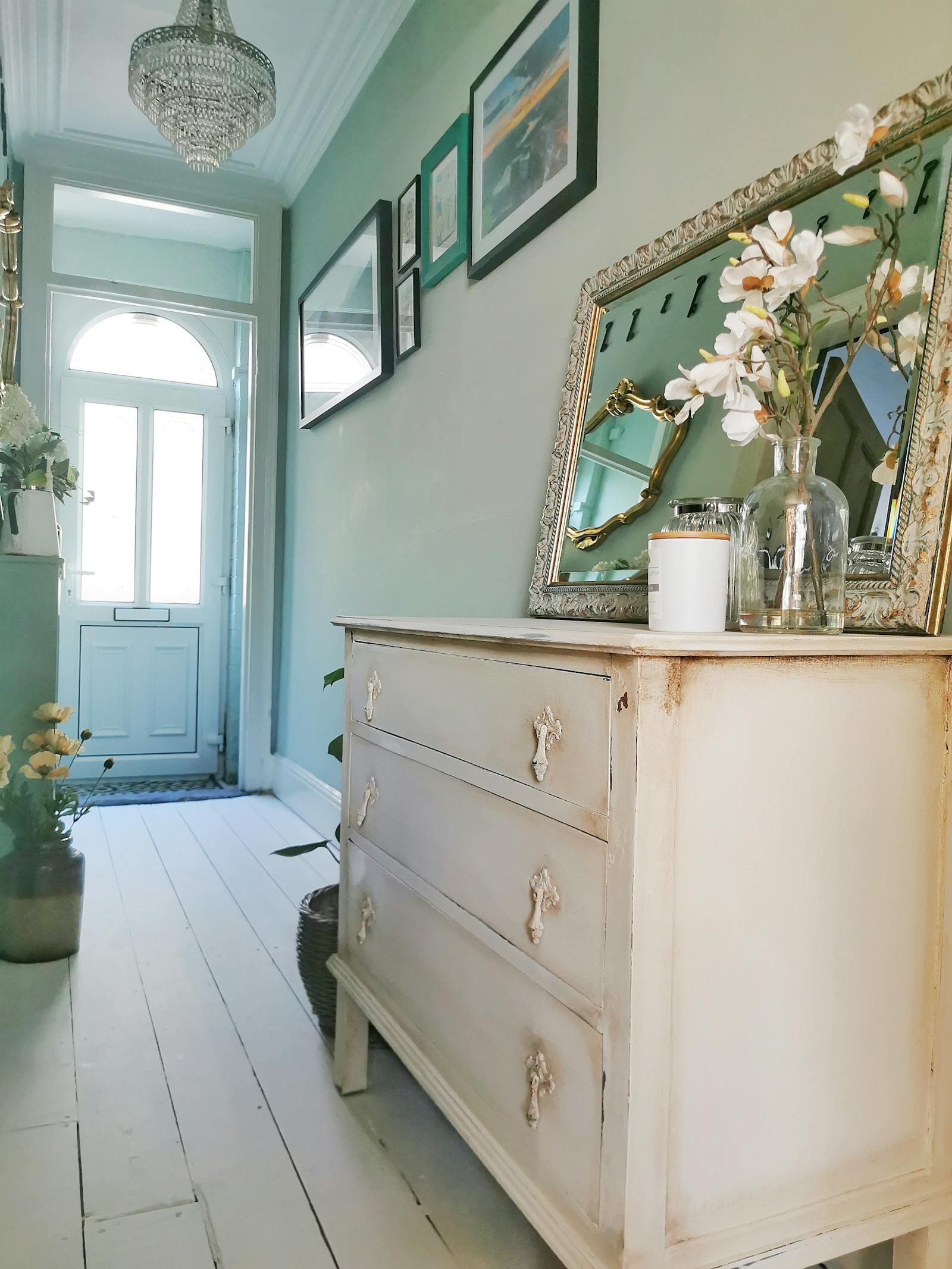 ... and the wooden chest of drawers
Gareth and his partner booked one of our 'Colourist Sessions' with wonderful expert, Tash, who guided them through options based on their personal styles and interior design ambitions. After seeing the mood boards and feeling excited about the concepts we gave them – they went with Teal 01 for the walls. Gareth then kept the brickwork exposed on the chimney breast and finished with a few items of old furniture.
"We've created another rustic look, but with a cleaner finish this time; and the colour makes the room so relaxing to work in. "
The project took Gareth and Paul a day and a half to complete, and now they have a fantastic space to work from home. Their next big projects will commence once their extension has been granted and the building work completed. We can't wait to see what they create!
Gareth's top tips for decorating:
Start with a fresh canvas, cleaning the walls and floors before decorating
When painting, do your edges and cutting in first – it will save you so much time (and so much paint too!)
Whack your headphones on and get decorating to your favourite music – you're bound to get in the zone doing it this way
Don't paint at night! This means you're painting without natural daylight and you are more likely to leave the walls patchy and uneven without being able to see them properly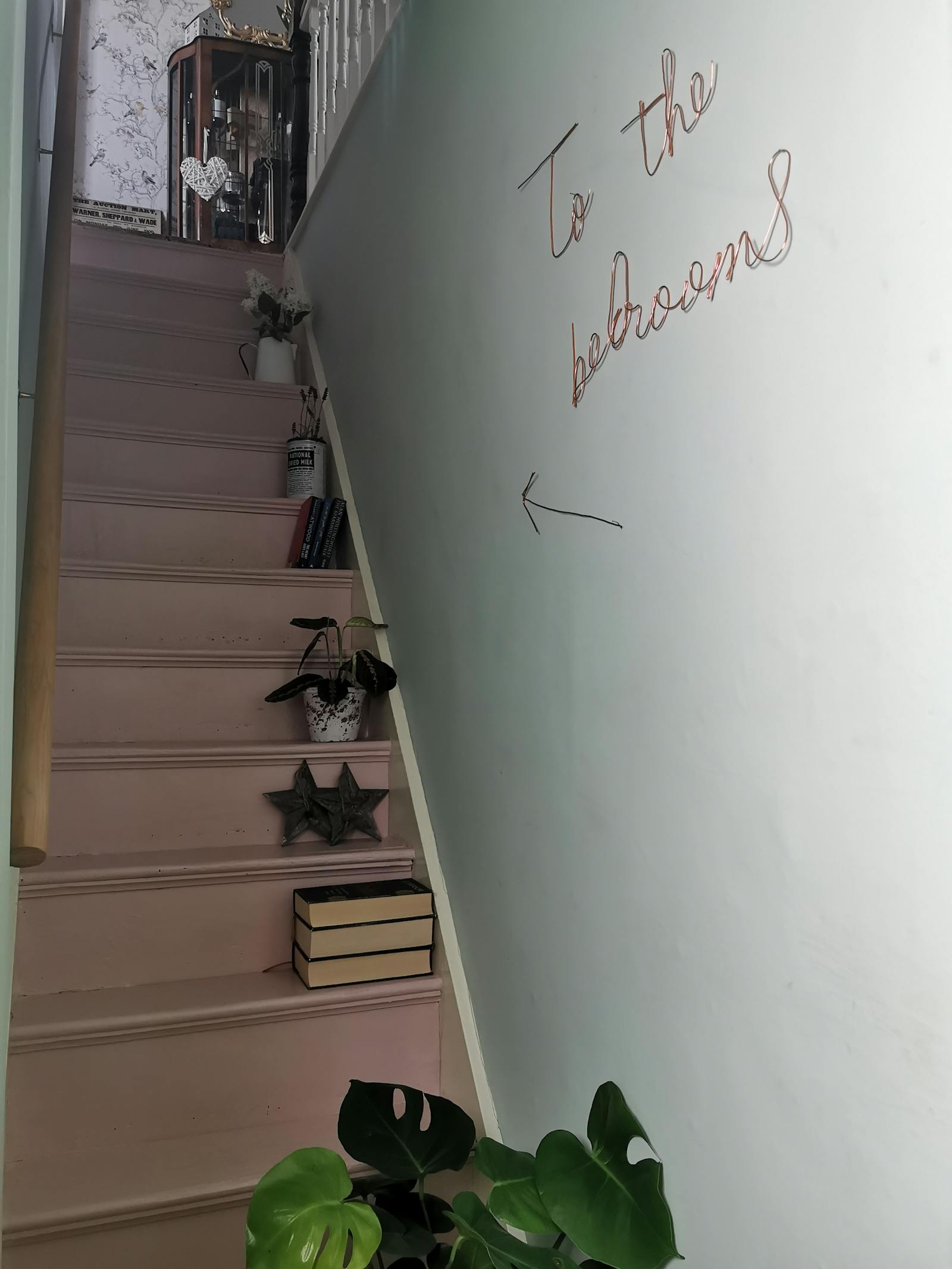 We're more than sure by now - at Gareth's place every little detail counts
Gareth's Lick Picks
We have Teal 01 and Teal 02 already – we love them!
Then I think Pink 01 or Pink 02 would be perfect for our living room too – making the space lighter and more in keeping with our recent DIY ventures.
You can find Gareth and his beautiful home on Instagram - @gareth_at_31.