Real Homes of Instagram: Claire from @ck_homestyle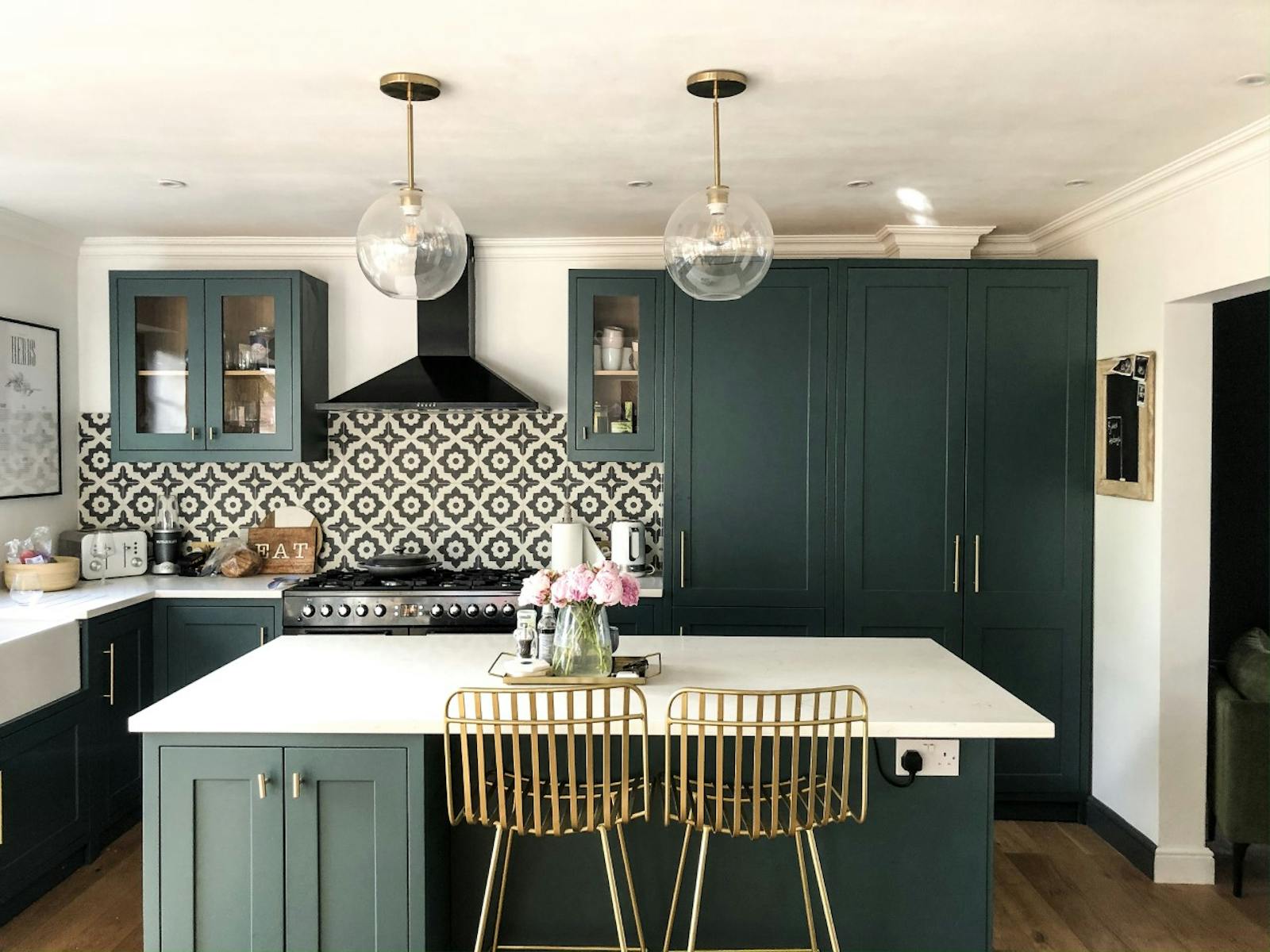 'Real Homes Of Instagram' is our weekly sneak peek into the homes of some of our favourite decorators from Lick's community and beyond.
Next up in the series, we introduce to you Claire - the beautiful face behind the interior Instagram account @ck_homestyle.
Claire is 31 and lives with her husband Liam and their cockapoo, Bailey, in Harbourne. Day to day, Claire runs a small wedding stationery business called Papier & Plume, offering affordable yet luxury designs. If you're currently planning your dream wedding, go check out her website - you'll be spoilt for choice!
Claire also shared some exciting news last month, as she and Liam are expecting their first child in October. A massive 'Congratulations!' from all of us here at Lick! We wish you the very best for your pregnancy.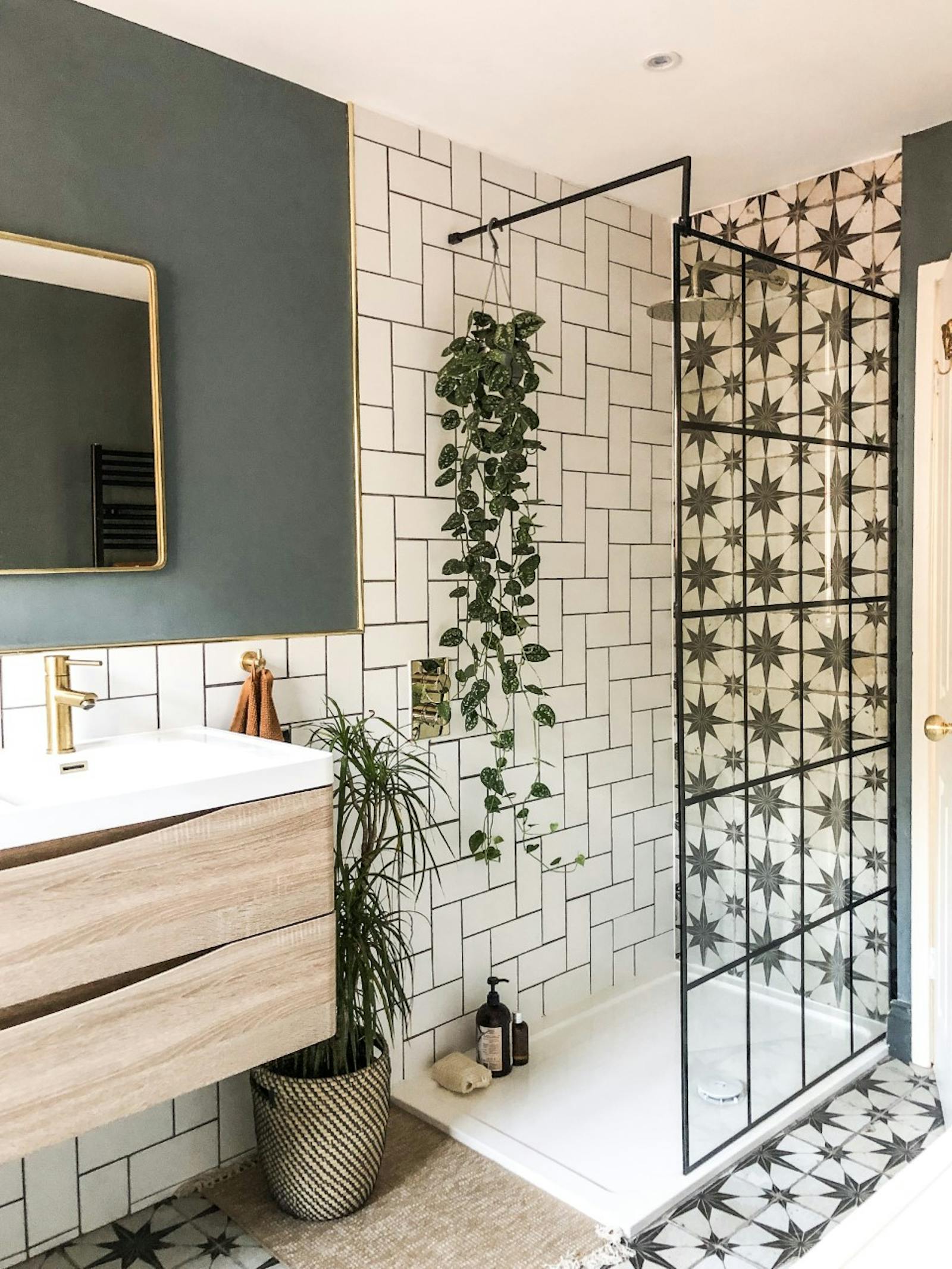 We're loving the teal colour behind the mirror and, of course, the little shower corner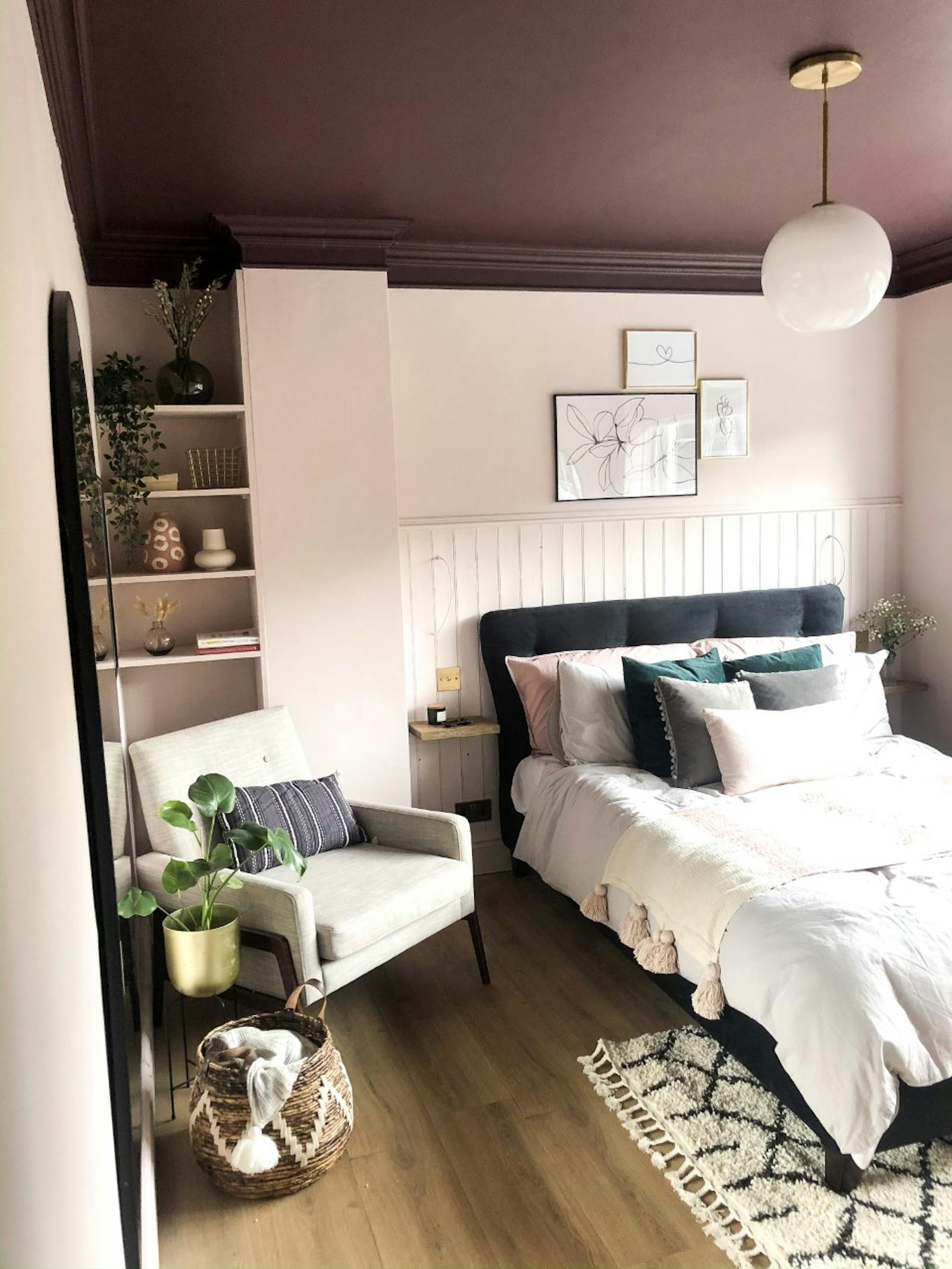 Claire's spare bedroom. Who said that ceilings should be white?
The journey to buying the house they currently live in was a real rollercoaster of emotions for Claire and Liam. They sold their previous home, with only a three-month window to find a new one before they would be charged early redemption fees. They knew they wanted to move to Harbourne, and the only house that attracted them and came within their budget had already sold. Saddened and deflated, the pair flew to New York on a scheduled holiday, but whilst they were there they received a phone call to say the previous buyers had pulled out. Talk about meant to be! Flying home that same day, they jumped off the plane with no sleep and drove straight to the house for one last check. They placed an offer, the offer was accepted and they were all moved in within eight weeks – the rest is history, as they say.
With the house practically untouched for over 20 years, Claire and Liam decided to rip everything out and start from scratch. Claire describes her style as an eclectic mix between bold colours and striking patterns - allowing each room its own personality.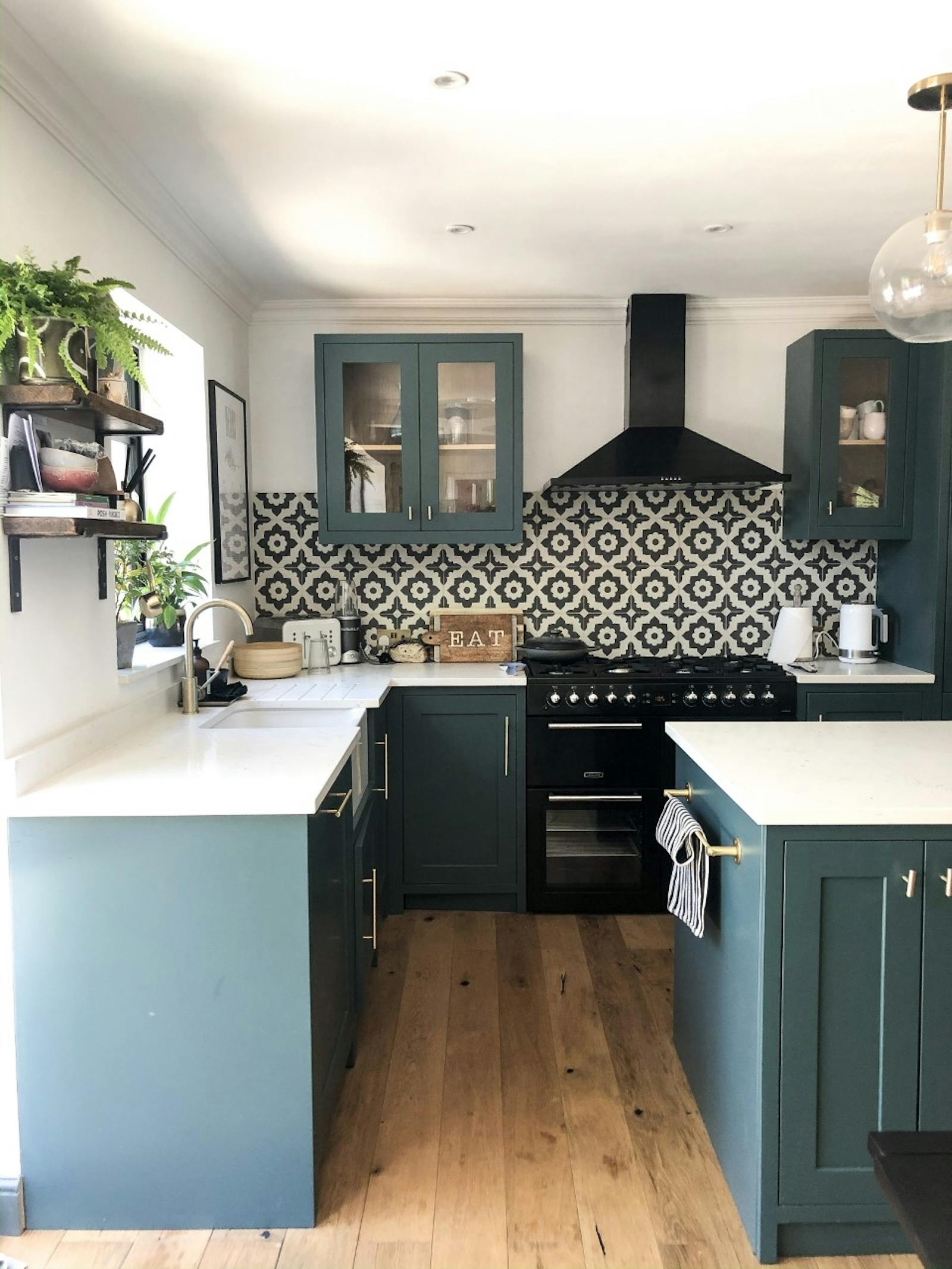 Talking about striking patterns... we can't stop looking at these tiles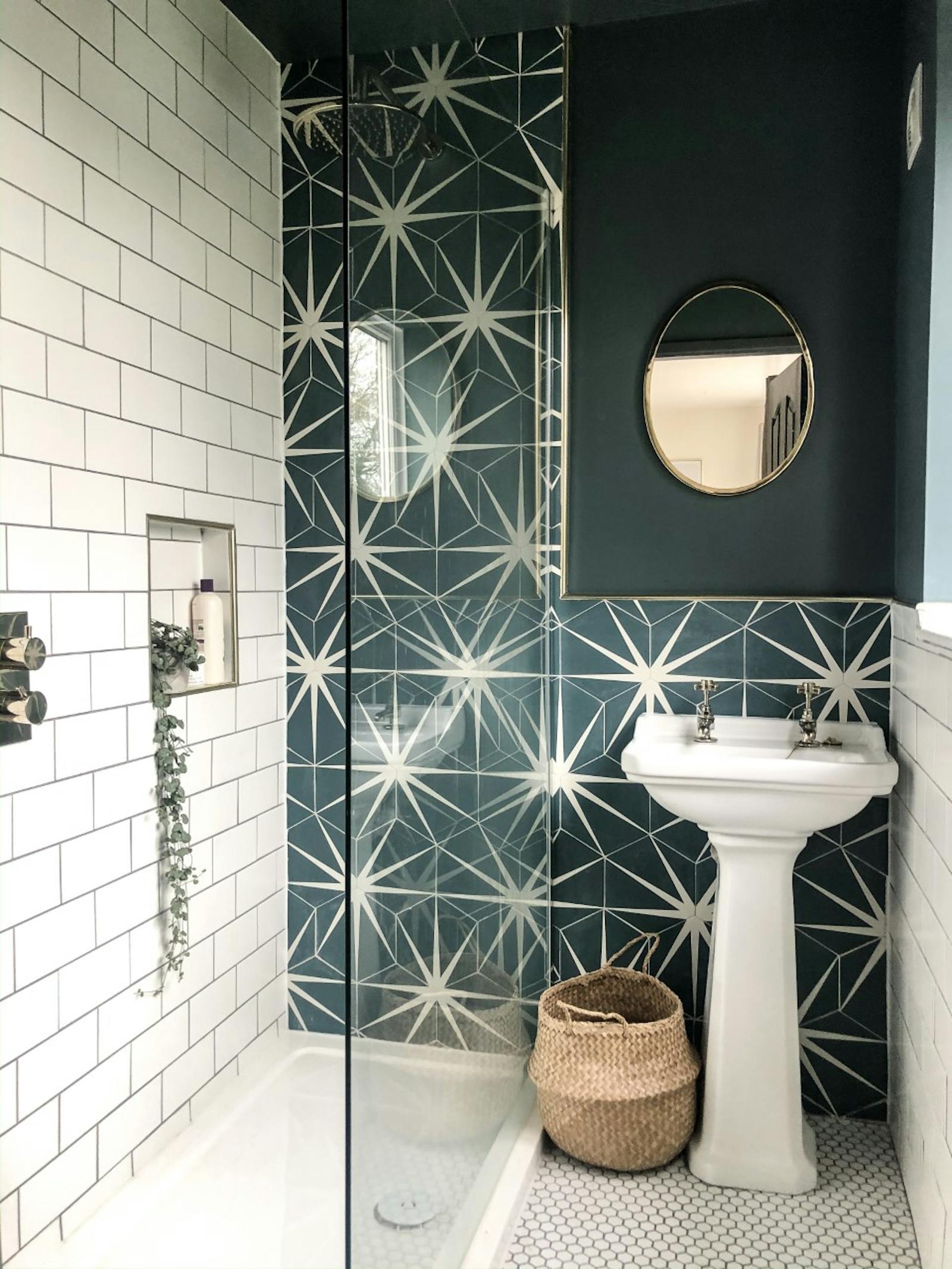 Another perfect spot for patterned tiles - the ensuite
For inspiration and ideas to decorate her home, Claire turns to Pinterest, Instagram and interior magazines…
"I think following interior accounts on Instagram is a great start, as there is so much inspiration out there; from different people with completely different styles. The best thing is that the inspiration is free, and everyone is always so happy to help and advise, so it's easy to find where things are sourced etc."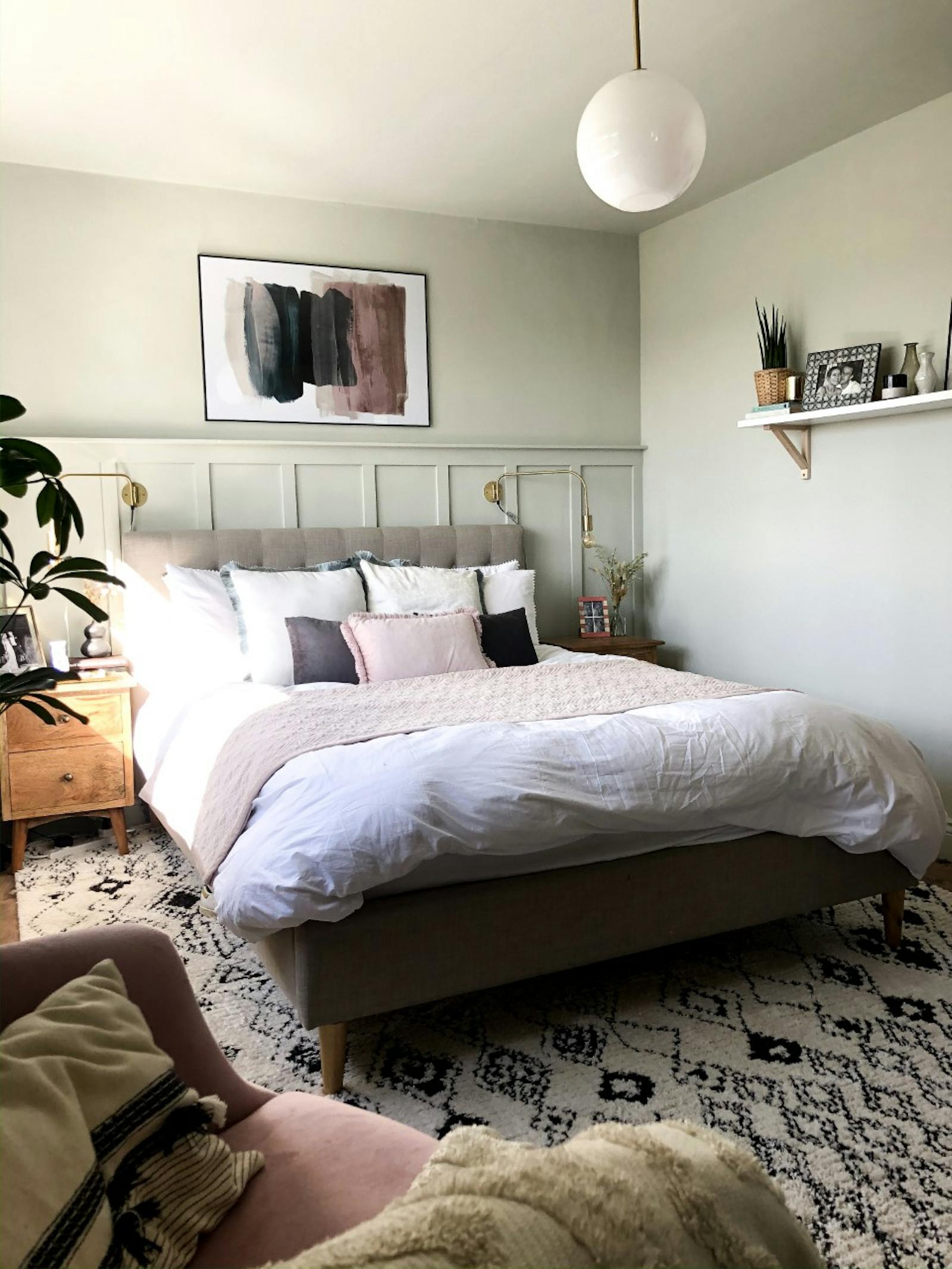 Claire's bedroom is painted in the most relaxing colour - green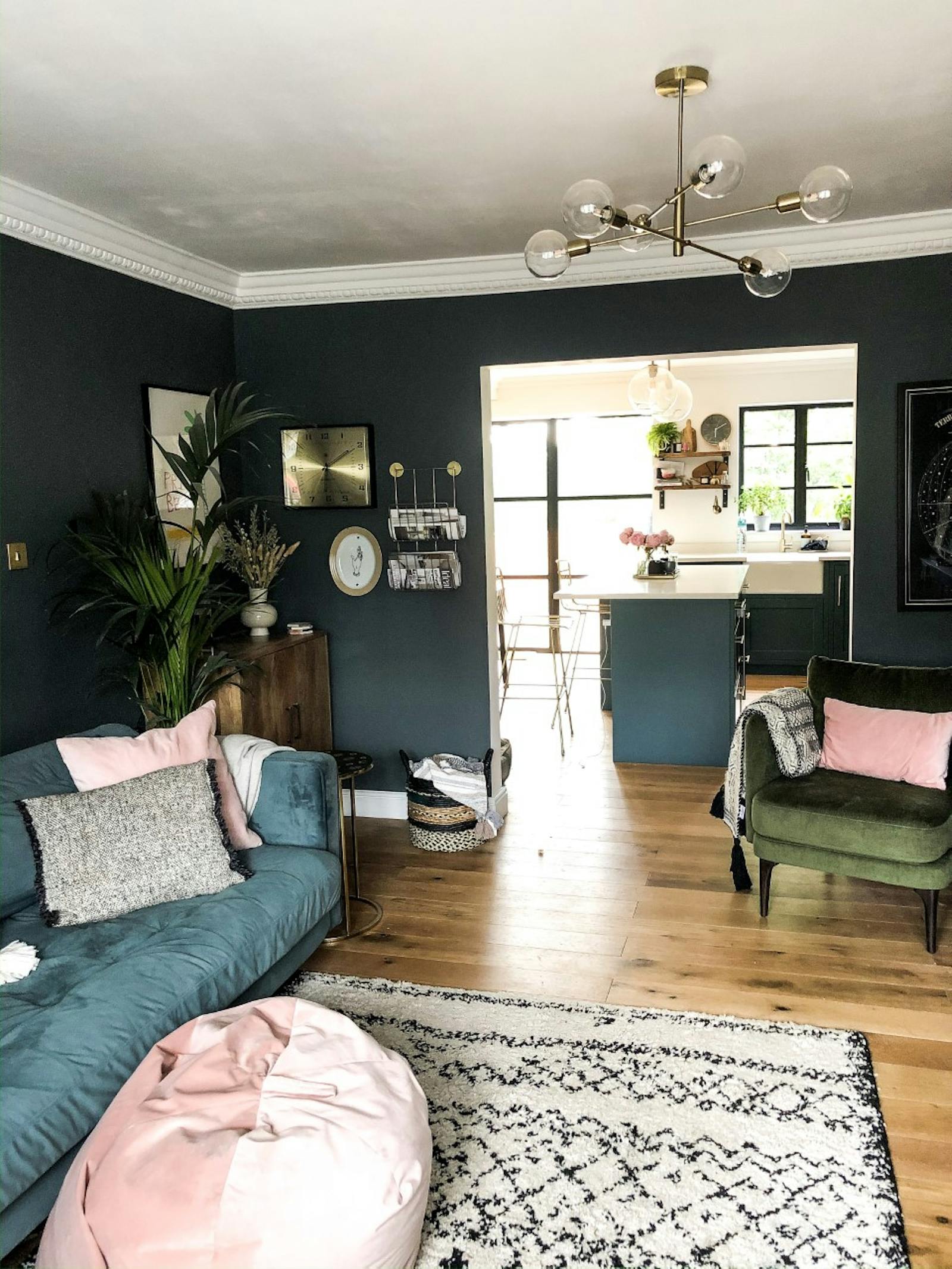 Every room in Claire's house has its own personality and we can definitely spot a smooth transition from light colours, such as green and blush, to darker tones like this deep teal
"We really love decorating and DIY! We're kind of at the stage now where we would like to just sit back and enjoy the house, without having to think about the next room that needs doing. Our dream is build our own house one day! I grew up with my Dad always doing stuff around our family home, and I think that's rubbed off on me. He has also been a huge help on this project. It's pretty special when you take a step back, or look at the before and after pictures, and think - 'I did this'."
Claire's next project will be the baby's nursery, and they have decided it will be decorated in neutral tones and feature natural wood furniture. Keep your eye on her Instagram page for the upcoming nursery reveal. We already can't wait!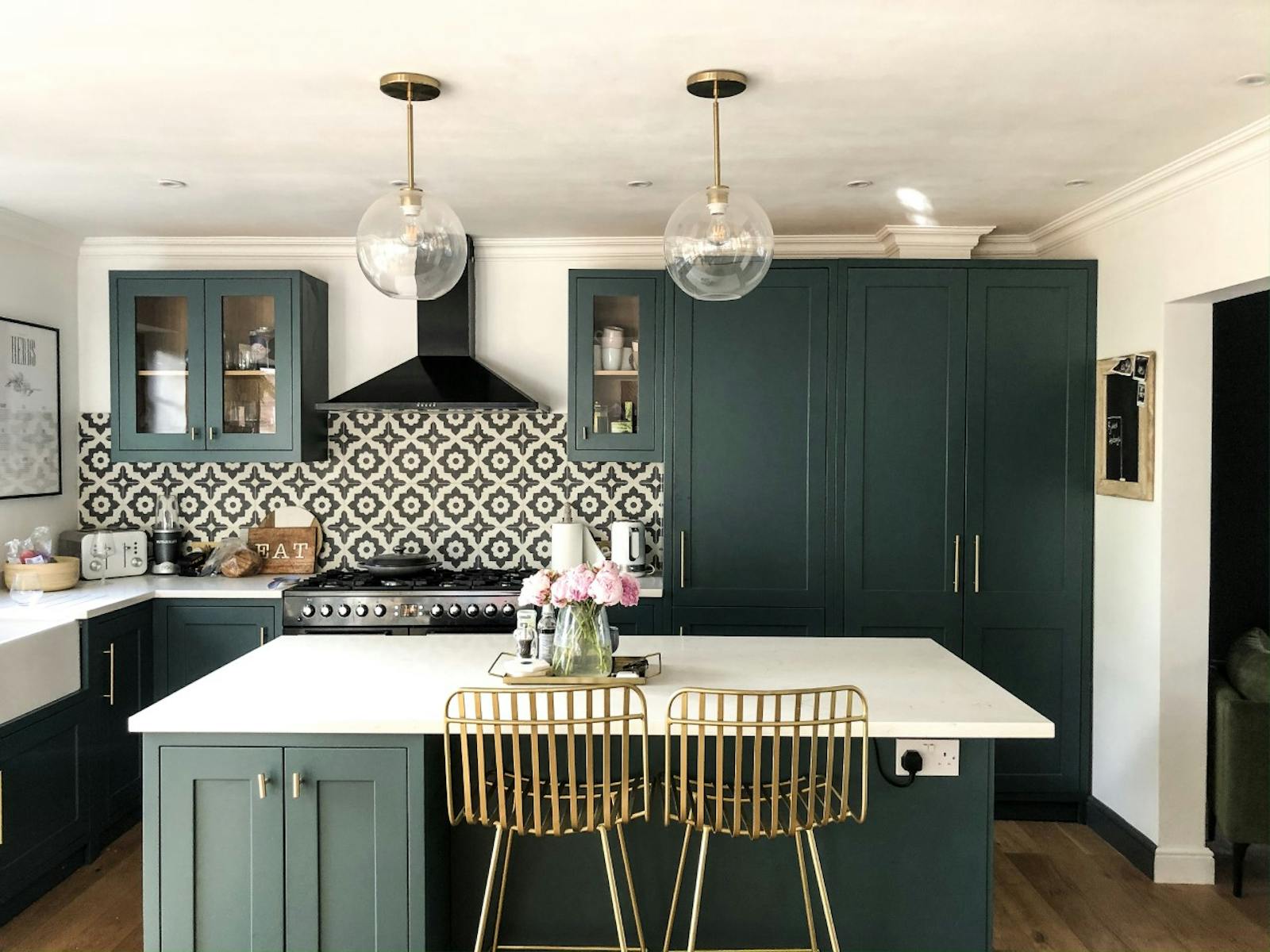 A frontal shot of her beautiful kitchen
Claire's top decorating tips:
If you're laying a new floor, always paint the walls first. You don't want any paint splashes now, do you?!
The last job should be your skirting – and we've found that painting your skirting before putting it on is really helpful
Investing in giant dustsheets will always be worth the spend – and they can remain stored away ready for each and every new project
'How to' tutorials on YouTube are brilliant – especially for DIY and renovations
I would always recommend buying furniture and furnishings before deciding on a paint colour. They are likely to be the most expensive out of the two, and you can always change your mind on paint, without it completely breaking the bank!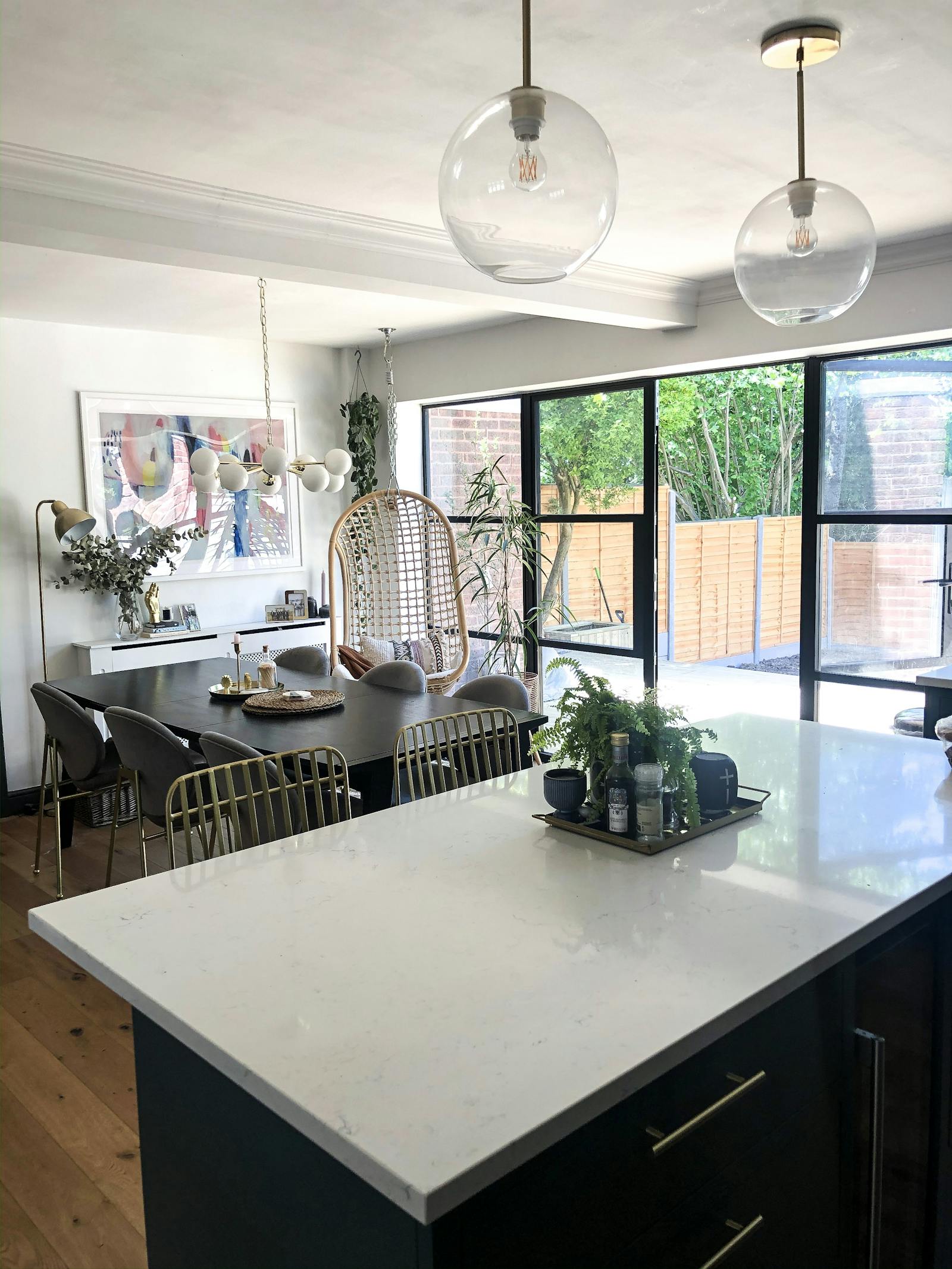 A view of the dining room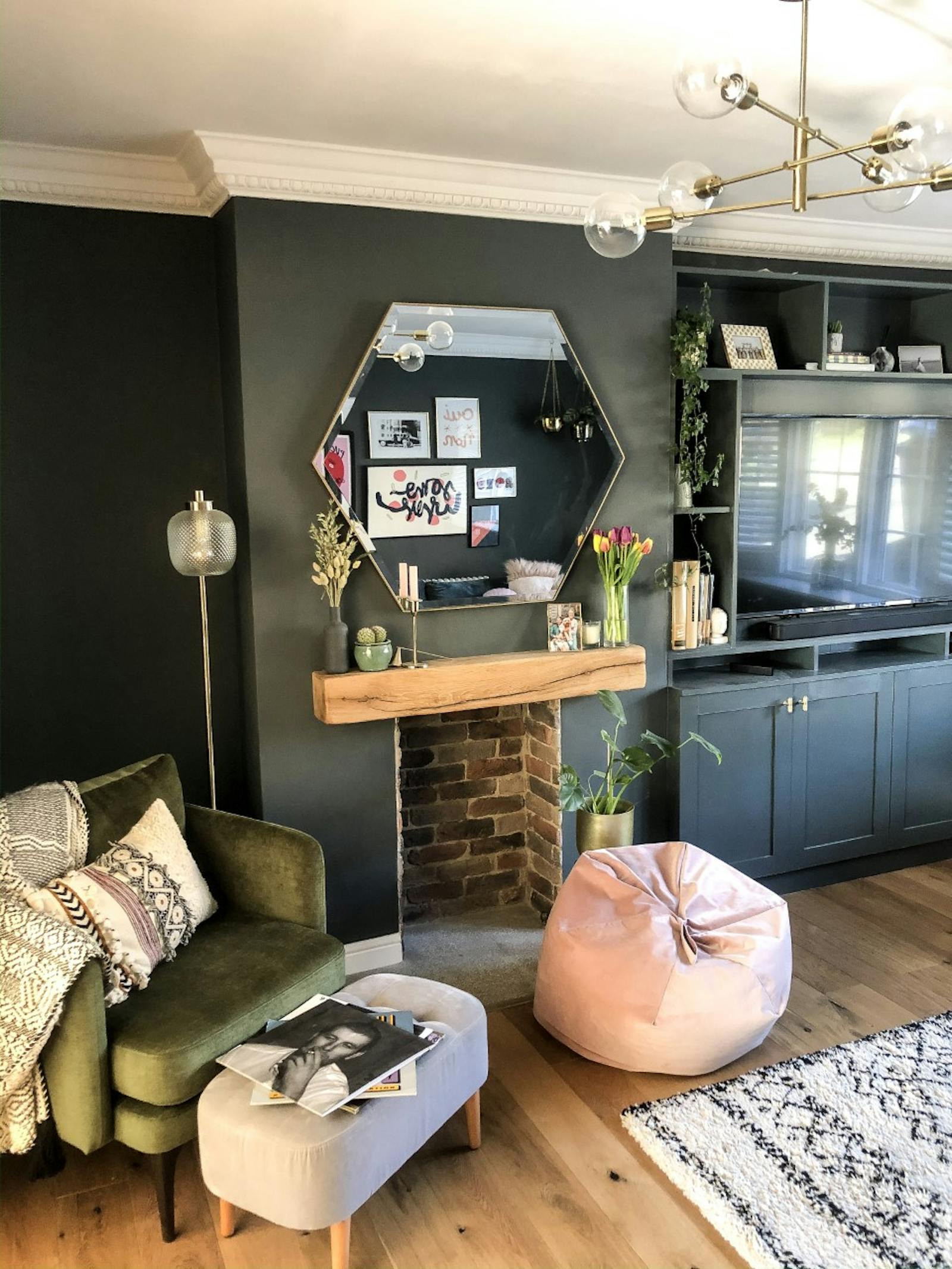 Claire's Lick Picks!
I love all of Lick's wallpapers, the patterns are so cool! Animal 03 with the kissing giraffes is definitely my favourite. This would look great in a child's bedroom.
I love the paint colour Green 04, as it's really similar to my kitchen cupboards. White 03 looks like a really nice, neutral shade – especially for anyone who's afraid of bold colours in their homes.
You can find Claire and her beautiful home on Instagram - @ck_homestyle.