Real Homes of Instagram: Christina from @thisonefloats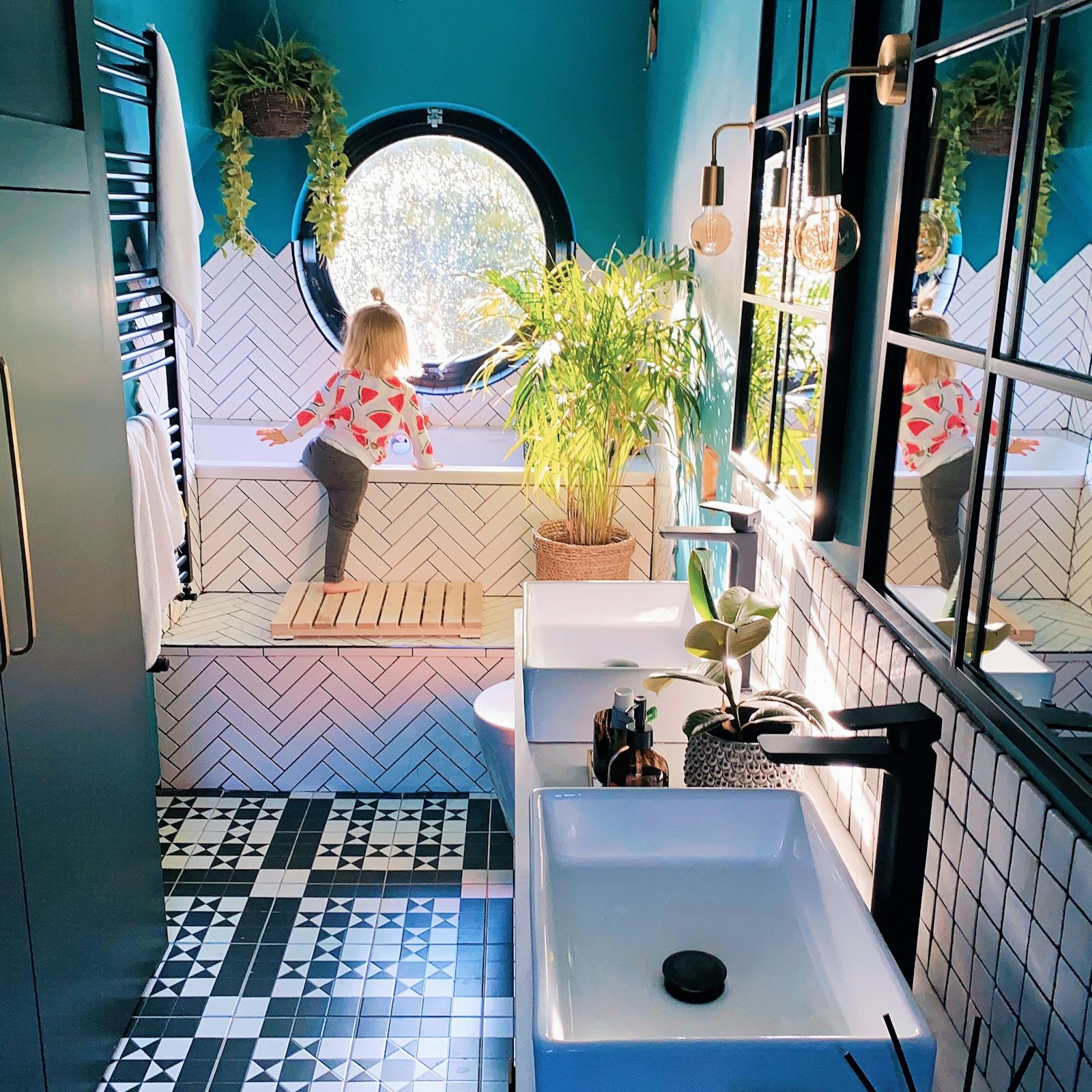 'Real Homes of Instagram' is our weekly sneak peek into the homes of some of our favourite decorators from Lick's community and beyond.
Next up in the series is Christina (@thisonefloats). She is 34 years old and works as a Creative Studio Manager in London. She lives on a modern, Dutch barge on the River Thames with her partner Rohan; daughter Elara and their dog Aluki.
They purchased the vessel as an industrial cargo ship in Belgium and sailed it back to the UK to begin converting it into a three-bedroom home that floats!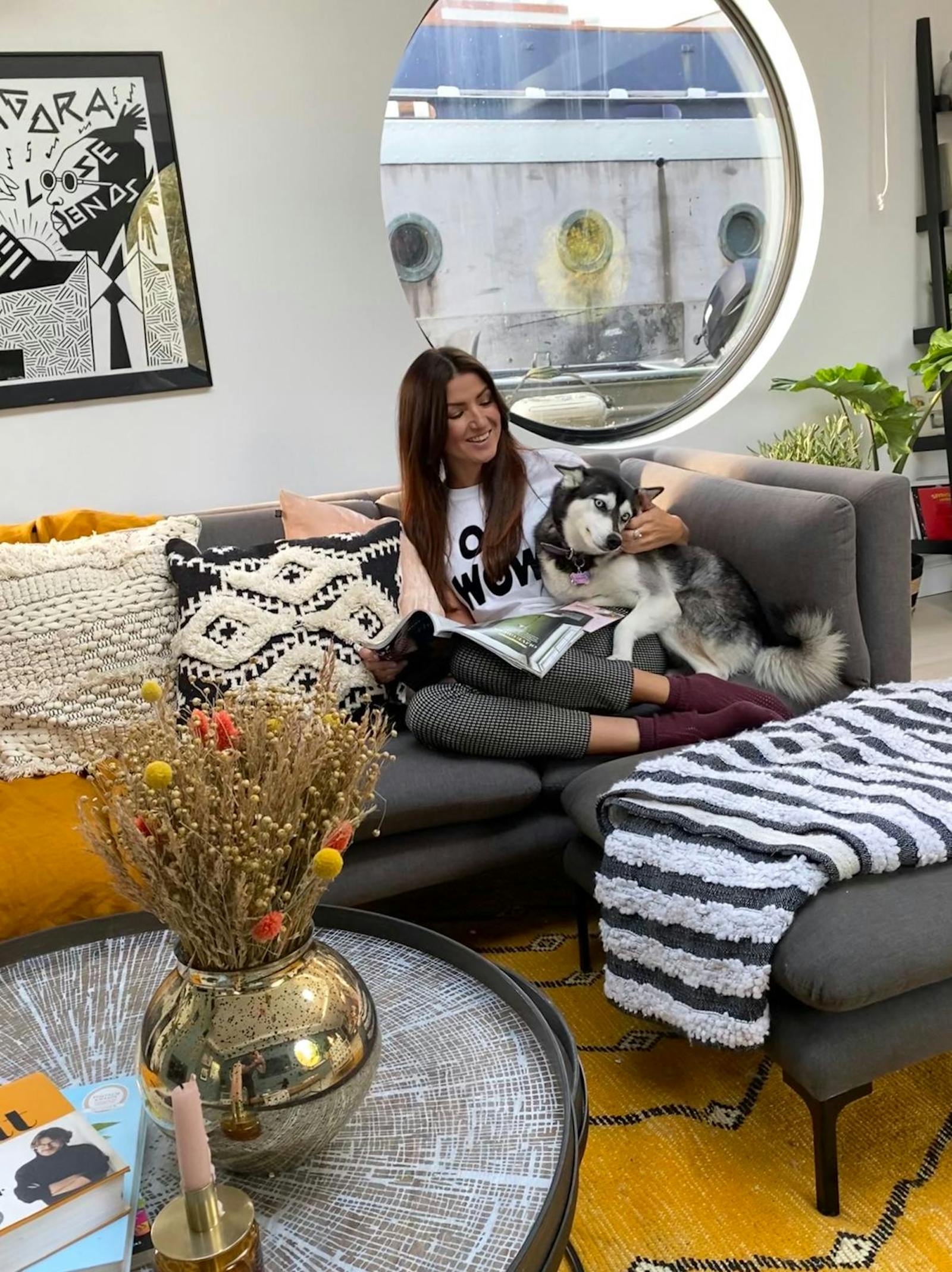 Meet Christina and Aluki!
"We loved the fact that we could design our home from scratch, building up from what was basically a giant warehouse space. It's a modern build with giant portholes looking directly onto the water level. This is our first (owned) home!"
Christina describes her signature style as clean and bright; with hints of Nordic and Nomad styling. She especially loves geometric patterns, brass hardware and industrial light fittings. Her favourite colour combination is pink and green, which you can see in their bedrooms and tableware. The kitchen is Christina's favourite space in their home…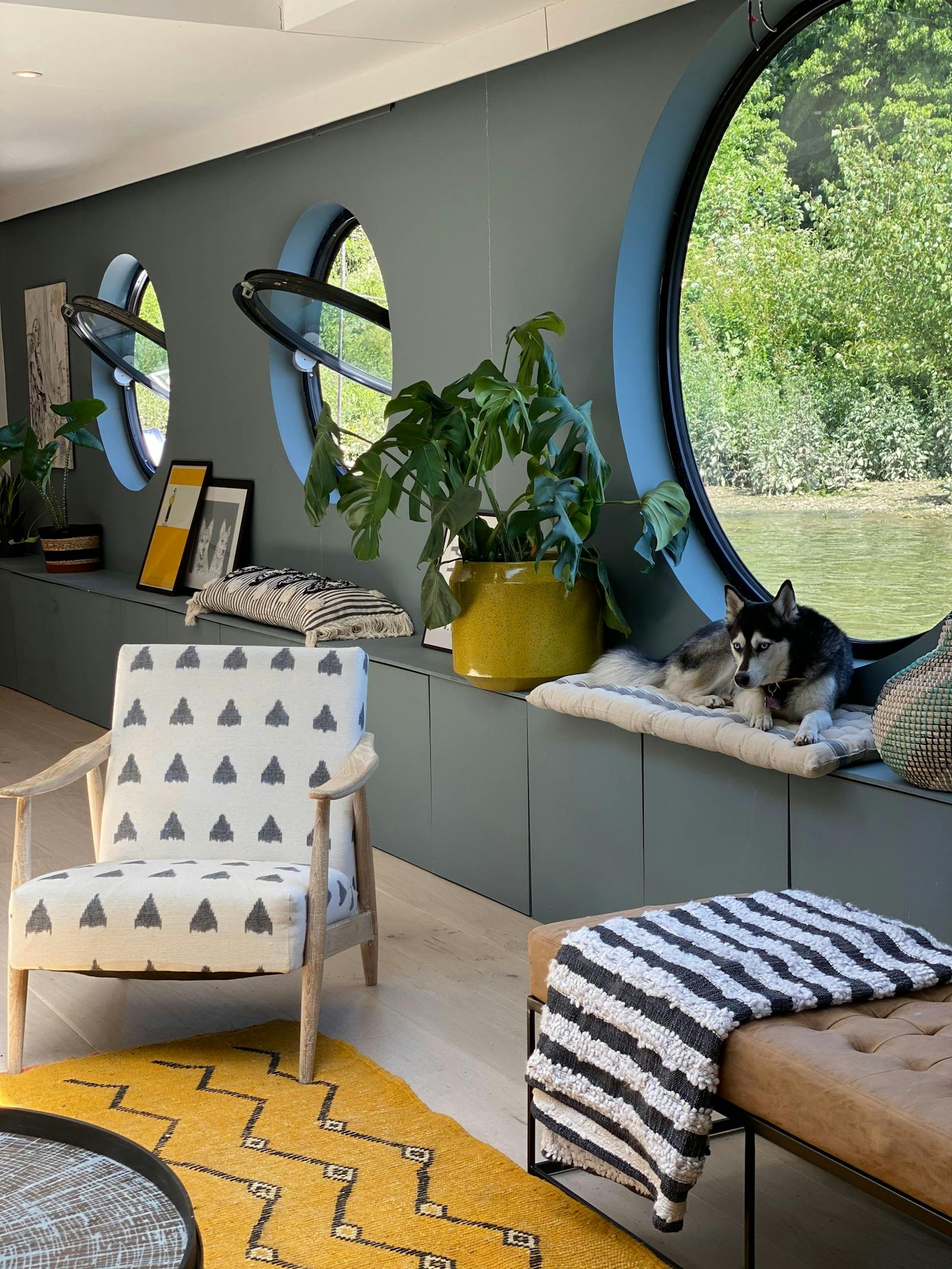 Christina's love for geometric patterns can be seen in her choice of soft furnishings throughout the flat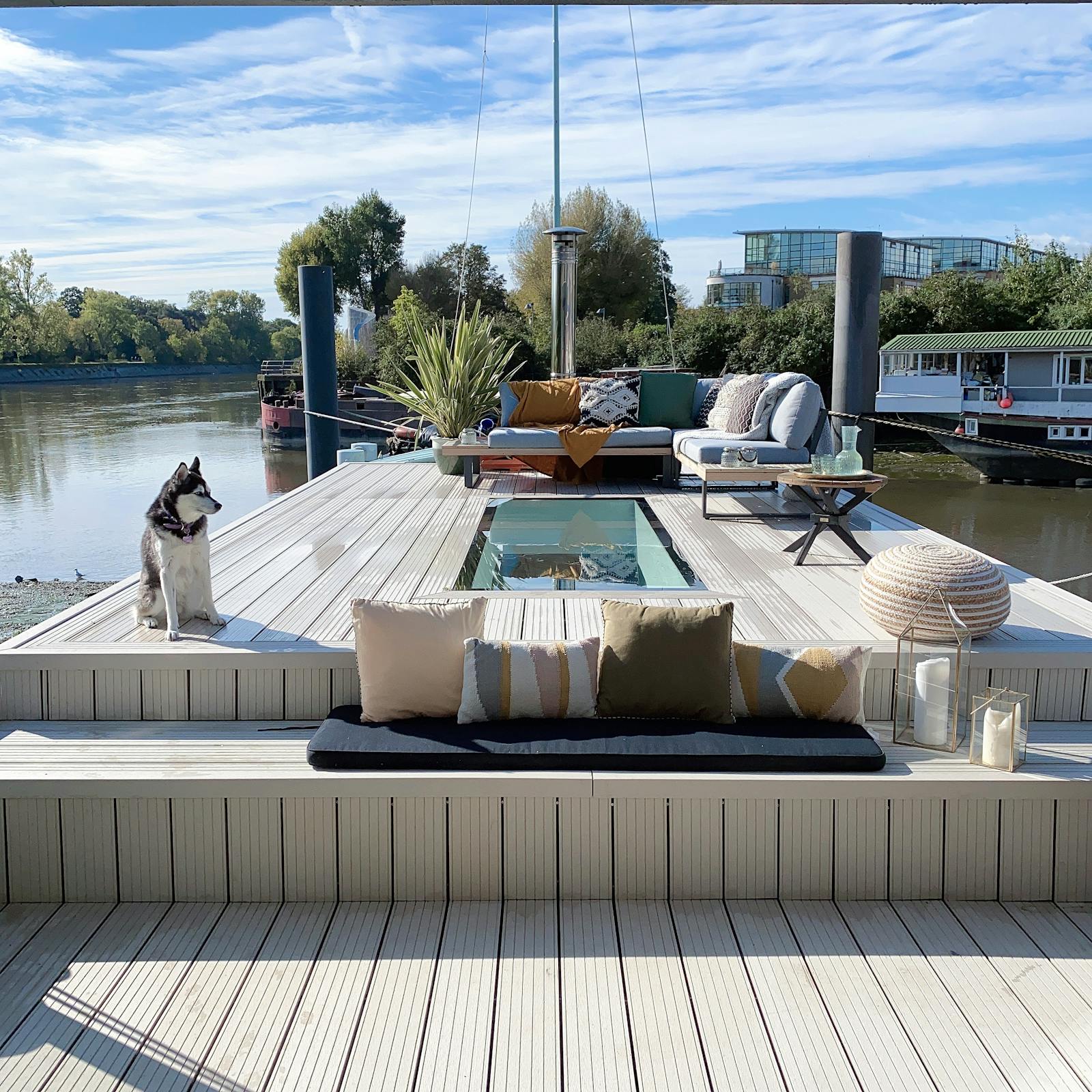 Christina's gorgeous deck looking over a river in London
"It's so bright it's a great space for working, eating, catching up… When the weather is warm we throw open the bi-fold doors and it's beautiful enjoying not only the river, but all of the activity on the river."
Their favourite colour to use in their home is blue. They have used a denim shade in the living room, which assists in keeping the space bold and cosy; then two different types of teal in their en-suite bathrooms. Christina loves how the colour teams so perfectly with their brass fixtures and fittings. "I really like each room to feel unique, but I do like there to feel like there is a thread of continuity around the home."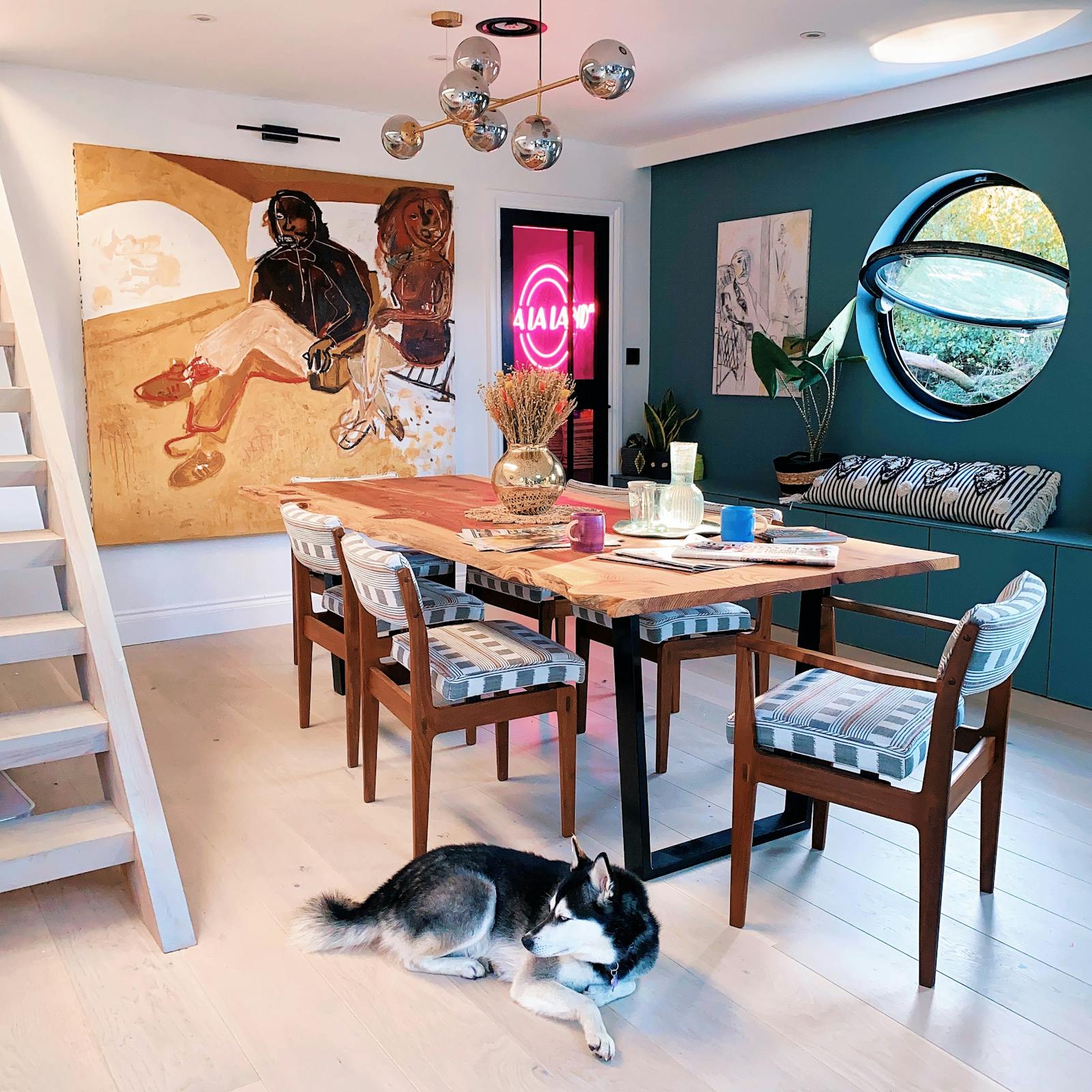 The living room was painted in a denim blue to keep the space bold and cosy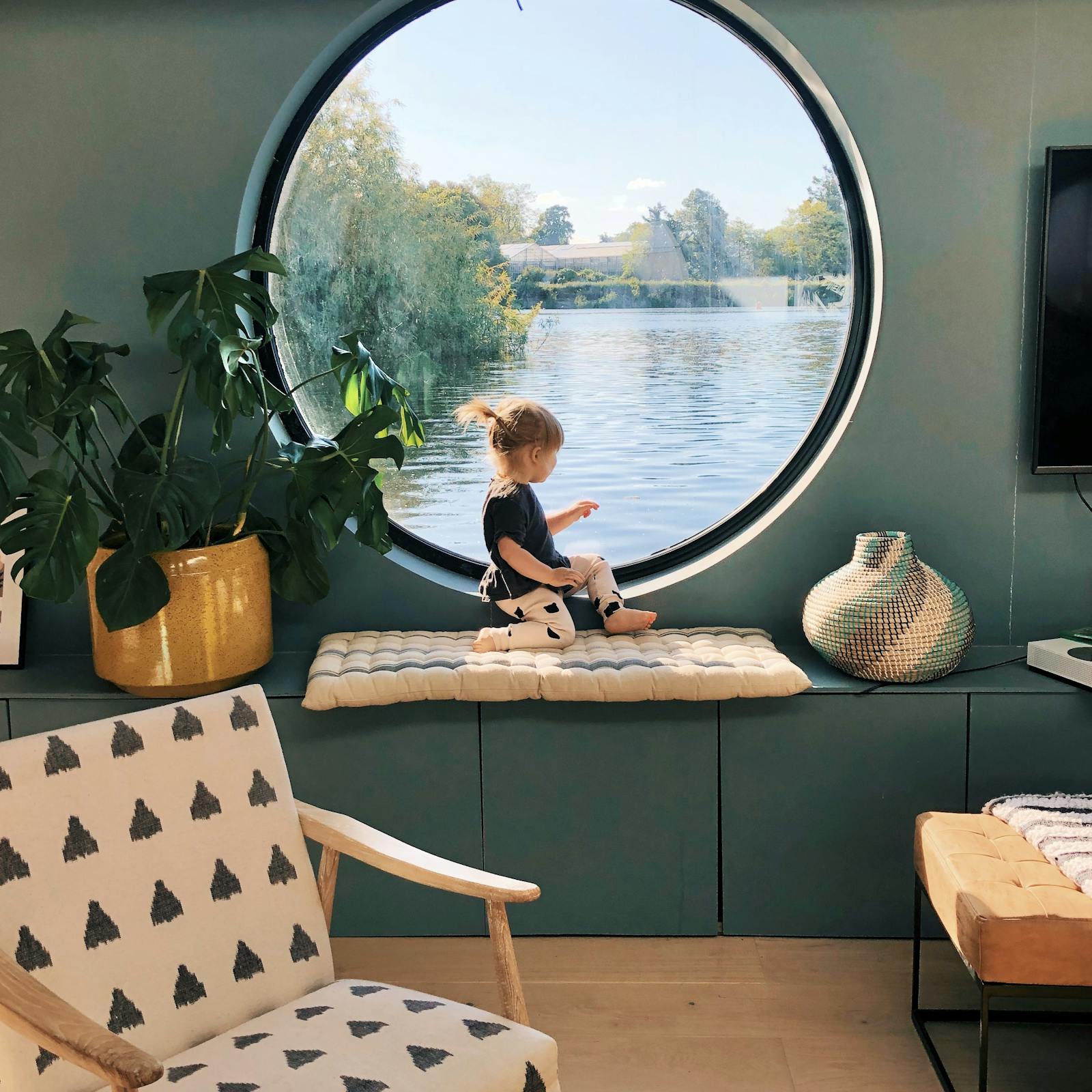 Elara enjoying the gorgeous view from their living room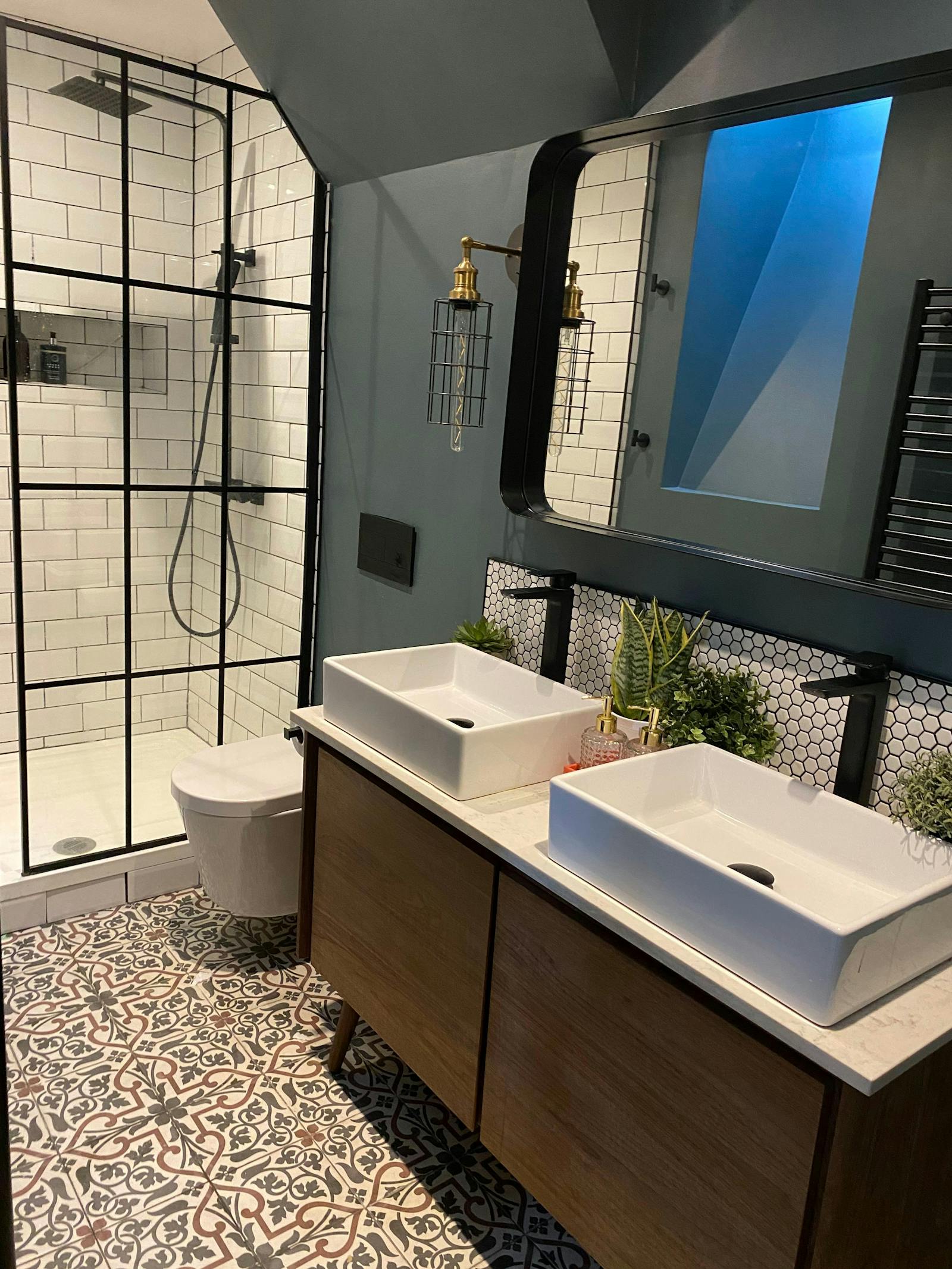 Christina used two types of teal in her bathroom which match her fixtures perfectly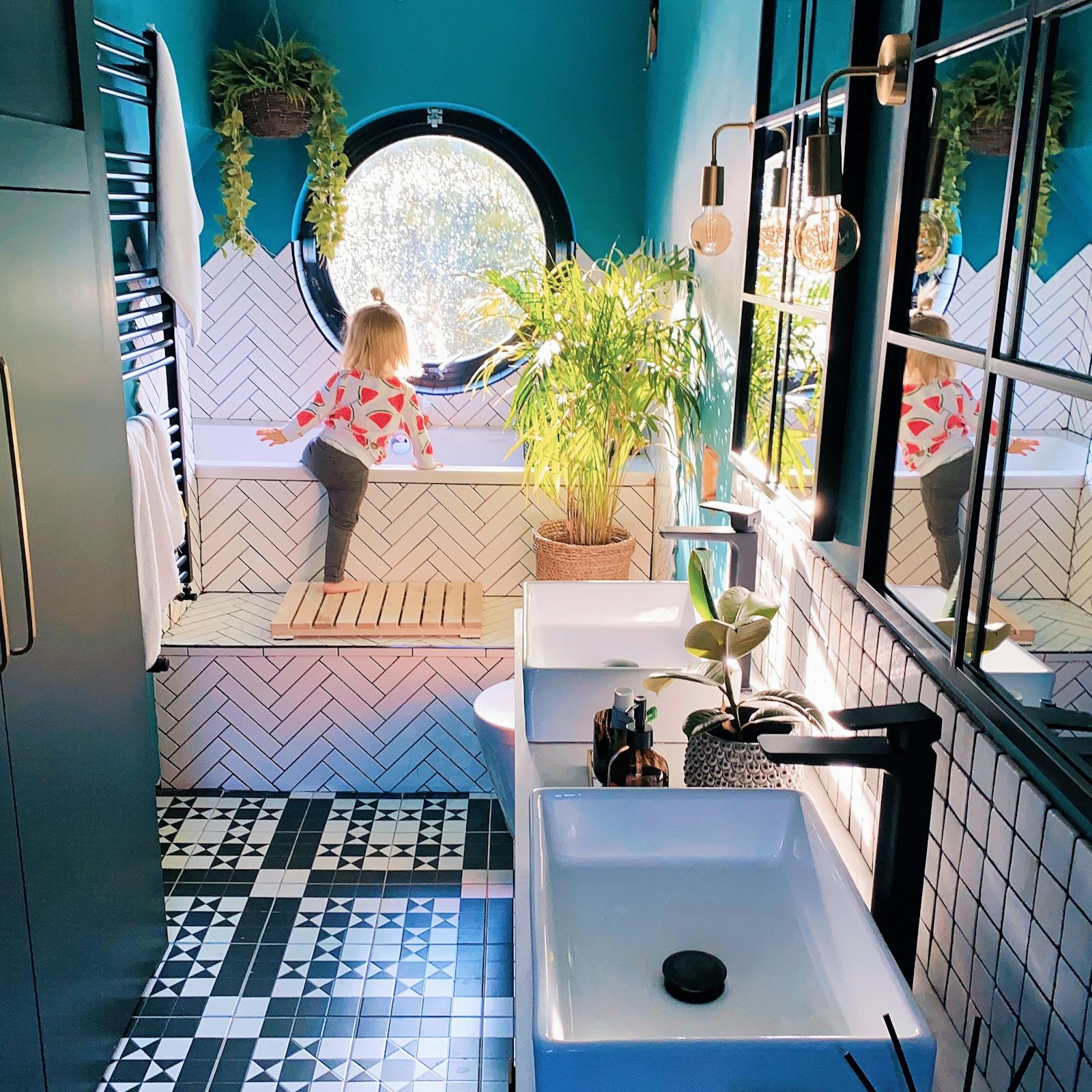 A gorgeous teal bathroom with eclectic tiles
Sourcing inspiration from Instagram, Pinterest and interior magazines; Christina tends to search for ideas based on a colour she loves. For example, her favourite colour is blue – so she will search for homes and interiors using that colour, and take creativeness for styling, furniture and accessories from there.
As we enter the autumn / winter period of 2020, we asked Christina how she switches up her home in order to suit the colder months…
"I love a cosy home, especially in Winter. I'll be pulling out all my throws and blankets, so there is one in grabbing distance wherever you go! I've also started buying dried flowers, which I think look really autumnal and pretty (and last longer, too!)"
Christina's top tips for a cosier home
Dried flowers. They last so much longer than real flowers! For a table centrepiece, try grouping together a few different vases
If you don't have a fireplace; cheat, and create a centrepiece using pillar candles in glass lantern holders
On your bed, mix and match colours and textures. Try layering with a dual-coloured linen sheet, or a cosy waffle blanket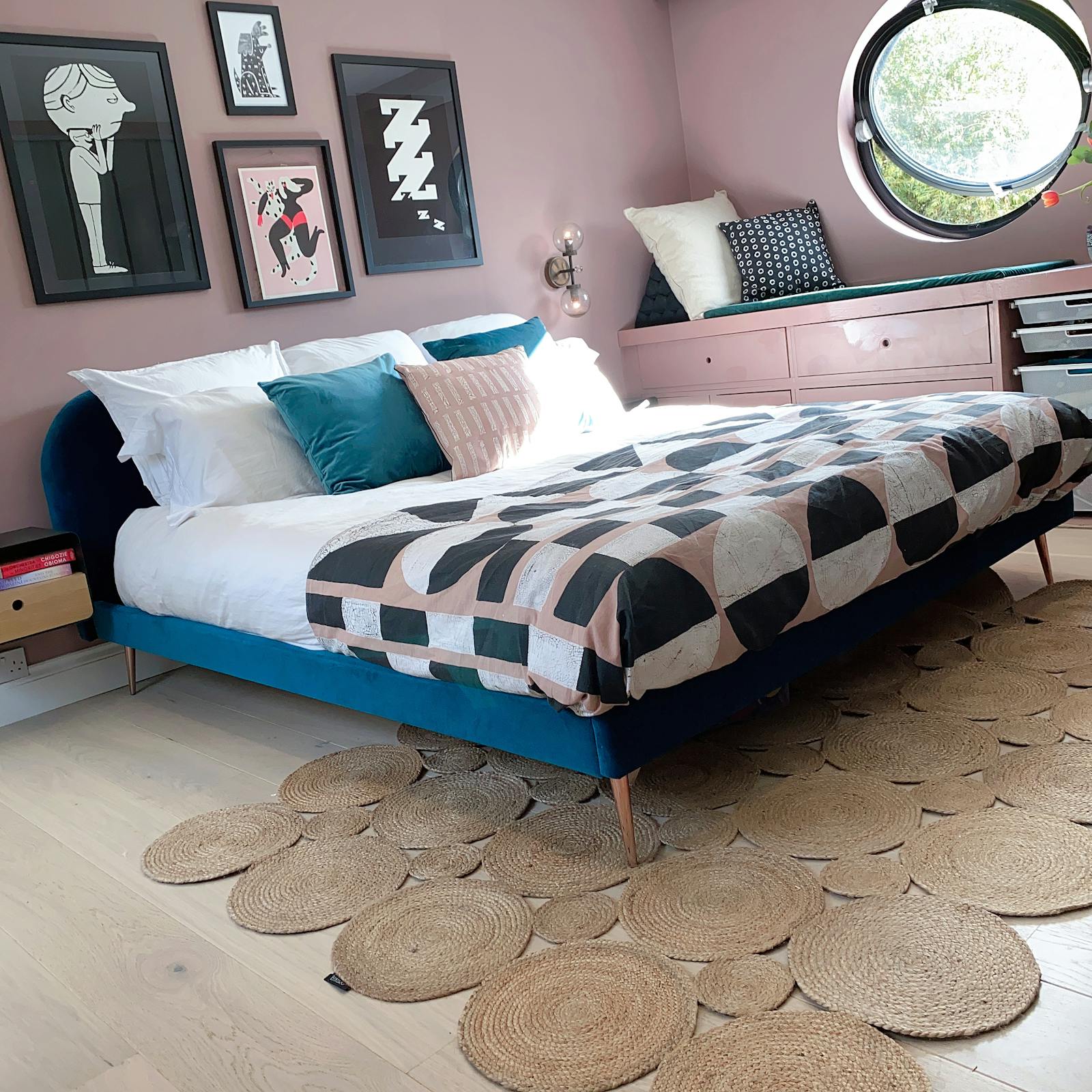 Mix and match your bedding for a cosier home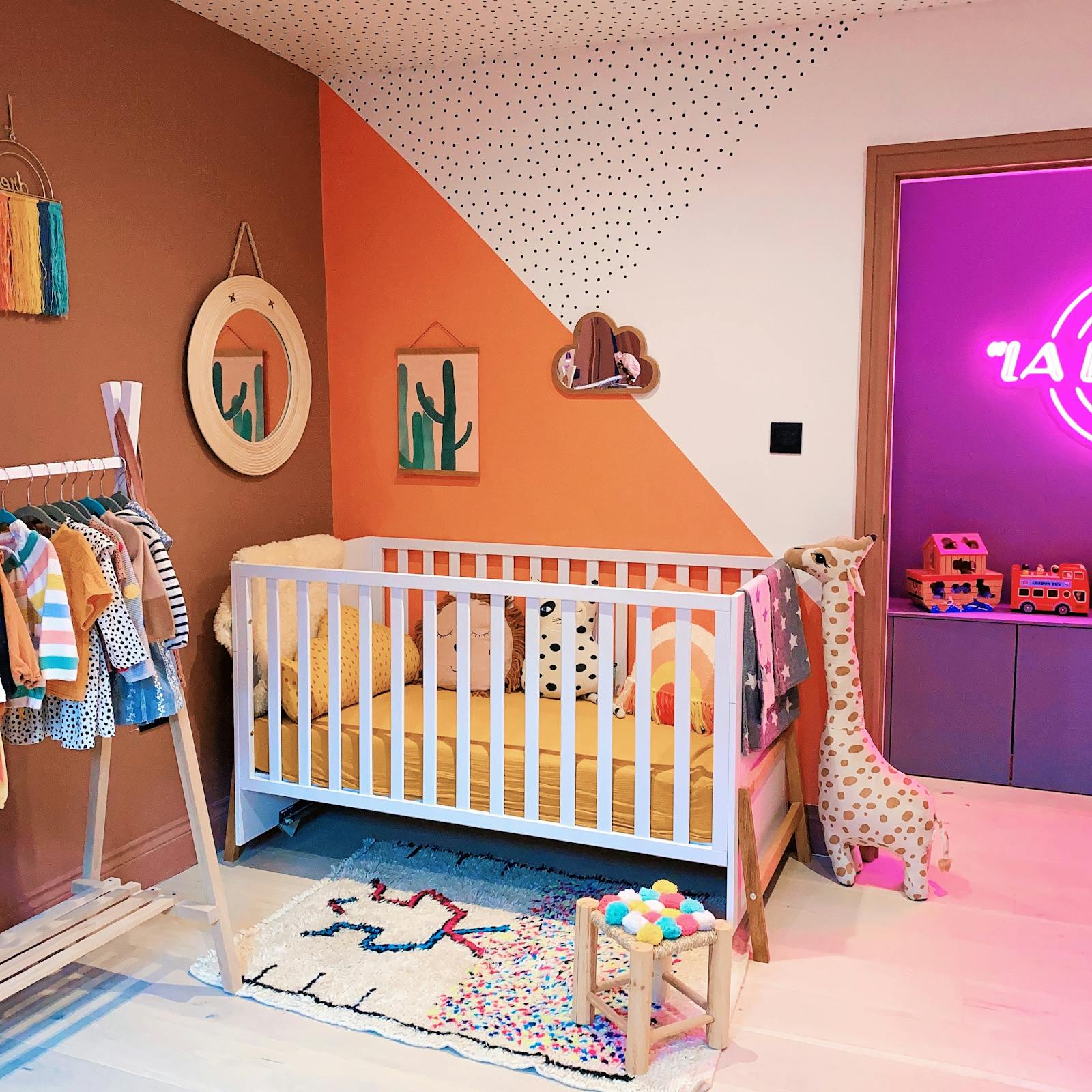 Colours and textures can be mixed and matched on walls too!
Christina's Lick picks for autumn / winter
Red 03 – this gorgeous, warm shade would look fantastic on the wall behind our dining table. Paired with the brass touches we use on the table (vases, cutlery etc.) and candles; it would set a really warm ambience for long, cosy Sunday lunches.
Green 07 – wish I'd used this shade somewhere on the boat! I think it would look fab in our daughter's bedroom, against the natural textiles on the wall.  I think green is relaxing, but also playful. Love the thought of this shade paired with rattan furniture.