Real Homes of Instagram - Carissa from @aboldnewhue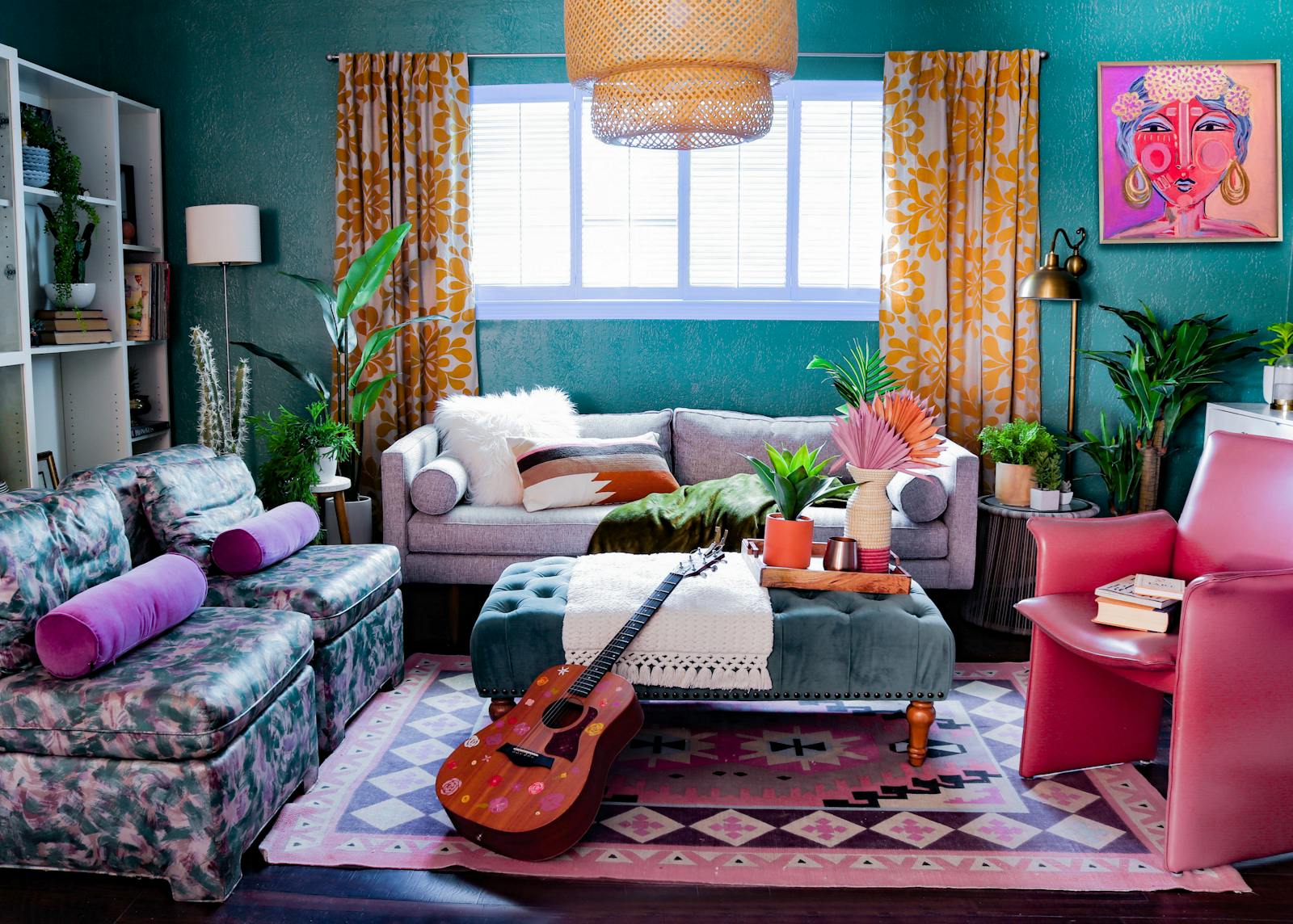 'Real Homes Of Instagram' is our weekly sneak peek into the homes of some of our favourite decorators from Lick's community and beyond. Next up in the series, we introduce to you Carissa (@aboldnewhue). She is 32 years old and lives with her husband, cat and two dogs in Dallas, Texas. She has recently transitioned into the world of interior design and offers virtual styling and design advice.
Their home is a late 1970s property that they bought and moved into around four and a half years ago, now. The house was very basic and in-need of some renovations and colour. They always knew they wanted a 'fixer-upper'; so that they could transform the spaces. complete with a desired tick list.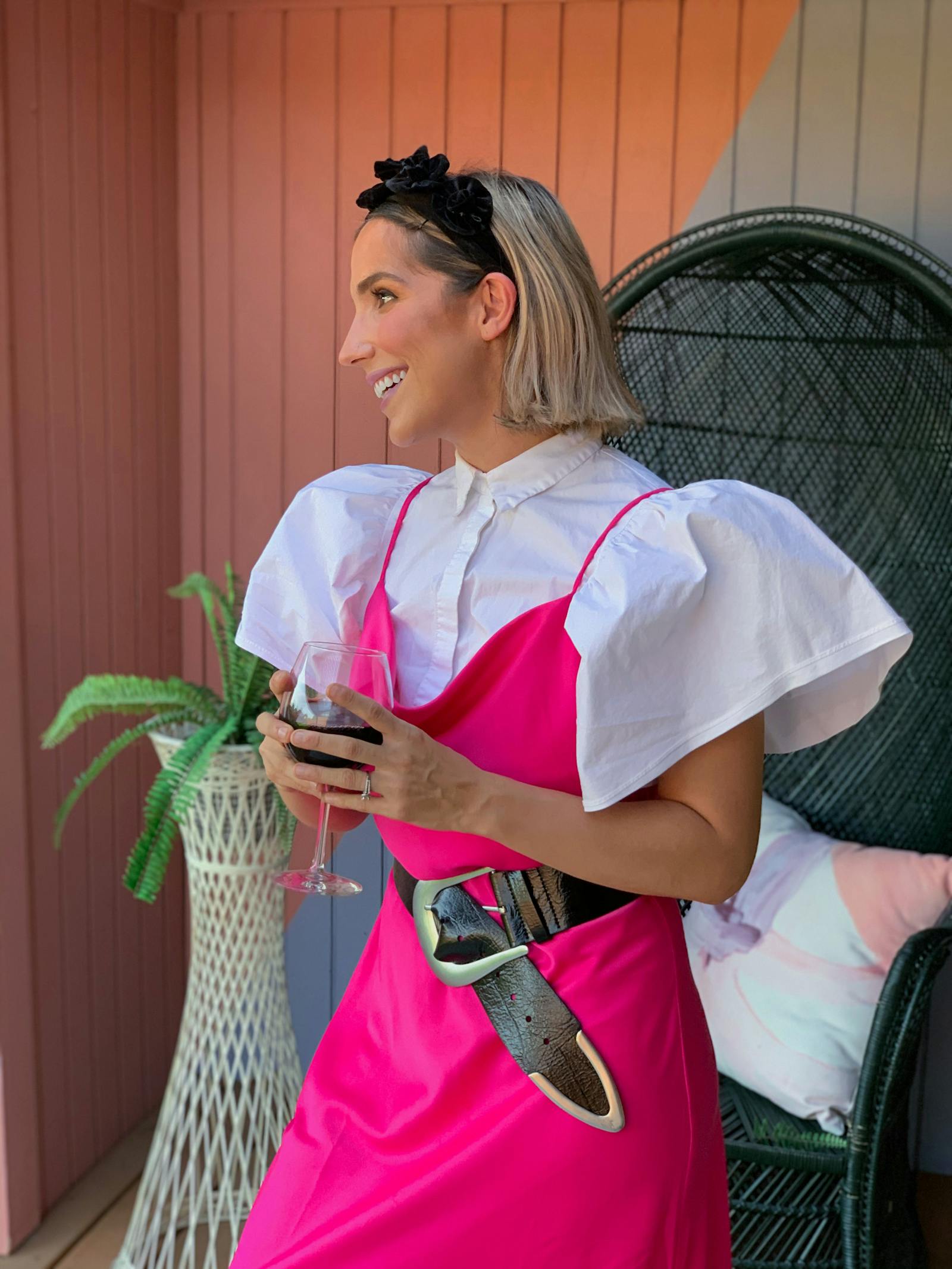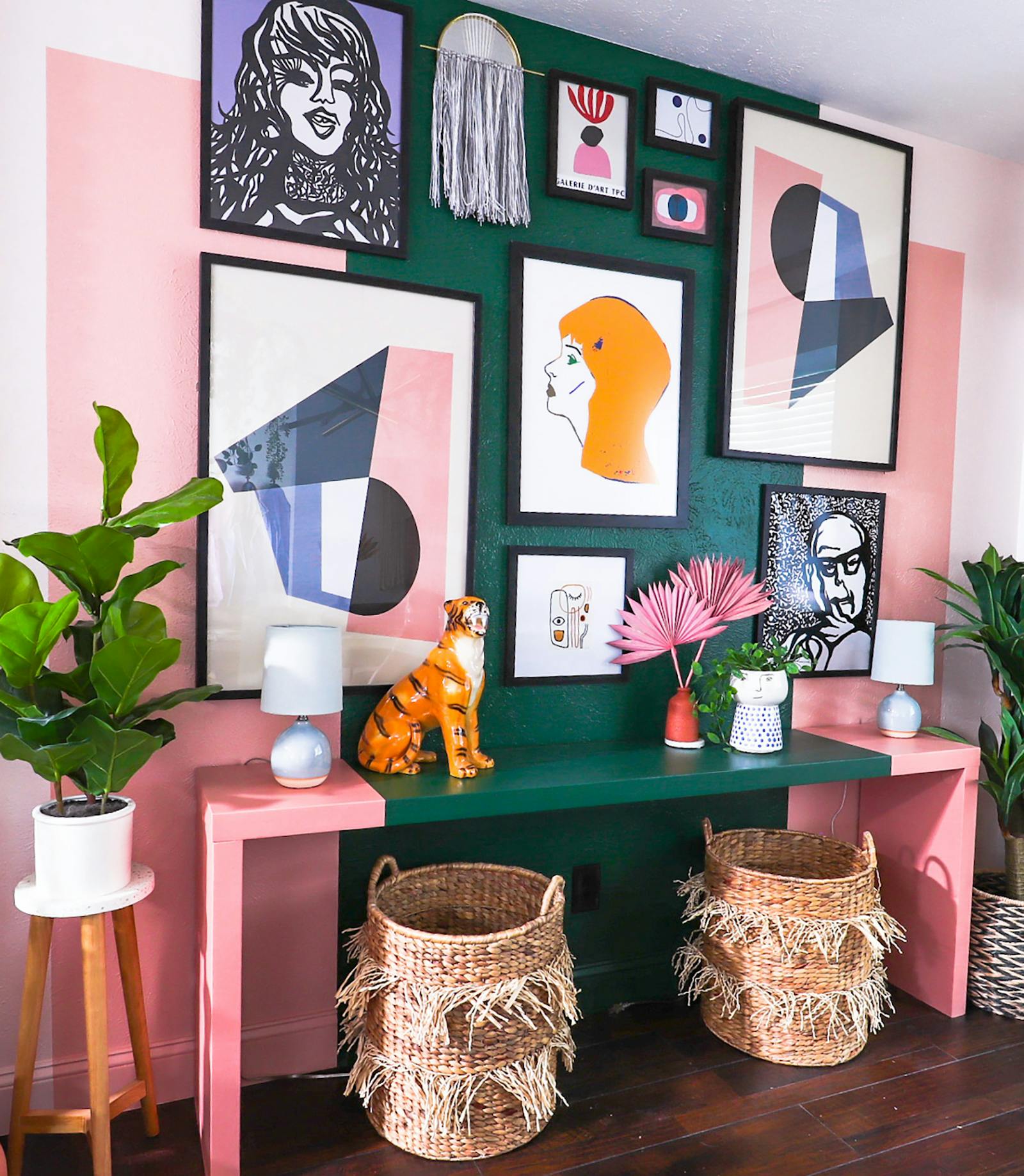 ...And her equally vibrant home!
Before moving in, they knocked a few walls down; added wooden floors, painted the kitchen cabinets and transformed the back yard – to name just a few! They wanted to make sure the house was fairly liveable, before moving all their belongings in.
Carissa loves a maximalist interior style, and her favourite colours are pink, blue and green. "My style is kind of a modge-podge of everything. In a nutshell, you could call it colourfully eclectic, bohemian modern, with vintage touches. I love mixing bold patterns, textures, statement light fixtures and vintage pieces; to create a dynamic and unexpected space".
"I love mixing bold patterns, textures, statement light fixtures and vintage pieces; to create a dynamic and unexpected space"
Carissa likes to adopt a trend, and put her own stamp on it – this way, it still feels new and exciting, but with a greater chance of lasting longer than most of the industry crazes do.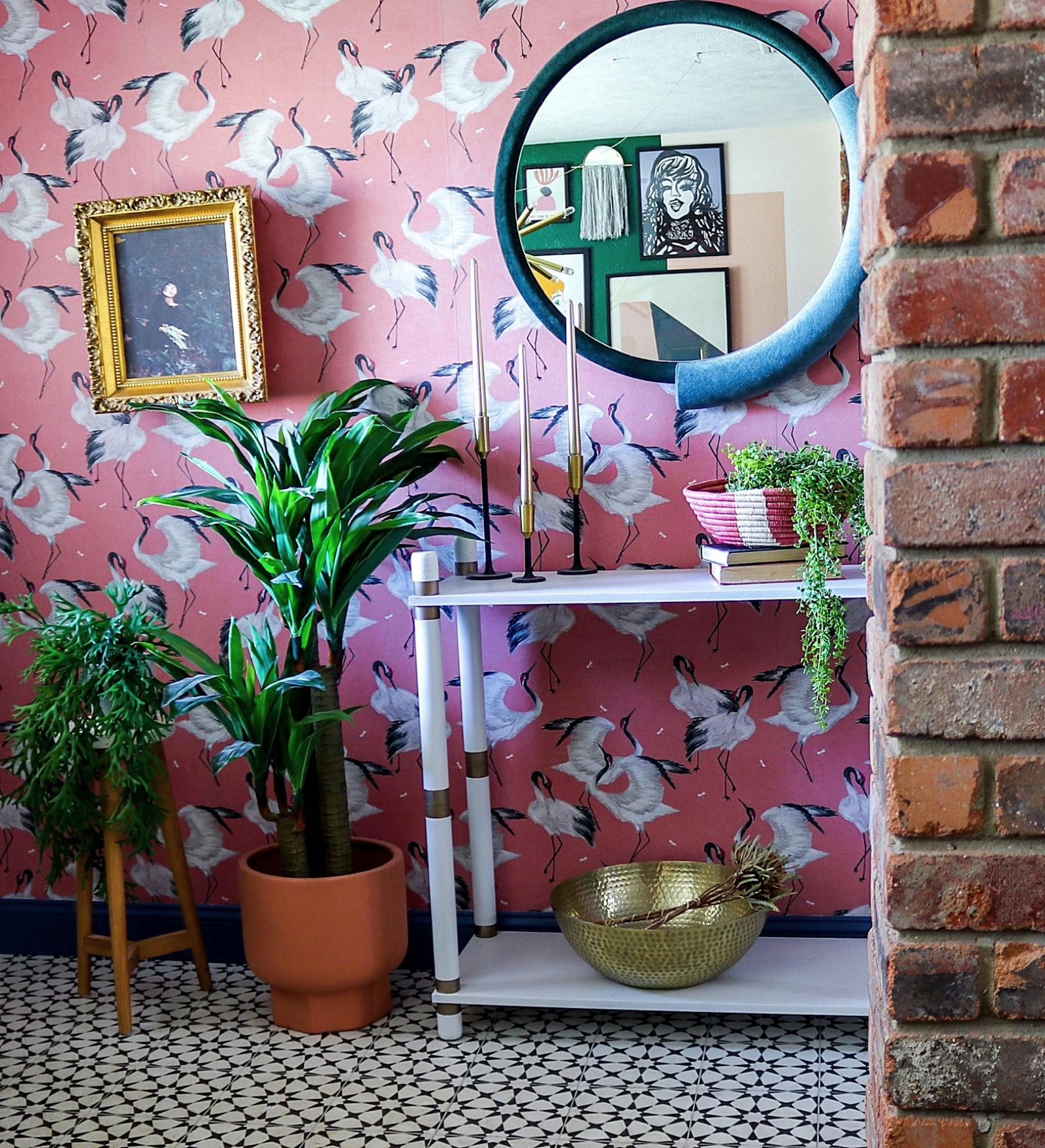 The pink bird wallpaper combined with the monochromatic mosaic flooring injects personality into this hallway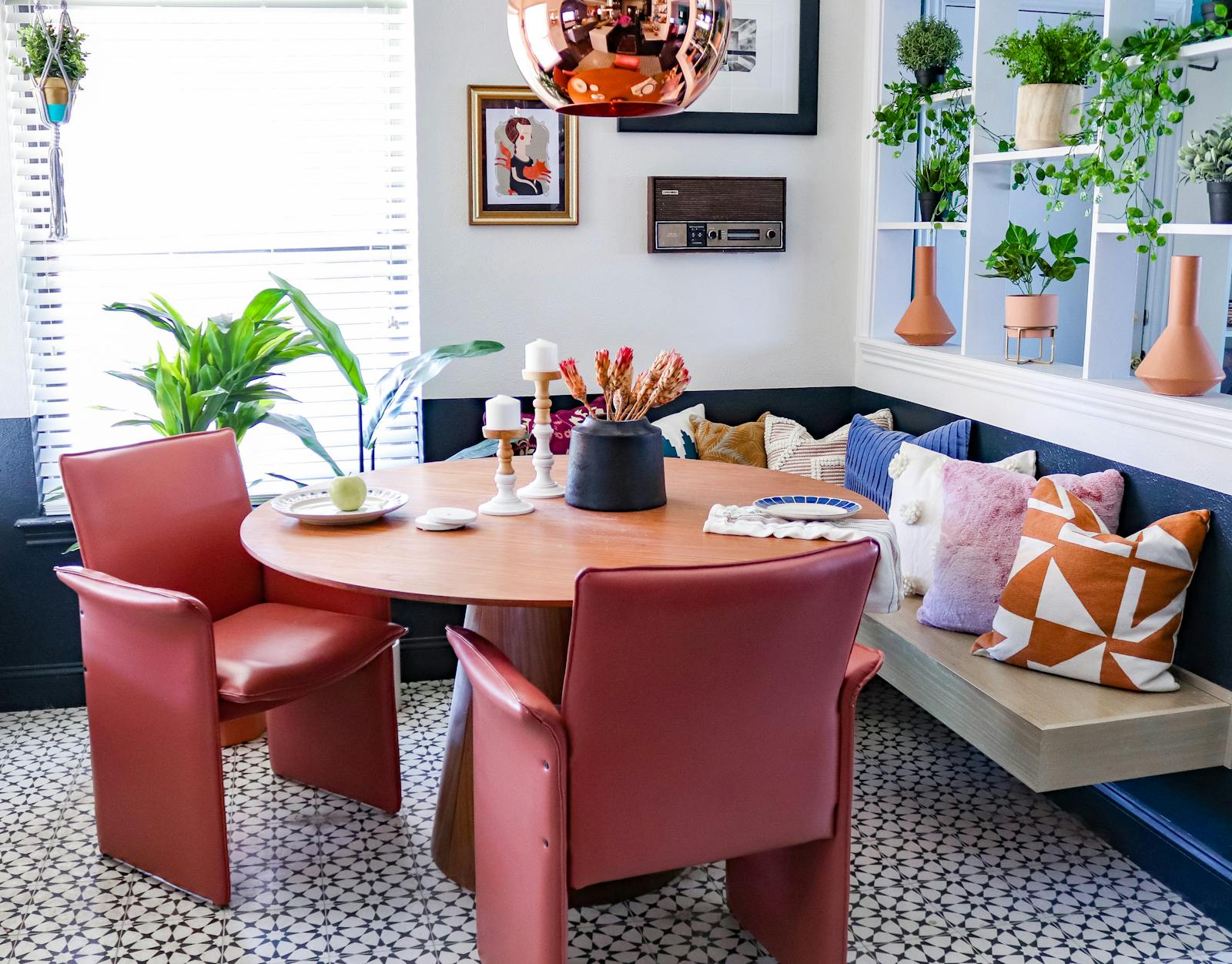 The terracotta chairs and various plants make for an earthy and natural dining area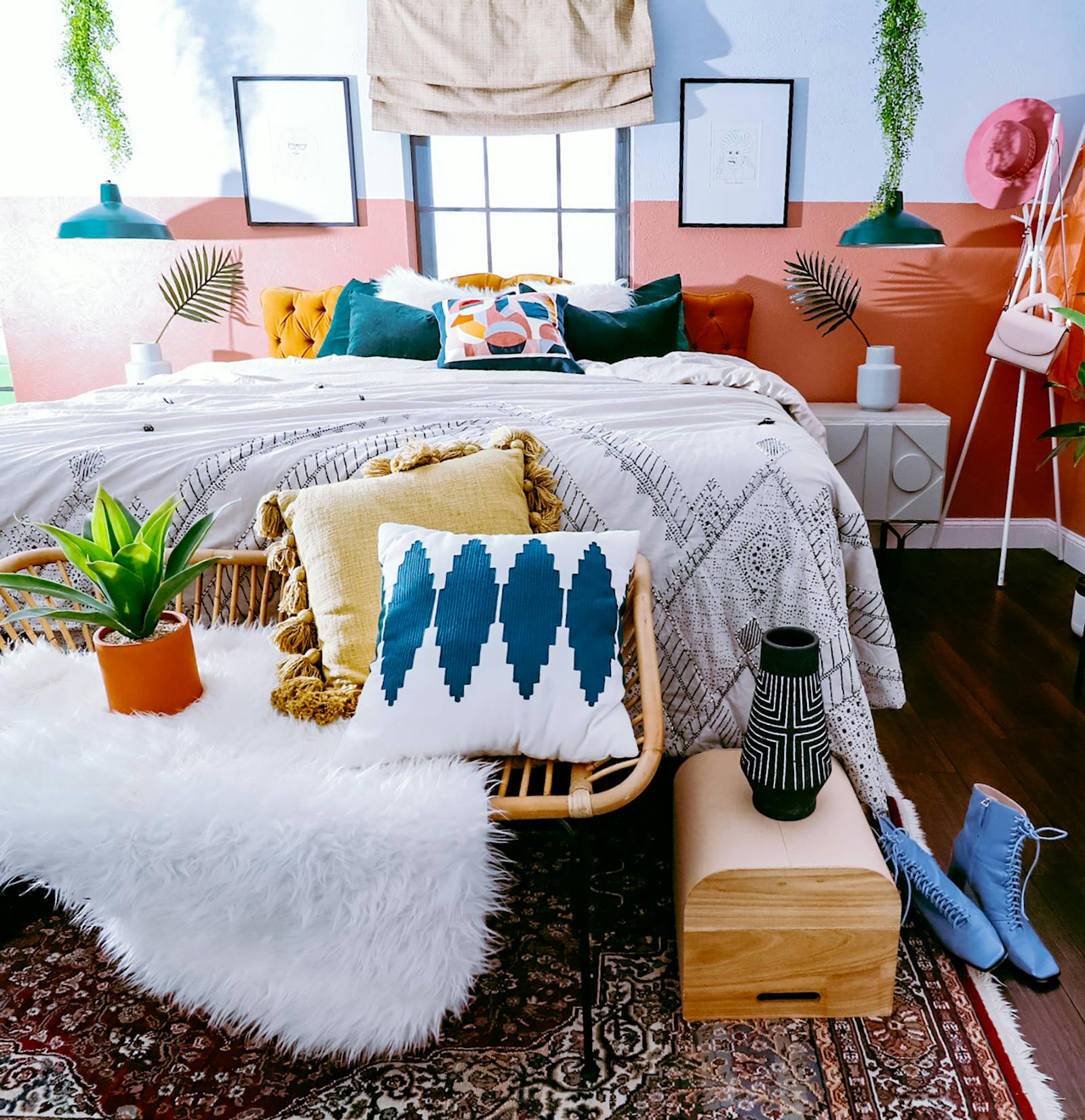 Carissa's bedroom is a gorgeous melody of fabrics and colour blocking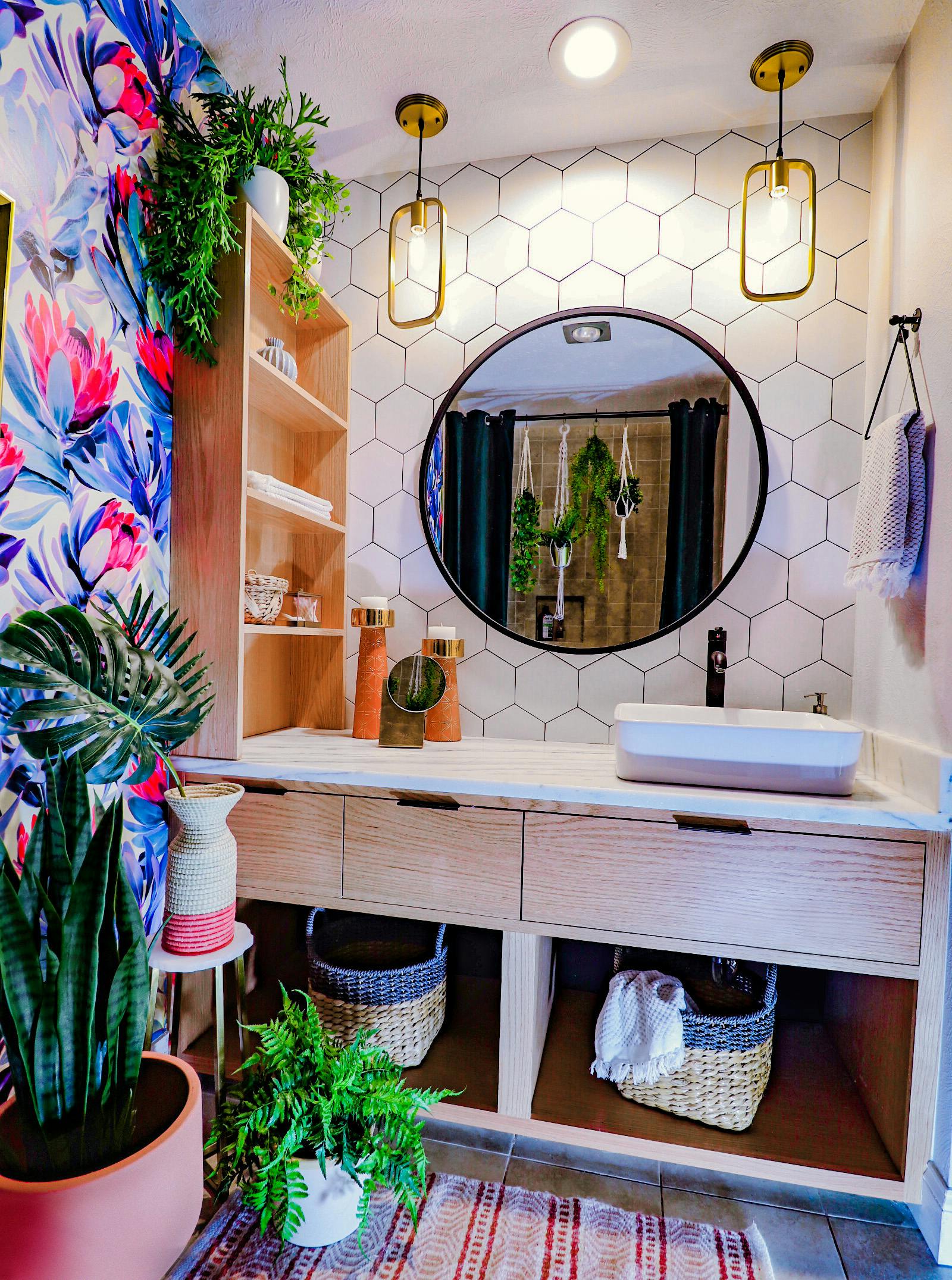 The floral feature wall adds a pop of colour to the softer pink hues of this chic modern bathroom
Their home is full of bold walls and colour blocking, and we can totally see why they love it! One of the first few painting jobs Carissa did, was their kitchen and backyard; and she stills loves it to this day.
Her favourite space of the whole house is their backyard… "This was such an incredible transformation that even after 2 years, it still makes me swoon. Our backyard originally was just a broken cement slab and a huge, spotty mess of grass. I wanted to create a colourful, modern paradise with a hint of palm beach style."
"We designed a huge colour-blocked pink, blue, and yellow mural; then added a modern pergola, a built in small wood deck (to add some extra levels and dimension to the cement patio) and a huge built in bench/ planter for a stone fire pit area. It is really a dream out there, especially with some morning coffee!"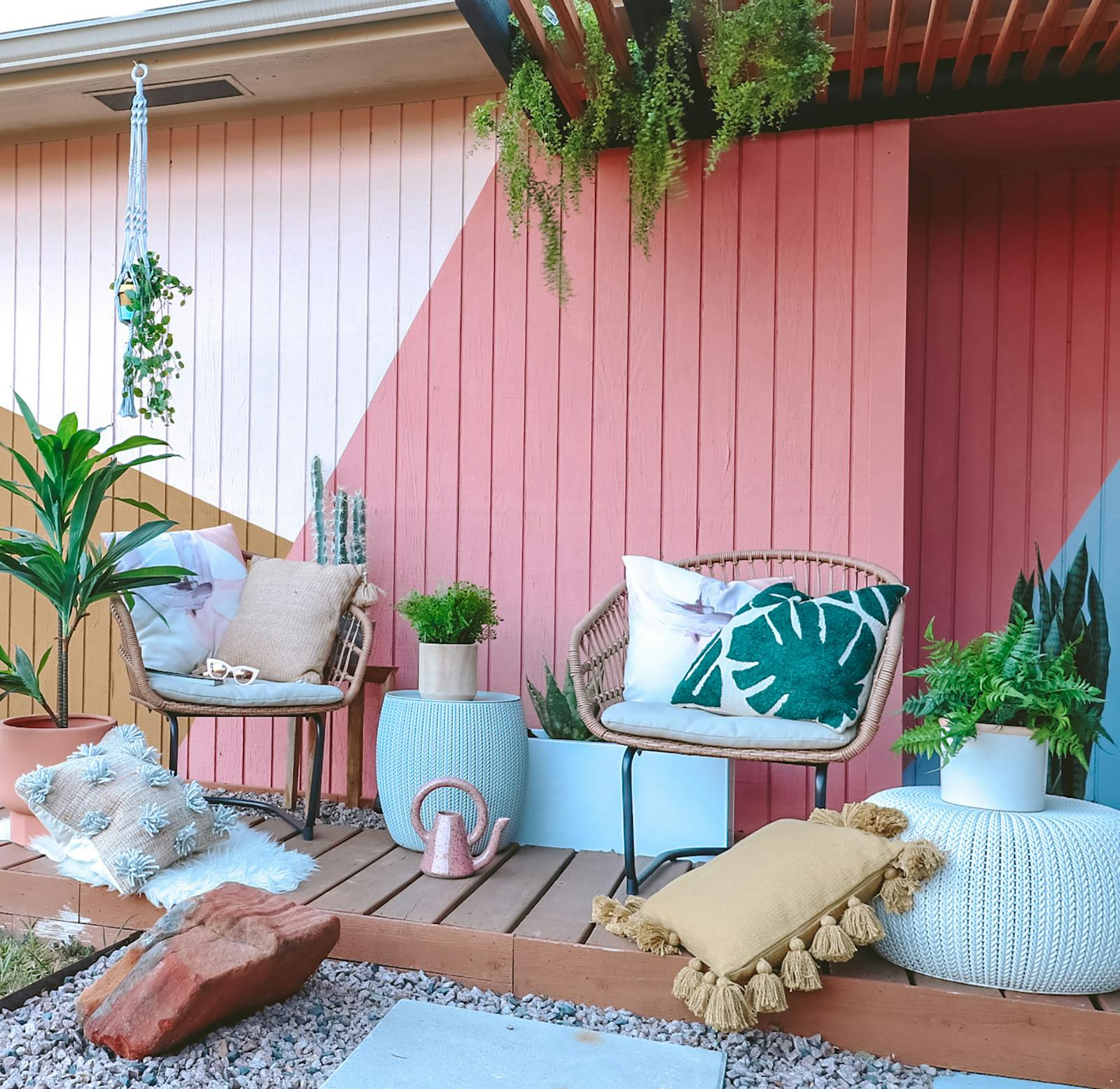 A bohemian paradise - perfect for entertaining and relaxing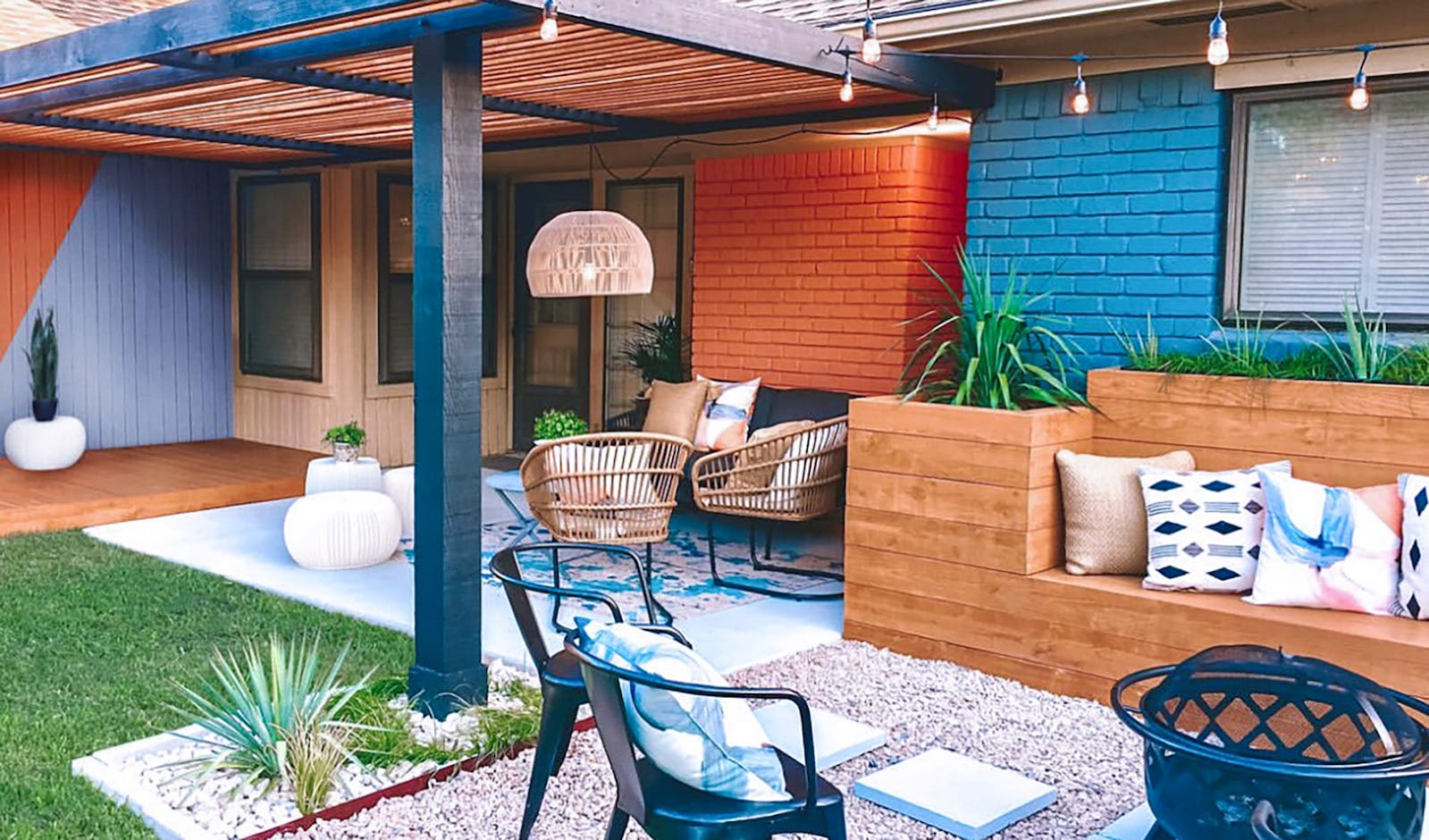 Carissa's colour blocking injects a sense of fun and modernity to her outdoor space
When searching for home inspiration, Carissa turns to Instagram – particularly when she's working on a new project! She also admits to adopting the whole, 'follow your heart' theory. When she's out shopping for her home, or searching for new decorating ideas, if something really stands out to her; or she can feel the passion building for a concept – she goes for it!
We asked Carissa if she likes to change up her home for the autumn/winter period…
"In all honesty, I am not a huge seasonal decorator. I find a lot of holiday decor a little cheesy; BUT, I am constantly changing things up in my home. With the fall changes, some new colour palettes have emerged that have inspired me with certain home upgrades. I am really loving the clay tones, and some dark sage greens. I'm slowly incorporating that into our home, and have opted for green wall colours for our main bath renovation."
"With the fall changes, some new colour palettes have emerged that have inspired me."
Carissa's top tips for a cosier home:
New cushions or new paint is obviously the quickest and easiest way to upgrade your home! We just recently renewed our cushions in our nook, and it made it feel so much more current and refreshing.
Painting can also create an immense impact for very little money. Don't be afraid to take some risks with paint, because (spoiler alert) - you can always paint over it! Why not try painting your living room in a bold blue, or create a really awesome mural in your dining room? What do you have to lose, besides some time?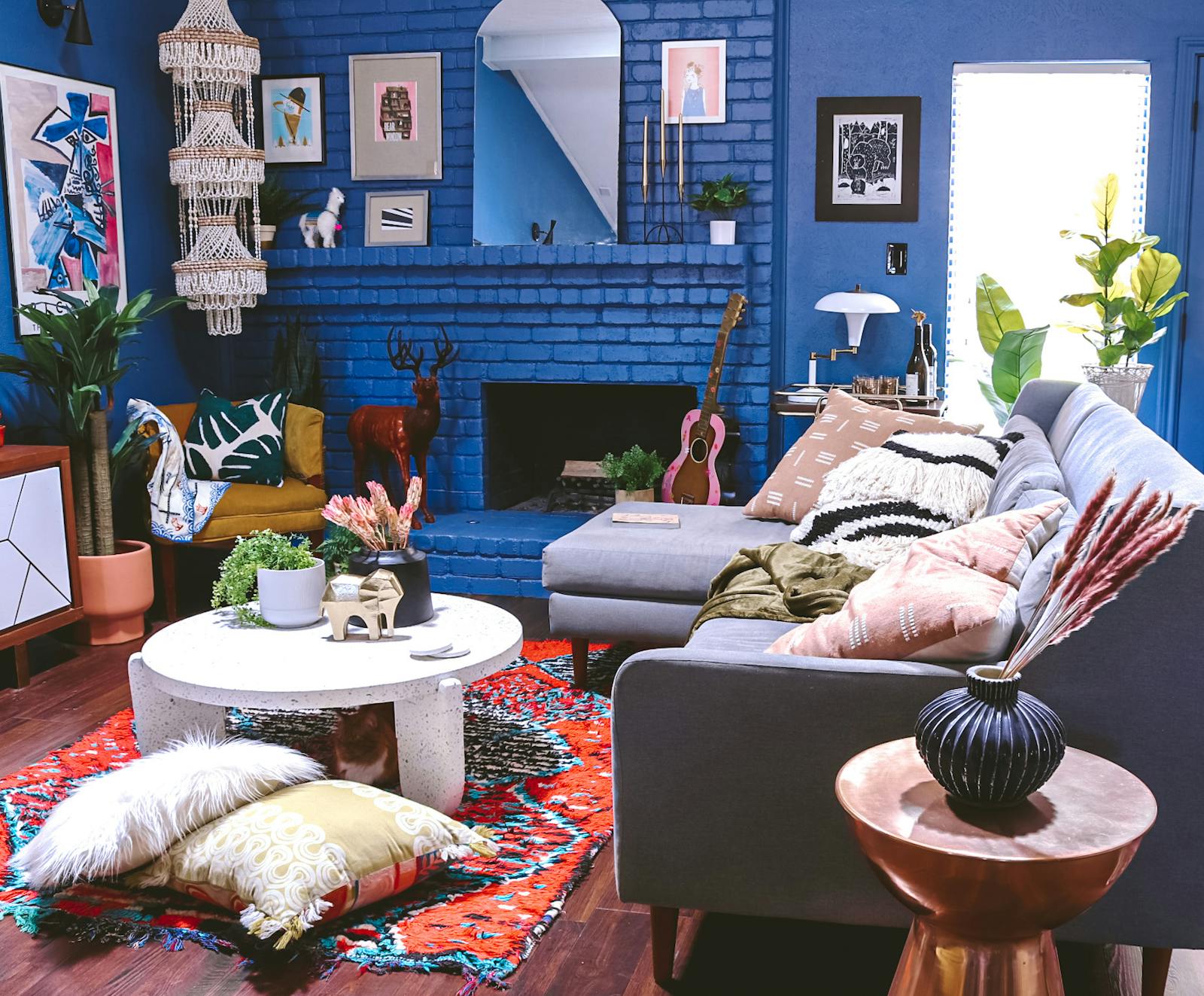 Carissa opts for a bold, rich blue in her living room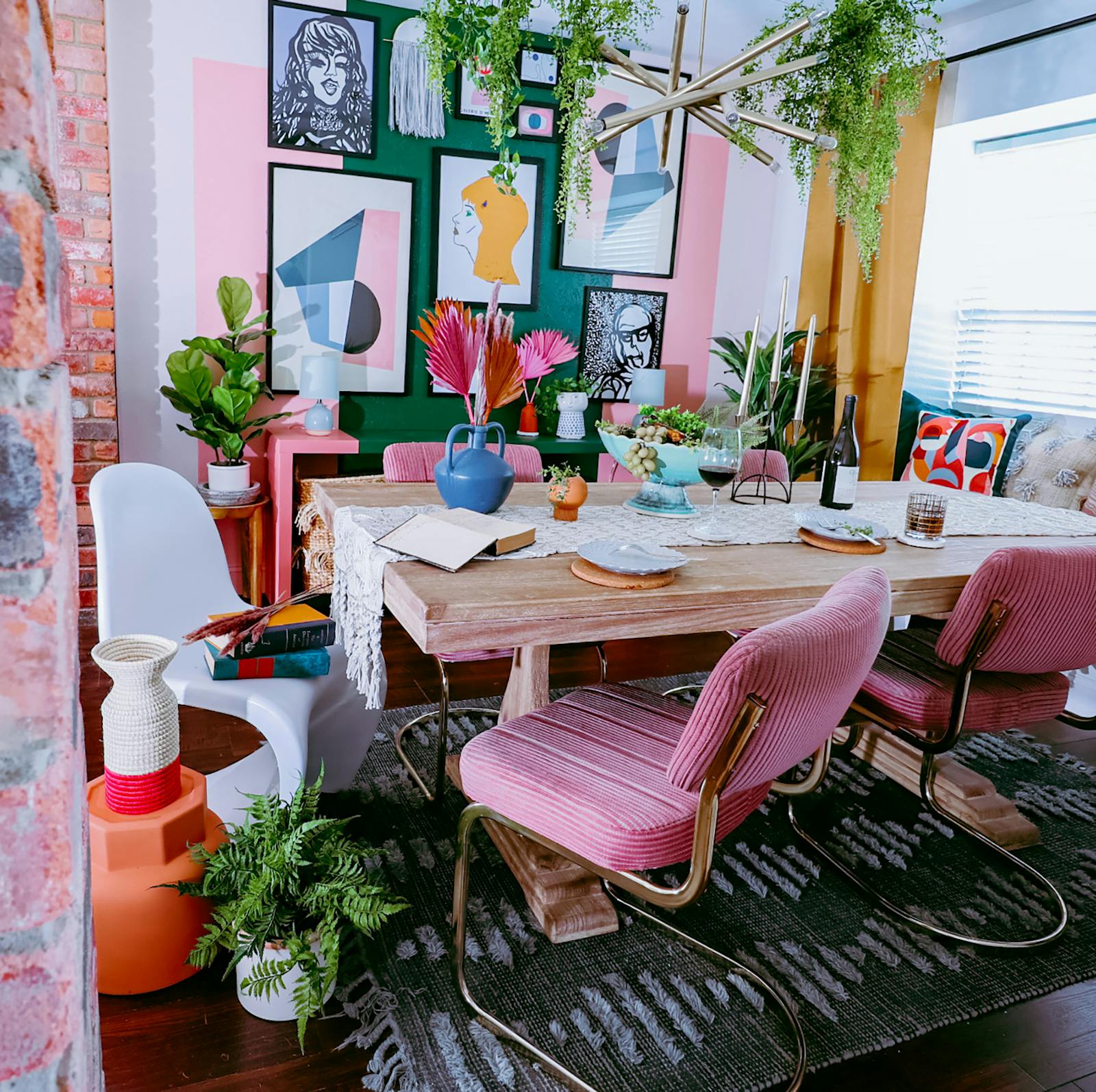 The mural creates a beautiful background for Carissa's home gallery wall
Carissa's Lick picks for autumn & winter
Well first off, lilac is one of my favourite colours, so I'm definitely drawn to Purple 01. This warm, neutral shade is really beautiful, and I can see this in our den as our bookshelf colour! I think it would be a stunning accent behind our new teal and lilac chairs, and go beautifully with the green and mustard accents of the rest of the room! I'm getting all excited just thinking about it!
Remember when I mentioned that I'm loving some sage right now? Green 02 is such a beautiful version of it. I think it would be a lovely way to add a bit of depth to our kitchen for the cosy, winter months! I am picturing it as a replacement to the white half of the kitchen walls to compliment the navy cabinets. I would also bring this colour all the way up into the ceiling, and upper cabinets as well, to really soak the room!