Real homes of Instagram: Beth from @_bethathome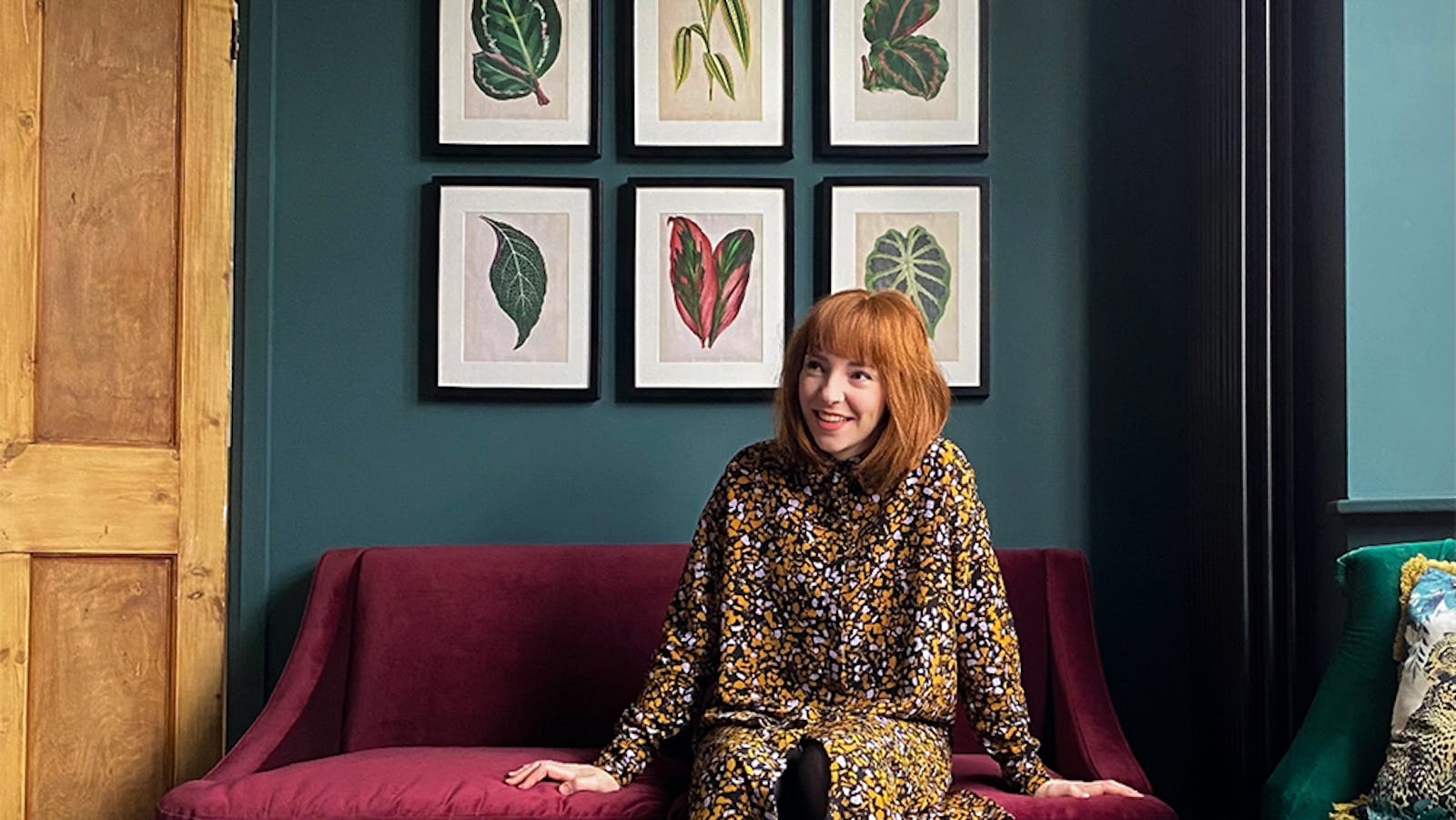 'Real Homes Of Instagram' is our weekly sneak peek into the homes of some of our favourite decorators from Lick's community and beyond. Next up in the series, we introduce to you to Beth, from the Instagram account @_bethathome.
Beth is 28 years old and lives with her husband, Paul, and their border terrier, George. Living in the North West of England, their home is a 1910s end terrace located within a conservation area. They moved into this house in May 2020, after selling their first home and looking for an exciting project to put their own stamp on.
The main selling points were the original parquet flooring, off-road parking and beautiful, mature garden. Although the house was already in a great condition, they have replaced all the radiators and upgraded a lot of the electrics since moving in. Slowly but surely, Beth and Paul are making their way across all the rooms in the house and giving them an exciting makeover.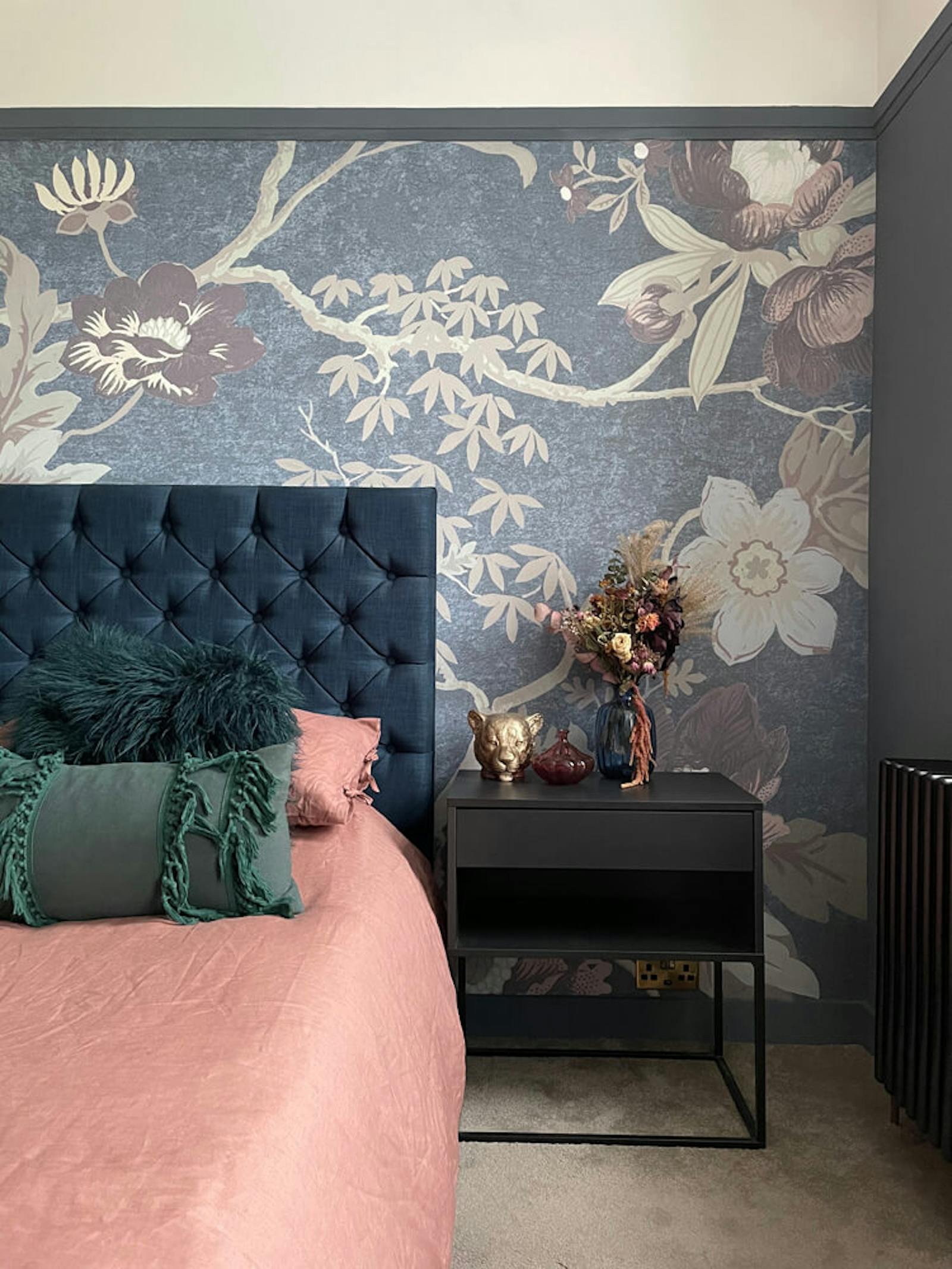 And get ready for a tour around her elegant home!
Beth loves an interior style that celebrates bold varieties of colour, but with a minimal styling…
"I love deep, jewel tones, the luxury feel of brass and velvet, and the character of vintage and second-hand furniture."
"In my dining/ living room, for example, I have a mid-century upcycled dining table and chairs, a 1970s-coffee table and a reupholstered sofa from family - as well as some modern pieces. I tend not to follow many 'rules' and just fill my home with things I love".
Her favourite room in the house is their open-plan living and dining area. They decided to remove the doors between the living room and conservatory (which is now their dining space), and added heating and lighting to create a bigger and more versatile space. Beth loves that this space has now become a room that they can use any day of the year, with plenty room to move around in.
When searching for interior inspiration, Beth loves visiting restaurants and hotels…
"My absolute favourite hotel interior is Hotel Henriette in Paris - check out their Instagram page, you won't be disappointed!"
Ensuring there is cohesion and consistency between all the rooms in her house is one of Beth's number one rules when decorating. For this reason, she doesn't like to change up her home décor too often, as it would mean a full home redecoration project; however, simply switching up soft furnishings, artwork and furniture makes all the difference to the feel of a space.
Beth's most recent home decoration project was their third bedroom, which they use as a study space with Paul now working from home amongst the pandemic. She had inherited a stunning, antique sofa from her auntie and wanted it to take pride of place in this room. Therefore, it was important that all the decoration and styling was to be based around this one piece of furniture.
"The project took longer than expected, as we decided to use decorator's skim coat to skim the walls ourselves (previously they had been lined with textured wallpaper as the original plaster wasn't in good condition). The result is great, but the process was laborious and very, very dusty!".
Although the room isn't quite finished yet, they are already enjoying this newly-decorated work space and look forward to adding some built-in storage and book shelves in the near future.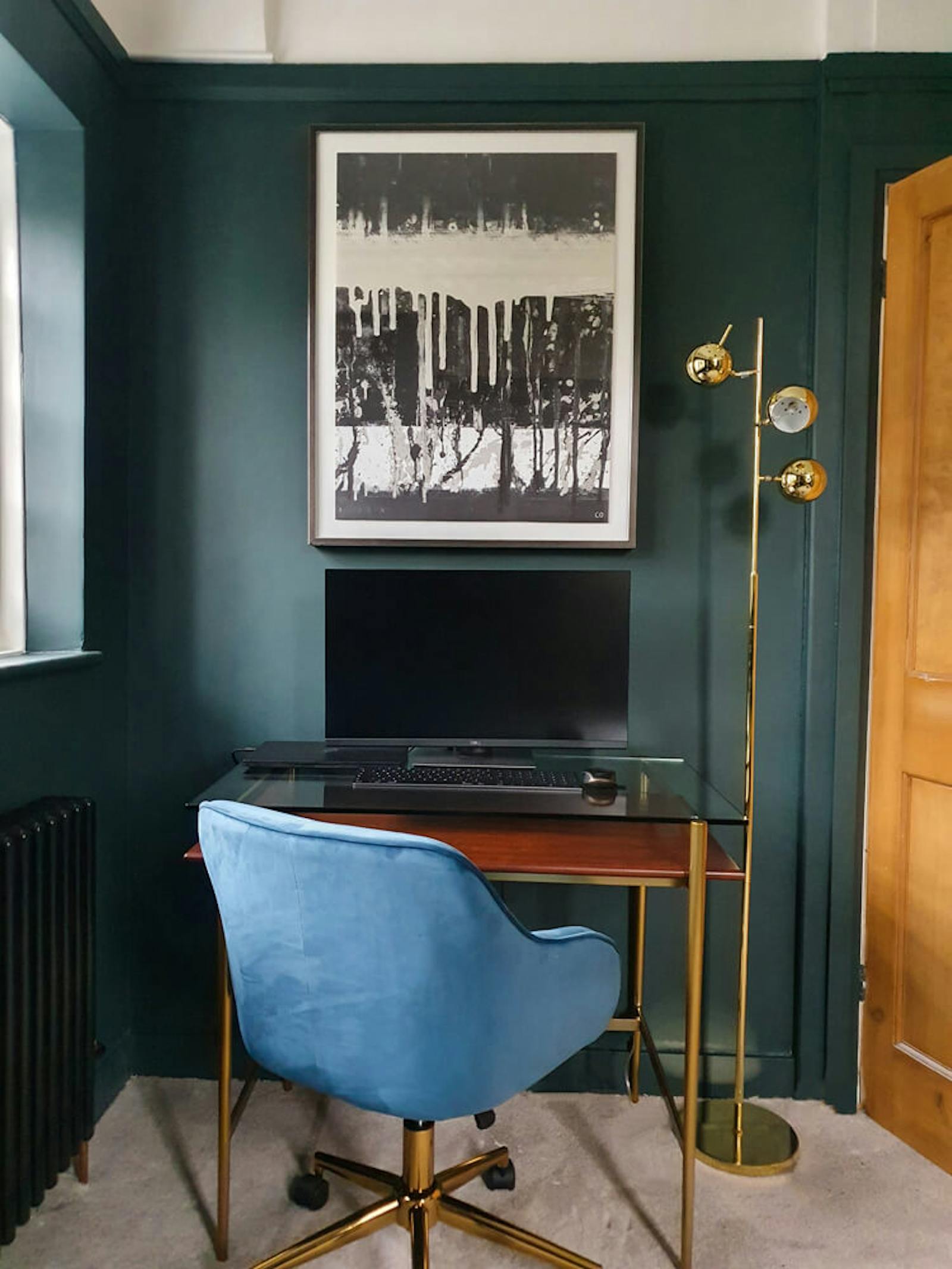 The home office is functional and stylish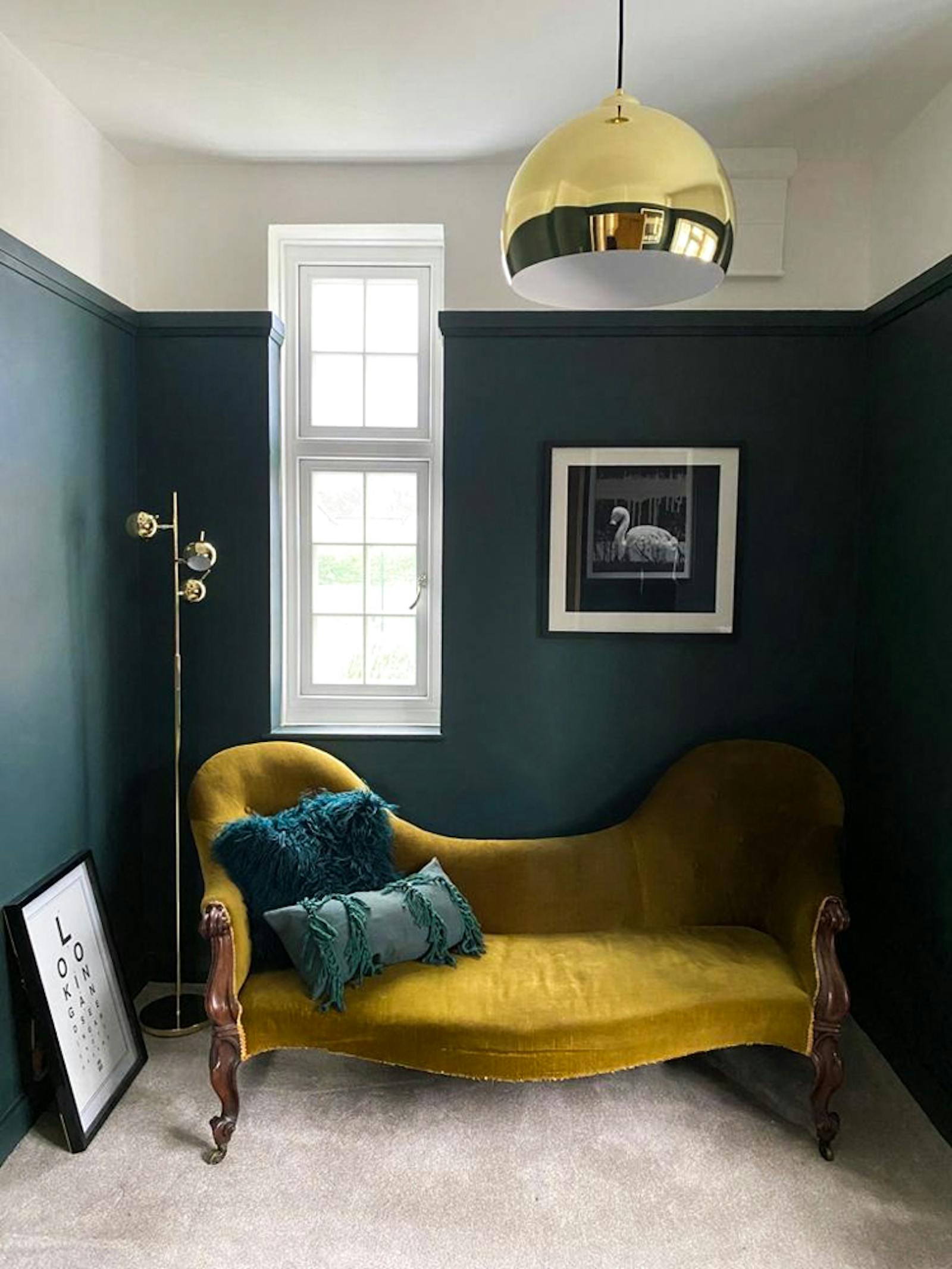 Beth's inherited antique sofa is the perfect statement piece to design around
Beth's top tips for decorating:
We all start off as novices, feeling like we don't have a clue what we're doing… try watching YouTube and Instagram videos for top tips and research on the job ahead. A friend of mine once bought eggshell paint (for woodwork) to use on a wall – whoops!
Good quality brushes and rollers do make a difference, and if you look after your equipment, it will last much longer and will be worth the investment! I have a favourite cutting in brush that I've had for 4 years it's still going strong
As much as I hate it, preparation really is the key to getting a quality finish. Spending time sanding and filling (particularly if you have a period property) is key
In our old house, we were desperate to have somewhere comfortable to sleep in, and with the rest of the house being so much work, we cut corners and decided to paint our bedroom a very dark blue to try to hide the bumpy plaster. It worked in the short-term, but I was never 100% happy with it, and wish we'd just re-plastered when we were doing everywhere else. My advice would be to wait longer until you can afford to do the required job, and make sure you do it properly!
Beth's Lick picks
I've already used Lick paint in our snug (Teal 03 and White 01) and dining /living room (Green 06 and White 02), and genuinely really love how easy the paint is to work with.
I'm planning to use Black 02 for our staircase and woodwork in the hall and landing; most likely, paired with Green 03, or perhaps, Teal 02 on the walls; as I think this will flow nicely with the colours in the downstairs rooms.
I'm also considering a green colour to repaint our kitchen cabinets. It's a north facing room and can be quite cold-looking, so I'm wondering if Green 05 might be a good match - but I'll get a colour consultation with one of Lick's colourists to help me decide.