Real homes of Instagram: Audrey from @thelondonhomefix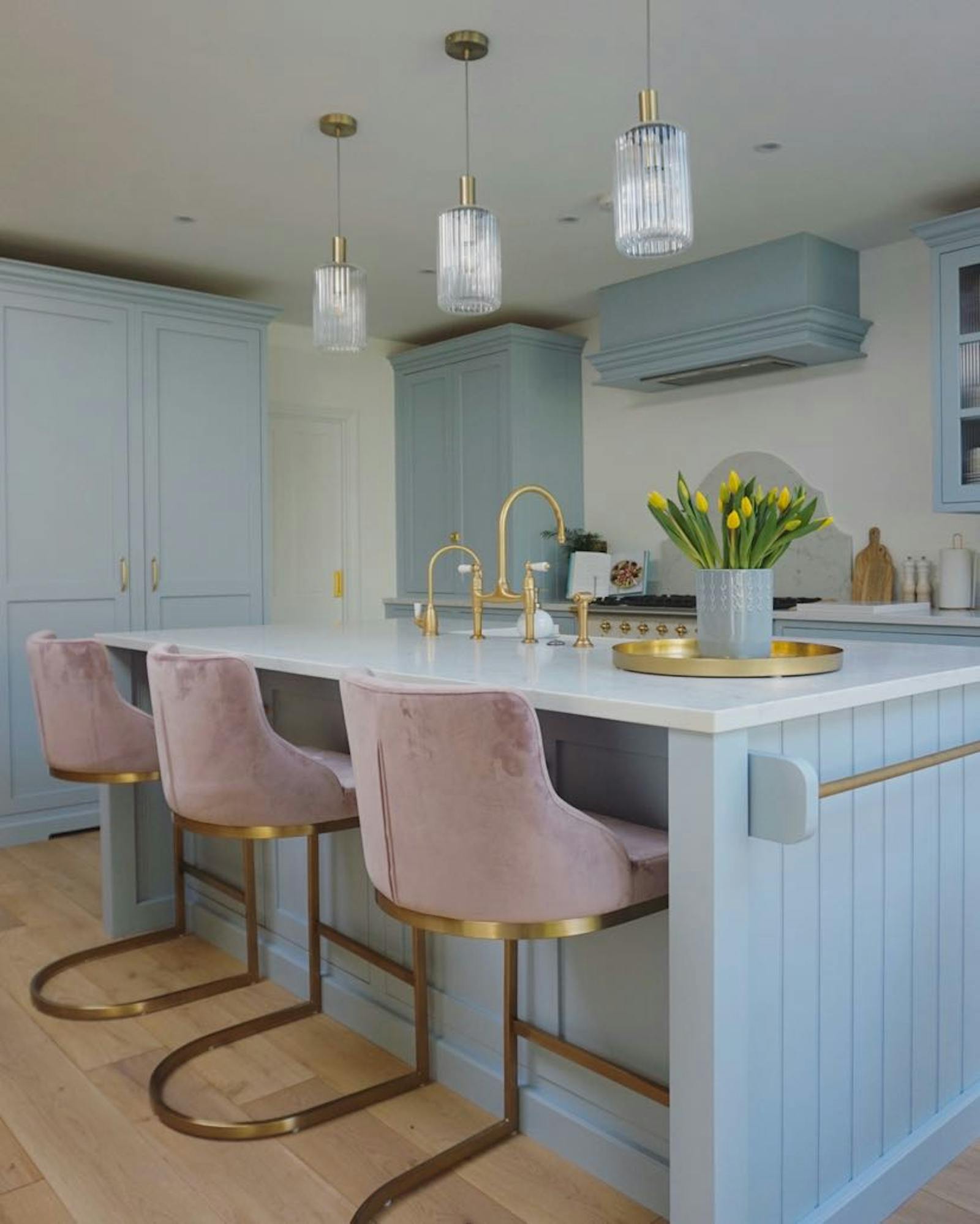 'Real Homes Of Instagram' is our weekly sneak peek into the homes of some of our favourite decorators from Lick's community and beyond.
Next up in the series, we introduce to you Audrey - the beautiful face behind the Instagram account @thelondonhomefix.
Audrey opened the doors to her elegant London house to us and we can't wait to share it with you. Let's take a look at her interior secrets and little DIY hacks.
Audrey is 30 years old and lives with her partner, Mike and their adorable cat, Nutmeg. They live in East London, in a beautiful 1885 Victorian terraced house that they bought in February 2019. Audrey is French, but moved around a lot growing up and came to the UK seven years ago to study Political Science.
The house had been empty for almost a year before they bought it, with a ton of damp issues, broken floorboards and a damaged roof. None of the interior had been touched since the 1970's, so tearing out the retro fixtures and fittings was certainly a huge task for them both.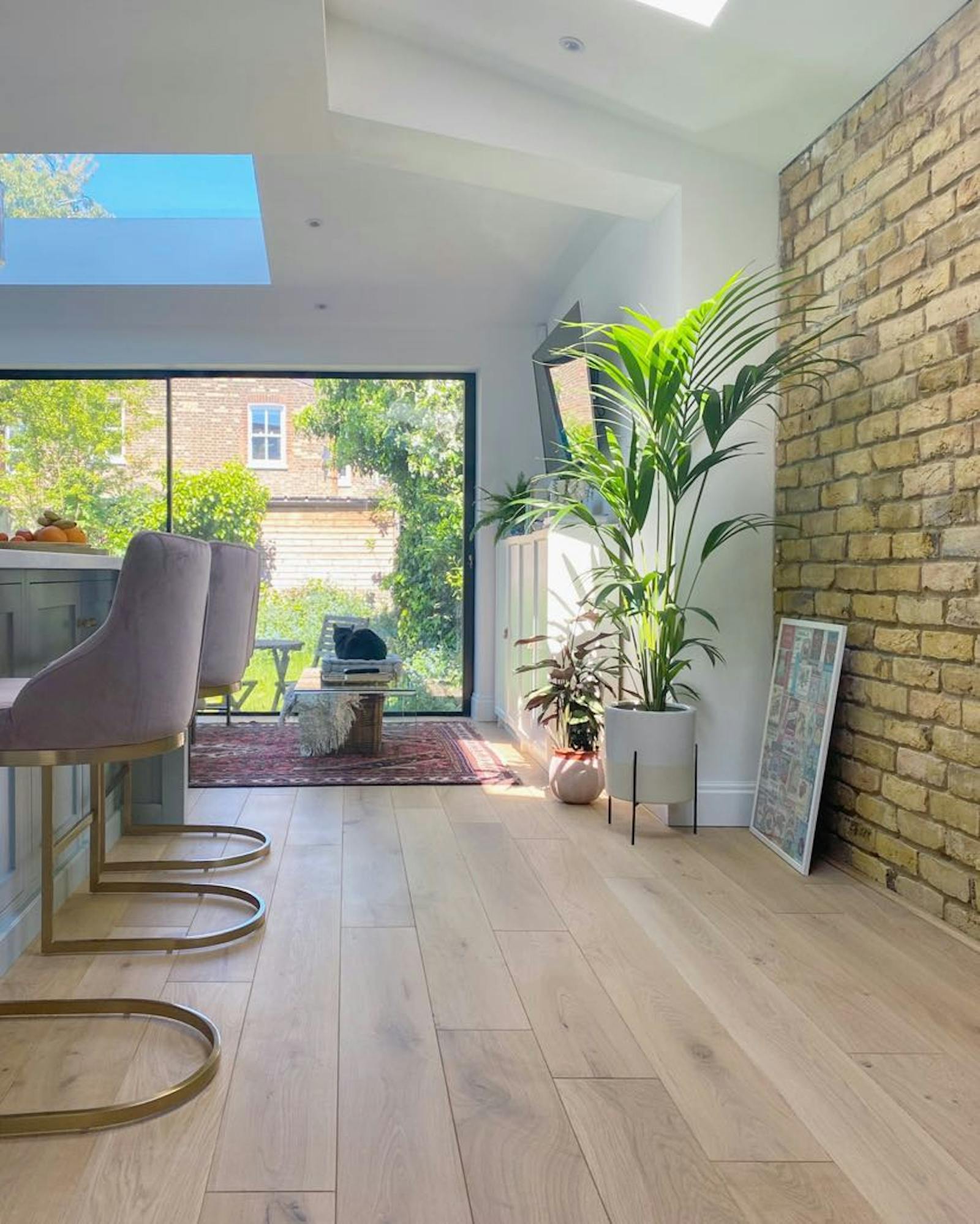 An exposed brick wall is always a good idea
"We carried out an assortment of carpet in every single style imaginable. My personal favourites were the living and dining rooms, which had a pink paisley carpet, pink damask wallpaper and a sort of bubble-gum/Barbie pink ceiling. Somehow, none of the pinks even remotely matched!"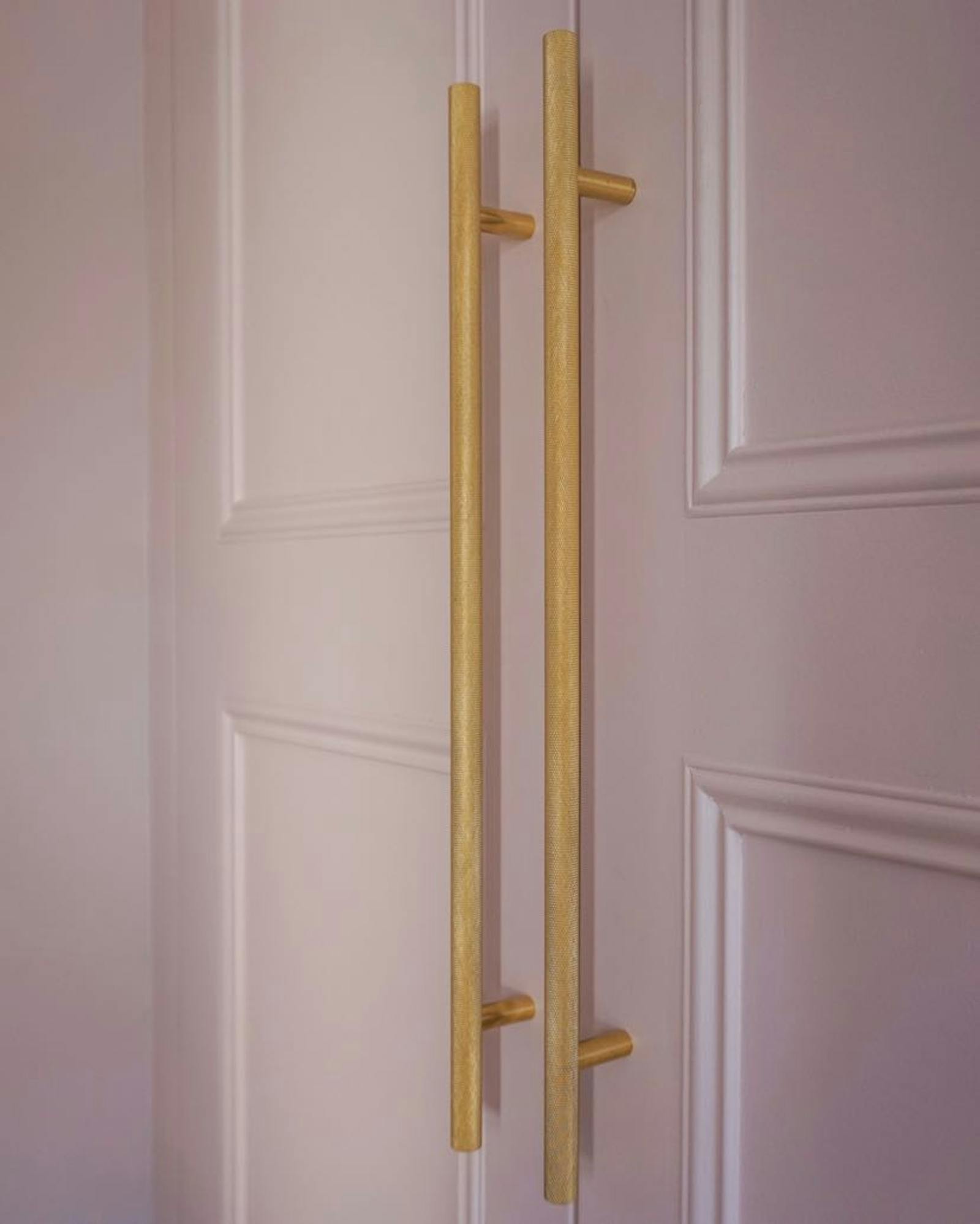 Don't worry though, the pink colour is still present in Audrey's home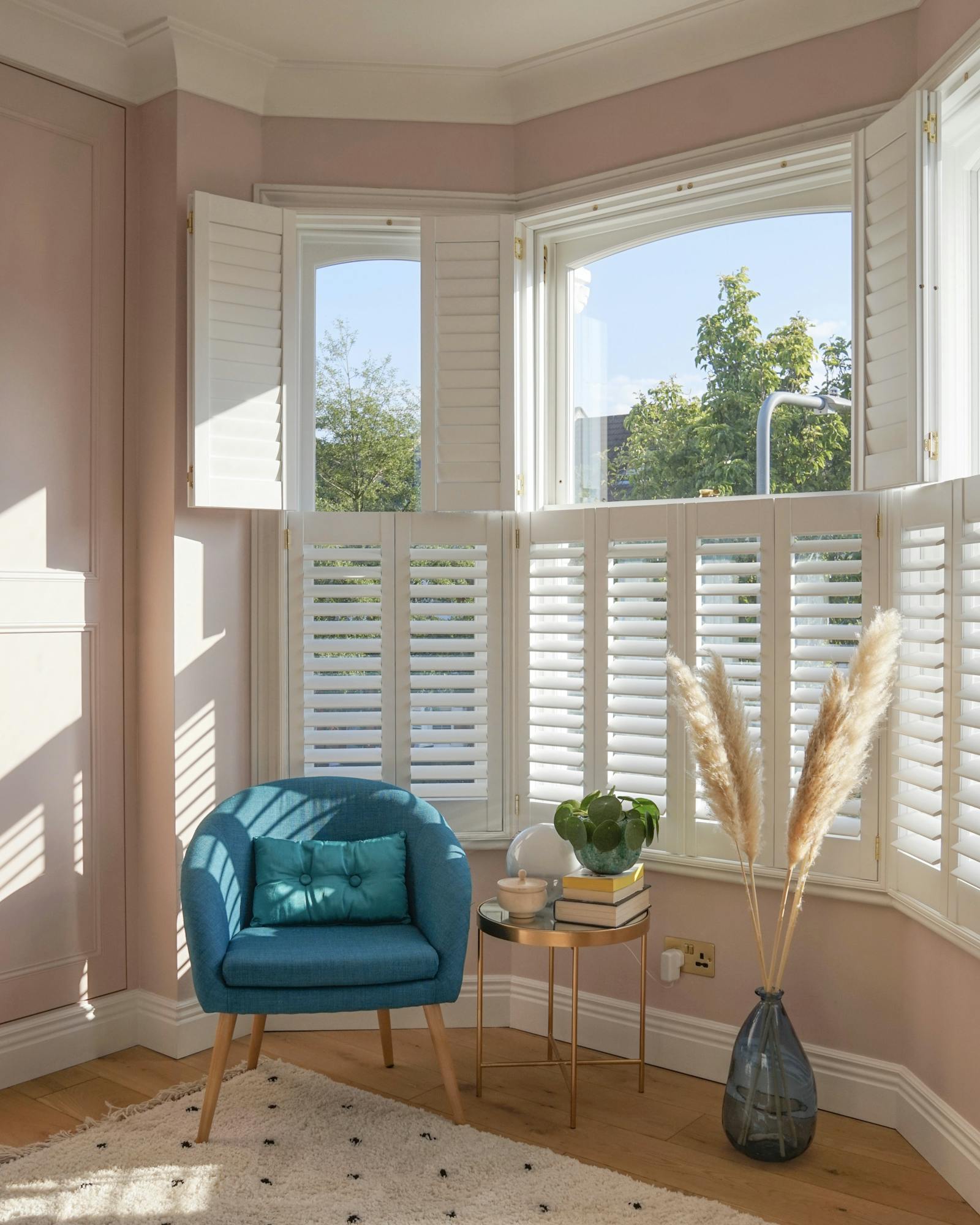 Pink and blue - the perfect colour combination
Audrey describes her signature style as 'light & airy', building and creating the perfect mix of conventional and contemporary. She loves to finish off a concept with a pop of colour and some chinoiserie details.
When searching for home inspiration, Audrey turns to Pinterest and interior magazines. She also recommends searching for the hashtags '#followfriday' and '#saturdayshare' on Instagram, as this is where the online interior community tend to share their favourite accounts amongst their followers.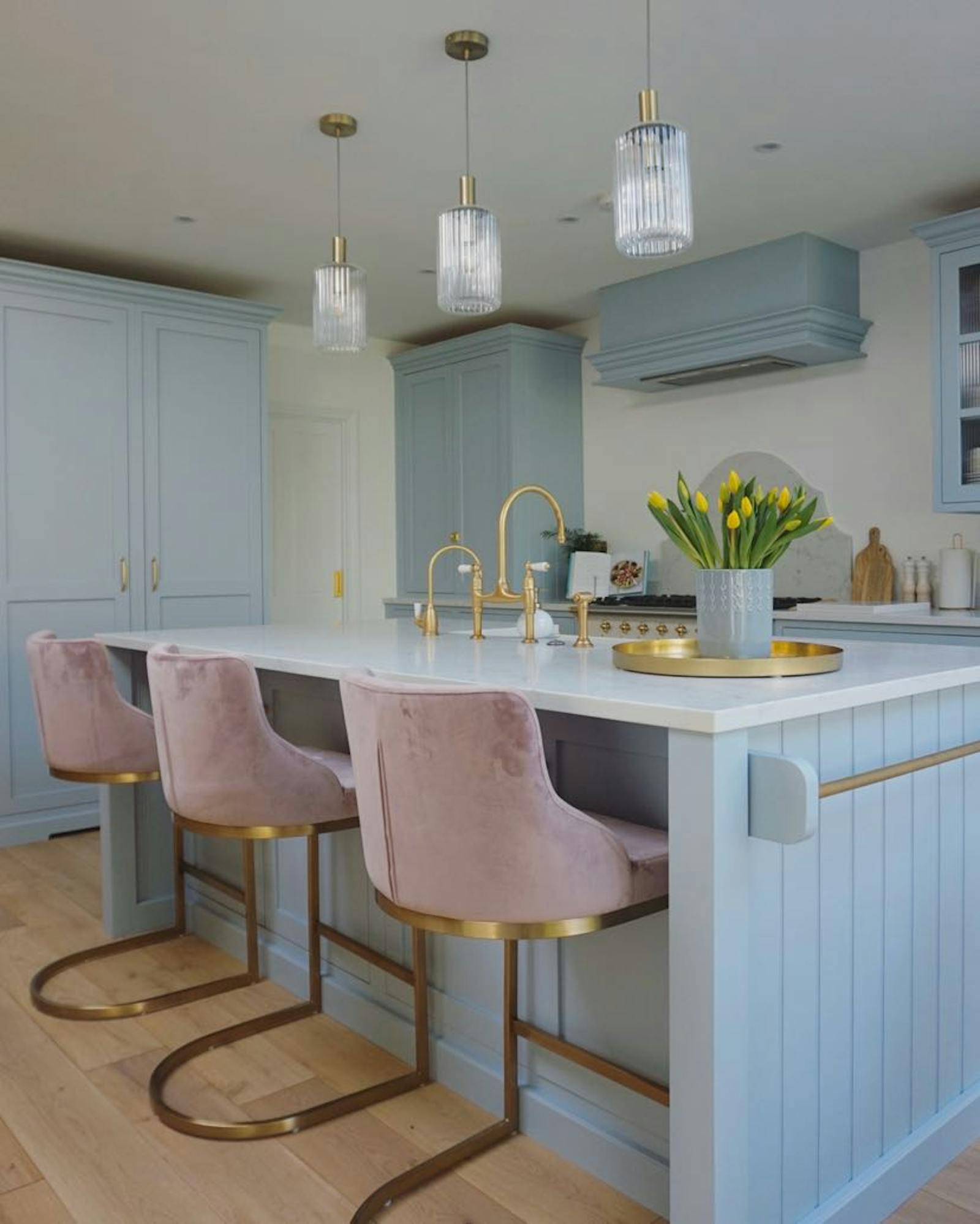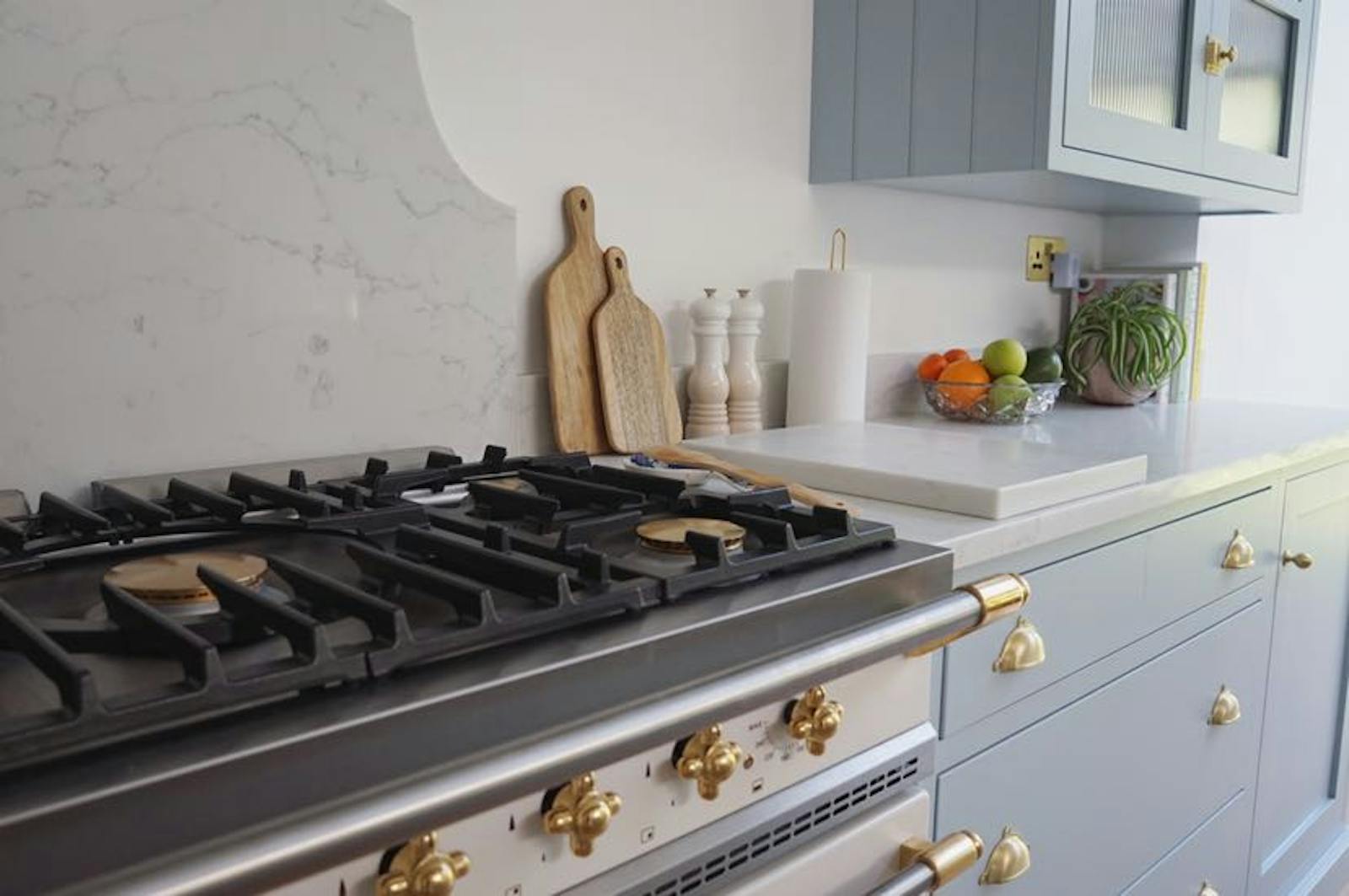 We asked Audrey to tell us about her most recent home decoration project and this is what she shared with us
"I've been focused on styling the kitchen extension and master bedroom, which are currently the closest rooms to being finished. I've bought rugs for both, which I think are so important to finish off a room! Plants too – nothing makes a space look homelier! Plus, all of the other little details like candles, vases, cushions, frames etc. This is always the part I find the most fun!"
"For the master, we decided to try and re-use as much as we could from our previous flat - which contained a lot of teal. It's not what I want for the long-term (I'm thinking more light pastel blue & neutrals), but for now it actually works really well with the light pink. I honestly couldn't be happier with how it turned out – it's an absolute beauty when the sun sets and we get all the sunlight flooding through the shutters!"
"Meanwhile, work on the extension had started – that was mostly down to the builders. Mike handled all of the more technical building aspects, and I got involved when it came down to flooring, skirting, lighting etc."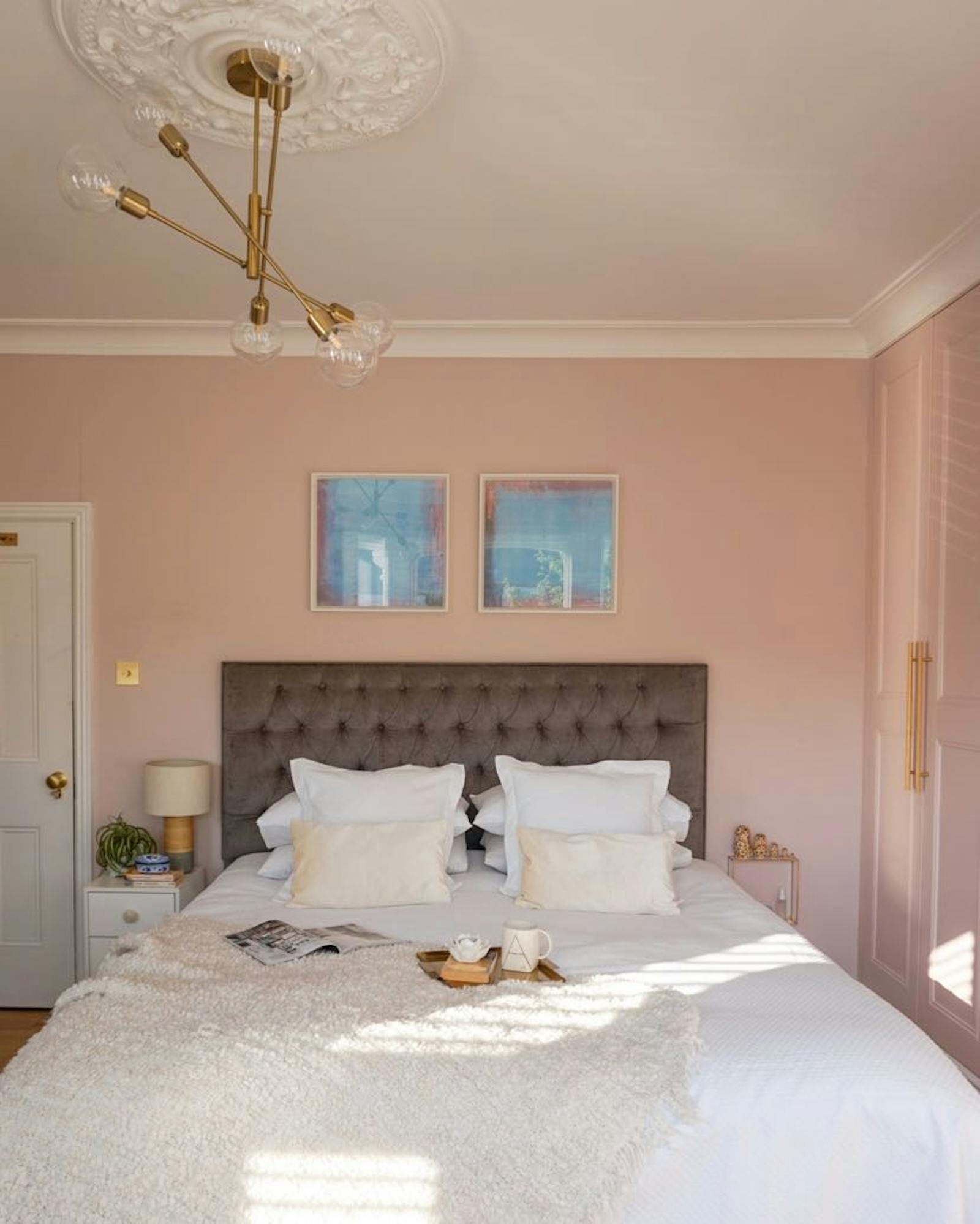 'Light and airy' - the perfect way to describe Audrey's style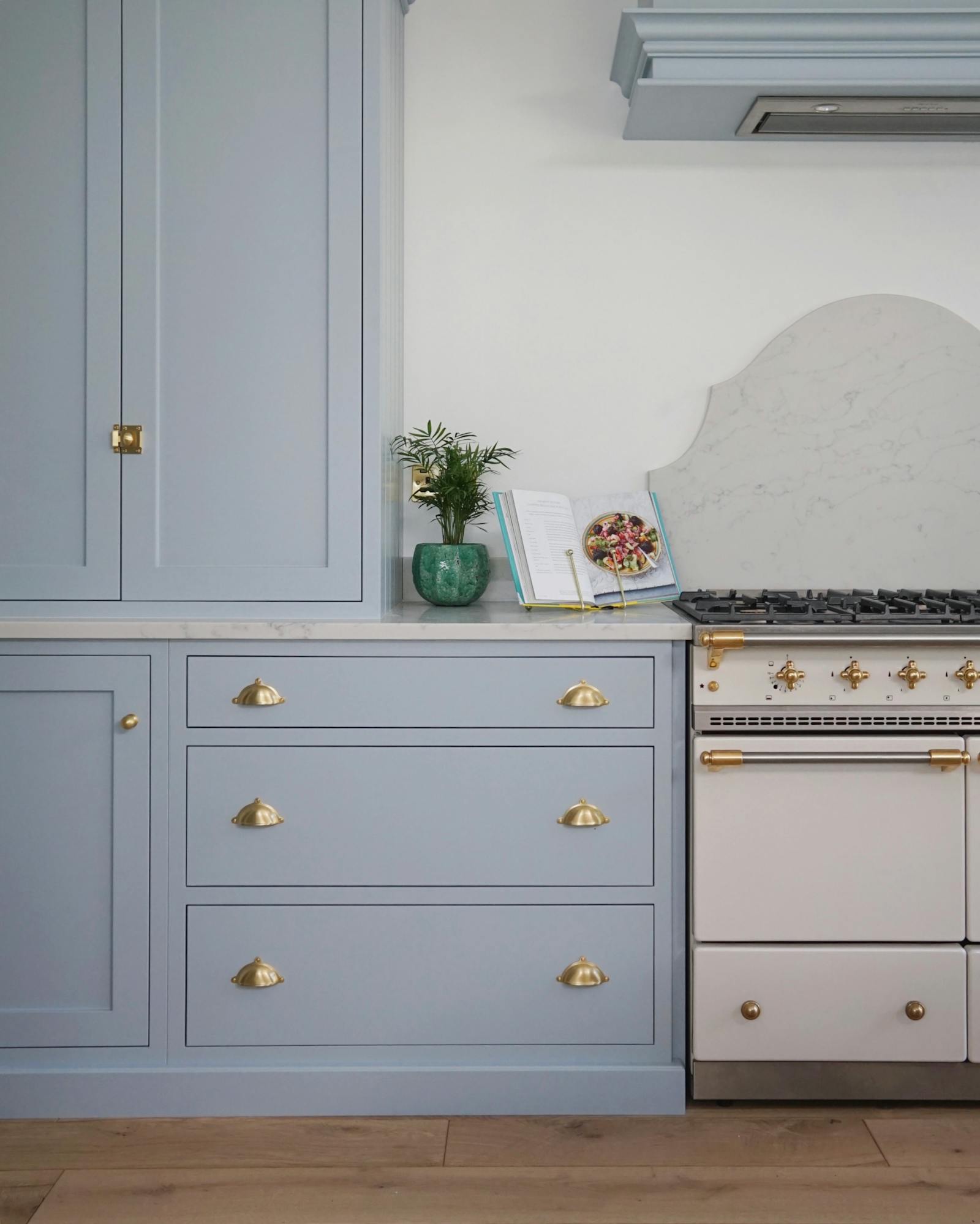 We're absolutely in love with this light blue kitchen
These projects took Audrey and Mike over a year (and counting), as the work started as soon as they got the keys last year and has continued, to date. Painting the extension was the first time they'd ever picked up a roller, and took them a couple of weekends to complete. We think they did a fantastic job!
Audrey confesses to finding decorating extremely therapeutic, and loves the sense of complete satisfaction when DIY/ painting instantly enhances a space.
"DIY is always daunting for people who have never done it – we were definitely those people! But it gets easier and the more you do, the more you dare to try! Trial and error, of course; but the satisfaction when you do get it right is priceless. So much more so, than if you just pay someone to do it for you, in my opinion!"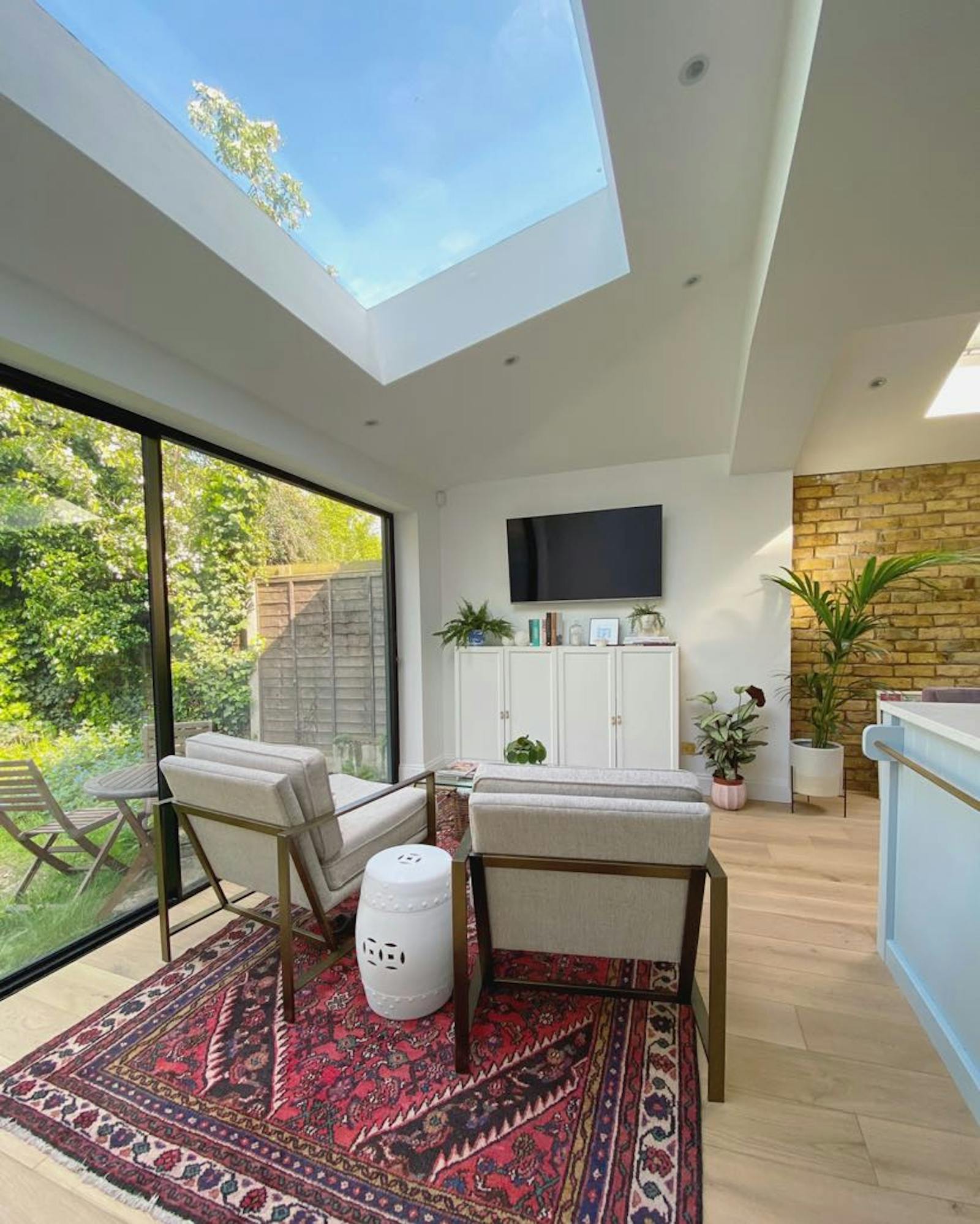 The space for some relaxing time
Audrey's top tips for decorating:
Paint rollers tend to splash everywhere, no matter how hard you try; so be sure to clear the room and cover anything else with protective covering
Don't rush the work – especially when it comes to masking and preparation. Take your time, and you will thank yourself later!
Make sure you check your paint work in different types of light; both natural (day & night), and with your indoor lighting. We thought we were finished until we switched our lights on in the evening and noticed our ceiling was uneven!
Thick coats of paint are not a good idea, and nor is overloading your paint brush. I learnt the hard way by being impatient, and now we have loads of lumps and drip marks on our kitchen door – whoops!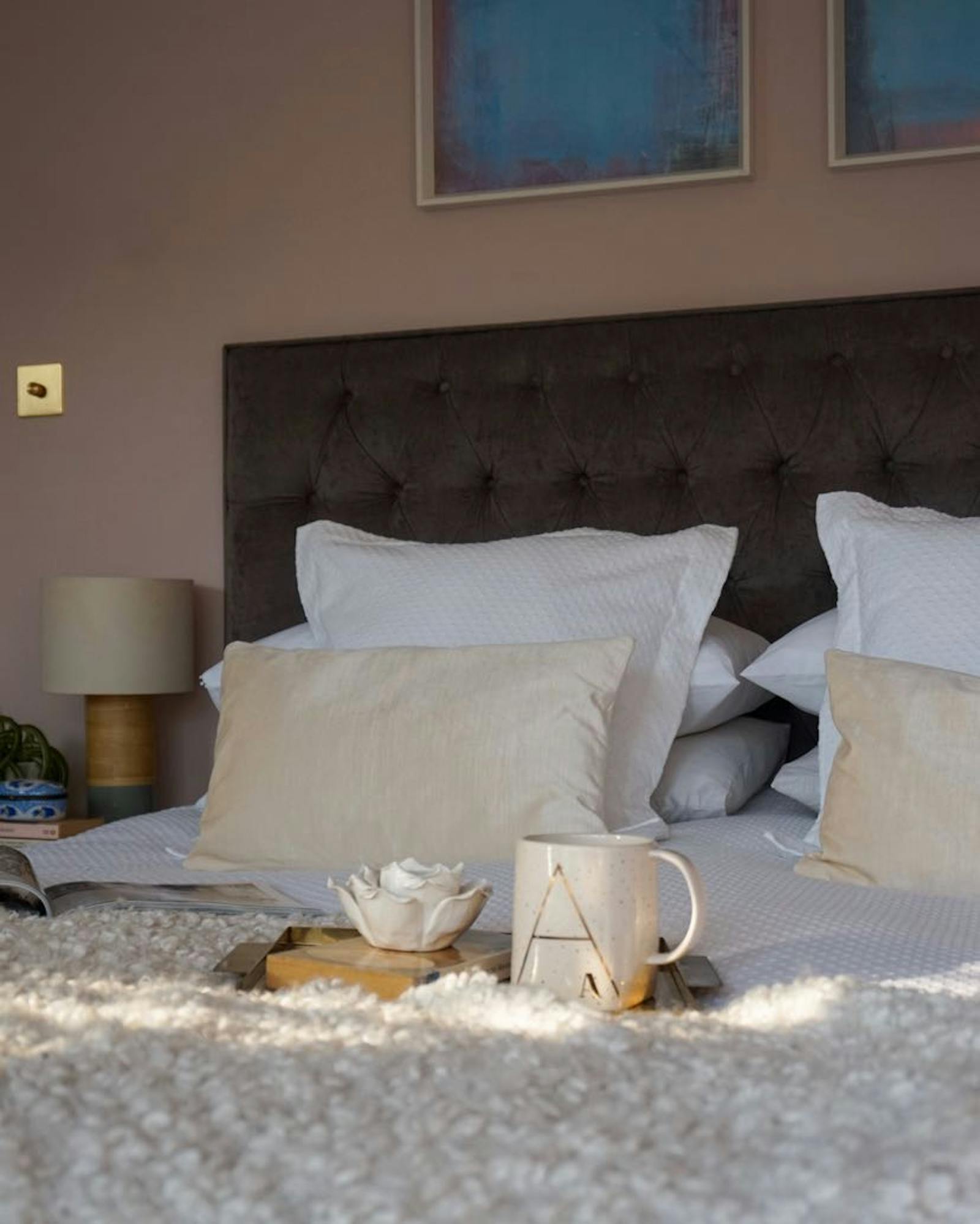 Audrey's secret for a truly cosy morning
Audrey's Lick Picks
I love the pinks! Pink 01 seems like such a nice and versatile colour – I think this is what people mean when they say pink is the new neutral!
Pink 03 is such a perfect shade, as well. I find it so hard when choosing pinks because I feel like they're so easy to get wrong – so many of the brighter pinks I looked at would just be too overwhelming for an entire room. If you're looking for a more pronounced pink that doesn't have that effect, this is it!
I'm seriously considering Blue 02 for our dining and living room – it's pretty much exactly what I had in mind! It's a beautiful blue that's light and adaptable, enough to go with multiple colour schemes (I'm thinking mustard touches in the living room and dark green in the dining room). I think it will also pop beautifully against our newly restored cornices, which we will be painting white.
You can find Audrey and her beautiful home on Instagram - @thelondonhomefix.