Real Homes of Instagram: Alicia from @emeraldterrace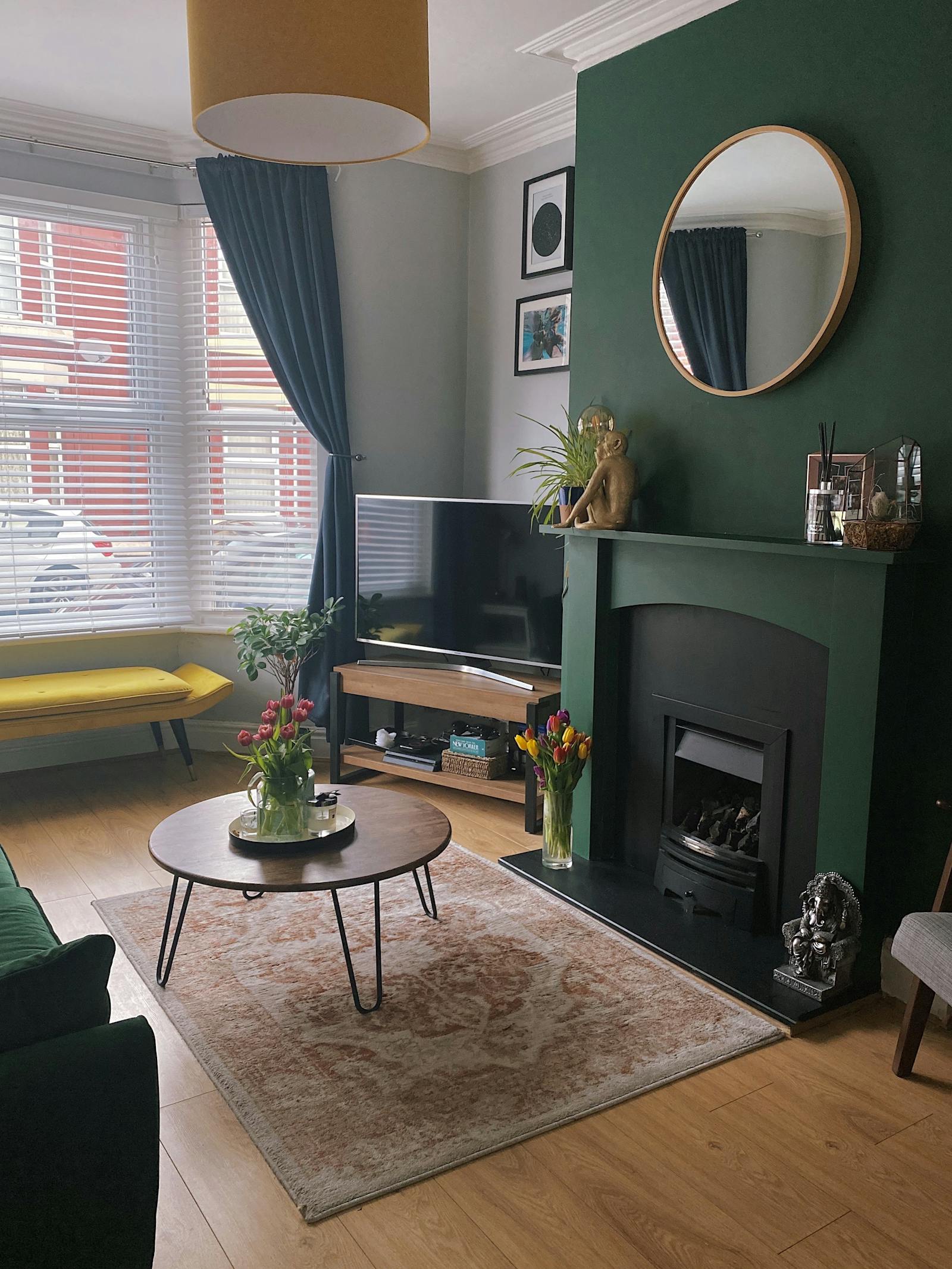 'Real Homes Of Instagram' is our weekly sneak peek into the homes of some of our favourite decorators from Lick's community and beyond.
Next up in the series, we introduce to you Alicia - the beautiful face behind the stylish Instagram account @emeraldterrace.
Alicia is 26 years old and lives with her husband, Guy, and their rescue dog, Otis, in Liverpool. She works for a PR firm as a marketing manager by day but loves home decoration and DIY in her spare time. 
Their home is a 100-year-old terrace, and they moved in in September 2018 – fast approaching their two year home anniversary this year! When searching for the perfect home, they knew they wanted a period property with a great location that would sit close to the city centre, and their friends and family.
When describing her signature style, Alicia said "the bolder, the better! I like my home colourful and quirky, with kitsch accessories and a unique view on design". This is the first home they've owned together, and with no children on the scene – they decided they wanted a very 'grown-up' inspired space that fits perfectly around their tastes and lifestyle.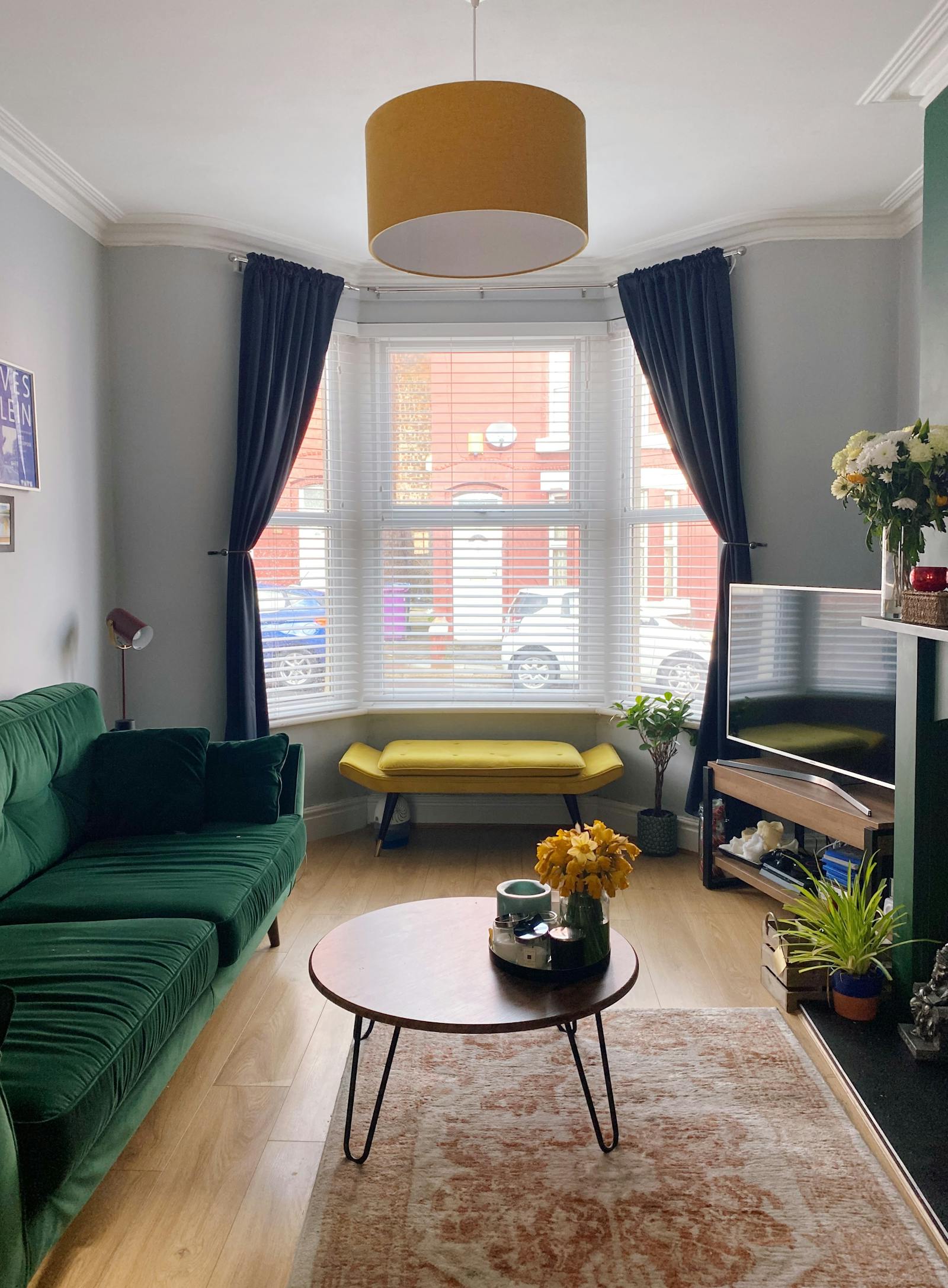 Can you guess the dominant colour in Alicia's home? Her Instagram is called @emeraldterrace for a reason
A splash of pink for some productive time at home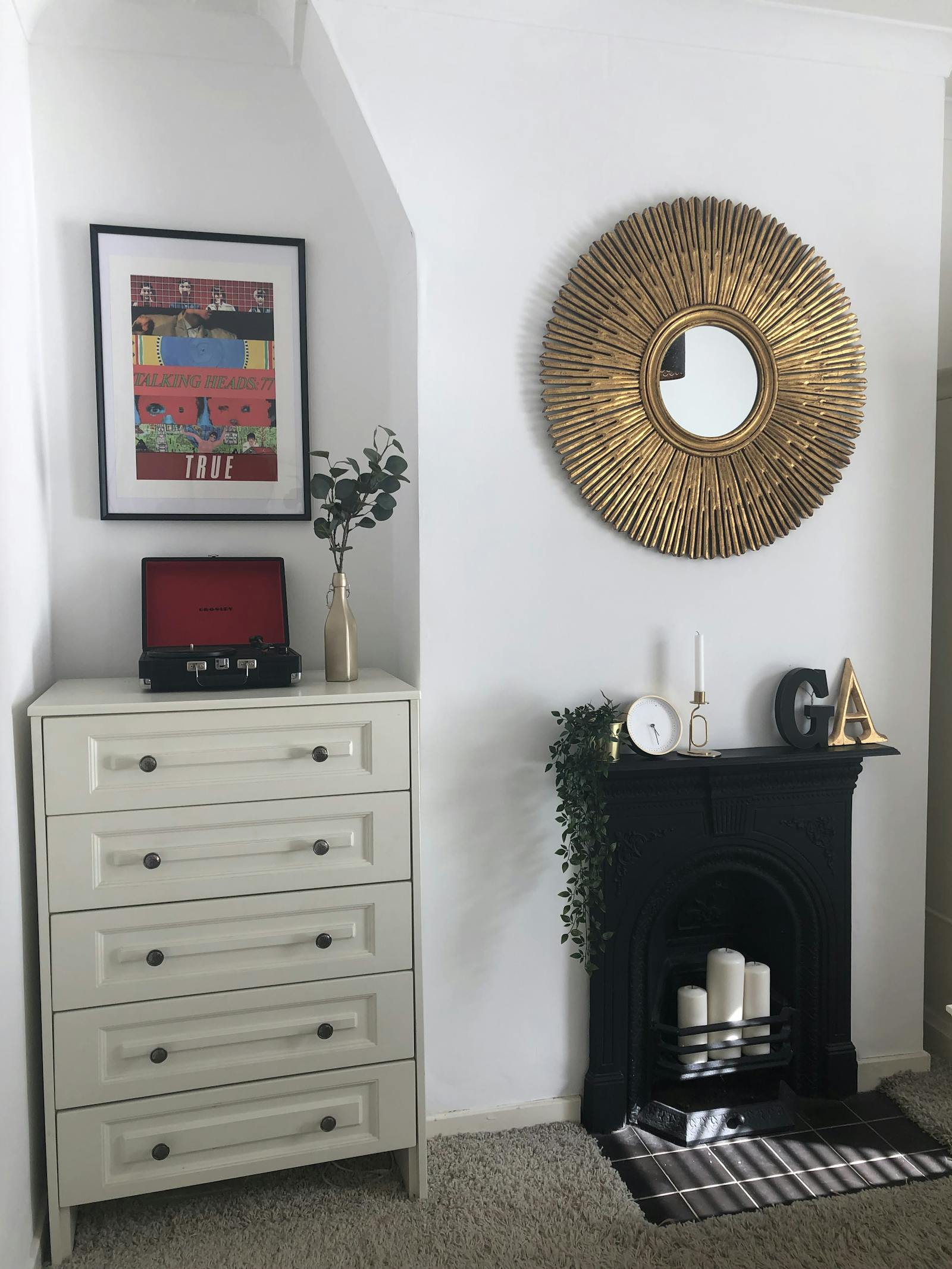 Alicia's favourite part of the house is the downstairs, as they've created lust-worthy open plan living between the kitchen, lounge and dining spaces. Styling it around their signature emerald green sofa (the first, and favourite, piece of furniture that they bought for the house!), they created a fantastic bar and dining area where they find themselves spending all of their time. "It's perfect for entertaining guests" Alicia tells us, and we can totally see why! 
We asked Alicia where she gets her style stimulation from, and although she admits that Pinterest is a favourite of hers – she also loves taking style inspiration from bars & restaurants.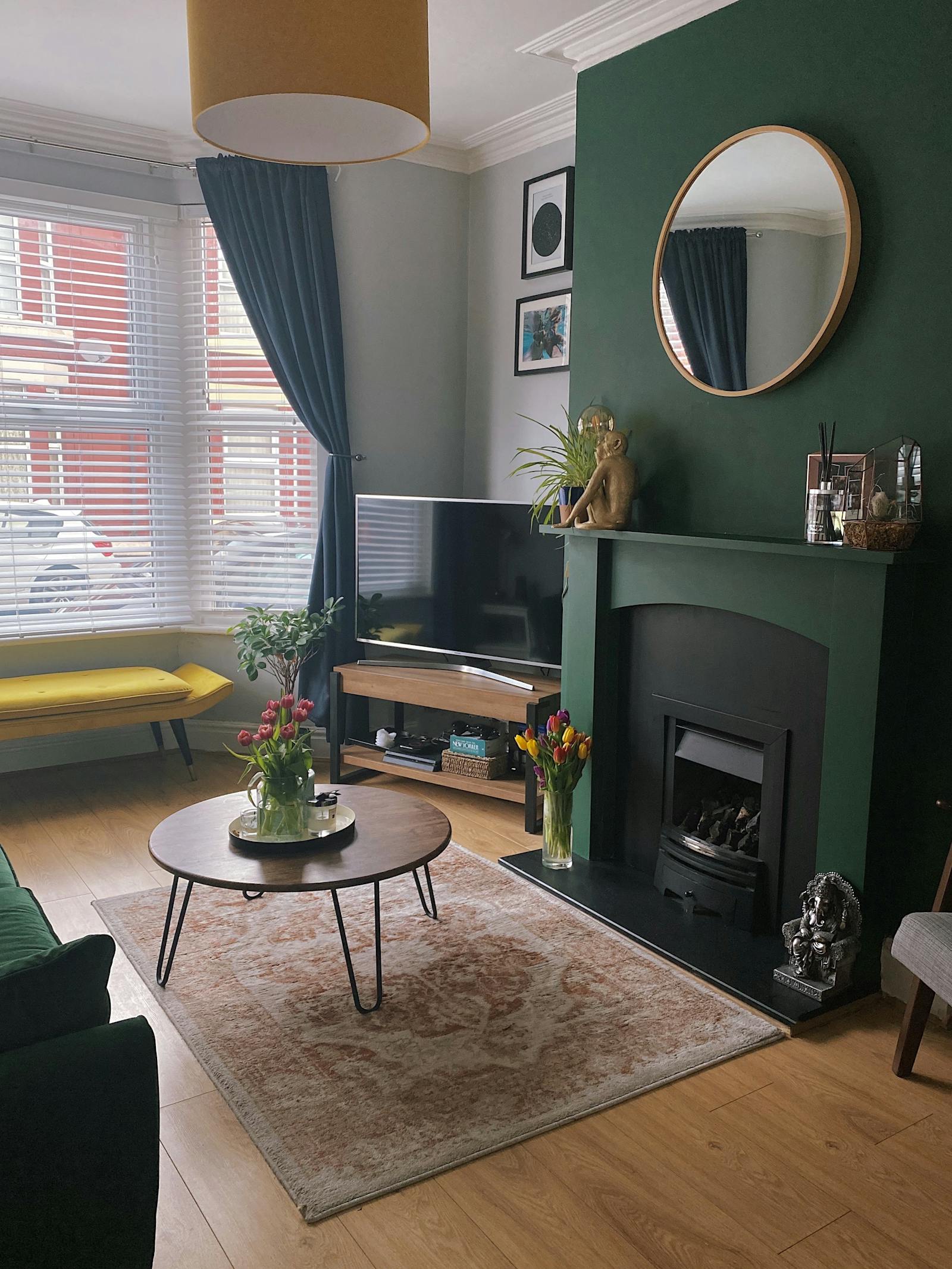 We just can't get enough of the colours in Alicia's home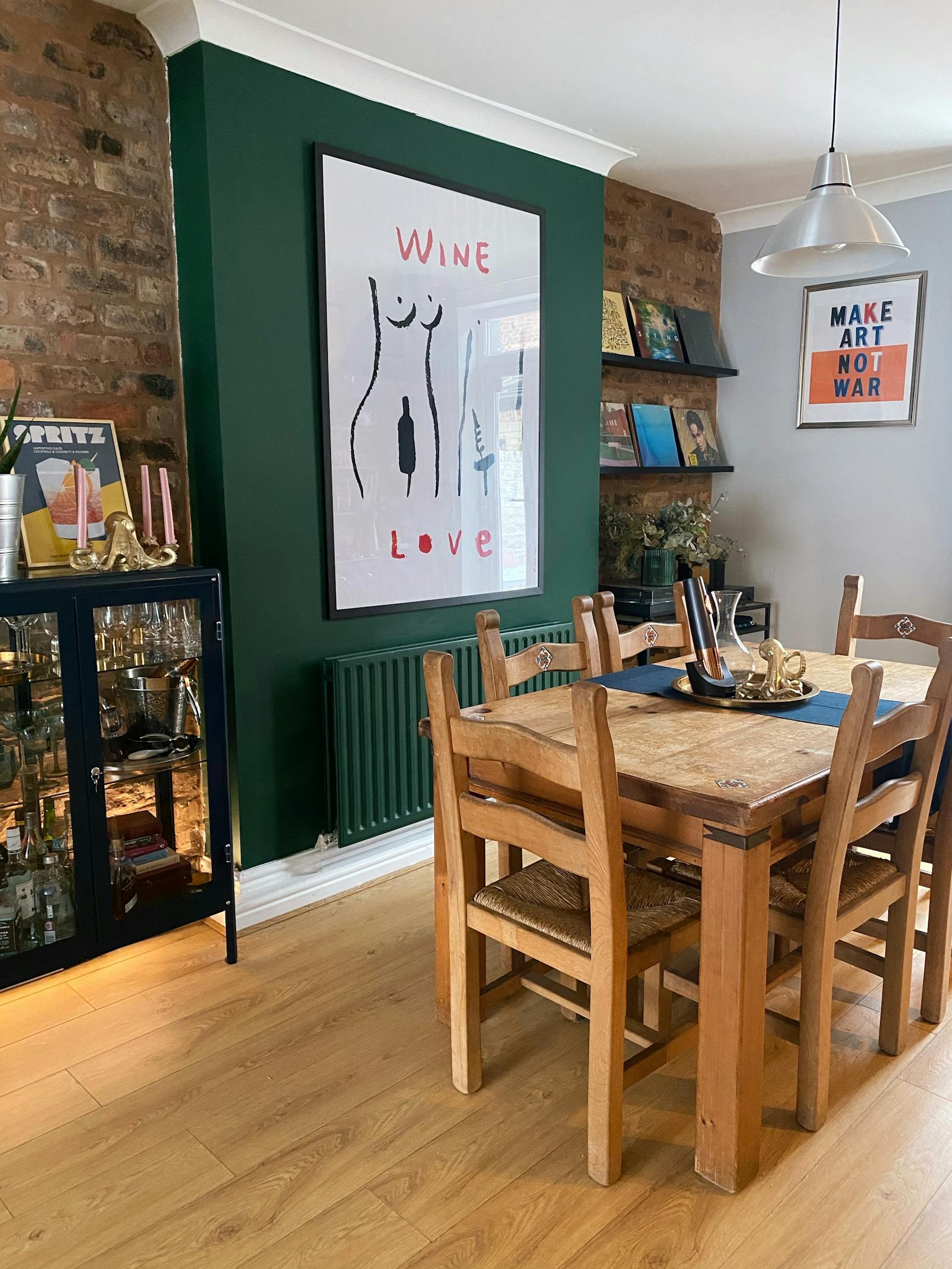 Wine love. What more could you want?
"We first saw the huge 'Wine Love' print, that hangs in our dining room, in our favourite wine bar in Liverpool. I just knew I had to have it… It's so easy to replicate the things you love about places you visit, in your own home; you've just got to take the time to look for it!"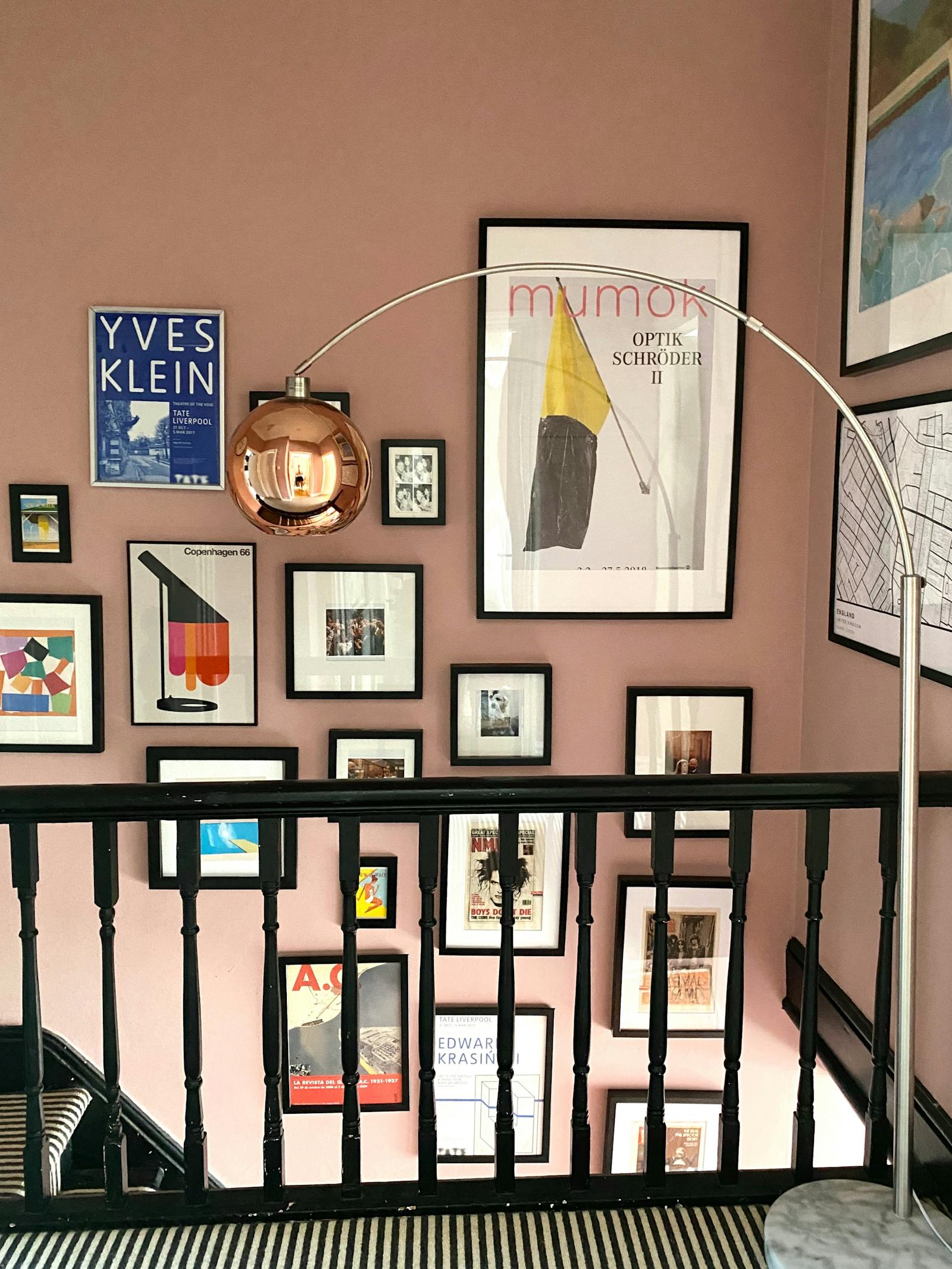 A gallery wall in the hallway is always a good idea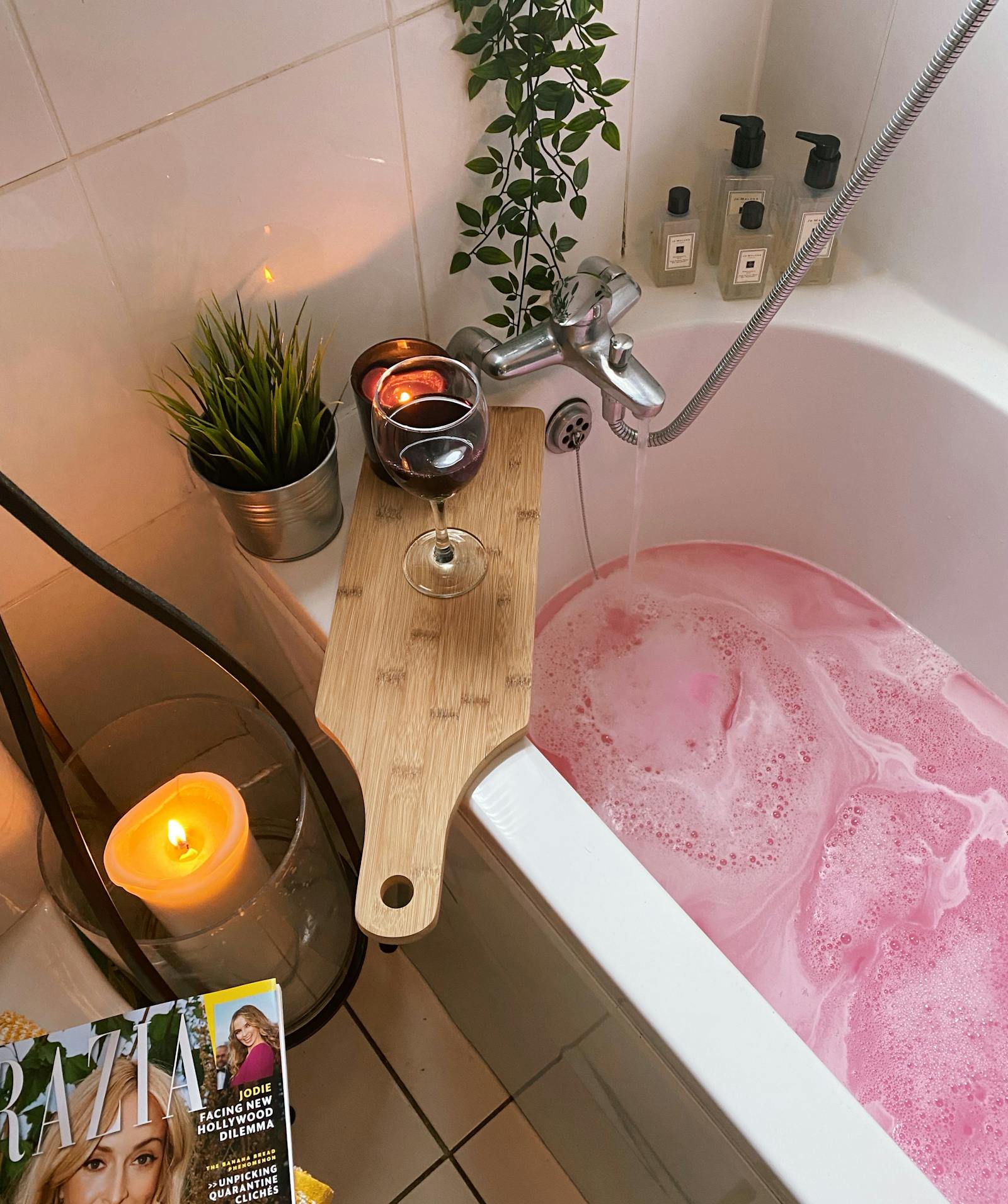 Alicia's most recent DIY project was their master bedroom. They went for classic white, with hints of neutral, earthy shades and a sage green feature wall behind their bed. They painted half the wall, then added a picture rail to sit along the top of the paint line; allowing them to style with accessories and prints. Why not check out Alicia's IGTV of this bedroom makeover on her Instagram account - @emeraldterrace. The video includes a step by step guide to the transformation of the room and top tips for a great night's sleep!
"I decorated our bedroom based on a hotel room I'd seen on Pinterest. My goal was to create a calm and natural sleeping space – and we love how it turned out!"
This project took Alicia just one weekend to complete, which included the DIY preparation and a good clear out of the space beforehand. Her next project is a big one! Like many of our other 'Real Homes of Instagram' features, Alicia and Guy are planning an extension to create a utility room – with the scope to re-decorate their kitchen and bathroom too. They are hoping to start this project in September, so stay tuned to follow their progress.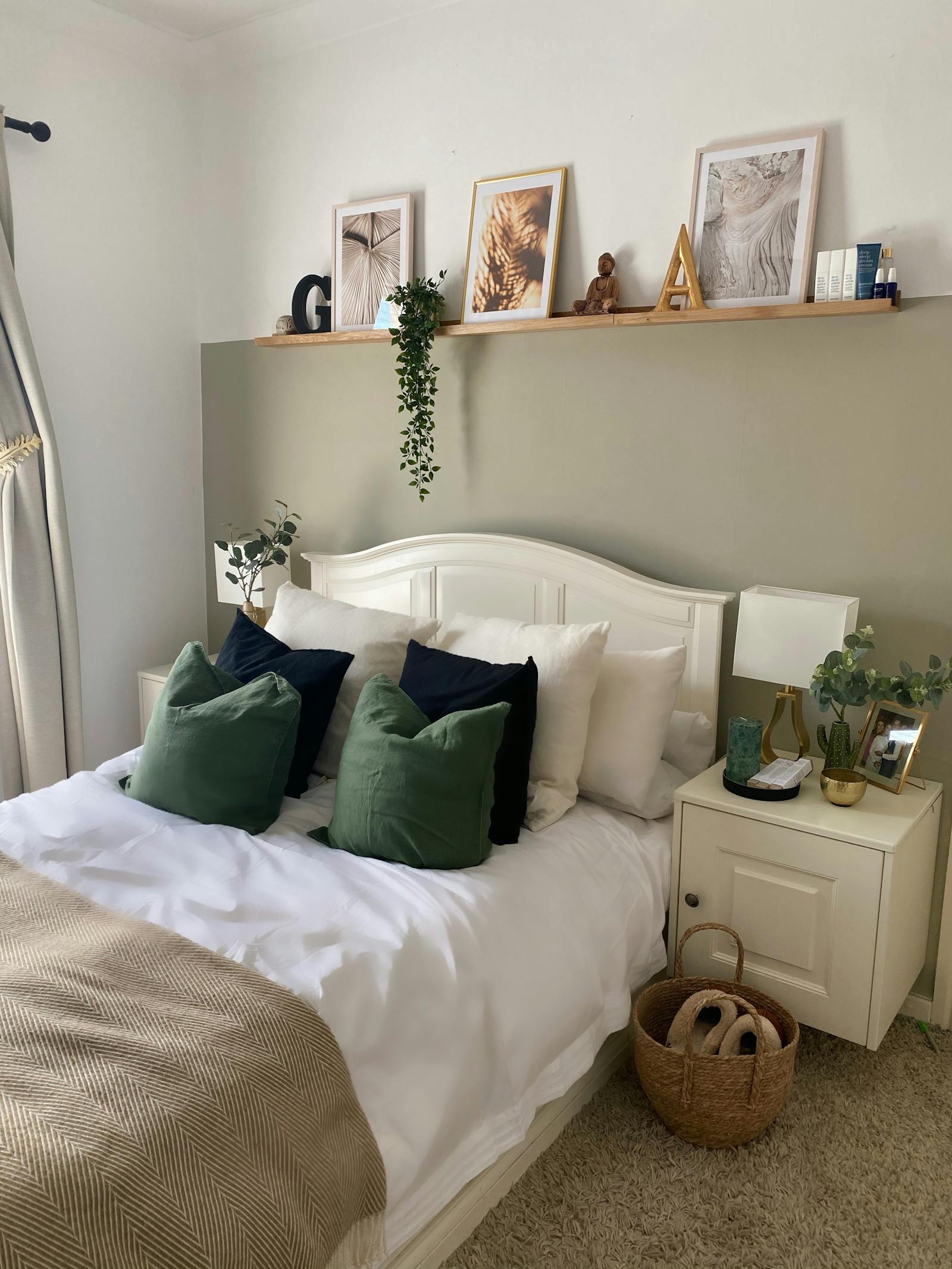 Light green is calming and relaxing, and it brings the nature inside your home, which makes it perfect for bedrooms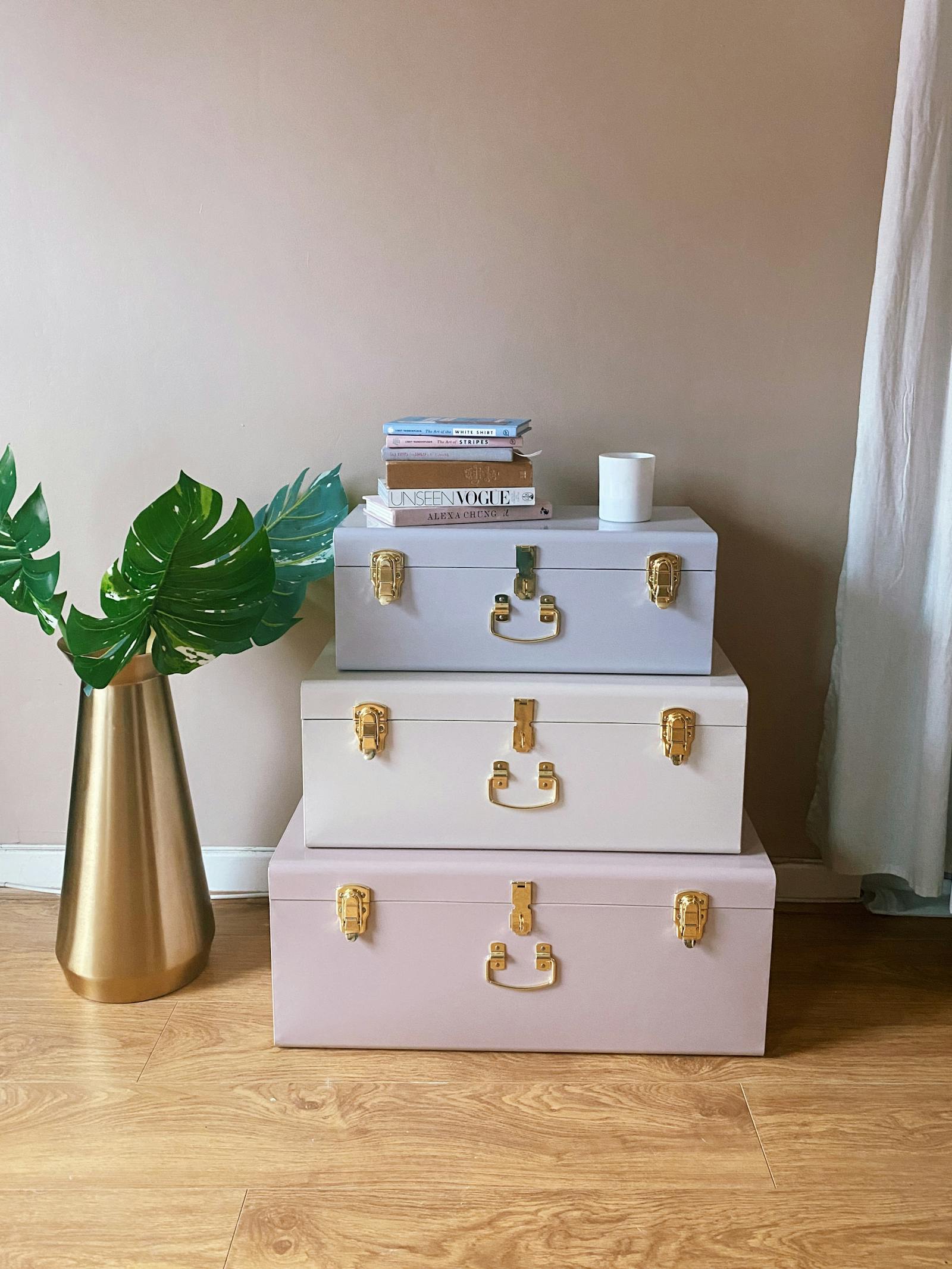 A splash of colour in the form of three pastel storage boxes
Alicia's Top Tips for Decorating:
I am guilty for getting overexcited and rushing into DIY – try to avoid doing this because it can result in an undesired finish 
It's all in the preparation! Make sure your space is clean & tidy; and give yourself the time to complete the project at your own pace
Frog Tape is great for masking lines and edges before you paint – I'd highly recommend this product, especially if you're planning on creating a half-painted feature wall like the one in my bedroom
Use the tools you feel most comfortable with; for example, I don't like using paint rollers as I find them messy – so I always opt for a good quality brush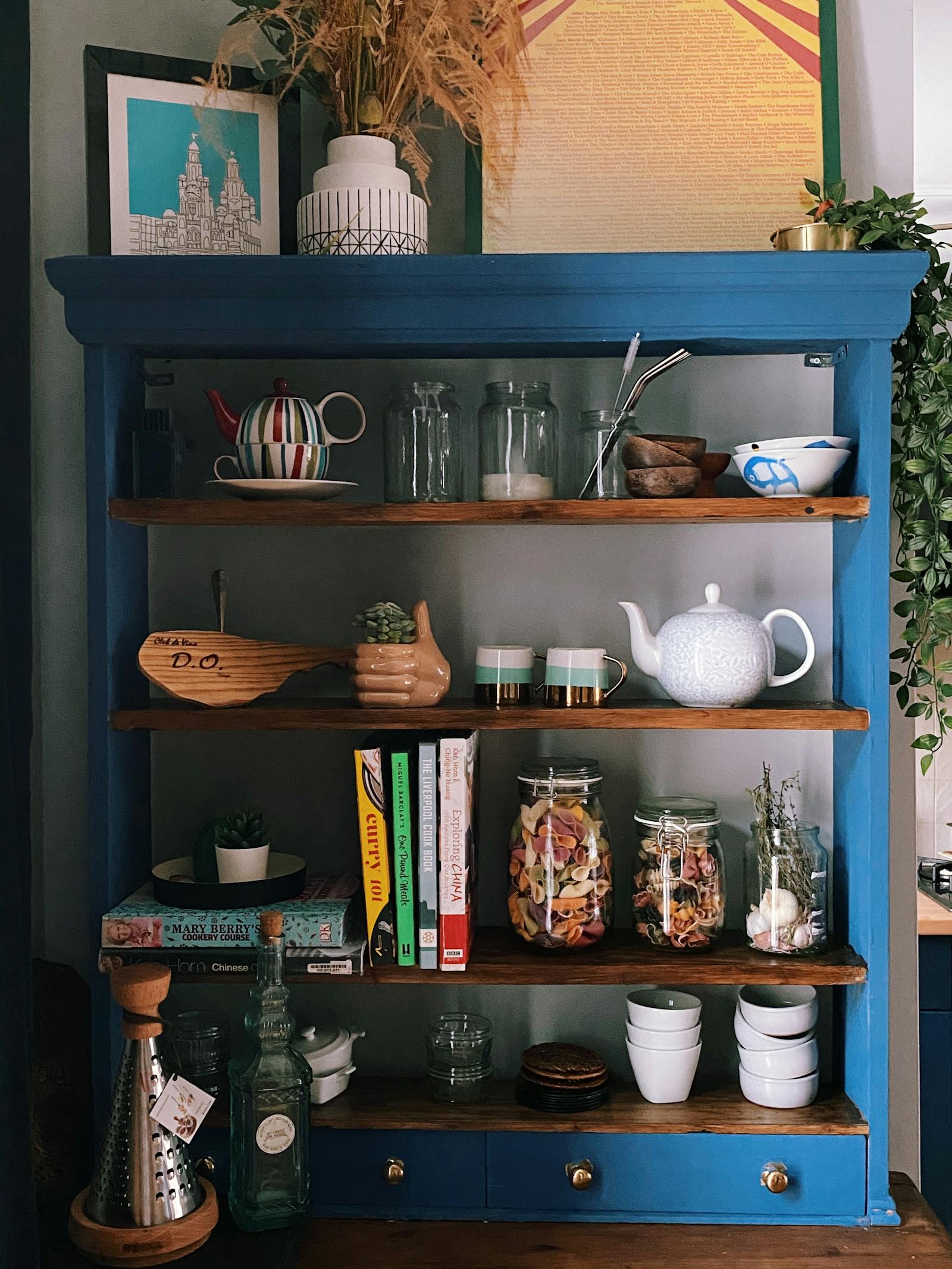 Kitchen details. We're loving the vintage element here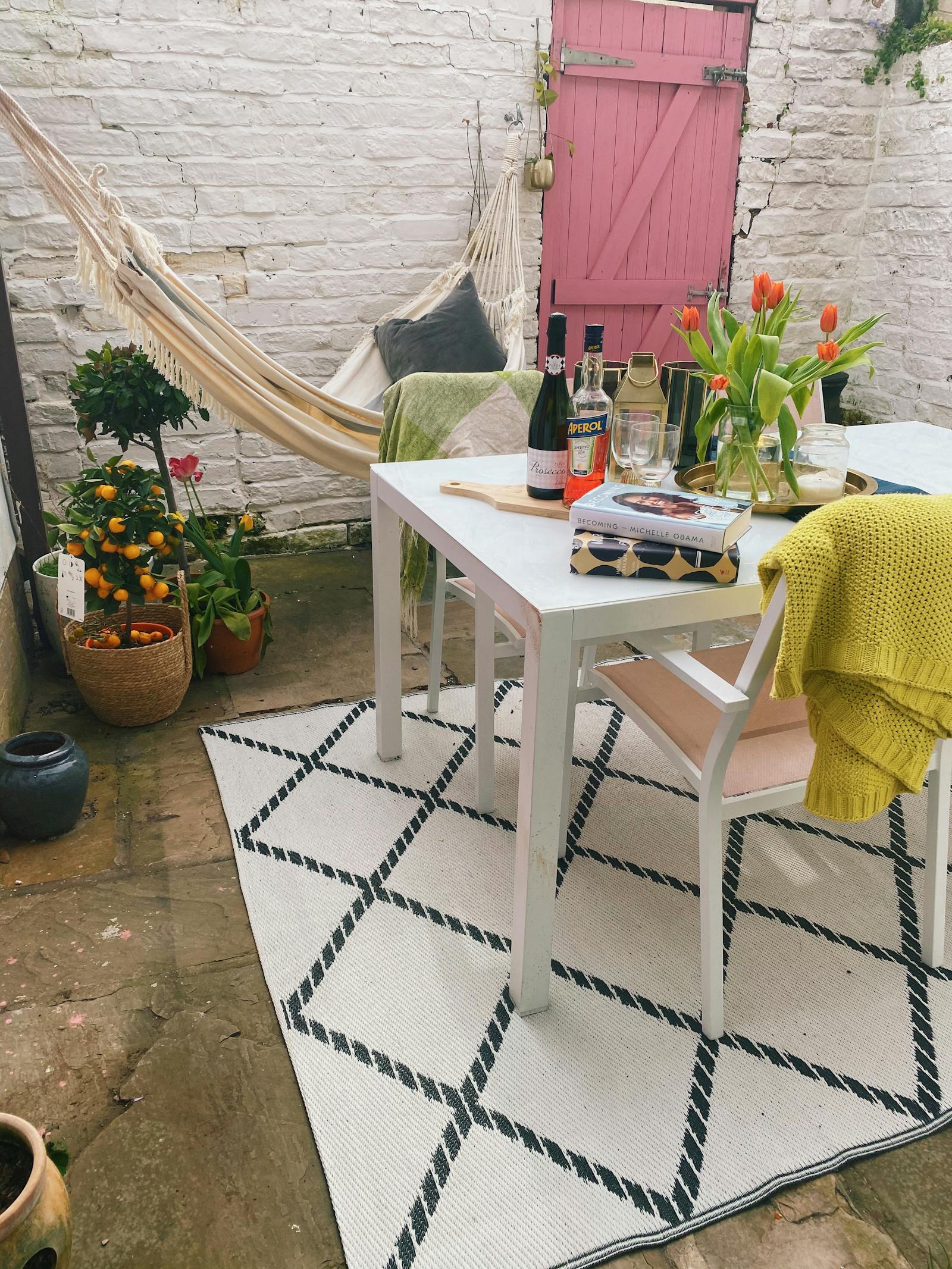 A space to unwind and enjoy a hot summer evening
Alicia's Lick Picks!
I absolutely love Brown 01. I need to think of a space I could use this in! 
We are planning on using either Green 07 or Blue 07 when we redecorate the bathroom, I love their bold shades! 
You can find Alicia and her beautiful home on Instagram - @emeraldterrace.