Meet the artist: Natasha Coverdale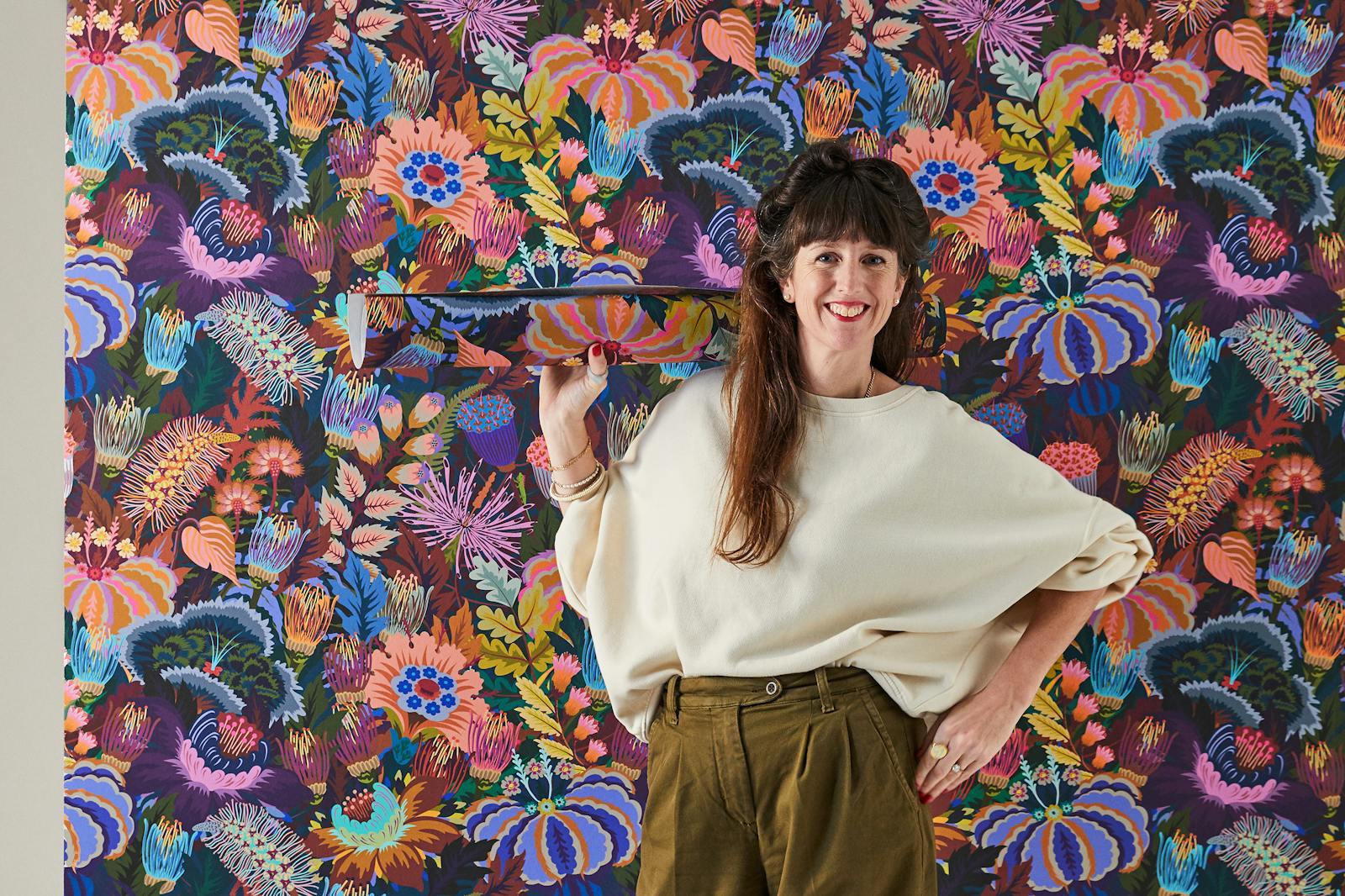 For our first-ever artist collab, we knew exactly what sort of product and whom we hoped to join hands with. We loved the idea of getting an artist involved who could put a painterly yet powerful addition to our existing wallpaper collection – and it was always going to be with a creative who had a global perspective and was a rich storyteller. Meet Hong Kong born, Brighton based, British heritage inspired, Natasha Coverdale – the maximalist, botanical and colour confident creator of our limited edition wallpaper collection.
Natasha in brief
With a masters in print textiles and 17 years as a graphic designer for an impressive roster of luxury clients under her belt, Natasha has certainly immersed herself in all things creative since way back when.
But it wasn't until she, on a whim, put up onto her Instagram grid one of her own botanical illustrations that she finally decided to go it alone. Her first floral masterpiece went down such a storm that interior designer Sophie Robinson (of DIY SOS and The Great Indoors podcast) snapped it up as well as Floralis Ferox - the second of Coverdale's creations.
The joy she felt from giving herself complete creative flex and freedom and the high she experienced when more and more people sat up to lap up her work, empowered her to apply for (and win) the Liberty Open Call competition in 2018. It was then that she decided to fully focus and set up Studio Coverdale and she's never looked back.
The interview
On our big reveal, socially distant photoshoot of the Lick x Natasha Coverdale wallpaper collection, our very own Natasha (AKA, lead colour expert, Tash) took ten with Ms. Coverdale to ask ten burning questions…
Everyone's going to want to know what inspires your designs. Is it through travel and adventure? Art and print archives?
"Much of my work is completely floral-centric. I spend a lot of time pouring over images of botanicals; I have some wonderful old books on roses from my grandmother and spend many hours in rabbit holes online searching though 17th and 18th Century illustrative studies and plenty of auction sites – I particularly adore French Antique textiles."
"When my nose isn't in a book, I find time spent in National Trust properties really inspiring. I love Kew Gardens and RHS Wisley – any place that is seeped in cultural heritage whether that's in Britain or further afield, such as Rajasthan which I found a deeply romantic place. I once was granted access to Kew's archives and it was just incredible to see all of the centuries-old botanicals. Next year I've been invited to peruse the archives at The Garden Museum in London and I hope to create something wonderful for them."
"Inspiration can be found on my doorstep too though. Whenever I'm out walking, I'm guaranteed to be taking pictures of plants that steal my attention and can be reinterpreted in my own style when I get back home. I keep tweaking them until they're, in my eyes, fantastical."
What's the story behind the four new wallpaper designs you have created for Lick?
" I wanted to celebrate some of my favourite flowers with my existing prints, especially in Mars Meadow, layering them in one by one so that it presents the best of the bunch of my imagined flora [Natasha's blooms are her own creations rather than replicas of real-life flora. In Mars Meadow we see imaginative varieties like Dragon Bells, Ice Sprites and Balloon Flowers].
I liked the idea of creating a series that would be rich and indulgent so that you could see and feel a cornucopia of colour, but there is of course thinking behind each palette rather than it being just a riot of colour. Mars Meadow 01 reflects colours that you see in nature all year through, whereas Mars Meadow 02 has a nurturing quality and a warmer colour scheme.
Electric Poppies on the other hand is brighter and cleaner. The colours in Electric Poppies 02 transport me to a sumptuous library filled with that heritage deep green hue. Electric Poppies 01 is all about fun, femininity and frivolity. I hope it encourages people to be playful with and in their homes."
How would you describe your raison d'être? What motivates you as a designer?
"Honestly, bringing people joy and happiness. Does that sound cheesy? I want to be able to transport people to another world, some place they can immerse themselves and get lost in it like I do. I hope my pieces provide a window into another world, a form of escapism, of colour therapy and of fantasy to where you can retreat from whatever is going on in the world."
Tell us a secret. Are there any hidden quirks in any of your designs that not everyone would know?
"Yes! I love to hide bits and pieces in my designs. Take a closer look at Mars Meadow and you might be able to spot a small iguana who pops up here and there. I call him Derek and he reappears in lots of my works. He's an unofficial mascot of mine.
I also prefer designing with a period drama on in the background – Pride & Prejudice is a personal favourite. It's a soothing background hum for me as I draw and I love the tone and print repetition you see."
Neutrals or brights – which do you see as the perfect partner to your papers?
"I like to partner my colourful prints with neutrals - so there is not too much of a fight for attention."
Was it straightforward translating your designs into wallpapers?
"Creating the repeat is a tricky and time-consuming exercise - especially as there is so much detail… But the really hard part was finding the perfect manufacturer. I had been experimenting for over a year and had many samples. Getting an accurate colour translation from my screen to print was hard - and I wanted premium quality.
I'd posted my journey on my Instagram and Lick saw it and got in touch with me. You came to my rescue! So many of my followers have been pushing and hoping that I'd do a paper. Partnering with Lick has really allowed this dream to happen. I am so excited!"
Paint us a picture, what does a typical day's designing look like for you?
"I wish I could illustrate everyday, alas at present most of my time is consumed with less glamorous admin as my business grows. But usually something will spark my imagination and I'll start and then suddenly lift my head up and it will be dark! I'll be obsessed. I will pick up a piece and put it down over a few weeks until I'm happy."
Can we be nosy and ask about your home? How would you describe your interiors style?
"Okay so my absolute dream would be for it to look like a Tudor mansion, but in reality, it's totally eclectic – a real mix of pieces I've inherited and my mod cons. My flatmate is an antiques restorer so we share a similar fervour for items of old that are worn and used. Plenty of the items in my home are flea market finds – hunting for hidden treasures makes me happy whether that's at work (such as hunting for Derek) or at home."
What would you say has been your greatest achievement to date?
"It's back to that word again – joy. It brings me utter joy to create things that people actually want in their homes. I get to work for myself, creating pieces that I love and that I am so lucky that other people do too. That has to be my greatest achievement. I feel very lucky."
If you could choose one room in your home to decorate with our papers which room would it be, which paper and why?
"Ooh I think my bedroom is crying out for Electric Poppies 02 —I love that sumptuous feel!"