Hallway decor ideas & all your hallway questions answered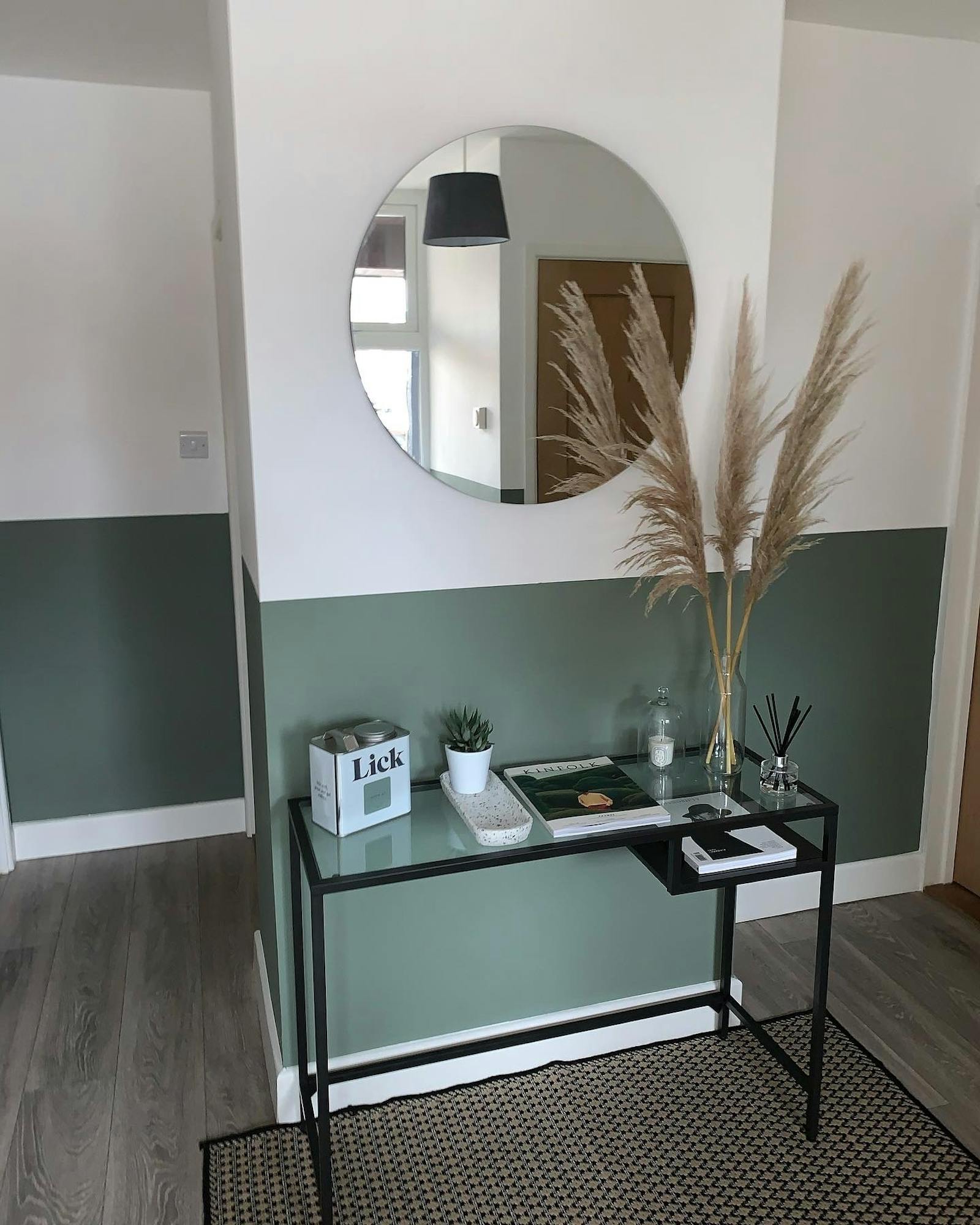 First impressions count. So once you've ushered guests through your front door, give them something beautiful to behold with a hallway to top all hallways. It's not all about impressing friends and family though; this is your home after all.
An entryway that will lift your spirits the moment your feet are over the threshold will make a good day better still and a bad day feel that bit brighter, saying to you: you're home, now close the door, kick back, and let's make it all about y-o-u. Wondering how to take it from cloakroom to creative canvas? Over to our Head Colour Specialist, Tash to answer your hallway decorating conundrums.
Q: I really want my hallway to feel like a room in its own right. How do I do that best?
A: "This is a fantastic question, because it's so common for the hallway to become a neglected space. People get excited by bedroom renovations, kitchen projects and colourful living rooms, and yet the hallway often gets forgotten. But it's the first room that welcomes you home, so in a sense it's the most special and deserves just as much love and attention.
Remember though that a hallway isn't a room in which you spend masses of time – it's more of a passing place that leads you to other parts of your home. It's therefore the perfect room to be bold, get creative, to have a bit of an adventure and to use paint colours and wallpapers that you might not have otherwise used.
By giving your hallway that wow factor, you'll put the key in the lock and have that feeling of 'oh my goodness, I love it' wash over you every day of the week. Plus, you set the tone for the rest of your interior – and who doesn't want to raise the bar?"
"Your hallway sets the tone for the rest of your interior."

Tash Bradley
Q: Should my hallway palette link to the rooms that come off from it?
A: "In a word, yes. Remember that your hallway is there to greet you home, but it's also there to take you by the hand, leading you into other rooms, and so if there's no connection between the two, you could be left with a jarring effect. It's a case of changing up the ratios of how the colours in your home's palette are used.
For example, maybe you've decorated with five colours across your home and so your hallway could pick up on one of those shades and use it in a much bigger way. Or, look at the colours used in all of your living spaces, mapping them out with our sticker samples so you can clearly and easily make sense of your overall colour scheme, and then match a hue that complements each and every one of them – both myself and Sam can help with that if you get stuck through our virtual colour consultancies."
Q: Bold and beautiful or quiet and unassuming – what's best for a hallway scheme?
A: "I know I say I'm all for bold and beautiful in a hallway, but not everyone wants to open the door to a riot of colour or print. If you're someone who shies away from colour, bring colour in gently using new neutrals like Beige 01, Greige 01 or even Pink 01, teaming them with a complementary classic neutral like off-whites and greys such as White 02, White 04 or Grey 06."
Q: My hallway has very little natural light, what sort of colours would suit it best?
A: "I get asked this one a lot. In this circumstance, it's a prime example of where you shouldn't fight against the lack of natural light. Embrace it with dark colours, which then make the rooms leading off the hallway feel even more airy, or brights which give an optical illusion so that smaller spaces feel bigger and darker spaces feel more alert and alive.
Alternatively, try out a patterned wallpaper. The level of detail is something to get lost in, distracting from the narrowness or the lack of windows. Botanical 03 is a favourite of mine for a hallway – it's striking, it's soft, it's refreshing and it's calming – heaven."
Q: My hallway is very bright and filled with light, what sort of colours would suit it best?
A: "If yours is a hallway flooded with lovely sunlight, again, embrace it and work with what your home's naturally given you and keep things really light. Potentially, you could go dark on the woodwork if you like the idea of some contrast. It's a gorgeous way of making the walls look even lighter and to still create impact, but without using strong, pigmented colours."
Q: How do I make stairs a feature in my hallway?
A: "If you're blessed with stairs – unlike me being in a stair-less London flat – I love to make a focal point of them. It's a beautiful piece of interior architecture in its own right that is all too easy to take for granted. So let the spine of your house shine and give it the attention it deserves with dark, dramatic tones.
Imagine soft white walls in White 03 and a dark staircase in Black 01 – it'll look incredible. If you have children, painting the up-stands in a different colour is a really fun way to get creative with colour. It's almost like the yellow brick road, leading them up to bed. I'd have adored that when I was a little girl."
"Painting the [stairs'] up-stands in a different colour is a really fun way to get creative with colour."

Tash Bradley
Q: I have a narrow hallway, are there any creative tips and tricks with paint to help it feel less cluttered?
A: "Nobody wants to walk into a cramped hallway and so the fewer things in there, the better. But not all of us have Mary Poppins storage to hand, and that's where a hallway storage bench comes in real handy. Consider painting it the same colour as your walls and that'll help it blend into the background so that your space feels more open, which is so good for your mind and mood."
"The fewer things in your hallway, the better."

Tash Bradley
Q: What are the big do's and don'ts for hallway decor?
A: "Funnily, they are one of the same which keeps things nice and simple. Do be brave and do think about your hallway like you would any room of the home, and don't overlook it and think it doesn't matter as you're never going to spend more than a minute or two there as you're hurtling about your home. Trust me, a beautifully decorated hallway really is the heart of your home."